This article may contain affiliate links; if you click on a shopping link and make a purchase I may receive a commission. As an Amazon Associate, I earn from qualifying purchases. 
Allie, I love your capsules but I don't wear color like you and your series. My signature style is shades of cream, black, gray, tan, and ivory. Could you do a capsule of neutrals?

I am in love with the idea of capsule wardrobes. However I'm terrible at choosing pieces that mix and match in interesting ways. Do you have any tips on choosing versatile pieces and building a small wardrobe that does a lot? And/or do you have any capsule wardrobes WITHOUT skirts?

I work in an office where it's smart business casual, blouses and jackets and cardigans with pants and skirts and 'nice' denim allowed on Fridays. I feel my closet is a big mess of super casual, super dressy, and nothing in between and my coworkers are a stylish bunch. Any advice on how to get my work wardrobe on track?

I don't wear skirts, but I have a feminine personal style. Any suggestions on a capsule wardrobe that will embrace both my inner Emma Pillsbury and my inner Ellen DeGeneres?
The past couple of months I have been gravitating towards more monochromatic ensembles, focusing more on shape and texture. So when I saw these questions in my comment box, I got excited to have reason to make a more neutral capsule!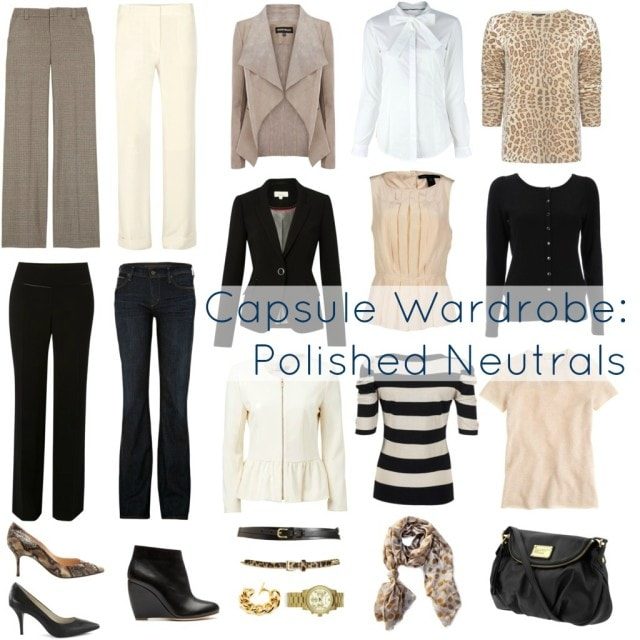 For this capsule, I was thinking of a woman who works in an office that doesn't necessarily expect suits every day, but to be more polished than chinos and a knit top. Embracing the "Emma Pillsbury meets Ellen DeGeneres" vibe, I mixed clean lines and classic separates with pussy bows, peplums, and other feminine touches.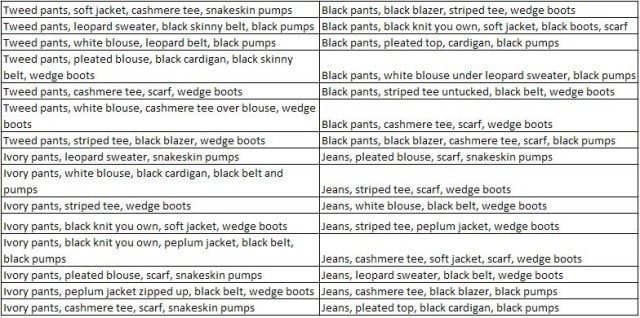 Over 30 Possible Combinations
When many think neutrals, they feel they MUST have certain colors of trousers – black, gray, and camel. Thing is, these are great neutrals, but they aren't always the most versatile. Over the years, I have seen the value of a pair of ivory or French vanilla trousers. They are amazingly versatile and don't make you look any larger than gray or camel. Paired with black, it's crisp and modern, but ivory looks great with colors as well as other neutrals like white, gray, tan, and olive.
A tweed or glen plaid trouser is also extremely versatile and adds a bit of interest to an ensemble made of neutrals. Mixing a more traditional menswear fabric with a pleated silk blouse or feminine leopard sweater always looks polished and chic.
You can keep a wardrobe neutral without making it boring by choosing accessories with polish and a bit of interest. While many fashion magazines will encourage pops of color (and you all know how much I love a pop of color), you can also accessorize neutrals with more neutral. A scarf with a soft print, a snakeskin shoe, a leopard haircalf skinny belt, a unique looking wedge boot – such pieces will take neutral separates and pull them into a cohesive and chic capsule.
The best part of neutrals is that quality separates can be found at most any pricepoint. I have a great black gabardine sheath I found at Target for $30, my favorite ivory trousers were found on the Ann Taylor clearance rack for less than $40. Neutrals are regularly on sale, and can better hide cheaper manufacturing. However, neutrals need to have great fit to keep them from looking dowdy – there's nothing wrong with taking a $5 clearance rack or thrift store find to the tailor and spend an extra $20 to make it look like a million bucks.
Follow Me | Twitter | Facebook | Instagram