This article may contain affiliate links; if you click on a shopping link and make a purchase I may receive a commission. As an Amazon Associate, I earn from qualifying purchases. 
Do you have any fabulous tips on what to wear with classic black and white saddle shoes? I love the old school look but want to avoid looking like I am wearing a costume. Thanks!
Omigoodness, I am LOVING the fact that brogues and oxfords have returned and with it, saddle shoes. In elementary school, my best friend Kelli and I had matching saddle shoes and our mothers made us matching pink poodle skirts. We'd often wear both together on the same day, and one of our favorite features of the saddle shoes was that they packed quite a wallop when you kicked a meanie on the playground!
Of course, as adults, we're not likely to pair saddle shoes with a poodle skirt unless attending a costume party. That doesn't mean you can't totally rock saddle shoes. Here's some suggestions on how to style classic black and white saddle shoes to create ensembles that don't look like costumes.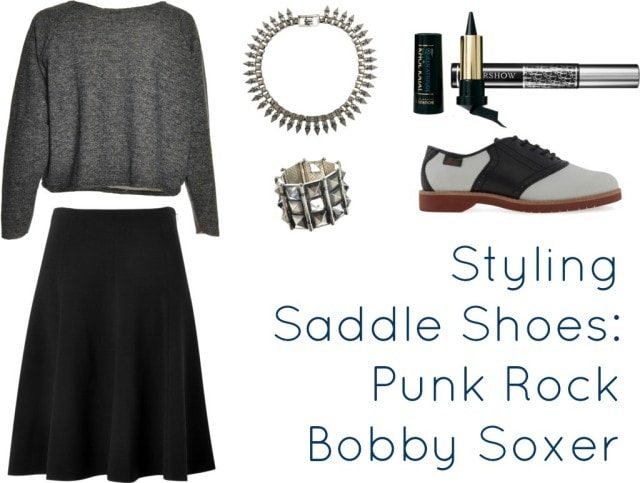 Play up the Bobby Soxer vibe but give it a 2013 spin with current trends. A cropped slouchy sweatshirt is a hot look this season, and looks downtown cool with a fuller midi-length skirt. Pair with rock and roll inspired studded silver jewelry and a bold smoky eye to let the world know this look is anything but retro.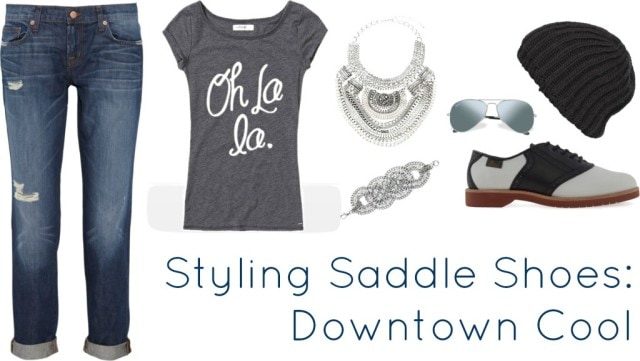 This is the year of the statement flat shoe. Previous seasons, it has been about platforms, flatforms, and high high heels but now it's comfort with a downtown vibe. Chucks, Docs, Vans, TOMS, oxfords, creepers, Keds, and yes saddle shoes have become chic and are a far more wearable trend. Here, I have styled a weekend look that this time last year would have likely been paired with a sky-high wedge or pointy nude heel. The addition of the saddle shoes makes the look less pretentious yet just as on trend.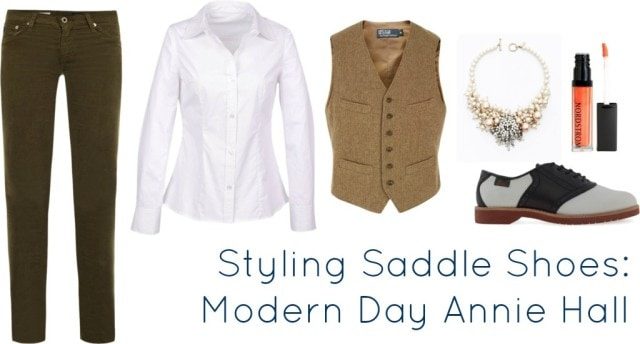 Put a modern spin on Annie Hall by pairing saddle shoes with shrunken classics with a menswear vibe. Skinny cords or jeans in a neutral tone, a tailored white shirt and tweed vest work with the shoes without the ensemble looking too cliché. Balance the masculine with feminine touches – a pearl statement necklace peeking out of the neckline and glossy lip with an otherwise fresh face.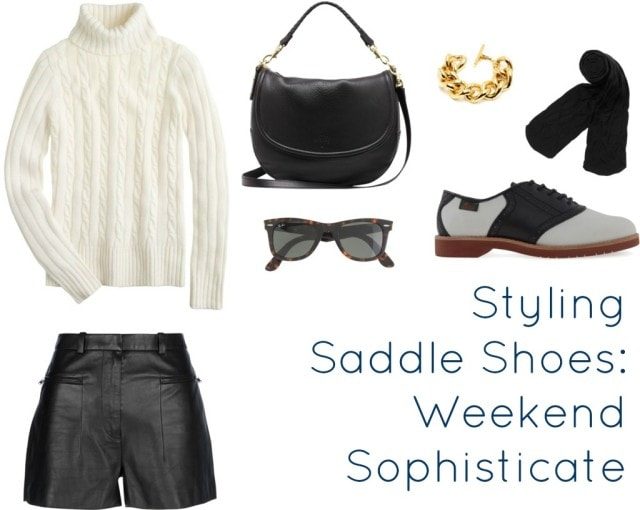 If paired with modern luxe neutrals, a pair of saddle shoes adds interest and a classic touch. For this ensemble I paired a chunky sweater with sleek leather shorts and opaque tights (come spring, switch the sweater for a silk utility shirt). The sweater nods to collegiate style like the shoes, but the shorts keep the look modern and unexpected. Classic accessories make it clear that the shoes were a purposeful addition.
Tips for wearing saddle shoes:
Pair with color with caution. While a black and white shoe would look amazing with pale pink or fire engine red, without careful fit and silhouette the look can veer into costume territory.
If you rock the vintage vibe, this is the shoe for you! A saddle shoe looks adorable with a vintage or vintage-inspired (hello Modcloth) dress – the slim yet flat silhouette pairs nicely with midi and skater skirt lengths, and plays well with small floral and dot prints.
Be wary in the workplace. A pair of saddle shoes with a slim, perfectly-tailored black pantsuit is downright chic and can look fabulous with a shirtdress with a fuller skirt. However, saddle shoes can quickly look like clown shoes when paired with many traditional work trousers and skirts. This is a very bold shoe that needs to be carefully styled to enhance its classic and quirky side.
Follow Me | Twitter | Facebook | Instagram