This article may contain affiliate links; if you click on a shopping link and make a purchase I may receive a commission. As an Amazon Associate, I earn from qualifying purchases. 
Saturday was a big at-home day. I wasn't feeling my best, so I did a lot of things like laundry, sorting through my closet, sorting paperwork, things I usually put off. The weather was also really gross – hot and thick and humid and like soup. That night I was supposed to assist my husband with a wedding photo shoot, but since I felt icky and it was an outdoor wedding I stayed at home. I did a few more tasks, watched the movie about Coco Chanel on Lifetime and was a bit of a slug. 🙂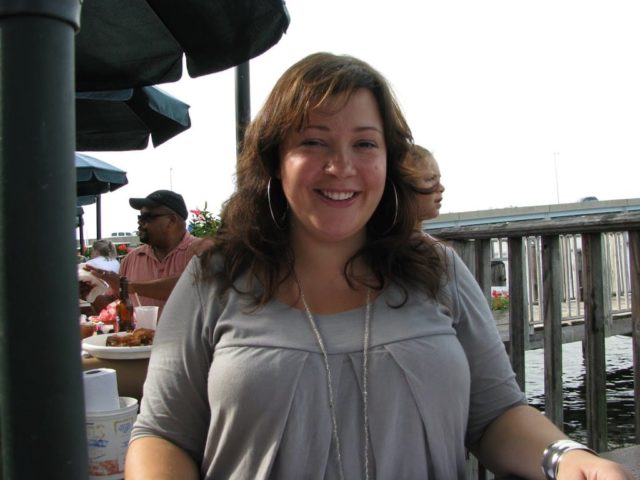 Sunday I was feeling far better, so I did some more hardcore of tasks like cleaning the bathroom and doing some yard work. My husband went to watch football with his buddies and I went to Annapolis with my mom and her boyfriend for lunch and some waterside breeze.
I wore a gray fine jersey top and black Bermudas from Old Navy maternity. Hair was second day, smoothed out with a round brush and dryer, but it was still quite hot and humid so my hair sort of had a life of its own. Here I am at the restaurant, in my pregnant-bosomed glory. They have now grown over two sizes, I can hardly keep up! Ack!
Monday: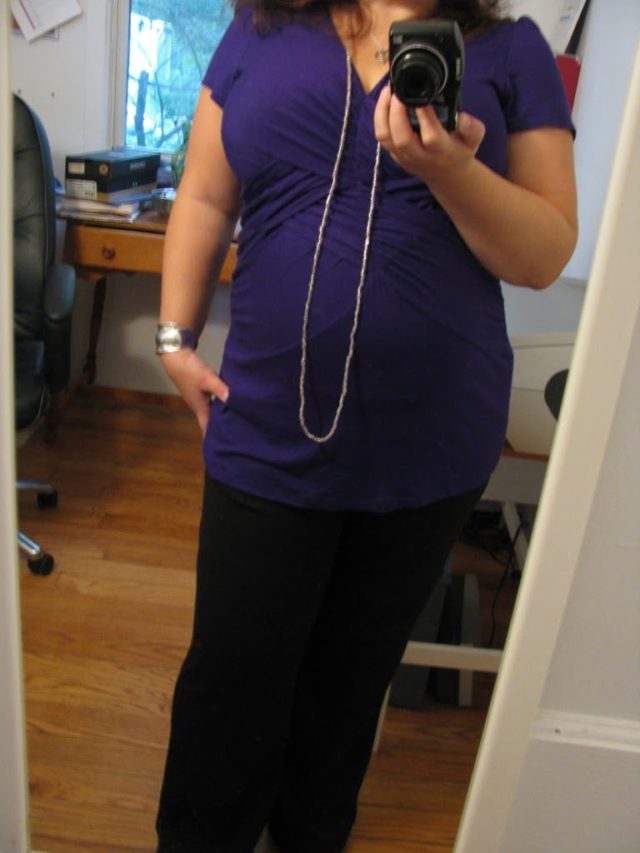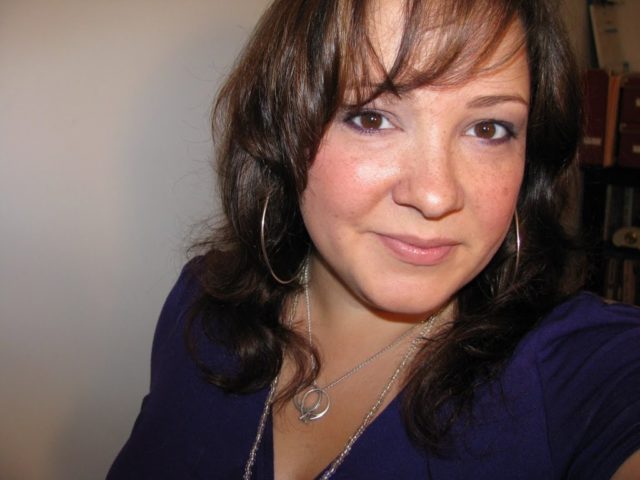 Attire:
Kenar: Purple jersey woven top
Old Navy Maternity: Black ponte trousers (these are the BEST! On sale, super comfy, feel like yoga pants but work-worthy! I wish I had found them earlier in my pregnancy!!!)
Sudini: Black leather booties
H&M: Silver necklace
Silver hoops and cuff
Hair:
Washed and conditioned night before and dried with wood-bristle brush
Smoothed this morning with round brush and dryer
Beauty:
Laura Mercier: Flawless Face set in Sand
Nars: Blush in Orgasm
L'Oreal: Eye shadow in purple
Avon: Luxury eye liner in Eggplant
Stila: Lip Glaze in Berry
Chanel: Intense Volume and Curl Mascara in Black
As you can also see, along with my breasts growing, so are my fingers. I was down to just my engagement ring for a bit, but last night it got really uncomfortable so I took that off too and have gone to wearing my wedding set around my neck. I didn't want that to happen, and wonder if it may fit better when it is less hot/humid out. But yes, the whole body is screaming to me that I am pregnant – it's finally fully kicking in! 🙂