This article may contain affiliate links; if you click on a shopping link and make a purchase I may receive a commission. As an Amazon Associate, I earn from qualifying purchases.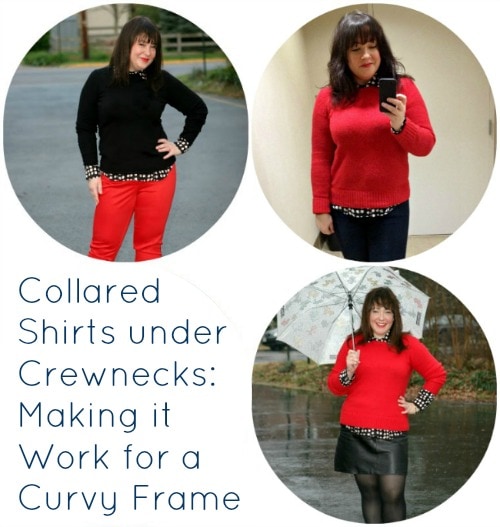 The ever lovely Natalie emailed me and asked,
"Allie, when I try to wear a crew neck over a collared shirt, I look dumpy. How do you look so un-dumpy? What am I doing wrong?"
My email response:
My secret is… the only two buttons buttoned are the second one (the very top one makes me dumpy) and the bottom one (so the untucked shirttails look straight). The rest is gaping open underneath. I did this the first time with this shirt because it's now too small, but was amazed at how it improved the look of a shirt under a crew, and now do it all the time with all my shirts whether they fit or not!
So there you have it!  I find this helps since I am so top heavy – somehow the buttoned-up shirt emphasizes all my roundness, but when I let it gape open, my figure shows a bit better.  Of course this works far better with a thick sweater that won't show the buttons and gaping fabric, but if it's a thinner crew, I will not button the last button, let the shirt sort of go to the sides of my body and tuck it in so it's out of the way and more invisible.  Sort of like a dickey with sleeves!
Follow Me | Twitter | Facebook