This article may contain affiliate links; if you click on a shopping link and make a purchase I may receive a commission. As an Amazon Associate, I earn from qualifying purchases.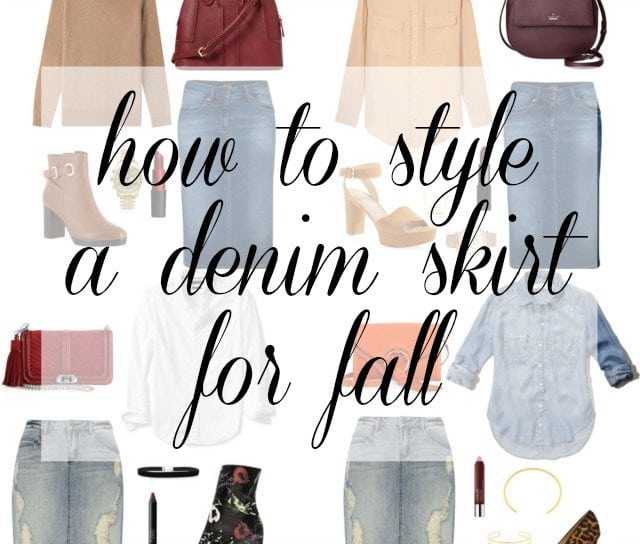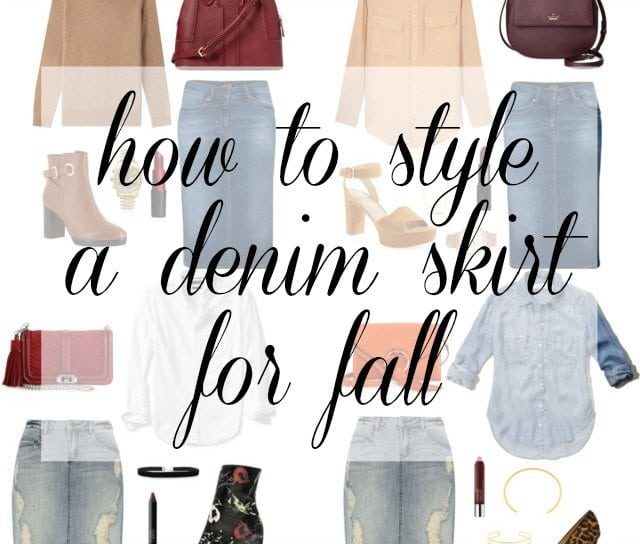 After featuring a denim skirt in my last capsule wardrobe, several of you emailed me asking what denim skirt styles are on trend this season and how to style them. This is an important question as many of us are old enough to remember at least one time prior where we as adults wore denim skirts. How do you do the fall denim skirt trend the second (or third or fourth) time around and make it look fresh and current? It's a fine line; easily you can look dated or lost in another generation.
The '90s are back, and if you're around my age, you clearly remember that decade and likely much of your wardrobe. I can remember my favorite denim skirt at the end of the '90s; it was a stonewashed pencil skirt with stretch and an unraveled hem. I wore it with knee-high boots with a chunky block heel and very often, a black ribbed turtleneck. Looking at the trends this fall, it would be easy to fall back into an outfit similar to what we may have worn in the '90s, as well as the early '80s and '70s. This post will hopefully help you wear denim skirts this fall and winter without looking like you did the last time you sported this trend without looking dated, frumpy, or like a fashion victim.
There's a lot of fall denim skirt styles out this season, from acid-washed minis to calf-length full wrap skirts. You'll find denim with buttons down the front, distressing, front slits, back slits, unfinished hems, a-lines, skintight midis, rigid denim, chambray, and more. My suggestion is if you're nervous about sticking your toe back into the denim skirt trend, do so with a classic silhouette. A straight or pencil style that is not too tight and hits somewhere from above the knee to midi length. While a-lines can be flattering on many figures, styled the wrong way they can veer into costume territory.
Shop My Picks for Fall Denim Skirts:

As for wash, this is where you can put your spin on it. For me, I like a bit of distressing for a rock and roll vibe. However, you can go with any wash, with or without distressing, with stretch or rigid. As with denim, find what works best with your figure and your personal style. A skirt that hits the middle of the knee is the most universally flattering and stylish, but again choose what works best with your personal style. A tip for denim skirts – keep in mind they can stretch with wear and consider sizing down, especially if you have a curvy figure.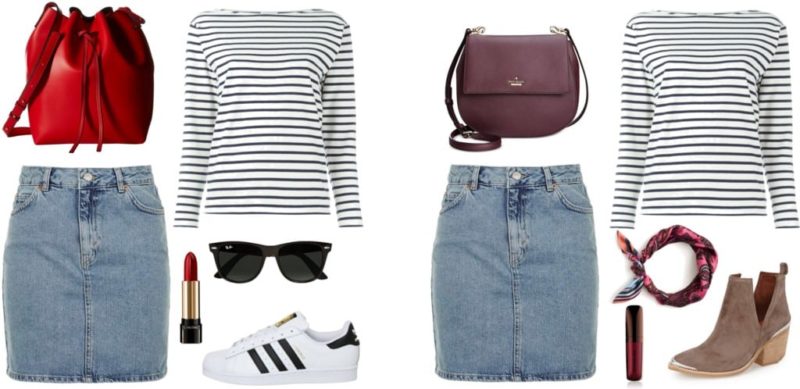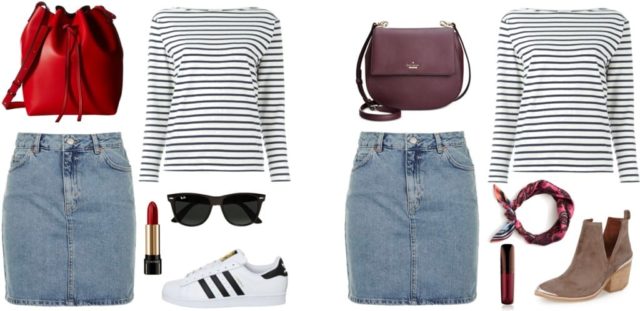 FALL DENIM SKIRT OUTFIT DETAILS:
bucket bag | denim skirt | Breton top | sunglasses | lipstick | sneakers | saddle bag | silk scarf | lipgloss | ankle boots
Denim skirts are a chic alternative to jeans for the weekend and casual events.  It will give a fresh look to wardrobe basics like Breton stripe tops and merino sweaters.  Here are two sample outfits to show how to wear a fall denim skirt early this season.  Sneakers are still on trend this season and a comfortable way to look chic while running errands or going to brunch.  Keep the look clean for a modern feel; a bag with a pop of color and a bold pout is detail enough.  Ray-Ban Wayfarers are eternally chic and look great on women of all ages and all face shapes.

The second look is more classic and polished.  Suede is the hot fabric of the season; a bootie in suede that isn't high contrast from your leg is extremely versatile and will go with skirts as well as skinny and cuffed or cropped jeans.  A silk scarf at the throat and saddle bag and lips in an of-the-moment color show you appreciate classic design but are aware of current trends.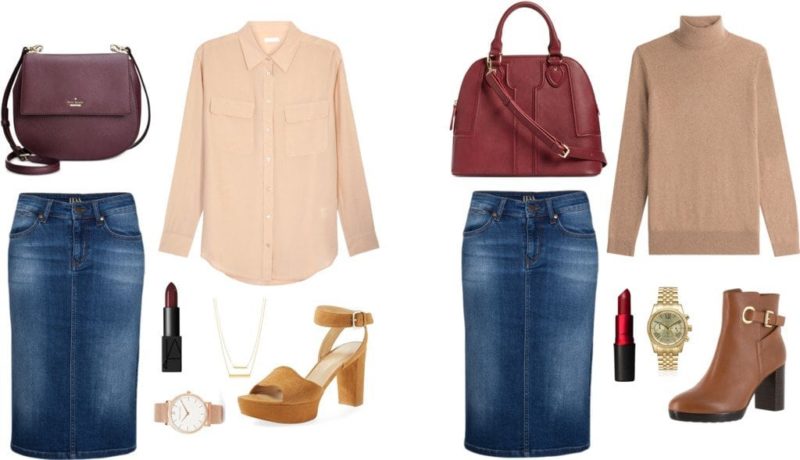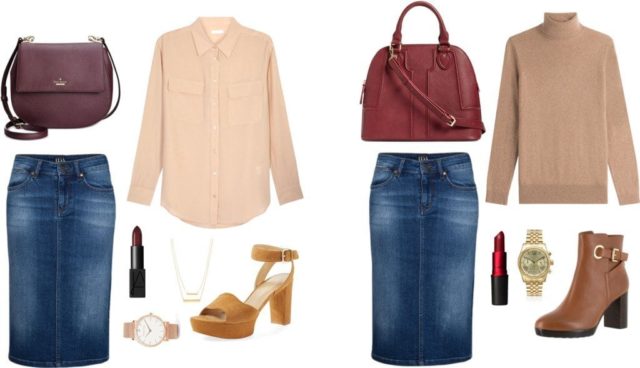 FALL DENIM SKIRT OUTFIT DETAILS:
saddle bag | denim skirt | silk shirt | ankle strap heels | bar necklace | lipstick | mesh band watch | satchel bag | turtleneck | bootie | watch | lipstick
Denim always plays nice with luxe fabrics; the rough texture highlights the sheen and texture of cashmere, silk, and other elegant textiles.  Blush has been a hot color all year long and looks amazing with fall colors like burgundy and camel.  With a longer fall denim skirt, embrace the '70s vibe but don't go too far into costume territory by keeping your accessories current.  A block heel with an ankle strap nods to the decade but is quite current.  A saddle bag with clean lines of Saffiano leather looks modern.  A dark wine lip with otherwise fresh face looks chic this season. Complete the look with a bit of shine – a bar necklace and modern watch in gold up the luxe factor without stealing the spotlight.

The look on the right features a camel sweater, but you can easily switch this out for black, charcoal, brown, burgundy, plum, or evergreen.  This fall ankle boots are taller with a block heel; this is a great boot that transitions into winter looking chic with thick tights, under trousers, or with slim jeans or pants.  A dark red keeps it modern, again consider a fresh face with only a bold pout.  A large satchel in a statement color can carry all your necessities and also double as a work bag.  With such a classic look, a gold chronograph watch is all the accessory you need.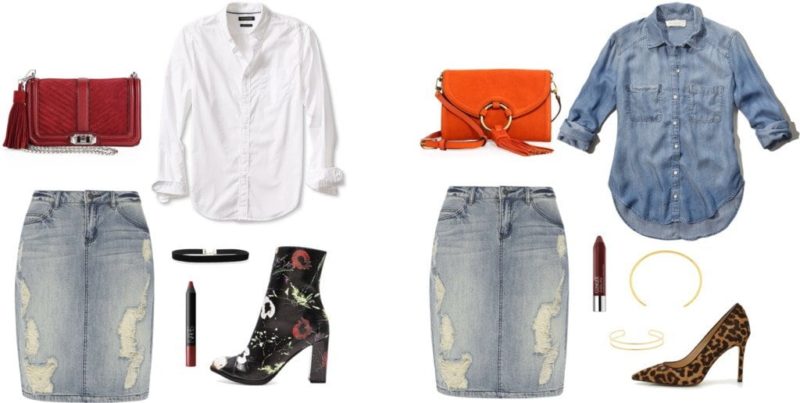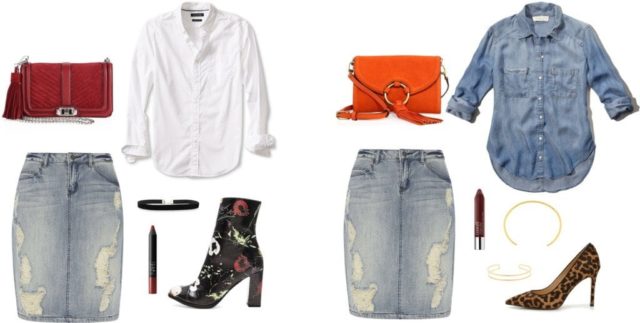 FALL DENIM SKIRT OUTFIT DETAILS:
 burgundy bag | white shirt | denim skirt | choker necklace | boots | lip stain | orange bag | denim shirt | leopard pumps | collar necklace | cuff bracelet | colored lip balm
A denim pencil skirt and button-front shirt is a classic and a fantastic way to highlight statement accessories.  This season a statement shoe is hot, whether it's a sequined bootie or a floral brocade block heel Mary Jane.  However, if you're a pump gal, you can still rock them, though consider a statement pump.  Keep it classic with snakeskin or leopard print calf-hair, or consider unique details like block heels, ghille (lace-up) front, or an ankle strap.  A statement bag is a smart choice because it goes with everything and completes a simple ensemble; choose wisely and it can be a signature piece for years to come.

A button-front shirt is a great pairing with a fall denim skirt, be it a crisp white cotton, Western-inspired denim or chambray (yes you can wear denim with denim as long as there's contrast between the pieces), drapey silk, blue and white striped with a popped collar, or a well-worn oxford.  Make it your own, consider half-tucking, popping the collar, cuffing or pushing up the sleeves, buttoning up and putting a brooch at the collar, or unbuttoning low to show a cami underneath.  Even if you wore the choker trend in the '90s, you can carry it off again this year if you keep it clean and elegant.  A simple velvet choker is a great way to give a fall feel to transitional pieces (ASOS has plus size chokers for those of us with thicker necks); a collar like this one from Gorjana gives the choker feel without being too much of a statement (try it with the open part in the front or in the back).  With such classic pieces, choosing a trendy lip keeps it looking fresh. The two lip products shown are a more subtle way (stain and balm) to wear a darker lip.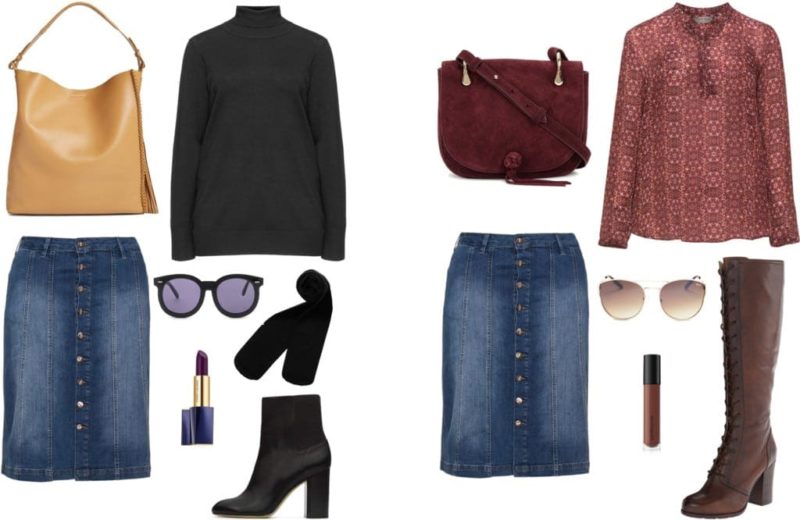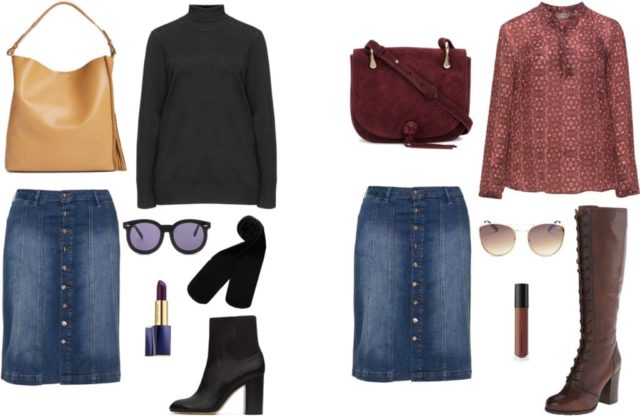 FALL DENIM SKIRT OUTFIT DETAILS:
 camel hobo bag | denim skirt | turtleneck | black sunglasses | tights | booties | lipstick | saddle bag | blouse | sunglasses | boots | lip gloss
Denim skirts can work into the winter months as well as the style looks so good with regular and textured sweater tights and tall boots. Denim, especially when it has a finish or distressing, shines when paired with black.  For a sleek look, consider a turtleneck, tights, and boots all in black.  An ankle boot in a trendy silhouette and a modern bag in a hot color for the season will keep this looking fresh and not dated. This is the perfect kind of look to try out a wild lip color – this fall it's okay to veer from wine colors and try something bolder like purple or navy.  The look on the right is more romantic. a patterned blouse in a flowing fabric will beautifully balance a rigid denim skirt.  Lace-up boots have a boho feel, but the block heel keeps them looking current.  A suede bag in a hot fall color, oversized sunglasses, and a glossy plum lip completes the look.  Add warmth with a belted sweater coat or even a faux fur.

You can add tights in burgundy, brown, or any dark color in the blouse or that matches the tights to battle a winter chill.  These two looks are with plus size pieces but as the above looks can be recreated in plus sizes, these two can be recreated in any size.
For those who feel comfortable with the fall denim skirt trend, this is for you!  Consider trying an a-line, midi length, one that buttons up the front, one with a high waist or a unique detail.  With many of the denim skirts available with fall, they can be the highlight of your look.  This fall's trends are quite wearable and creative, have fun this season and don't be afraid to wear trends you wore before!

Save
Save