This article may contain affiliate links; if you click on a shopping link and make a purchase I may receive a commission. As an Amazon Associate, I earn from qualifying purchases. 
I have often written about the difficult parts of blogging, but there's some pretty sweet parts too. The friends that have been made with fellow bloggers, readers, and even some brands. The ability to get paid for a hobby or passion. And yeah… swag. We bloggers can get a lot of free stuff. Granted, that free stuff isn't without strings – we get with the expectation that we will share with you folks (with stipulations on number of photos, links, social media touts, first born…). Because of this, I have become pickier with what swag I'll actually accept. In the past I've been stuck trying to be tactful in a mention of a subpar something and I don't want to have to do that again.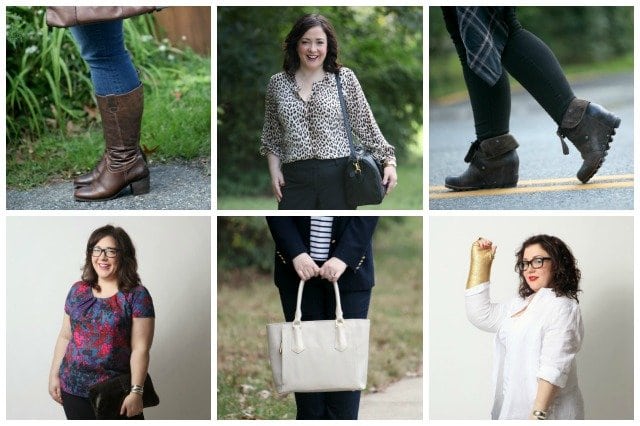 But not all swag is wack, and through blogging I have learned of some awesome companies and many pieces I have received for free have become some of my favorite pieces in my wardrobe. Since it can be hard to tell in posts which C/Os are truly adored, I'm going to share the best items I have received this year and why.
I did a little squeal of joy when DUO finally contacted me. I've been writing about this high quality footwear brand for almost a decade and have purchased two pairs of their custom width calf boots with my own money. So this fall when they asked me to pick a pair of boots to feature on the blog, it wasn't hard to say yes. I chose the 'Santana' boot in brown leather and they have become a weekly wear. In fact, I am wearing them right now as I type this post! The quality of leather is fantastic, and it's nice to get stylish yet classic boots that fit my very large (44cm) calves and thick shins. These are especially flattering because they're a bit shorter than knee-high, hitting at a better place on my petite frame. The color and subtle distressing rival Frye boots and I find them to be comfortable enough to walk and stand in them all day. A bit of a backstory – since I tore my left calf muscle last year my calf is even BIGGER than before so when I ordered my normal size in DUO they were too tight. DUO was amazing about the exchange, I spoke to them on the phone, we discussed how it fit to determine the correct replacement size, and they were so super nice and helpful. It's so great to work with a company that you can feel cares about their customers.
Guess this one is a bit unfair because it hasn't yet been featured on the blog (yet!), but it's darn awesome. I've loved the looks of the unfinished edge simple leather totes that have been in style, but couldn't justify buying once since I already own totes that work as well (even if they don't look as nice). So when Adora Bags contacted me and offered to send me a tote I was psyched. They come in black, a gorgeous blue, and a rusty orangey natural color; I chose black thinking it would be the most practical and timeless. The leather is insanely delicious – tumbled but soft. The straps sturdy and fit over my shoulder while wearing my parka yet short enough to carry in my hand. The shape isn't too structured, but not a lumpy sack. It comes with a removable pouch on a strap so it can be an easy-access pocket for essentials, or pulled out to be a clutch. Mine also came with a little empty book/agenda in the same leather which was a lovely touch. This is a true tote, it wouldn't really make for a great handbag, but it's a good size for an overnight trip, a carryon bag, or for running errands. It's handmade in Italy, smells divine, feels luxurious, and makes me carting 250 flyers for the Girl Scouts or returns to Ann Taylor feel a bit more posh. And speaking of customer service, they followed up with me to ensure the bag came in perfect condition and have been so lovely to work with. A super nice company.
Before my arm broke, Karen Kane contacted me and asked if I'd like some pieces from their Spring collection. I got a pair of wide-leg drapey pants from them they year prior and wore the heck out of them so when I saw their blue paisley jersey pants I knew I had to have them. I envisioned them with a drapey jersey top in white, lots of silver jewelry, flat sandals and a hint of a tan come Summer, but I ended up wearing them quite a lot while convalescing. They were one of the few bottoms I owned that weren't pilled and faded yoga pants that I could get on and off with my left hand, were comfortable enough to rest in them, but felt sassy enough in them if a friend came to see how I was doing. Even better, since I lived in them they went in the washer and dryer dozens of times yet are still as rich in color, no pills, no shrinkage, and looked cute enough that when I was healed I did pair them with a drapey top and silver jewelry! Obviously the pants they sent me are no longer available, but these look to be the same pants in a different print. And we all know I love Karen Kane, in fact it was hard to pick one item from them to feature. I love the black drapey jersey dress they sent me and the lace overlay dress from them was not only a fave of mine, but I loaned it to a friend to wear to a wedding! Karen Kane continues to have my heart and a place in my closet.
In my sponsored post I stated I was a fan of SOREL boots and I have been, but I'll be honest – they never fit over my calves. So when they asked me to do a sponsored post with their boots I was excited… and terrified. Last year I did a footwear post with a brand and the boots they sent did NOT fit my legs and I had to cobble together a wonky outfit to make it work. But after last winter and my broken arm, I couldn't pass on a pair of quality boots that are made to handle inclement weather. So I chose this style of boot, figuring it laced up and was softer leather higher up so it could possibly flex over my ankles and shins. I also ordered a half size bigger than usual to give a bit more space. And well, I'm glad I took the risk. In the post I wore the boots folded down because they did look a bit goofy laced up on my legs, but I have been wearing them both ways. I wear them folded down, cuff my jeans, and have rag socks slouched between the two for warmth and a bit of a '90s vibe. But I also wear them laced up which may look weird but feels comfortable and wear my pants over them to hide the tops. However when it snowed the other week, I laced them up over a pair of jeggings and had my wool socks peek out over the tops of them and while no one would give me an award for figure flattery, it looked casual cute. The boots are super grippy, super comfortable, waterproof, and warmer than my other boots. They stay at the front door because I wear them so often now that the temps have dropped and I know once it gets icy they may not leave my feet.
We all know I love me some Dobbin Clothing, but I've mainly stuck to their dresses. This year I tried their tops and I am a mega fan. While the green silk tunic they sent is lovely, this leopard blouse has become a closet favorite and I wear it almost weekly. I tuck it in and wear it with black or ivory trousers, I wear it untucked with skinny jeans or black ponte skinny pants and boots. It's a top that works when I've gained a bit, but also looks lovely when I've lost a bit. It says dry clean only, but I have put it in a lingerie bag on the gentle cycle and it has come out quite nicely. I like the gold buttons, the mate crepe finish, and how the leopard is elegant, not cheesy. As with all the other Dobbin Clothing I own, the quality is stellar and it's a piece that's stylish now and likely will be stylish for many years to come. And from a blogger standpoint, they are one of my favorite companies to work with!
Talbots sent me their fall look book and it impressed me so much I shared it on the blog with all of you. You all reacted so positively (and I'll be honest, clicked those affiliate links in the post and bought a lot of Talbots merchandise) that I let Talbots know how successful a post it was. And they asked me what size I wore and sent me this coat in thanks. I wore it in this post, but if you follow me on Instagram you know I wear it quite often. It looks great with jeans, is chic with workwear, and has become one of the coats I wear with dresses for evenings out. I got a 12 Petite and it fits as though it was tailored to my frame; the fuzzy texture gives an almost vintage feel but is a classic piece.
I don't usually reach out to brands, call me a "Rules Girl" but I like to be approached by brands instead of cold pitching (I mentioned this before). But when you guys ask me about a brand unknown to me, I do my homework. And I did my homework with Dagne Dover, reading reviews online and being bold enough to email them. They were awesome, replied in less than a day with a super sweet email and the offer to choose the bag of my choice. We've stayed in communication and I look forward to sharing more from the brand in the future. They're a small brand, but one with heart and one that makes well-made and cleverly designed bags. I've had really demoralizing experiences reaching out to brands, but my experience with Dagne Dover has given me confidence to keep doing it with companies that seem like a good fit for this blog.
I spent about 25 weeks this year in a cast. If you've ever worn a cast, you know how utterly disgusting they can be. While my second doctor replaced them bi-weekly for me, they still got sweaty and dirty and stinky and grubby. My sister told me about CastCoverz! and I bought two long-arm covers to make my broken arm a bit more stylish – I got leopard print (naturally), and a sparkly disco gold one. I featured them in a post , CastCoverz! saw it and offered to send me covers for when I graduated to a short arm cast. That short arm cast came in the middle of the summer when there was no way to keep my cast looking halfway decent after a day or two. The cast covers didn't make the cast any hotter, but they covered the grubbiness with fun patterns and color while keeping my cast from scratching me and wearing against my knit tops. When Karl broke his foot at the end of the summer, CastCoverz! was sweet enough to send him two boot covers. While their cast covers (and other supplies for those in casts or wearing crutches) are awesome and high quality, what won me over was CastCoverz! customer service and kindness. Everyone I interacted with, from the person on the phone to Annette the owner were so genuinely kind and cared for me be it when I was any old customer, or when I was a blogger promoting their products. Amazing company run by amazing people.
I had a partnership where I was provided a specific amount of money to spend at Boden and I was PSYCHED. However it was when I had my cast and when I had gained a lot of weight and I worried I wouldn't be able to find anything to fit properly. But it's Boden, and Boden is awesome. I had to call them to place my order and chatted with the sweetest person on the phone. We discussed everything from my arm to my bust size to my weight gain and she helped me pick this top (and a basic striped tank because I love stripes and I couldn't afford at the time to spend more than the store credit). And well, I freaking LOVE THIS TOP. I wear it ALL THE TIME. And every time I wear it someone raves about it. The colors are amazing, the fit is great, and it's one of those tops that looks cute tucked in or left out, that shows I go in under the chest, and doesn't make my arms look like hamhocks. The post where I featured it doesn't do it justice; I had JUST gotten off my cast a day or two prior and was feeling pretty darn awful and was just glad to fulfil an obligation. But if you follow me on Instagram you know how often I've worn this top and I likely will wear it to death again this coming spring.
This is another post that took place right after my cast came off and I was in a very dark place emotionally and uncomfortable place physically. But I signed contracts and had to comply. So Karl rolled out his white backdrop, took pauses between my cryfests and makeup reapplications, and we got it done. Another behind the scenes being a blogger – one ad network contacted me the year prior about partnering with "an athletic footwear company" and had me fill out a form to be considered. Then a couple months later, a different ad network contacted me and asked if I'd like to be considered for a campaign with Reebok. Well I said yes to both, and come to find out both were for Reebok Skyscape and set to take place the same week. So the second company who contacted me to confirm my participation, I declined explaining the situation. They're a great company and understood, and told me to let them know when the shoes arrived so they could mail me a return shipping label. They arrived, I contacted them, two weeks later they finally got back and said don't worry about it, I could keep them. Well what the heck am I going to do with two pairs of black Reebok Skyscapes with pink soles? At the time, I didn't know if I'd even wear the pair I wore in the post. And now it's December and you couldn't pry BOTH pairs of Skyscapes from my dead cold hands. These things weight nothing and fold easily making them the best commuter shoes. They are uber cushy and cozy, flexible, but have grip on slick sidewalks. One pair I keep at home, one pair is at the office, and these are the sneakers I take with me when I travel because of size and weight and comfort level. I'll admit I don't love the pink details; both pairs came with pink and black laces so I switched them to black. Not only that, one pair I took a Sharpie to the pink grommets and exposed sole. I did this so I could wear them with my outfit for Halloween, but it does make them less athletic-shoe looking and have become the ones I slip in my bag (like I did last night) to put on after a long day in heels. They are utterly awesome shoes and while I didn't get the hype when I wrote my post, I totally get it now.
Please don't think that because I didn't mention an item or brand here I think it's bunk. Far from it. I think I've gotten better and better over the years in picking the appropriate brands to partner with so I can provide completely honest and positive reviews. I feel truly honored to partner with such amazing companies, and proud that I can introduce them to you. The older I get, the more I experience ageism and sizeism as a blogger when connecting with brands. When I feature a brand, it's usually after establishing a relationship with them and making sure they understand you all, Wardrobe Oxygen's audience. While swag is pretty cool, what's cooler is the relationship I have built with all of you. I want to maintain your trust, I want to continue our honesty, and I want to be able to continue to introduce you to the companies who respect the Wardrobe Oxygen reader and deserve your attention.