This article may contain affiliate links; if you click on a shopping link and make a purchase I may receive a commission. As an Amazon Associate, I earn from qualifying purchases.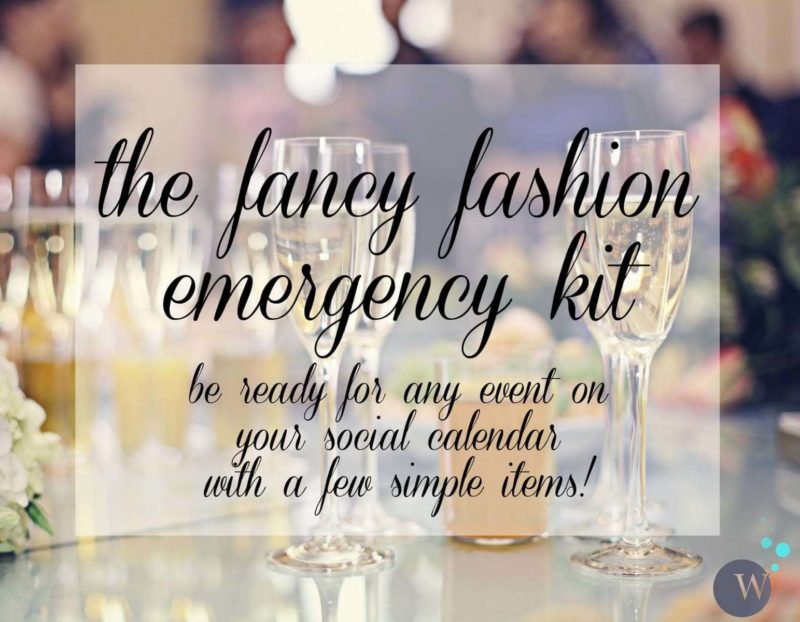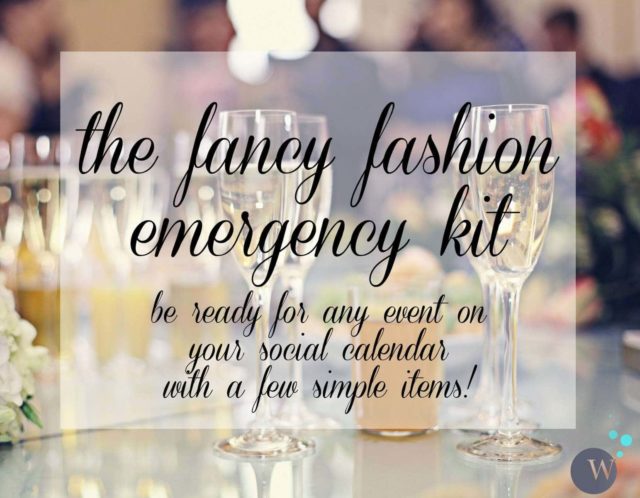 It's the holiday season… and that means likely you'll get invited to an event that requires an outfit a step above jeans and ankle boots. Don't blow your paycheck on a dress you'll never wear again – that's not smart and truthfully that's not stylish. Here's how to buy less, but still look utterly chic for whatever fancy event life throws your way:
Find Yourself a Not-so LBD
All the fashion advice books recommend a little black dress (LBD). Thing is, when you're not young and little, the idea of a little black dress is laughable. However, I support the concept of having a great black dress in your wardrobe ready to dress up or down depending on your social calendar.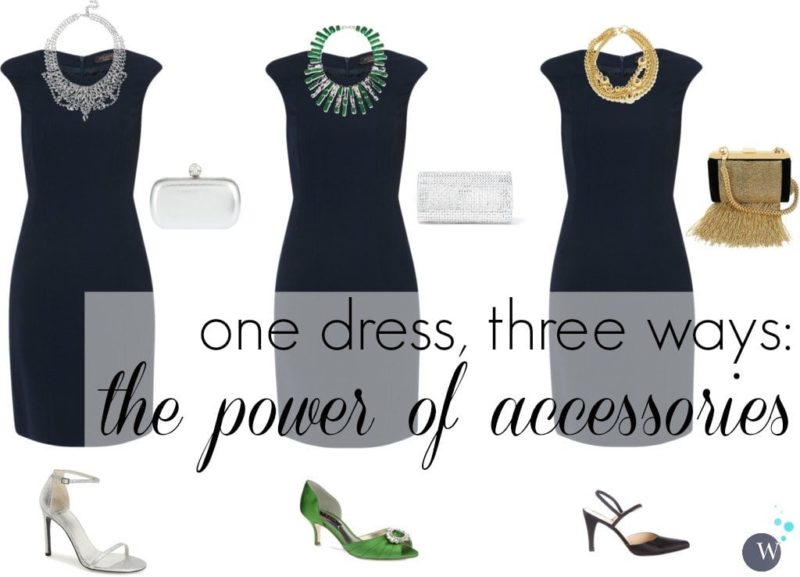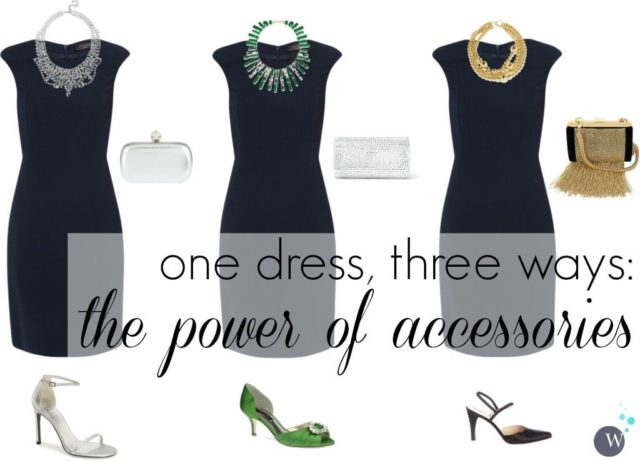 Many years ago I had a v-neck sheath dress in Ann Taylor's suiting fabric. I also had a black synthetic dress with a plunging neckline and asymmetrical hem. Then I had a black matte jersey shift with puffed sleeves. Now I have a black crepe jersey jumpsuit and a black silk drapey dress. All different silhouettes and fabrics but all accomplish the same thing – they flatter my figure and can glam up in an instant. I recommend going more basic with the style than trendy or extravagant – you want a dress that isn't super memorable, won't be dated in a year, and can handle accessories. This is your canvas, not your complete masterpiece.
This dress is not made out of jersey knit, ponte knit, or cotton. This is a fabric with a bit of lustre or sheen, that clearly can be an evening piece but isn't too formal or seasonally specific. Bypass the velvet, satin, and sequins and consider crepe, silk, a jersey with a crepe finish or that is blended with silk, lace overlay, or some suiting fabrics like gabardine or triacetate.
Shop Not-so Little Black Dresses:


Many will state how black is too somber, it's aging, unflattering. I hear you, I understand, and to that I say you clearly know yourself and your personal style and I recommend you purchase what you find to be an equivalent. A soft dove gray, a deep plum, rich indigo, a dark teal. This is not a time for brown or navy which can read too daytime or Corporate America; choose a color that is luxe, rich, and festive yet versatile and not too memorable.
This is a dress that deserves a good portion of your budget, or some serious stalking of thrift stores and clearance racks to get the best quality for the money available. A lined dress will hang better and hold up better after many wears. Pay the extra to have it tailored so it fits impeccably; a seamstress or tailor can also put in extras to make it perfect – little slips of ribbon to keep your bra straps from showing, dress shields so you can keep your cool, and an adjustment of the hem so it hits at the most flattering point with your favorite shoe height.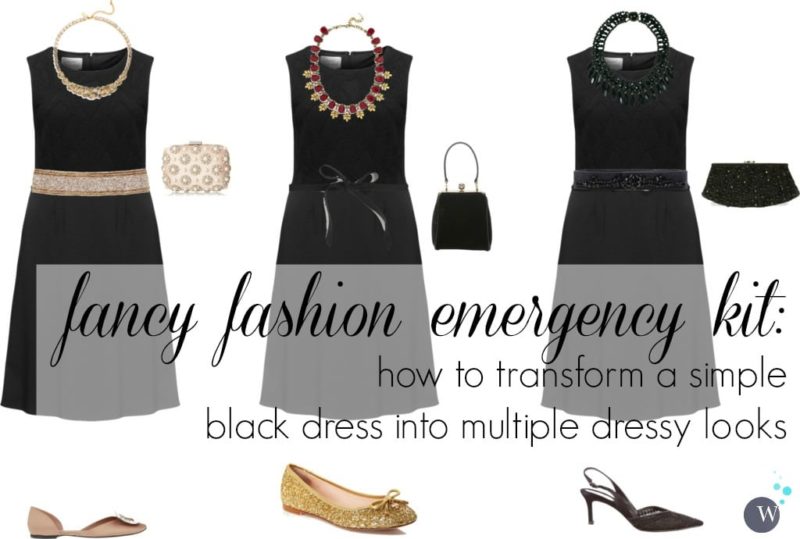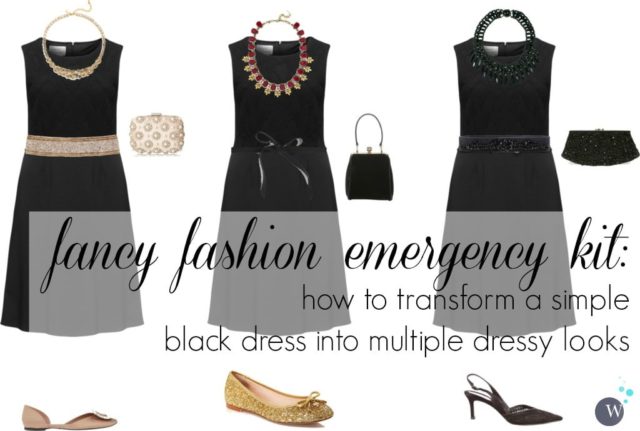 And now, you have a dress that can work for all sorts of events, from networking happy hours to black tie optional weddings.. and of course all your holiday parties!
Fancy Fashion Emergency Kit
I highly recommend having some accessories in your wardrobe ready to glam up your not-so little black dress or make even a simple blazer and jeans look fun and festive for a night out on the town. These are those "desk to drinks" pieces bloggers always talk about and prove the power of accessories. Purchasing a few timeless accessories will be far cheaper than a new frock, and can have multiple lives working for all sorts of outfits in life. My recommendations for your fancy event arsenal:
A Sparkly Bag
Wear a black sheath with your leather handbag and you're ready for the boardroom. Switch it out to a sparkly little evening bag or clutch and you're ready for the ballroom! What's great about this accessory is it doesn't have to be expensive. I've found many a sparkly statement clutch at thrift stores, handmade by an Etsy seller, or even at mall shops geared towards females decades younger than I.
Shop Sparkly Bags:


Your sparkly bag is an opportunity to show your personality. Got a bit of goth in your blood? How about a minaudière with a skull clasp? Is pink your favorite color? Rock a beaded clutch in your favorite shade. I love silver and have a rock and roll streak to my style; my choice is a chain mail clutch with a skinny chain so I can switch it to a shoulder bag.
Whether you paid $5 or $500 for the bag, take care of it. Especially if it has metal parts, store it in a cloth bag (or old pillowcase); if it's a soft shape pack with tissue paper when not in use so it won't crease.
A Sparkly Necklace
While I am a fan of glittery chandelier earrings and love a great statement bracelet, the best piece of jewelry to have in your arsenal is a sparkly necklace. Right now, such necklaces are easy to find everywhere and at every pricepoint. Unlike delicate bangles and stud earrings, no one expects the faceted stones around your neck to be real, so don't be afraid to go bit and bold.
Shop Dressy Statement Necklaces:


While I am a big fan of silver, this is a time where the color of the metal does make a difference. The contrast of gold with clear crystals adds a level of formality that silver doesn't really achieve. If you're more the type to wear pearls, consider the occasional pavé bead or a crystal brooch to hold the strands together. Sparkle is what is going to take your look from Politician's Wife to Belle of the Ball.
Delicate Shoes in a Shiny Fabric
My go-to is a pair of gold strappy kitten heels; I've had them for years and find the thin straps and delicate yet danceable heel looks great with short cocktail dresses or peeking out from under long gowns. In the past I had purple satin heels with an ankle strap and fabric rosette at the toes, a pair of silver strappy heels, and black silk D'Orsay pumps with a crystal detail at the toe.
Shop Festive Formal Shoes:


A heel will look more formal than a flat, but function trumps fashion. A slight wedge, a D'Orsay flat, or even a more supportive flat that has a sparkly adornment and made of a dressier fabric will give the proper effect.
The point is, your shoe can really determine the level of formality for your look. A pair of black pumps you wear to the office could work in a pinch for a more formal dress, but will take a simple frock and make it office attire. Another plus to this is if you purchase smartly, you can get a style that works for years (my heels were purchased when I was pregnant with Emerson), and you can also shop slow and find them on sale (mine were from Banana Republic and I got on clearance for less than $40).
Red Lipstick
If you're comfortable wearing makeup, it's a quick way to elevate your look. If you're usually a Chapstick sort of gal, a red tinted balm will be subtle yet effective. If you usually wear a more neutral color, consider a soft red (I am a fan of Revlon's Just Bitten Kissable Balm in Romantic, you can layer to intensify the color). For a makeup fan like me, there's nothing like a classic red pucker to add a festive feel to a black dress!
Polished Hair
A formal event is not the time for your daily ponytail. Sure that young celeb wore a ponytail on the runway, but she paired it with a million dollars' worth of diamonds and a designer gown. By taking a bit more time with your hair, you can take the simplest of dresses and make it look elegant.
When I had long hair, I would put my dry hair in Velcro rollers (super reasonable price). I'd part my hair in three sections; the middle one (like a Mohawk) I'd split into 3-4 sections. The front one I'd roll towards my forehead, the other ones towards my back. I'd use the biggest rollers on the top of the head. Then the side sections I'd roll towards my shoulders. I'd blast them a bit with my hair dryer, and then leave them in as I got dressed and did my face. I'd roll them out, use my fingers to rake out the curls, then use a bit of glossing serum (less is more; rub on the fingers and start at the tips and the back of the head) to finish the look.
Now that I have shorter hair, I often rely on sparkly accessories to tame the waves and flips. I have a rhinestone Bobby pin from the late '90s I still use quite often to pin bangs that are growing out or to hold hair behind my ear. A sparkly barrette or headband (again can be found at drugstores and teen accessory shops for very little) can do a lot for hair that won't behave. But often, just ten minutes more on your hair can add miles to your formal look.
An Evening Coat or Wrap
You're in a beautiful silk dress that fits you to a T, styled with a sparkly crystal necklace, silk heels, and a beaded clutch in your hand. Cue angels singing. And then you put on your red Land's End parka. Cue sad trombone. Even if you're only wearing that coat to the front door, it is your first impression.
If your coat is wool and hits the thigh or lower, it can work as your evening coat. Consider adding a sparkly brooch to the lapel or wearing with a silk scarf instead of your crocheted muffler. My favorite evening coat is a faux fur I found at a thrift store for $10; for that price I risked and paid off by machine washing it to make it shiny and not smell like mothballs. Coats are a great off-season purchase; I have a cream wool long coat I found at TJ Maxx for less than $50.
If it's not that cold out, a pashmina is a great alternative to a jacket. It's also a great alternative to your winter scarf; once you remove your coat you'll still have it to wrap around yourself if the ballroom is drafty.
The Most Important Accessory
The most important accessory is you. Confidence makes more of an impact than the designer who made your dress or the height of your heels. Laughing, having fun, dancing and participating is more memorable than the most beautifully done makeup application or supermodel locks.