This article may contain affiliate links; if you click on a shopping link and make a purchase I may receive a commission. As an Amazon Associate, I earn from qualifying purchases.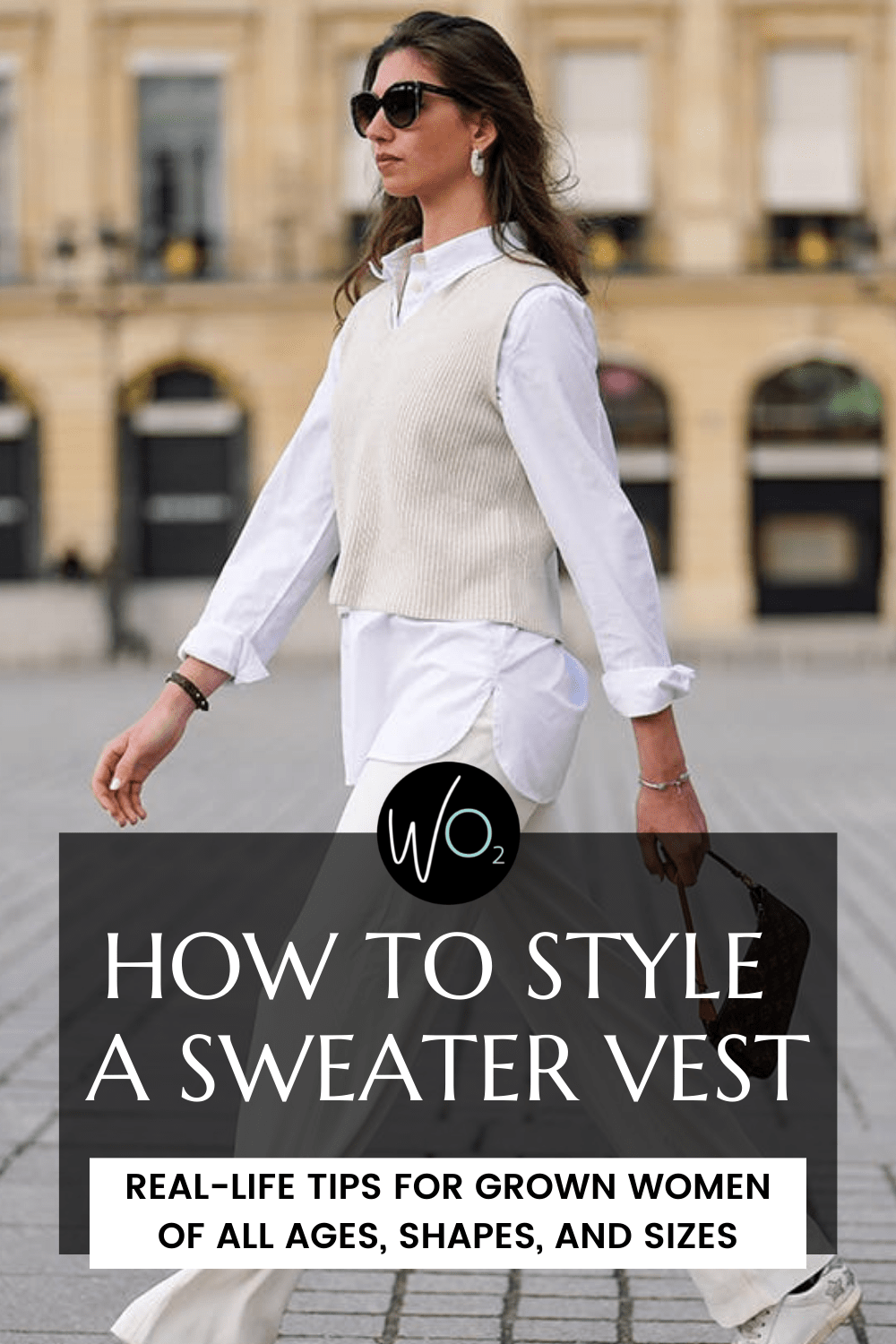 It was inevitable. Anything worn in high school and college seems to have returned to the fashion scene. This past spring my middle-school-aged daughter asked for a sweater vest. I knew by the time the seasons changed, sweater vests would be commonplace at all retailers. But how to style a sweater vest as a grown-ass woman? I already did the '90s version, and I have no desire to wear an oversized vest covered in strawberries with torn "mom" jeans and platform Chucks a la my kid. Here's how to style a sweater vest in a way that is sophisticated yet fun, practical yet stylish, and perfect for us grown-ass women.
Revisiting Past Fashion Trends As an Adult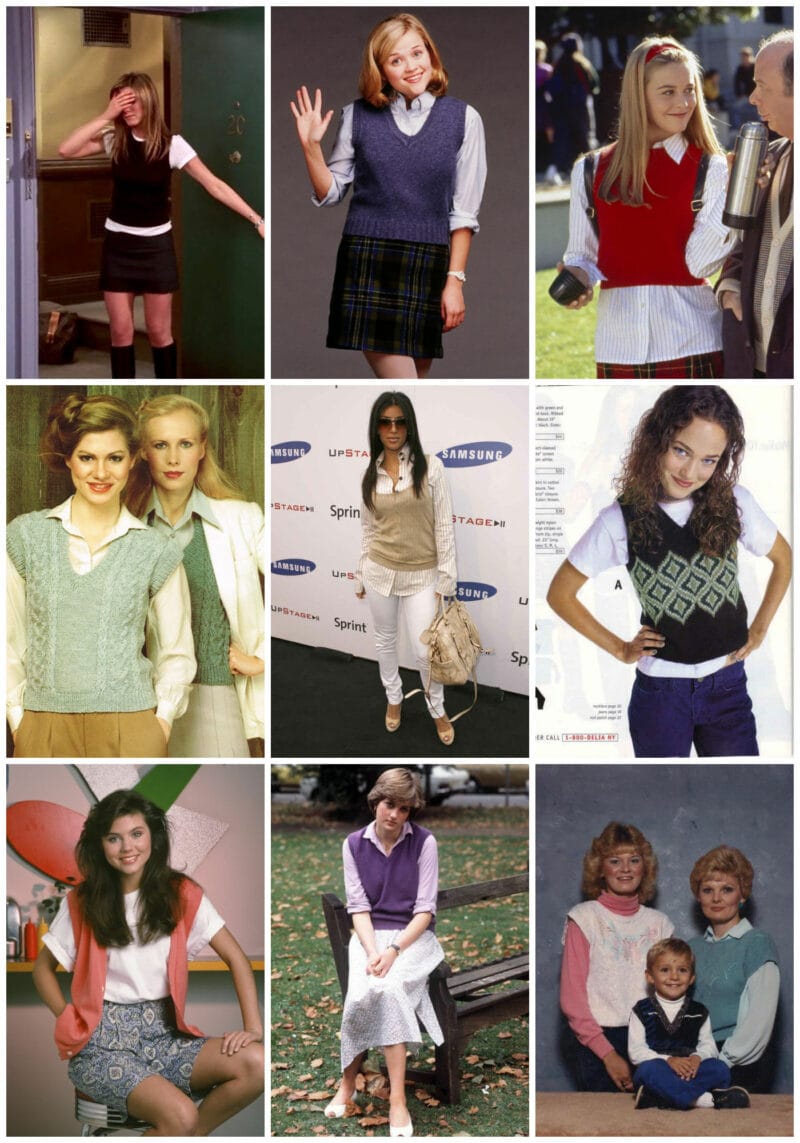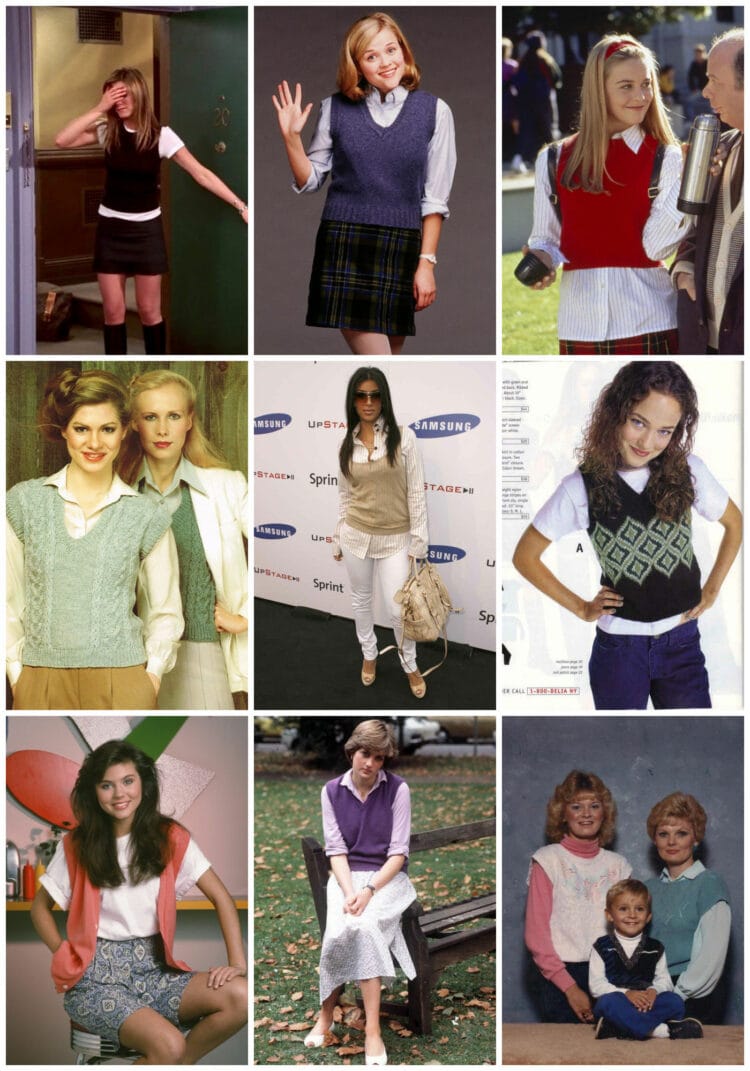 The key to re-wearing a trend from your past is not to be literal. Flip through your photos (because we, thank goodness, didn't have social media or smartphones back then) and you'll see you wore sweater vests with shrunken "baby" tees, oversized button-front shirts (likely stolen from your male relative or scored at the thrift store), and often as the sole garment on the top half of your body.
You may also remember sweater vests as part of a uniform. Paired over turtlenecks or oxford shirts, these were assigned by your school, or maybe just the default uniform of a certain group of folks in your grade who identified as preps, brainiacs, etc. Often these were argyle or a Fair Isle pattern or a solid color embroidered with a crest over the heart.
Just because a garment held a certain type of "vibe" or aesthetic decades ago doesn't mean it still does. That being said, if you have absolutely NO desire to revisit the sweater vest trend, you don't need to. As a grown-ass woman, you wear whatever the heck makes you happy, and if revisiting a trend doesn't make you happy, leave it in the past. Nothing is more stylish than trusting yourself.
But also… unless it's your personal style aesthetic you don't want to wear sweater vests in the same manner as they were worn the last go-round. The key is to make the trend feel fresh and new, with only a subtle hint to the past.
Good thing most retailers that cater to a range of ages are styling sweater vests in a way that is modern with a classic lean. Similar, yet different from the '90s and very wearable in a variety of settings and a range of personal style aesthetics and body types.
How to Style a Sweater Vest as a Grown-Ass Woman
Clean and Classic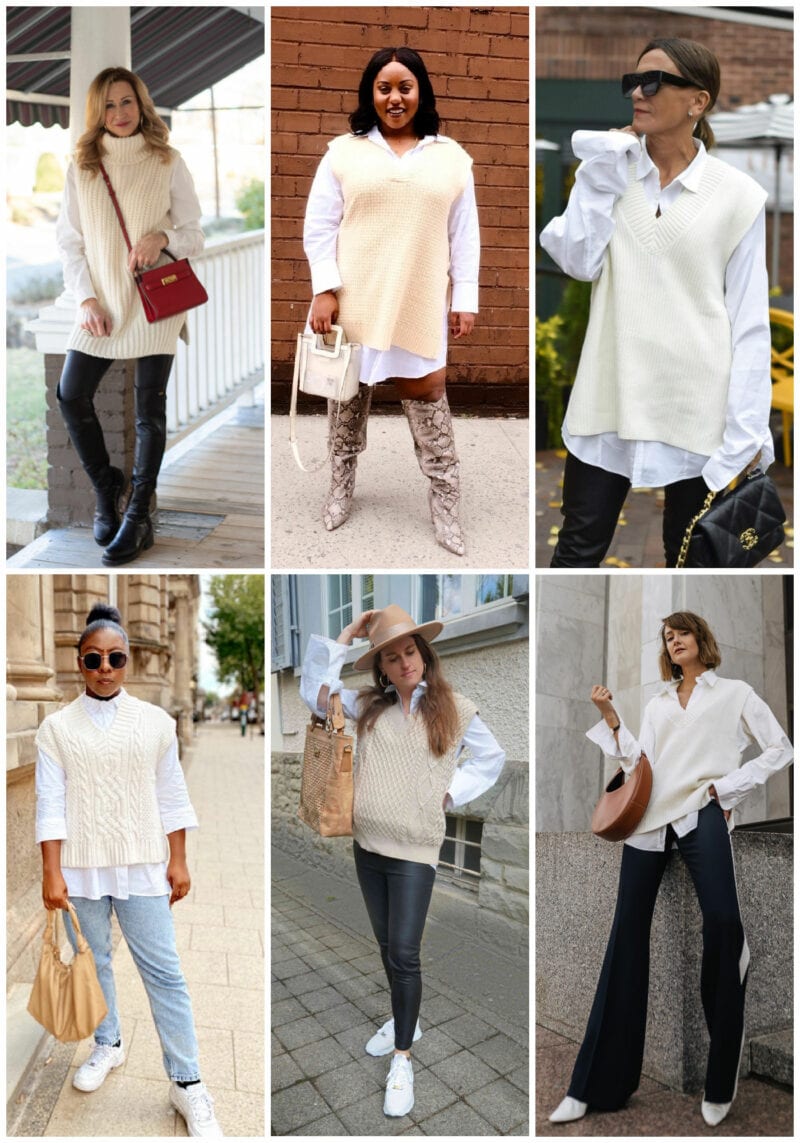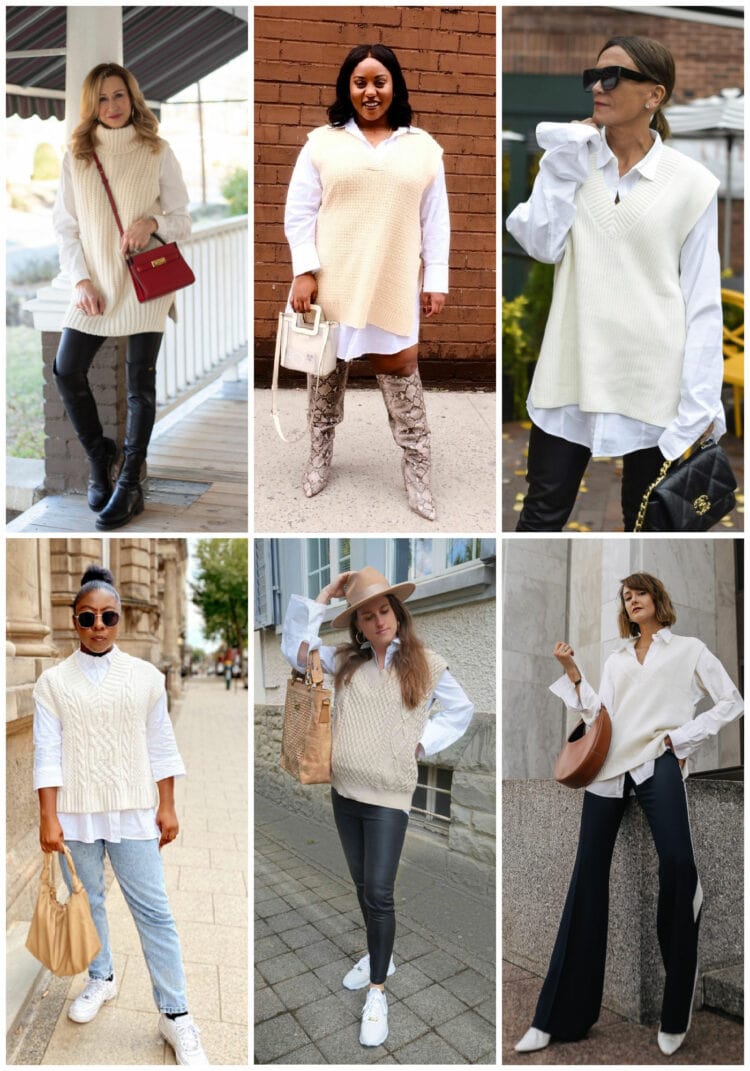 If you wish to dip your toes into the sweater vest trend this season, I recommend starting simple. The original way I saw sweater vests this season (beyond the strawberry oversized one my daughter HAD to have) was in a pale neutral like cream or oatmeal. It had a crew, mock, or turtleneck. It was a boxy but not oversized fit, and it hit anywhere from just below the waist to tunic length.
Depending on the weight of the knit, the sweater vest was sometimes half-tucked or just had the waistband folded over to give the appearance of being tucked in. For tips on how to tuck in a sweater, check out this article.
Styling for fall and winter, the sweater vest was usually styled over a white top. If the sweater vest had a lower neck, it was often a crisp white button-front shirt (this is my absolute favorite white shirt – no iron and great for curves). If the vest had a higher neck like a mock or turtleneck, it sometimes was styled over a fitted knit top like a turtleneck or long-sleeved t-shirt.
If it was a button-front shirt, the collar is popped to peek over the neckline, but isn't properly folded over as we did for uniforms in the past. The hem of the shirt can be left untucked and it's okay to have it peek out from the bottom of the sweater vest. In fact, a popular look this season is a sweater vest the length of a tunic or short dress with an elongated white shirt peeking out creating an above-the-knee dress effect that can be worn with tights, leggings, or tall boots.
As for the bottom half, anything goes. This concept looks great styled with faux leather leggings, with slouchy cuffed chinos or cords, and denim of most any cut and wash. I would hesitate styling with a short or knee-length skirt because that feels too close to a uniform or the way we styled sweater vests in the past. If skirts are a must for your personal style, I'd recommend going with a midi-length gathered style in a solid neutral in the same color family with boots to achieve a bit of a boho/academic vibe.
Shop Neutral Sweater Vests to Achieve This Look:
Pattern Play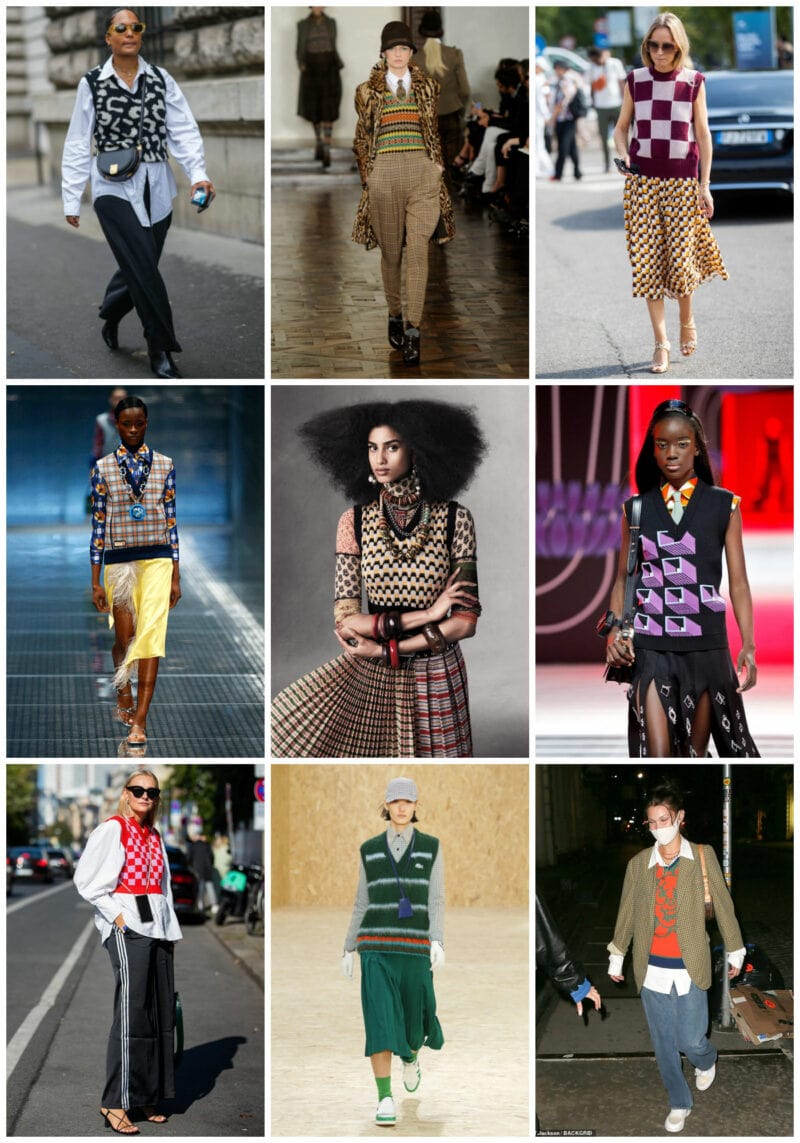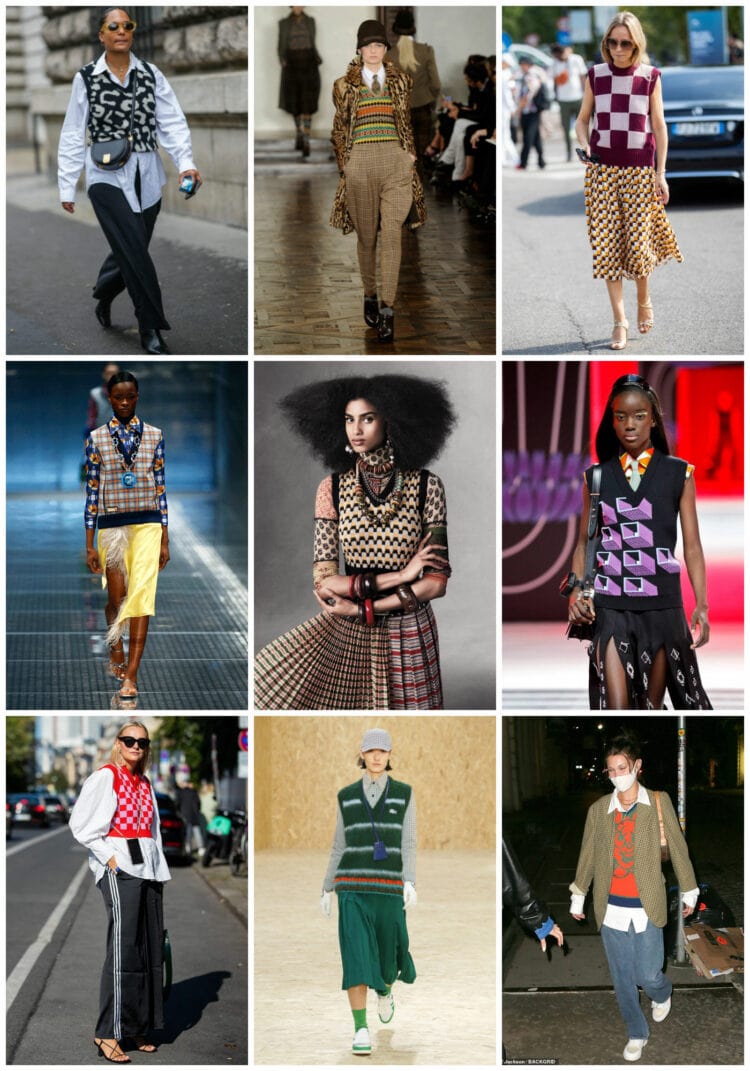 Like my daughter's strawberry-printed sweater vest, patterned sweater vests are a hot look this season. While there are a few traditional argyle and Fair Isle print sweater vests on the market, the majority of patterned sweater vests this season are playful, colorful, quirky, and fun.
A printed sweater vest can be fitted and cropped, slouchy and hanging past the bum, and everything in between. Looking online, you will see this sweater vest trend worn by all genders and in a range of personal style aesthetics.
The bolder prints are often paired with a white shirt underneath to let the pattern take the spotlight. This is where your personality can shine through. Pair a pastel striped vest with a pale pink blouse with puffed sleeves. Rock that leopard print with a classic white crewneck tee. Mix a graphic printed vest with a floral or striped button-front shirt.
You can also style it in the same way as you would the neutral vest and white shirt, though don't be afraid to switch out a classic white shirt for one of unique fabric, with interesting details like bishop sleeves or ruffled shoulders, or choose a print or solid color.
Shop Patterned Vests to Achieve This Look:
Pop of Color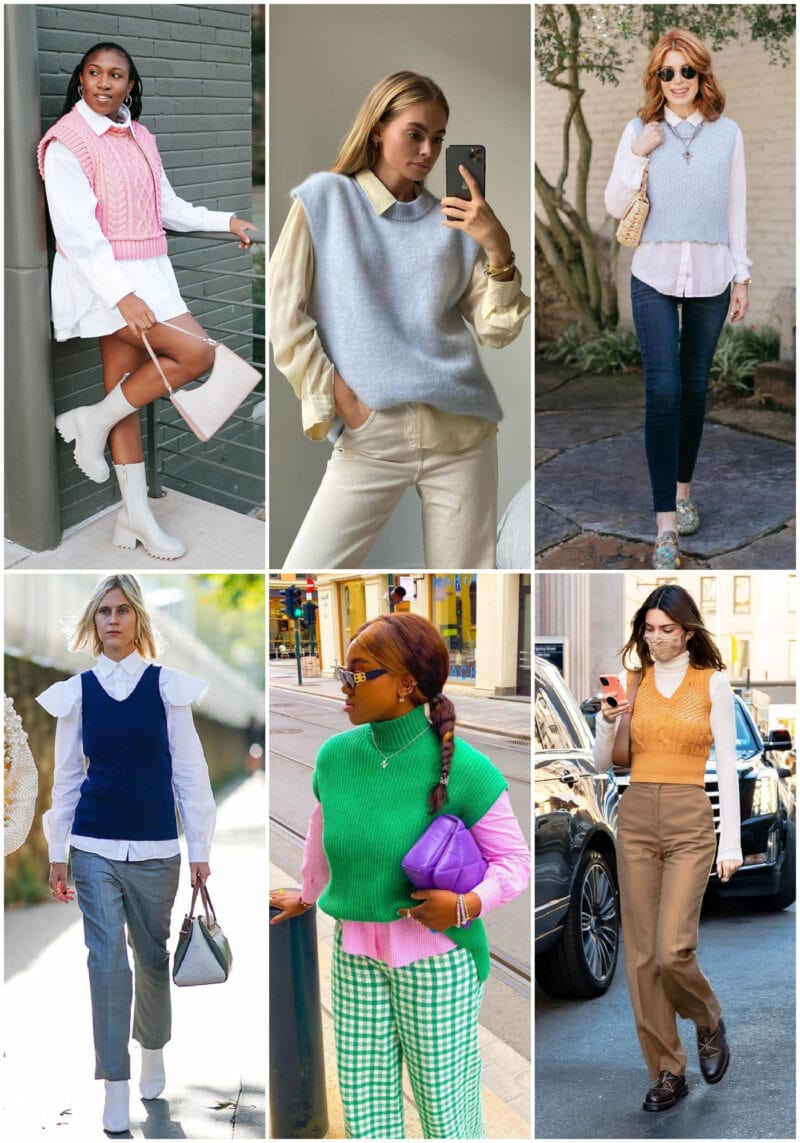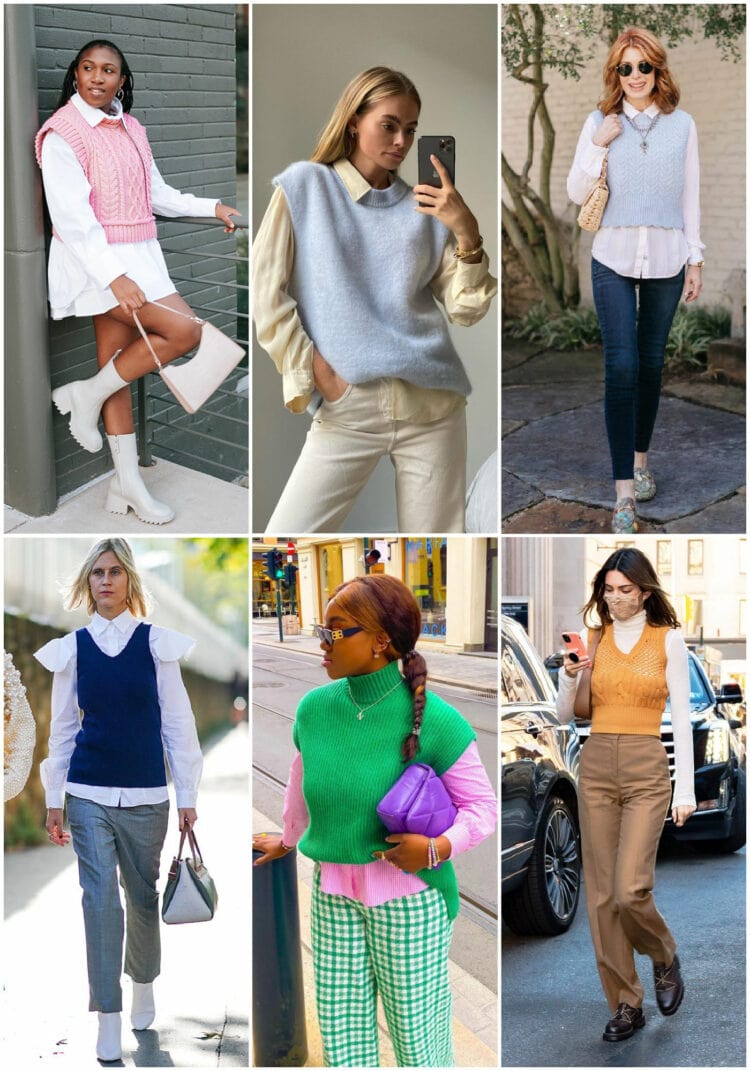 If you like the clean look but prefer some color and aren't on the pattern play train, there is a sweater vest look for you too! The most popular way to wear a solid-colored vest of any color is over a white button-front shirt, but a classic blue pinstripe or a print incorporating the color of the vest is also a great choice.
If your vest is more tailored in fit, consider playing with volume with bishop sleeves, an oversized collar, or having the shirt hang out below the vest's hem. If you like the look of a vest to replace your top, play with volume by pairing with wide-leg pants, baggy jeans, or a fuller midi-length skirt.
Shop Colorful Vests to Achieve This Look:
The Sweater Vest Trend: Styling Tips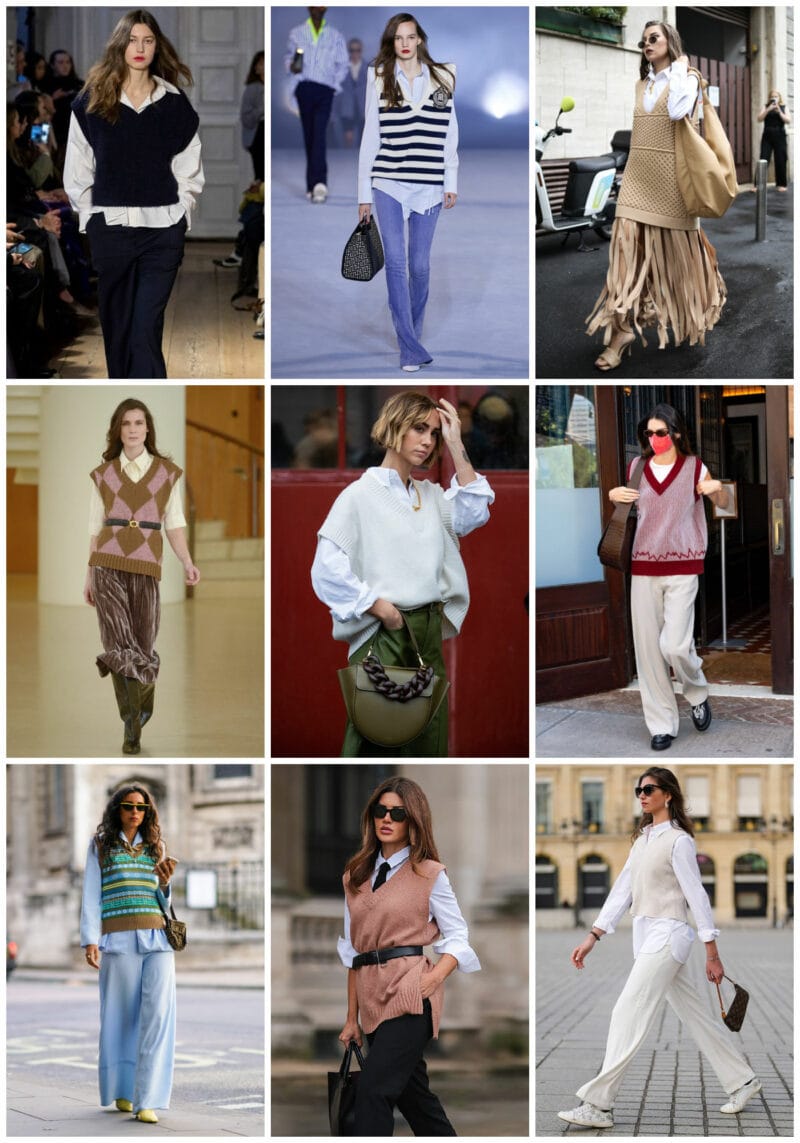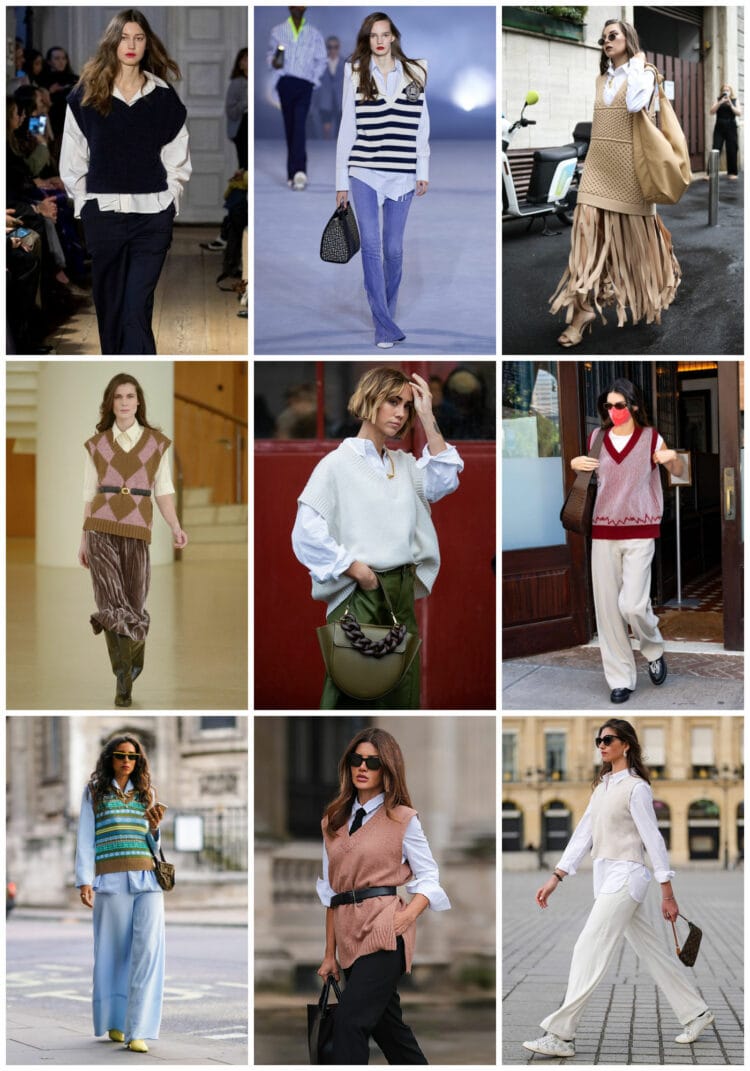 These days, you can totally rock any trend in any way that makes you happy. Gone are the days where you have to adhere to rigid fashion "rules" to look stylish. If you're thrilled sweater vests are back so you can recreate looks you wore or wanted to wear in the past, go for it. You'll look amazing. But if you want some basic guidelines on how to style a sweater vest for here and now, this list is for you:
You can't go wrong with a white shirt. Take that white shirt that gapes at the bust, the one that is a hair too long, or the one from your partner's closet and wear it untucked under your sweater vest. Have a few buttons unbuttoned at the collar for a relaxed look, or button all the way up and pop the collar so it peeks out of a higher neckline. Wear the cuffs down and buttoned, or down and unbuttoned; if you cuff keep it very clean and with the sleeves wrist to bracelet length for a modern (and weather-appropriate) effect.
A white t-shirt is a classic. Whether it's a traditional unisex fit, a shrunken style with cap sleeves, or fitted with long sleeves, a white t-shirt is a good base layer to let your sweater vest be the focal point of your ensemble.
Keep accessories simple. Whether it's a cream sweater vest with a white shirt or a purple polka-dot vest over a plaid blouse, let the vest take the spotlight. No necklace is needed, and unless it's your signature style, earrings can also be smaller and more subtle.
Play with volume. If you're wearing a more fitted vest, consider balancing it with a higher volume pant or skirt. Longer vests look great with skinny jeans, faux leather leggings, or tights with tall boots. Don't be afraid to pair your sweater vest with a top that has statement sleeves or a more ornate collar.
Thrift it! While you may not wish to revisit the exact look you may have worn a few decades ago, that doesn't mean you can't find a vest at the thrift store that will achieve the exact effect you want in 2022. Check out the men's section where you may find more square/boxy cut vests in solid colors that will give you the modern sweater vest trend that's so hot right now.
What do you think of the sweater vest trend? Do you plan on rocking it this season? I'd love to hear how you plan to style a sweater vest or how you've already incorporated one into your existing wardrobe!