This article may contain affiliate links; if you click on a shopping link and make a purchase I may receive a commission. As an Amazon Associate, I earn from qualifying purchases. 
I hate the idea of changing your style or love of fashion because you've hit some age milestone. It's utterly ridiculous, we don't lose our personalities at certain ages, why should our style disappear? As I get closer and closer to 40, I've been more and more inspired by women in the blogosphere who have amazing, inspiring personal style and show that age is but a number. One of those women is Sheila from the blog Ephemera, and that is why I asked her to be part of my True Fashionista series.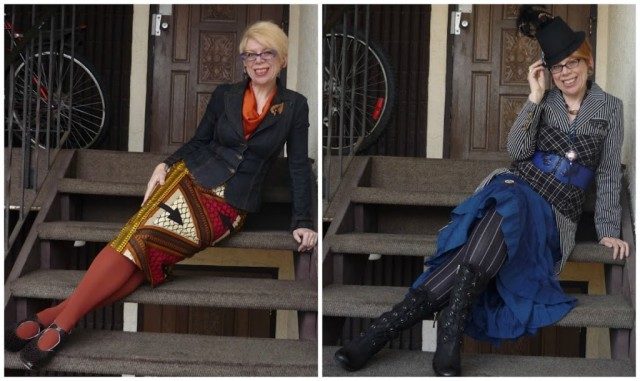 I've actually been a fan of Sheila for many years; I can't recall how I found her blog but it has been on my reader a while and I continue to be inspired and excited by her outfits. Sheila rocks color, print, unique cuts and silhouettes. She is a thrifting queen and creates the most unusual pairings. Her personal life is infused into her outfits – a bit of steampunk, accessories with sentimental value, garments she has swapped with other bloggers. And speaking of which, Sheila is one who truly loves the community created with style blogging – she has made many friends, has met many of them, and even trades clothing with them.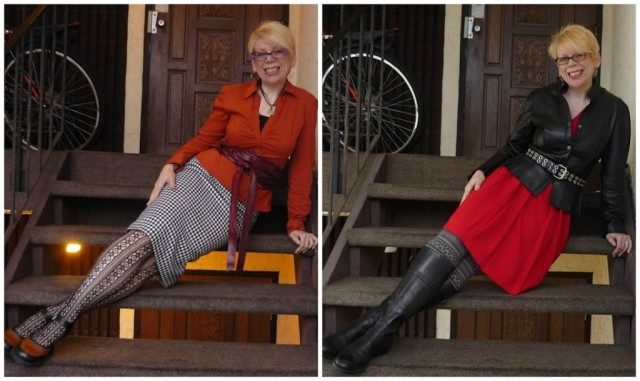 Sheila is proof that you don't need to spend a million bucks to look like a million bucks. She thrifts and cosigns, she keeps things for years and brings them back into rotation when they fit current trends or her current personal style. She isn't hesitant to get rid of something that isn't a wise choice (and I love how she asks the opinions of her readers), and is always adding new secondhand scores to update the wardrobe.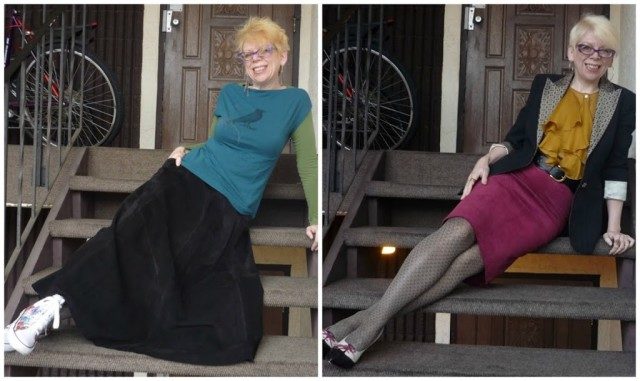 Sheila's blog Ephemera makes me feel as though I'm hanging out in her bedroom with a glass of wine, watching her try on clothes in her closet. She shares multiple views of the clothing (as you can see from my collages I adore her reclining on the stairs pose), her reasoning behind the garments and ensembles, and a peek into her life and where she wore the outfits.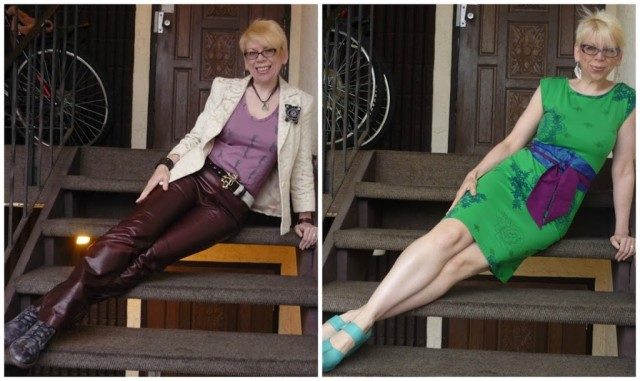 Sheila's style is creative, unique, yet extremely wearable. She is proof that one can still have fun with fashion (and life!) and look polished when over 40. She's fun, inspiring, intelligent, and has amazing personal style. As with every True Fashionista, I asked Sheila to answer the same five questions; her answers:
How would you describe your personal style?
Um…crazy lady chic? Classic with a twist? Eclectic? Eccentric? All those kind ways to say, "Sheila's a little "out there" with her clothes." I love colour, pattern, texture, shine – even better if it's all in one item! I'm a bit of a crow that way. I don't like to look like everyone else; I want to stand out, especially the older I get (I'm 45). I refuse to disappear into drabness in my middle age – I have more confidence now about my body and myself in general than I did 10/15/20+ years ago, and I make a statement with how I feel by how I wear my clothes.
Where did you get your passion for fashion?
I grew up surrounded by creativity – my mom is an artist, so I learned about colour very early in my life. I don't remember ever not wanting to wear bright colours. My grandmother also dyed her hair bright red (I'm a blonde right now, but I've been a box-dye redhead for a good portion of my life) and wore bold jewelry, which was also inspiring. When I was 14, I met my great-aunt Ann – she must have been in her 60s, but she was wearing a flowered mini-skirt, hot pink heels, and a fitted top. Her black hair was scraped back and she had pink lipstick and bold make-up. I remember thinking, "I want to be her when I grow up!"

In my teens and experimenting with fashion, my mom gave me some excellent advice that I've never forgotten: "Never wear the same thing twice. Always keep them guessing." She didn't want me to get locked into a look/stereotyped and encouraged me to try on different personas through clothing. I looted clothing from her, from my dad, and shopped vintage and loved playing with people's perception of who I was.

I struggled with my weight and my self-esteem in my twenties and thirties. It wasn't until I lost 50 lbs 6-7 years ago that I finally felt like I was getting my life under control. I work hard to maintain my weight, and I am proud of my shape. I want to show it off!
Where do you find sartorial inspiration?
Oh, gosh, everywhere! Afraid to mix colours? Look at nature for inspiration: irises for blue and yellow, cherry trees in bloom for pink and burgundy and brown. I love seeing what other people wear, both in the blogoverse and in real life. I always notice what people are wearing, especially if they've put some thought into it and are pushing the creative envelope. I like to look at fashion magazines to see what's coming, and then I either shop my closet (I have a large closet and a big wardrobe!) or keep an eye out for it in thrift stores and consignment stores.
What is the difference between fashion and style?
I think fashion is inspiration and style is perspiration – you have to work at style! You can be a slave to fashion and end up looking good, even great, but constantly chasing the next new thing – fashion is ever-changing, fleeting and ephemeral (which is where I got the name for my blog, by the way). Style is taking what you like and what suits your personality and body type and creating an expression of yourself. When I really feel like "me" in an outfit, I know that I've hit my personal style just right. Style is always experimenting and trying something new, even if it fails – you'll never grow if you don't at least try! Style also changes, sometimes due to time and aging, or a change in circumstance (my job allows me to be fairly creative in my sartorial choices), or just through one's own personal growth, but it has a timeless quality that never looks stale or dated like trendy fashions eventually do.
Any advice for a woman who is starting to find her personal style?
Don't be afraid to try something different; don't be afraid to make mistakes. Embrace who you are – right now! – and wear what you love, and to hell with what other people think! Be yourself and enjoy your clothes!
The purpose of the Friday True Fashionista series is to show women who use clothing to express their personal style. Each woman has a different, unique look and opinion on clothing and fashion. These women inspire me in my clothing choices, and possibly their bold sartorial statements will inspire you. Stay tuned, there will be a featured True Fashionista every Friday. And if you know of a True Fashionista in your life, tell us about her in the comments… you never know she may end up being featured!