This article may contain affiliate links; if you click on a shopping link and make a purchase I may receive a commission. As an Amazon Associate, I earn from qualifying purchases. 
I would appreciate some styling help with a few dresses I bought. Will you help me style them the way you do on your blog? That is you will talk about a garment you purchased. You will say what you will pair with it at work, for an evening out, for a more casual look.
While this reader purchased all her dresses from Lands' End (two which are featured below), I am going to feature a few dresses that can easily be found at your local mall or online, come in a variety of sizes, and are classic silhouettes and fabrics that will make them a wardrobe staple for years to come. My hope is that these collections will help you get outside the box with your styling, and see that one can have an extremely varied wardrobe, even if it is small and primarily wardrobe staples.
This dress comes in basic black as well as three jewel tones. This is a fabulous dress for most any woman's wardrobe as it is of a seasonless fabric that doesn't cling, and can dress up and down with ease. It's a great wardrobe basic that can transition from office to happy hour, but also to a social engagement or weekend trip to the mall.
My first combination is an example for the office – simple black pumps, a statement necklace, and a handbag in a complementary shade. No longer does your bag have to match your shoes or even something else in your wardrobe – the deep teal color is a great pair with purple, and picks up the cool tones in the necklace.
The second is a look for the weekend, sight-seeing, or a more casual office environment – the dress drapes in a feminine way which is a nice contrast to the classic riding boots. Loop a scarf around the throat and throw a slouchy hobo-style bag over your shoulder for casual cool.
This dress would also be great for a daytime wedding – pair with a long chain for some sparkle, a statement heel, and a simple clutch to look glam yet appropriate.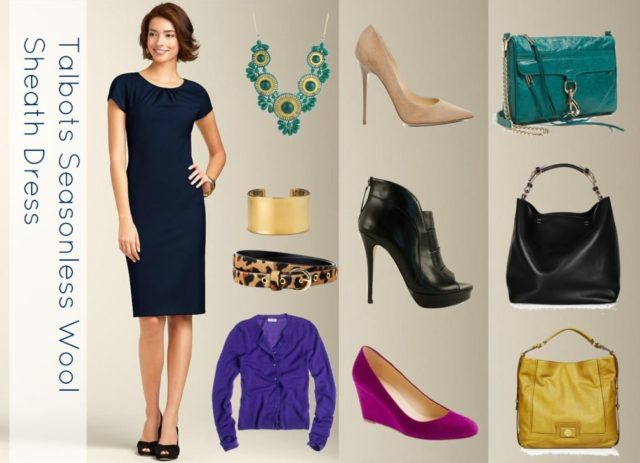 Available in four neutral colors and in a fabric that works almost year-round, this is a dress that is a great addition to most any wardrobe. The gathered detail and sleeves add style without making it too memorable, the length is elegant yet modest enough for conservative offices and houses of worship.
The first look would be lovely for the office or an elegant brunch date. The necklace hangs low enough that it doesn't compete with the neckline, the nude shoes let the necklace take center stage while making your legs look miles long. The bag pulls the pieces into a true ensemble and the fringe details add a touch of whimsy.
The second look shows how you can add edge to even the most conservative garments. A skinny leopard-print belt creates an hourglass look, and the tough cuff bracelet and booties give a rocker vibe. Even though the accessories are pretty tough, the look is still feminine, elegant, and professional.
The final look would work at the office, or even for lunch with your girl friends. The intense colors complement the navy shade and infuse your personality. A soft cardigan and wedge shoes make the ensemble quite comfortable, the bag is large enough to hold everything you need while still looking fashionable.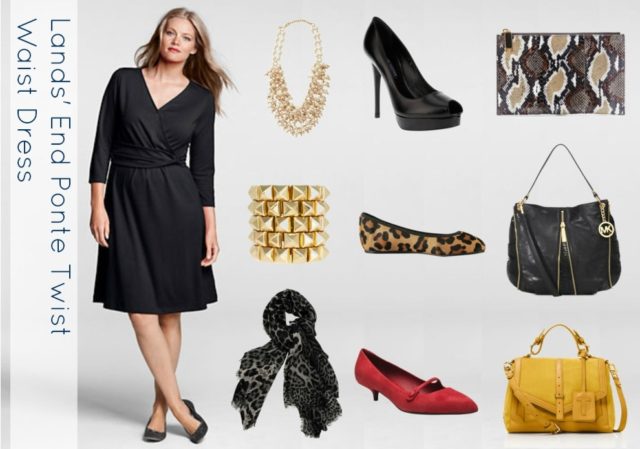 Another classic silhouette and versatile fabric from Lands' End. Ponte is one of my favorite fabrics because it's as comfy as sweats, yet refined. The fabric has a great drape and can dress up and down with ease. This dress too comes in a variety of jewel tones as well as basic black.
The first look would be lovely for work, a networking event, or even a day wedding. I have this necklace from Stella and Dot and know it makes quite a statement. Simple peep toe heels and a snakeskin clutch keep the look elegant, simple, yet stylish.
Transform this dress into a great weekend ensemble with a quick change of accessories. The studded bracelet and gold zipper details on the bag add tough-gal chic to the simple dress, the leopard-print flats are comfortable yet completely on trend.
For a look that would be great for the office as well as a day of errands, pops of color in suede and cashmere do the trick. The subtle animal print in the pashmina adds depth to the dress, the cheery red kitten heels and yellow bag are fun yet completely classic.
Many shy away from brightly colored dresses because they find them to be too memorable. I find some colors like red and pink to be an unexpected neutral that can really dress up and down easily and look so dramatically different with a switch of accessories. This dress is a very simple silhouette that is quite comfortable and will look great in the fall with boots or come spring with sandals.
The first look would be perfect for Date Night or in a creative office environment. The pashmina hides some of the dress detail to give it a more mdoern, clean look. The wedge boots are tough yet sleek, the oversized bag balances out the floaty fabric of the dress.
The second look would be perfect for a casual brunch, running errands, or going to class. The light-colored accessories really make the pink color pop without looking too dressy for daytime.
The final look would be perfect for a dinner and drinks – the long pendant modernizes the simple dress, the funky booties and clutch give the look a trendy and eclectic vibe.
***
These collections are merely suggestions – while creating the Polyvore sets I wanted to make dozens more outfits. Once you start thinking outside the box you will find that classic pieces like these dresses are quite versatile and give you the ability to get very creative with your styling. If you purchase quality pieces in classic silhouettes, you don't have to purchase as much each season to stay current. A quick change of accessories can completely transform your entire closet!
Follow Me | Twitter | Facebook