This article may contain affiliate links; if you click on a shopping link and make a purchase I may receive a commission. As an Amazon Associate, I earn from qualifying purchases.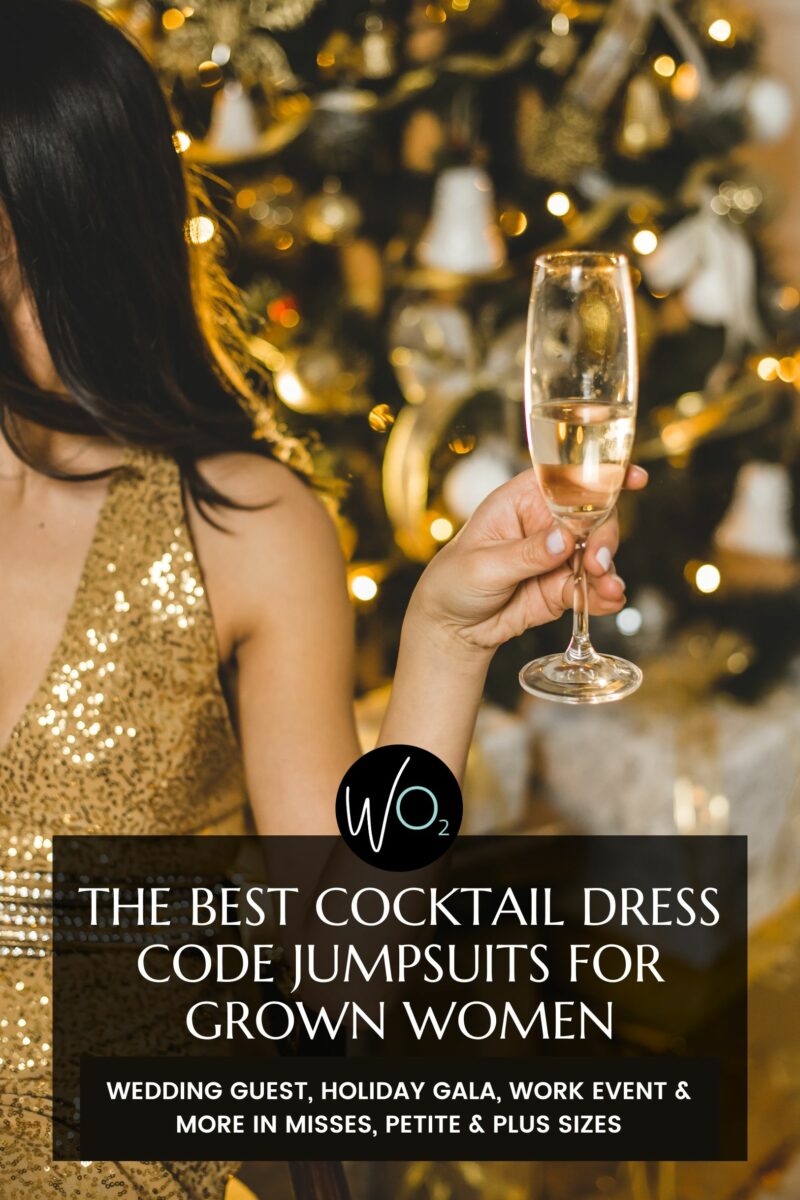 I know I am not the only one who likes the popularity of a jumpsuit. Having the freedom and comfort of pant legs but with the one-step dressing ease of a dress, a jumpsuit is a fun and functional alternative to traditional cocktail attire for women. I've been looking at jumpsuits to wear as a wedding guest and for upcoming special occasions and these are the best cocktail jumpsuits for grown women that caught my eye.
Now, these jumpsuits can be worn by anyone of any age, and anyone of any age can wear whatever the heck they want. However, as a fellow grown woman, I know there are some details we find beneficial when shopping for a cocktail jumpsuit:
Bra-friendly: Even if it's a style that needs a strapless or multiway bra, the jumpsuit isn't backless or have other design elements that can't let you wear a standard bra you can buy at any intimates retailer.
Relatively easy to get on and off: If it requires a second person to get on, and you can't get off in a reasonable time in a public restroom stall, it's not a functional piece of clothing. We grown women will no longer sacrifice our health or comfort for fashion. Everybody pees, especially after consuming a few cocktails or Pelligrinos with lime. (FYI, I swear by a Zipper Genie for jumpsuits and back zippers!)
Stylish but not trendy: We grown-ass women have no time for pieces that will be seen as unfashionable within a season. No specific details that scream 2023, something that is more timeless or so cool it transcends trends.
The Best Cocktail Jumpsuits for Grown Women
And with that, beautiful cocktail jumpsuits I've seen that would be great as a wedding guest, a cocktail party, holiday party, or other special occasion. I have a mix of misses and plus size jumpsuits (and even a couple that come in petite). I also have a good range of prices from under $50 to around $500 so depending on your situation and budget, I hope to have a cocktail jumpsuit perfect for you!
Wedding Guest Cocktail Jumpsuits
I think the most popular reason for a cocktail jumpsuit is for a wedding. As a wedding guest, many cocktail jumpsuits can transition from day to evening with a change of accessories. Pants can be more comfortable and lend to more footwear options (hello flats!), and it's also more coverage and warmth in the colder months. The collection of dressy jumpsuits below would be a lovely choice for many wedding dress codes: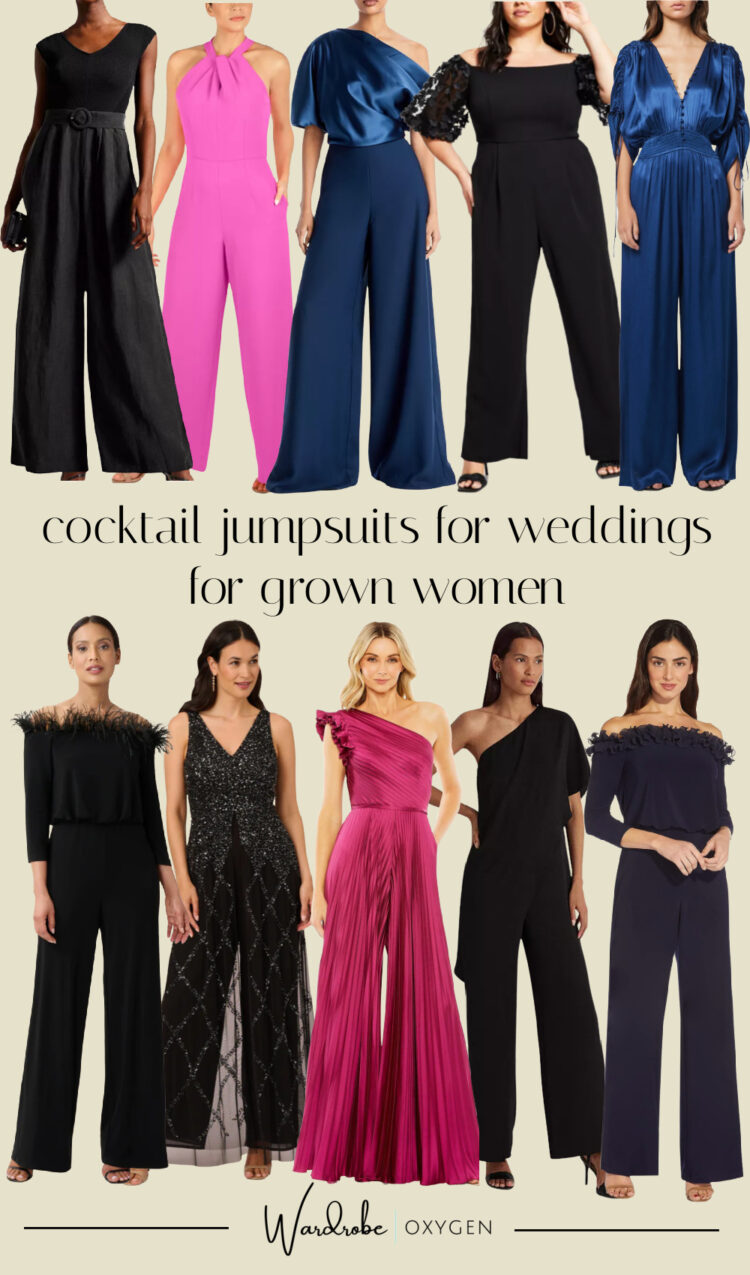 Top row: belted black (2-12) | pink halterneck (13 colors; 2-16) | navy off the shoulder (2 colors; 2-18) | black with lace sleeves (14-22) | blue silky (XS-XL)
Bottom row: black feather trim (4-16) | black beaded overlay (2-16) | magenta pleated (0-14) | black one shoulder (2 colors; 00-18) | navy ruffle trim (2 colors; 2-16)

Festive Cocktail Jumpsuits
Heading to a bachelorette weekend? Looking for a sequined jumpsuit for New Year's Eve? Attending a wedding where the dress code is "festive"? Or maybe you have a colorful personality! There are many reasons why you may need an extra colorful, shiny, or sparkly jumpsuit that is still elegant and considered cocktail attire. My favorites in misses, petite, and plus sizes: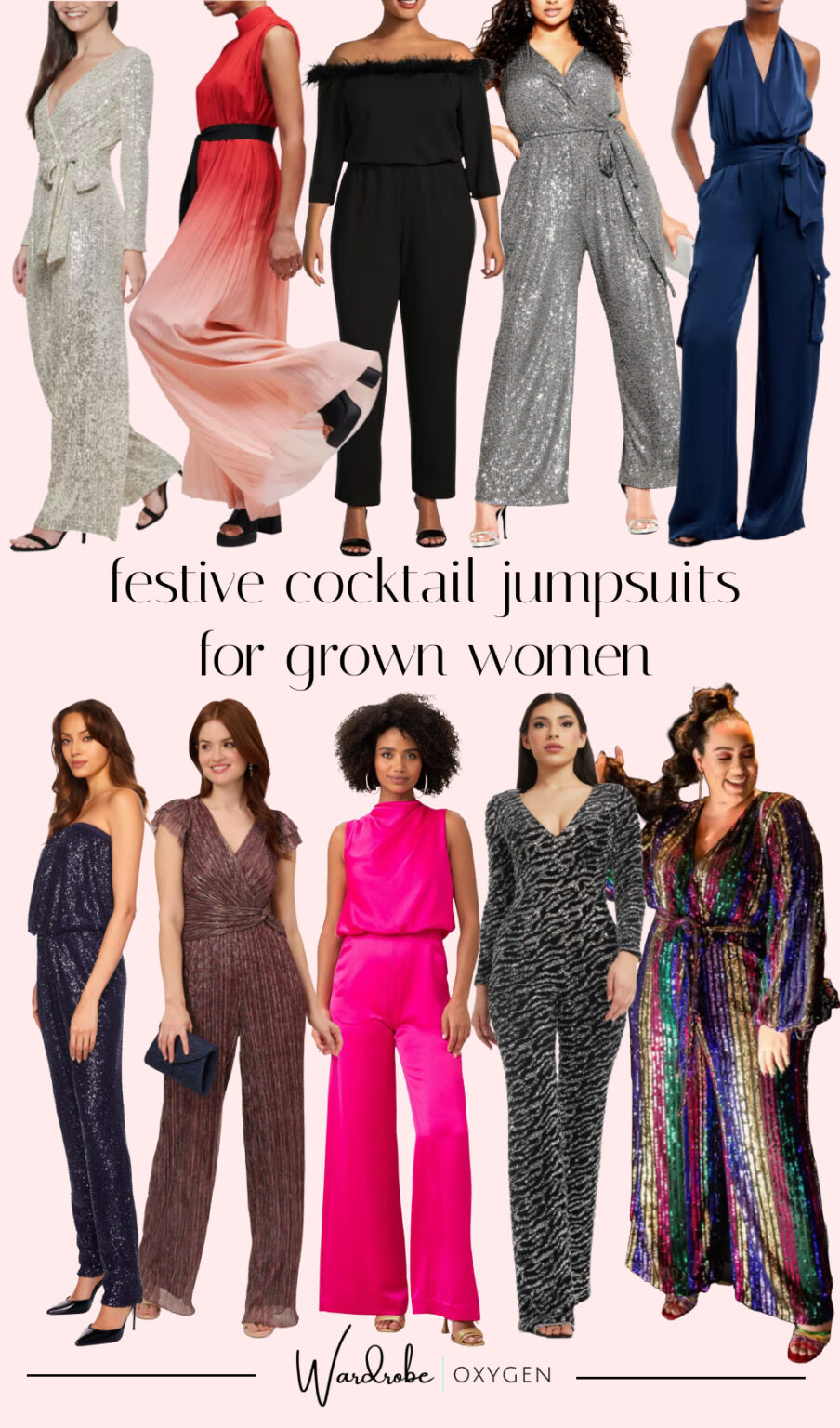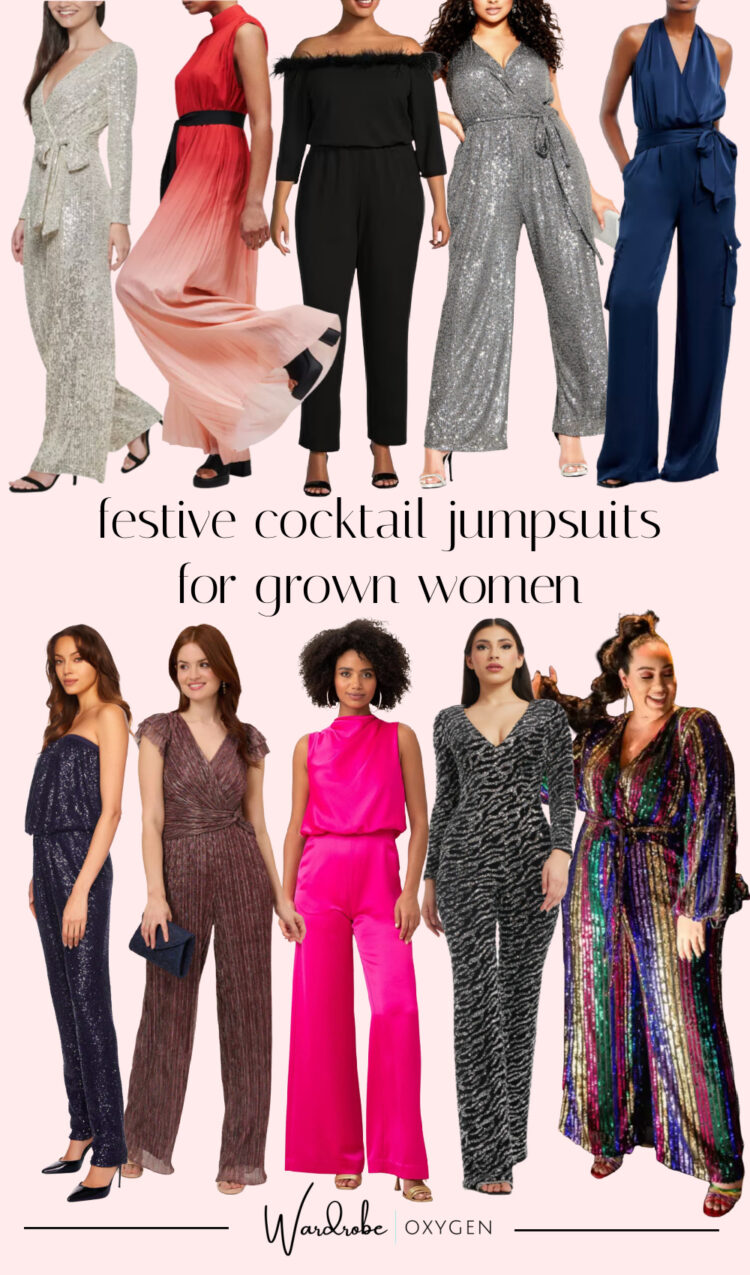 Top row: petite silver sequin (0P-14P; link for misses) | red to pink ombre (2-12) | black feather trim (14-24) | gunmetal sequin wrap (12-24) | blue halter neck (XXS-XXL)
Bottom row: navy sequin strapless (2 colors; XS-XL) | copper-plum metallic flutter sleeve (2-16) | hot pink (2-14) | black and silver long sleeve (XXS-XXL) | rainbow sequin (14-28)

Work-Friendly Cocktail Jumpsuits
Whether it's your company holiday party or a cocktail event at a conference, a jumpsuit is a great fashion choice. Choosing styles low on cleavage and trendy accents and high on polish, these jumpsuits will let you get down while looking professional.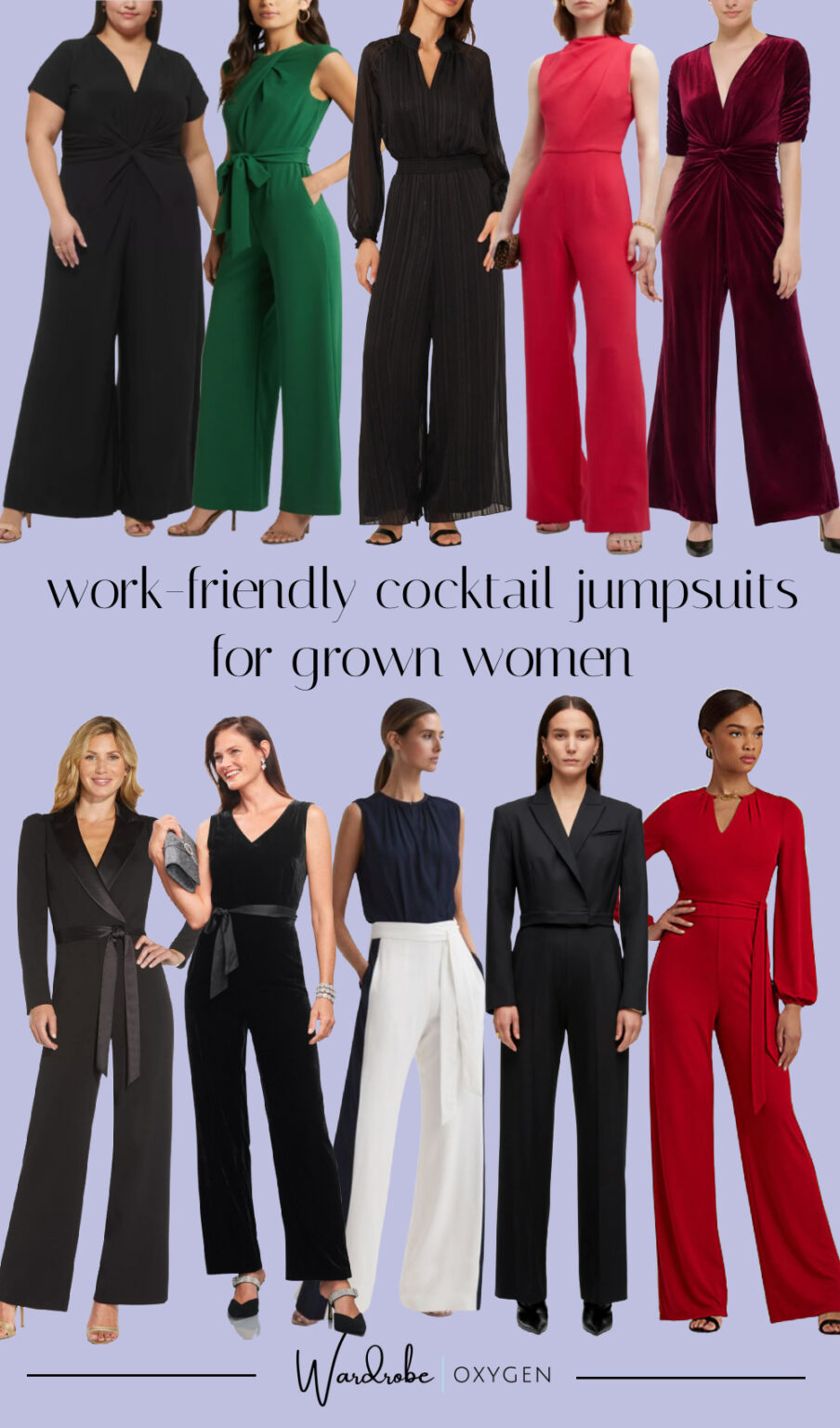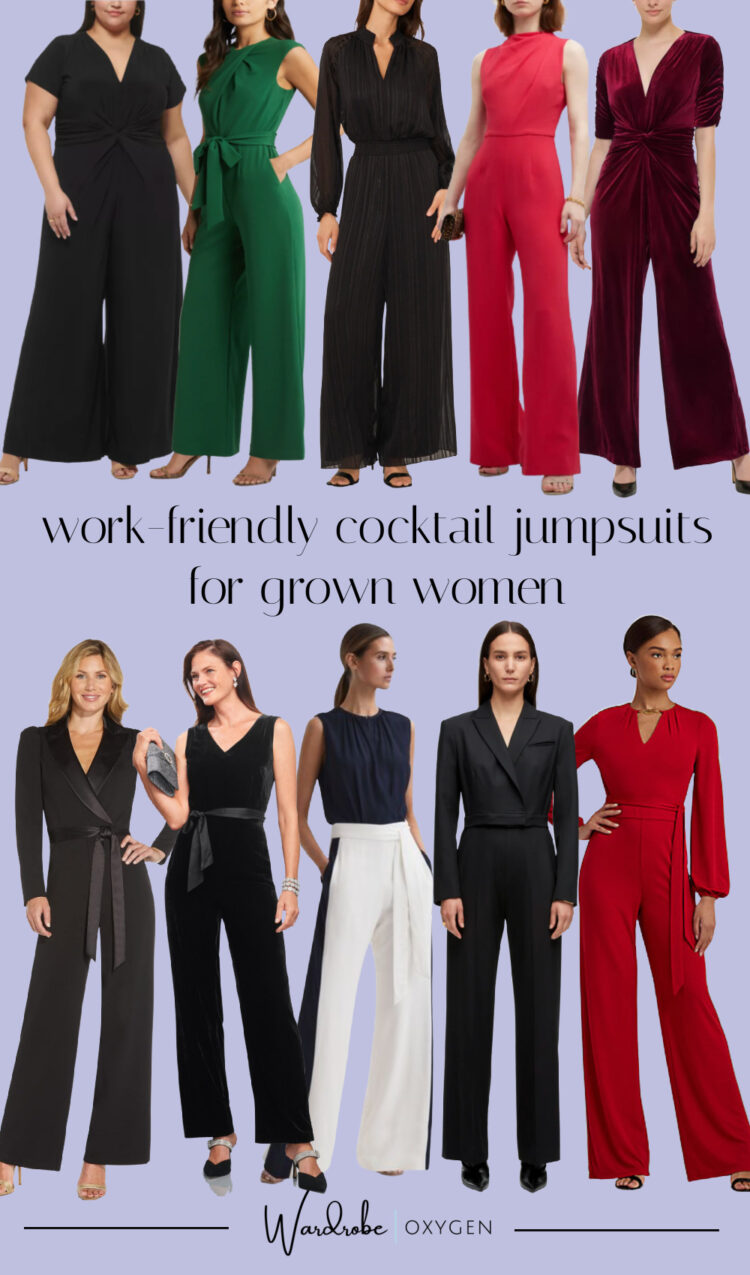 Top row: black with pleat detail (1X-3X) | green belted (4 colors; 2-16) | black metallic (XXS-XXL) | hot pink sleeveless (3 colors; 0-16) | red stretch velvet (2 colors; 0-16)
Bottom row: black tux-inspired (2-16) | black velvet belted (2-18) | black and white (0-10) | black suit-inspired (0-10) | red long sleeve (XXS-XXL)

Plus Size Cocktail Jumpsuits
While I offer plus size cocktail and formal jumpsuits in all of these collages, I wanted to make a separate category because it's especially hard to find sophisticated jumpsuits for grown women in larger sizes. I did some digging and found some great options: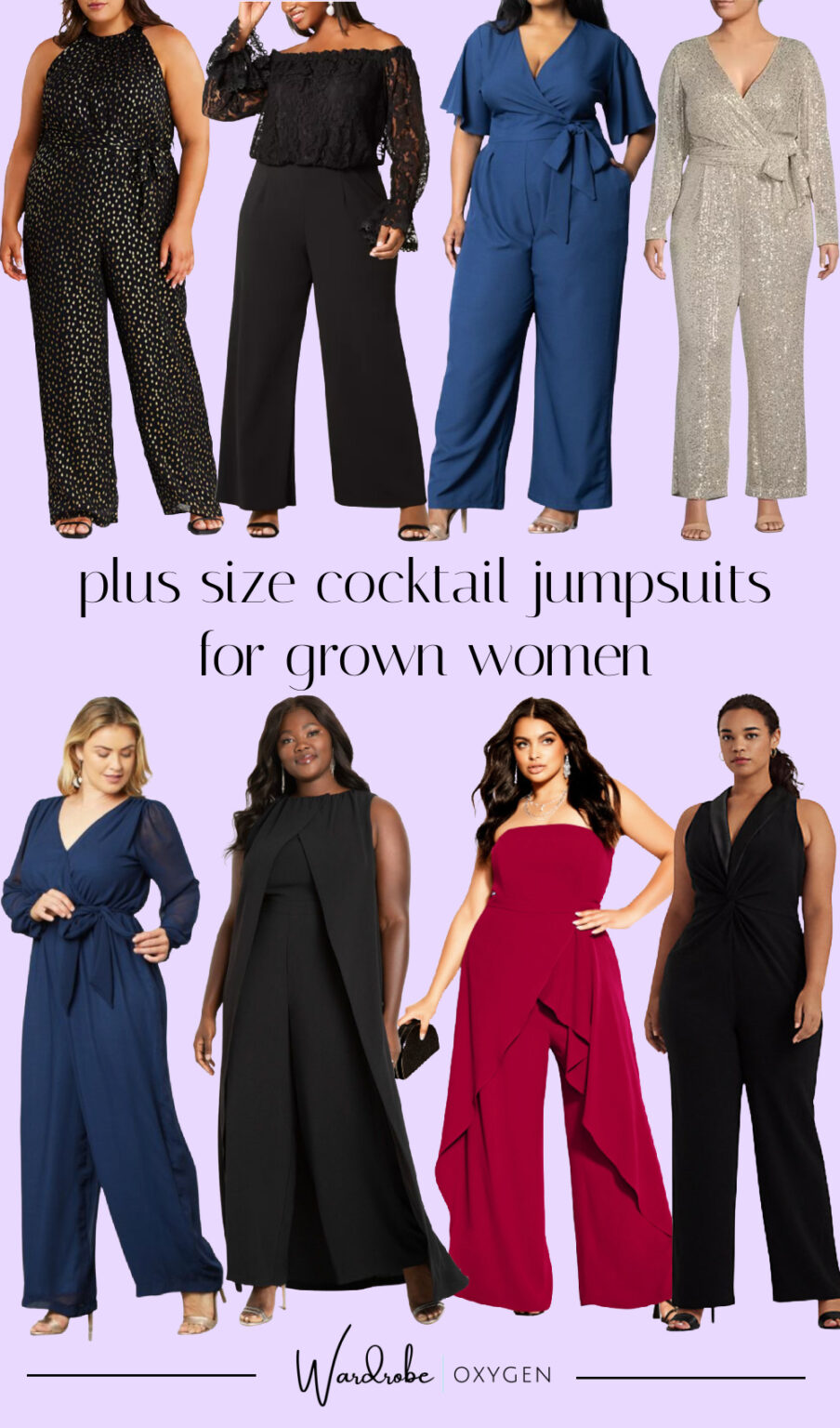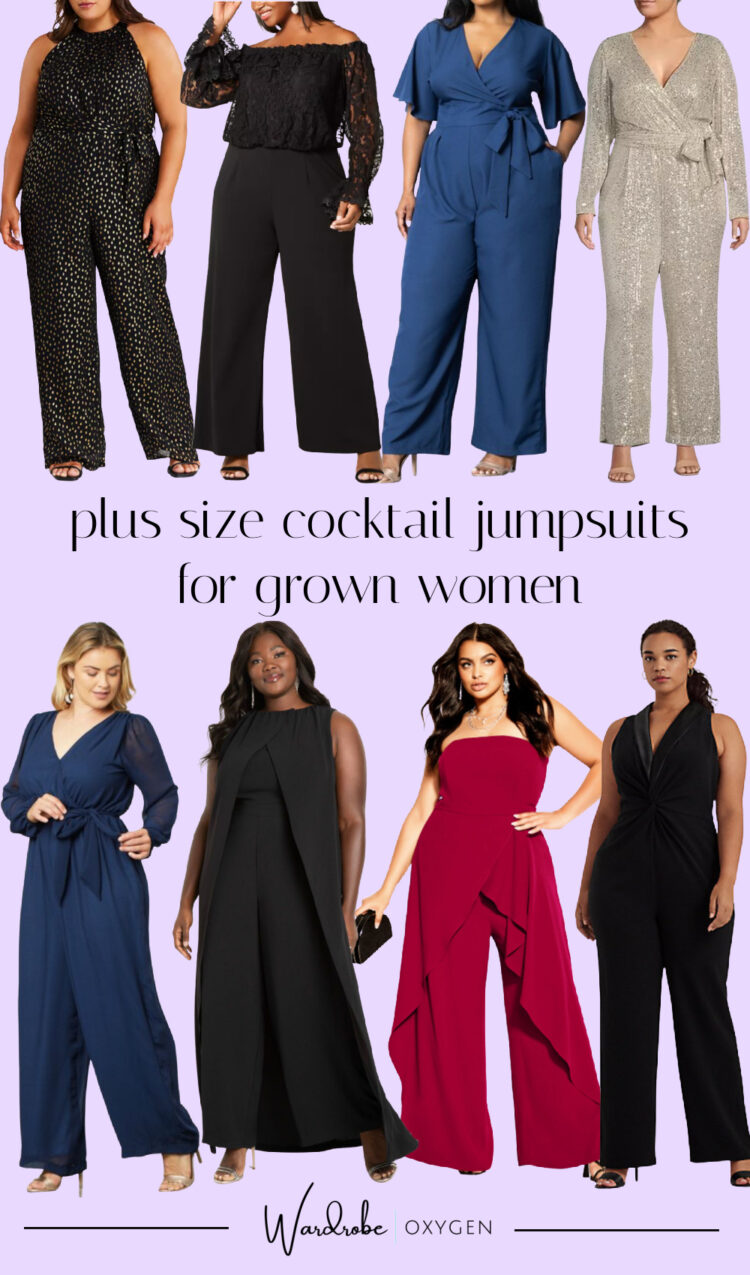 Top row: gold dot halter (16-24) | black lace off the shoulder (12-22) | blue flutter sleeve wrap style (10/12-30/32) | silver sequin (14-24)
Bottom row: blue sheer sleeve wrap style (10/12-30/32) | black cape effect (14-28 – less than $50!) | red strapless (4 colors available; 12-24) | black tuxedo (14-24)

White Cocktail Jumpsuits
Maybe you're getting married and looking for wedding attire. Possibly you're attending a white party (or going to Dîner en Blanc). There are many reasons why you may need a white cocktail jumpsuit. I think this collection is a nice mix of festive and classic, with misses and plus size jumpsuit options.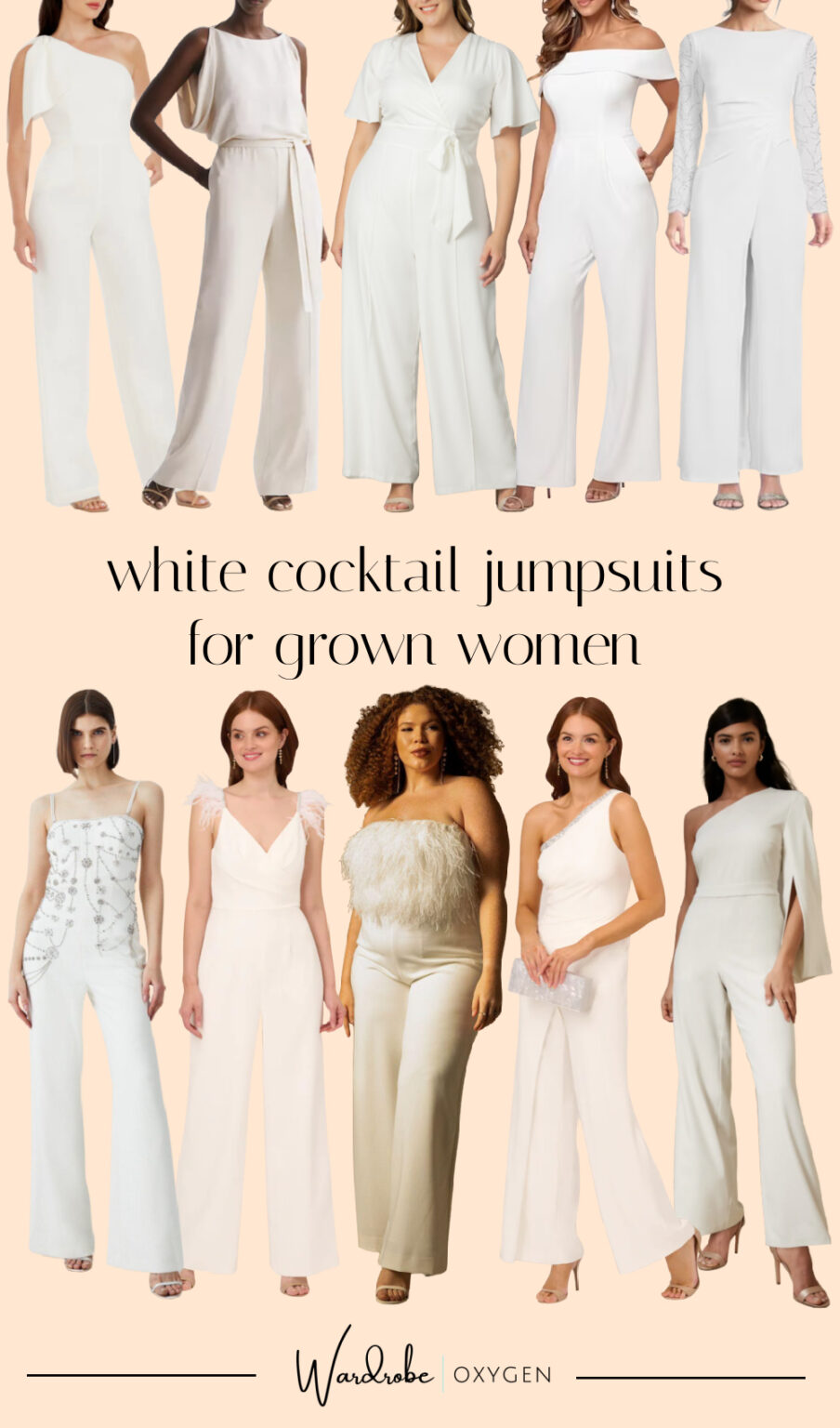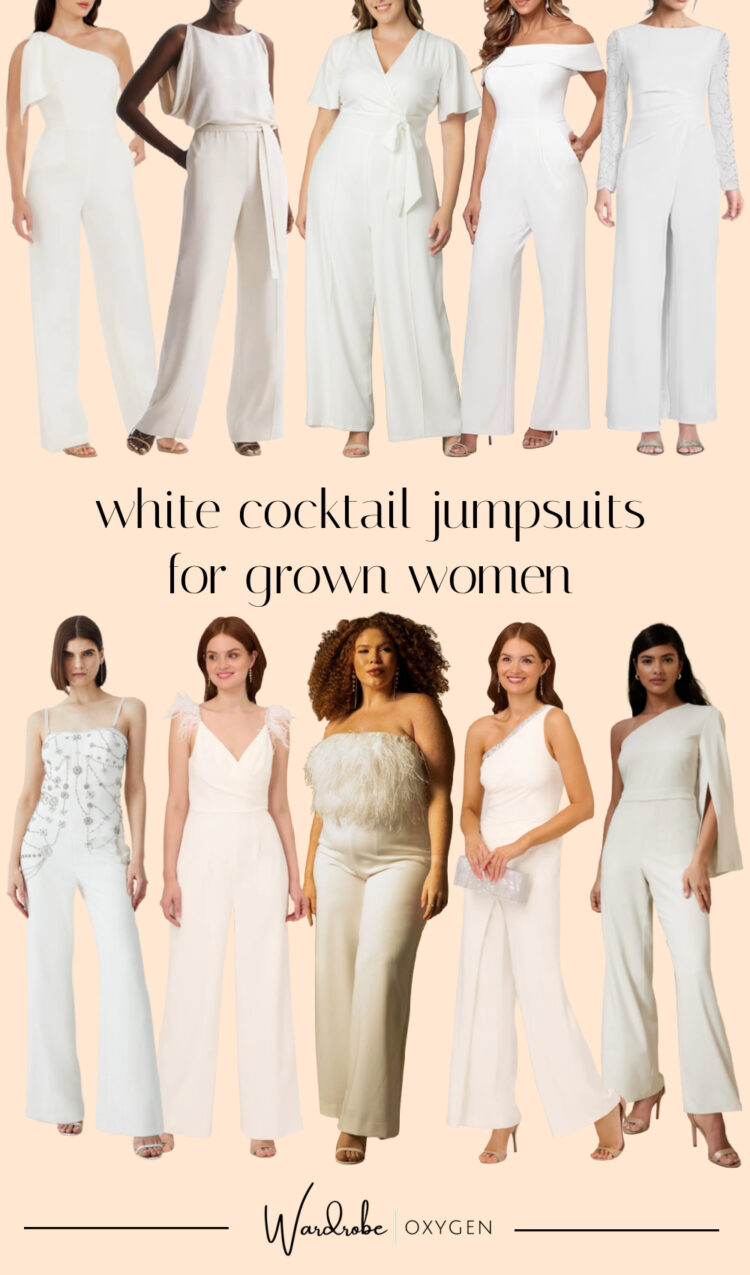 Top row: one shoulder (XXS-XXL) | draped sleeves (0-10) | flutter sleeve self belt (10/12-30/32) | off the shoulder (4-14) | embellished long sleeves (4-16)
Bottom row: embellished beaded with removable straps (2-12) | feather straps (0-20) | feather bodice (14-28) | beaded trim one shoulder (0-20) | crepe one sleeve (0-20 & petite)