This article may contain affiliate links; if you click on a shopping link and make a purchase I may receive a commission. As an Amazon Associate, I earn from qualifying purchases. 
I turned 39 this year and feel like I'm having a fashion crisis. Not only do I long for a more edgy refined look, I've also gained around 15 lbs that are pretty much all in my bum and hips and I don't know how to dress for that. I feel like everything I like is made for women who are lean and thin hipped, and I don't know how to translate that to my black girl booty and hips. I just feel lost about shopping for anything that's not shoes.
You mentioned a specific blog in your email, and I know that blog and love the blogger's style. But she has a very unrealistic frame for many women, especially those of us who are over 30 and have had children. She is naturally petite and slender and those of us with booties and hips and breasts will never be shaped like her. And you know what? That's not a bad thing. Yes, she is gorgeous and her personal style is amazing, but it is because she is choosing ensembles that flatter her specific body.
In your email you share your current size, and while it's a covetable size by many, it's a couple sizes larger than you have been familiar with. I think any woman, be she a 4 or 24 can relate to that; it's not as much about size as it is about that unfamiliar feeling. After I had Emerson I felt like a stranger in my body – not only was it heavier, but it was shaped completely differently. It took a couple years for me to get used to my new figure, to learn how to dress it and to fall in love with it. Here's a few suggestions for anyone coming to terms with a new shape:
Take your measurements. When you know your exact bust, waist and hips measurements it can be scary, but it helps put things in perspective. It may help you realize you're not a lump but a true hourglass, or that your hips aren't as drastically large as you thought. Not only that, it will help with shopping. These days, many more online retailers are offering measurements along with standard clothing sizes. In this world of vanity sizing, you could be a 6 at one company, a 4 at another, and 10 at yet another. Instead of being bummed you're a bigger size, you'll be able to realize it's the retailer, and not your body that is the issue. Cut out the tag if need be, dress for your shape, not for the size in the store.
Find a role model. When surrounded by magazine models, TV stars, and size 0 bloggers it can make any woman feel big or deformed. The beauty of personal style blogging is that we women come in all shapes, sizes, and ages. While the blogger you mentioned is lovely eye candy and I too get inspiration by some of her outfits, I get even more inspiration by bloggers who are more similar to me in shape, age, or lifestyle. If not a blogger, maybe a woman at your job, a celebrity, a neighbor. A good mix of eye candy and real life role models can help you come to terms with your new figure and find fresh new ways to dress it.
Consider a personal shopper. Be it an independent stylist you hire by the hour, someone from a group like Style for Hire, or a free service at a boutique or department store, such a person can give you new perspective on your figure. Unlike a friend or relative, a personal shopper doesn't know your old size, your old life, your hang-ups. This professional is up on current trends, knows where to shop for all body types, and can help you understand your figure, and the silhouettes best to flatter and achieve the personal style you crave.
And now, on to your specific figure and tastes. A pear-shaped woman looks amazing in more feminine silhouettes – wrap dresses, wide leg trousers, high heels, and tailored jackets. The "edgy refined" look is one that at first glance isn't forgiving to women with curves as most of the pieces are very straight. However, I looked for some pieces that will give the "edgy refined look" but work with a curvier frame: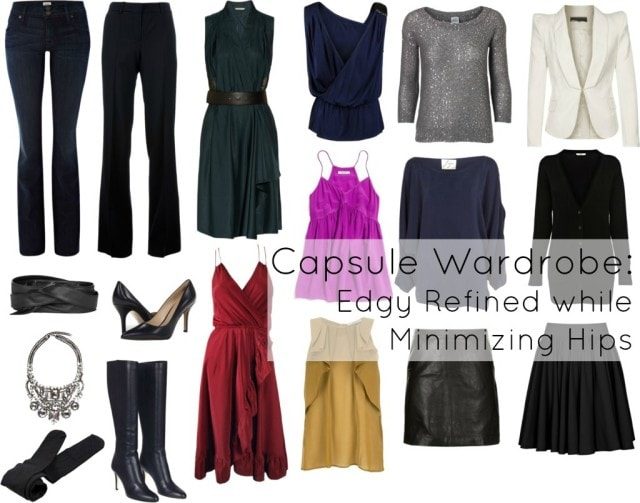 When creating this capsule, I was thinking about the blogger you mentioned, and what she would wear if she had your figure.  I chose jewel tones that are on trend, but have a classic lean.  Edgy details like an a-line leather skirt and and outrageous shoulders on a tailored white jacket.  However, she has a softer side that I incorporated with the chiffon skirt, red wrap dress, and magenta silk camisole.  The jeans are bootcut but in a modern wash and cool brand; the pants are wide leg without looking like palazzos.  A wide leather belt in a modern style is added to cinch sweaters and tops, color is the focus on top to draw the eye up.  High heels and opaque tights elongate the leg, balancing curves.  Wrap tops and dresses emphasize your feminine figure.  A statement necklace and sparkly boatneck sweater bring attention to the face and balance the figure.
A few tips:
A wide leg trouser or jean is going to be the most flattering. After seasons of skinny pants and jeans, it's refreshing to see a return of a proper trouser, and a variety of denim leg widths. Steer clear of high rises, which will emphasize your hips and look for a long length – your hem should graze the floor.
Keep your bottom half simple. No pleats, no embellished pockets, no on-seam pockets in the front, no cargo pockets. A dark solid color will be the most flattering, but that doesn't mean you need to stick to black. Dark denim, gray, chocolate brown, indigo, and dark jewel tones like deep plum and teal will let you embrace current trends while still flattering the figure.
Add interest on top. A statement necklace, printed blouse, ruffles, detailed jacket over a camisole, a scarf at your throat – such details draw the eye up as well as giving a balanced look.
Heels are your friend – the longer your leg line, the less obvious your curve. A pointed toe pump is a great way to add height and continue the leg line – a pump in a similar shade as your trouser will do the best job. I'm a big fan of the Nine West "Flax" pump which is a stylish and budget-friendly leather pump with a slim heel, pointed toe, and comes in a great variety of colors and prints.
Add volume on top to balance the bottom. Wrap tops, shoulder pads, puffed and kimono sleeves, pussy bow blouses, cap sleeves, boatneck shirts, jackets and cardigans layered over tanks and camis – all are on trend and all will minimize the look of your hips.
Watch the length of tops and jackets. You don't want your tops to end at the widest point of your hips – usually a jacket or top right at the bottom of your pant zipper/just a bit above your crotch is a good length. You can also carry off the shorter jacket styles that are on trend, consider pairing with a longer top for a layered effect. A tunic is also a great length since it skims past the hips – this is the type of top you can wear with skinny pants or jeans.
Find a tailor. Do not be hard on yourself if the pants you find that fit your hips gape at the waist. There's nothing wrong with you and this happens to many women. A tailor can quickly nip in the waistband for a flattering custom fit. It's better to size up than size down – muffin tops are never stylish (or comfortable)!
As for the blogger you mentioned, she likes printed tops tucked into full skirts with belts and ladylike heels – this is a look you can definitely carry off. She has put a wide belt over a tunic-length top with a pleated skirt peeking out – another look that would be lovely on your figure. She loves wearing scarves with blazers, this is a look you can surely wear but switch out the flats and skinny pants for a wide, bootcut, or flared pant and pointed-toe pumps. I've seen her use a wide belt over a longer top and topping with a fitted blazer – this is a styling trick that would look great on your figure. Instead of tucking a blouse into a pencil skirt, consider tucking that blouse into an a-line or more fluid skirt and adding a belt to emphasize your waist, or wear the blouse untucked with a belt, or under a tailored jacket. While the examples you sent are more clean and sparse, you'll see if you go through her blog (or go to www.pinterest.com/source/[enter URL of blog] to see all pinned outfits in one place) that her look is actually quite varied, and she wears many outfits that would look fabulous on your different, yet just as lovely figure!
Follow Me | Twitter | Facebook | Instagram