This article may contain affiliate links; if you click on a shopping link and make a purchase I may receive a commission. As an Amazon Associate, I earn from qualifying purchases. 
Some days, I pull together an outfit, check out my reflection and feel pretty darn sassy. Heck, I'm proud of myself – short bit of time, kid role-playing that I am Mary Poppins and she Jane Banks (second time reading the book chapter a night), dog begging to go outside, kid begging to eat chocolate for breakfast and anything more than jeggings, a blazer and tee shirt is an impressive feat. Thursday morning was one of those mornings.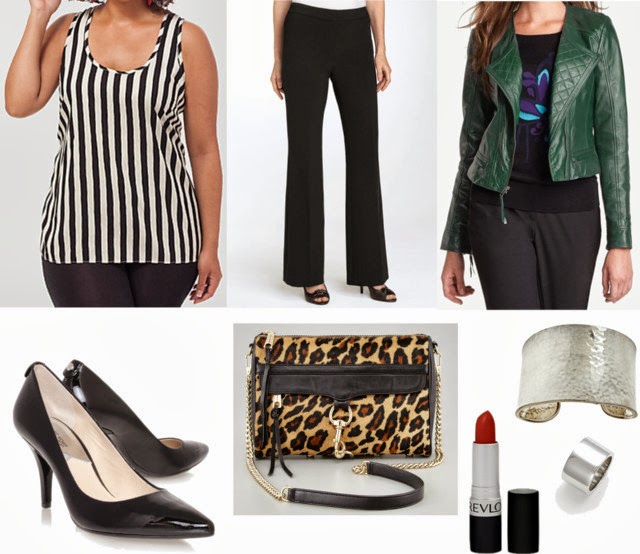 What I Wore: 
Gwynnie Bee sent me a black and off-white vertical striped tank from ASOS Curve that I had worn to work the previous week with dark jeans and a black blazer, but it was an early day and I didn't get pictures for the blog. However the top was so cute, I wanted to feature it in an outfit post on the blog and wanted to create a new outfit that did NOT feature jeans since my last few outfit posts were with denim. The top is long on me; last week I half-tucked it and it looked cool, but half-tucking in a skirt looked strange. So I tried my black Tahari Hazel pants and I liked it. Now I just needed some color.
I recently bought this jacket from Nordstrom. Green, leather, moto style… um it's all my favorites rolled into one! I tried it on… and I really liked the look. My hair was second day and I thought had a bit of a messy rocker look, decided to wear contacts, black liquid liner and an oxblood lip. And my eyes were being very Allergy Season and my contacts were itchy so I switched to my glasses (of course already did my makeup so it was a hot mess getting out the contacts, eyes were watering, mascara was smearing, you allergy sufferers and contacts wearers know the drill). And then I couldn't find my oxblood colored lipstick so I went with dark red.  Added my silver cuff and a silver "cigar band" ring on my thumb.
So I got Emerson settled with breakfast and turned on Nick Jr. I switched from my gray leather bag to my Rebecca Minkoff because I felt it would be fun with this look, and Karl and I hustled outside to take the pictures. It was a bit earlier, so we kept having to stop as kids were walking to school, cars were driving by, trucks were backing up, dogs were taking a crap right next to me. We laughed through it, but were getting short on time so we didn't take a ton of pictures and rushed through the ones we did.
I got to work, put the memory card in the card reader and… oh Holy Donatella, I look like a hot mess. My hair looked as though I went for a ride in a convertible and had a strange orange hue to it. My glasses were steamed up so you can't see one eye in almost all of the photos. My pants got all bunched up in the crotch area from putting down and picking up my bag and all that jazz and I looked as though I was wearing a suiting diaper. The shirt bloused weird and ended up looking crooked in the photos. Oh, and I had Revlon Really Red on my teeth in most of the shots.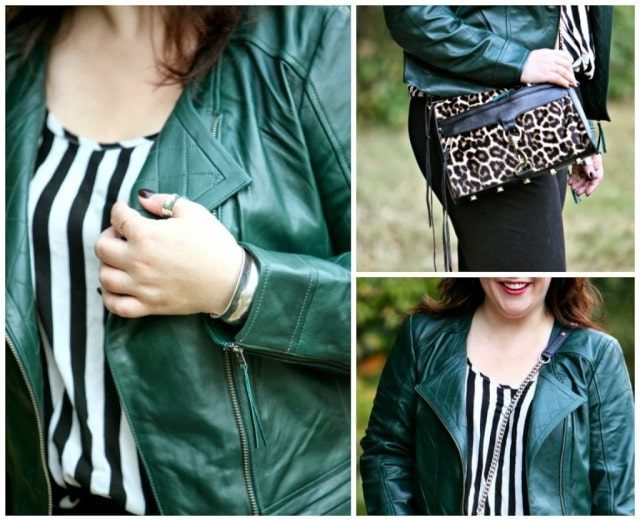 So yeah… today you get a collage of what I wore instead of the full thing. I want to be real and honest with you folks, but I'm not going to air my dirty laundry, or post pictures of me that don't do my outfit justice!
Follow Me | Twitter | Facebook | Instagram