This article may contain affiliate links; if you click on a shopping link and make a purchase I may receive a commission. As an Amazon Associate, I earn from qualifying purchases. 
What are the best accessories to choose for this fall to update your essentials? I am working with a pretty basic wardrobe for a conservative office, but I would love to know what trends can help me look a little more fashionable too. Thanks!!
While I did discuss my favorite fashion trends for Fall 2012 I have yet to discuss accessories! You gotta love accessories – budget-friendly, take up little space, and can completely transform a closet of wardrobe staples into a collection of fashion-forward clothing. While this season's trends are a lot about specific clothing silhouettes and genres, there are some accessories that can modernize your basics.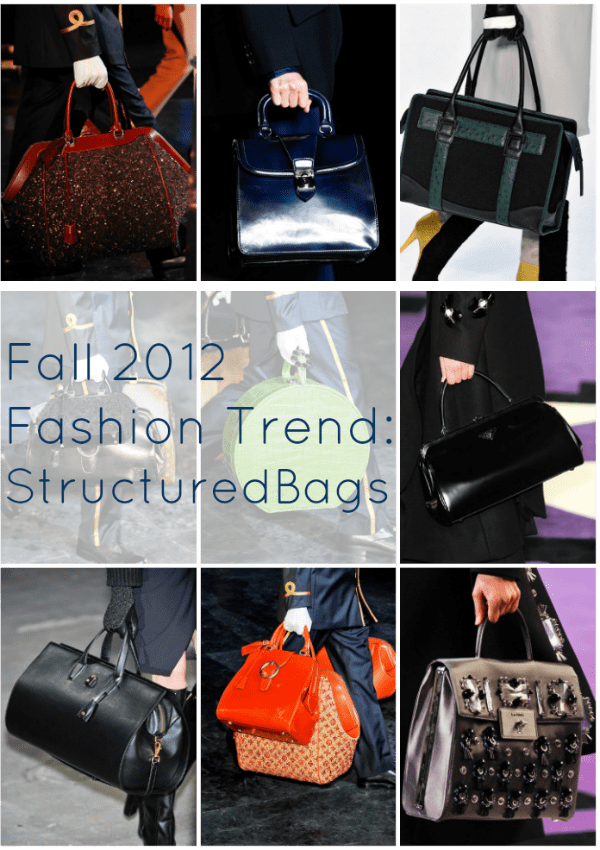 Structured Bags
For the past few years, the "It Bag" has been big, but slouchy. Something that hangs off the shoulder or from the crook of your arm and can hold everything from a pair of commuter flats to a copy of War and Peace. This year big bags are still hot, but they have more structure to them. Framed bags, heavier-weight leather that stands on its own, satchels and totes are all the rage.
While black is always a safe bet, a bag is a great way to incorporate a trendy fall color. Oxblood, merlot, burgundy and all shades of dark red are hot hot hot and a great accent color to a wardrobe of staples in more neutral of shades. Winter white is the new black and looks amazing against black, gray, camel, and oxblood. Fur is a great way to go with color – faux fur in a deep shade of purple, red, or green with a classic shape can be quite chic and quickly modernize a wardrobe. If you choose to go black, consider a finish – shiny almost to the point of patent, croco-embossed, fur, snakeskin – texture is a big trend this fall and can make a basic black bag look positively luxe.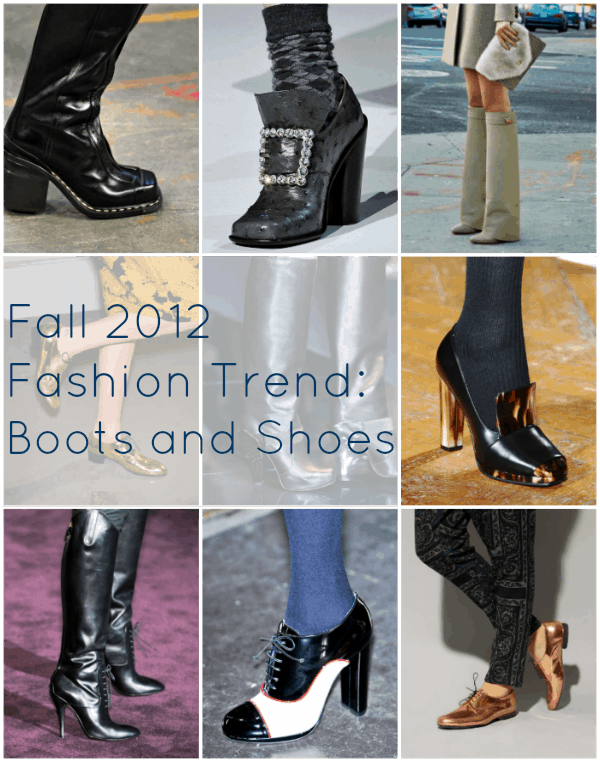 Powerful Boots
While boots are always a hot look for fall and winter, this season a few sexy and strong silhouettes have joined forces with the classics. While you can't go wrong with a riding boot in dark brown or black, runway darlings like Givenchy, Gucci, and Proenza Schouler showed boots with guts – over the knee, inspired by military boots and Doc Martens – these boots have guts and glam.
Menswear-inspired yet Ladylike Shoes
Heeled loafers, brogues, slippers, and lace-up booties are all the rage this season. While similar styles were en vogue last year, this year the details are what bring such shoes to center stage. Tortoise shell accents, gold details, rhinestone buckles, brocade fabrics take these shoes from staid to spectacular.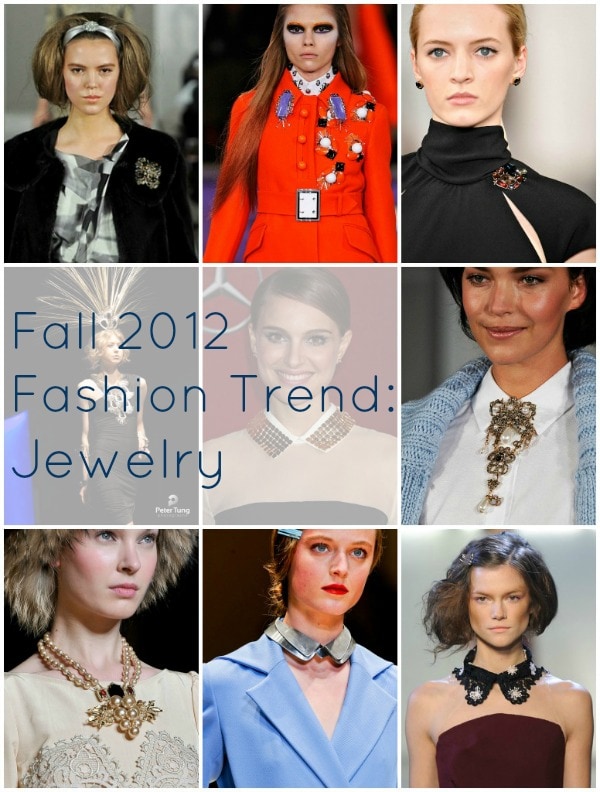 Bib Necklaces and Collars
This season has showcased many neck pieces that steal the show. Everything from lace collars at Rodarte to beaded and studded versions, and large necklaces that can stand in for a collar on your simple sheaths. Out of all the accessory trends this fall, I think this one makes the biggest impact for the least amount of money. It's very easy to DIY your own detached collar or bib necklace, and retailers of all pricepoints are featuring collars and bib necklaces. Such a piece will make a simple black sheath look very on-trend and modern, or will jazz up your simple sweaters and knits.
Brooches
Brooches are back and I couldn't be happier. Be it a dangly gold pin peeking out from the collar of a button-front shirt a la Oscar de la Renta, a jeweled flower on your lapel, or a cluster of brooches on a tweed jacket, brooches add sparkle, texture, interest, and fall trends for very little money. Prada showed crystal and enamel brooches crawling on an orange trench like bejeweled bugs, Ralph Lauren tucked a jeweled brooch near the neckline of a simple black frock.
Gloves
If you need a new pair of winter gloves, this is the year to get them. While a pair of classic black leather gloves are always chic, this season you will be able to find intricate stitching, unique details, cool colors, and unexpected lengths. Gloves have also returned as an accessory that can be worn indoors. I indulged in a pair of black opera-length leather gloves to wear with my bracelet-sleeve coats (and possibly with a LBD for a holiday party!) and am seriously considering a pair in oxblood to update my basic black wool outerwear.
Pony Hair
The fall runway shows were all about pony hair (also known as haircalf). Be it a clutch from Armani, strappy shoes from Brian Atwood, or a Charlotte Olympia lace-up bootie, this is a hot trend I have loved for years. My Ivanka Trump leopard-print pumps are pony hair and they end up looking more luxe and also more versatile than basic fabric. Pony hair really gives depth to animal prints and makes them look classic, not cheesy. An animal-print pony hair accessory can do a lot to transform wardrobe staples, be it a shoe, bag, or even a skinny belt.
Follow Me | Twitter | Facebook