This article may contain affiliate links; if you click on a shopping link and make a purchase I may receive a commission. As an Amazon Associate, I earn from qualifying purchases. 
One of the best parts of blogging is getting to know brands on a different level. Not just a label in a boutique or department store, you learn the story behind the name, their purpose, their history, and sometimes, they become friends.
I heard of Karen Kane before I started blogging, it was a brand I'd see at the mall, just like all the other garments wearing some woman's name. The alliteration was catchy, I figured it was made up to represent the ideal customer for the brand. But thanks to my blog I got to know that Karen Kane is a real woman who cares for and designs for fellow real women.
Karen Kane has been a California Girl since she was 9 years old, attended the Fashion Institute of Design & Merchandising in LA, and after graduation got a job as a pattern maker for a sportswear company. In 1979 Karen and her husband Lonnie begin the clothing brand Karen Kane out of their garage. After just one year the company reaches $1 million in sales. In 1986, their son Michael was born. To combine work and personal life, they brought Michael to work with them every day. Michael is now the Director of Marketing and the super nice person I work with when partnering with the brand (he even "likes" my Facebook page!). Karen and Lonnie still run the business. I can't tell you how refreshing it is to work with a company that sees me as a person, not just a blog, and who understands how Wardrobe Oxygen's readers are different from another blog with different interests and needs.
Before many other brands, in 1999 Karen Kane launched a Women's division after hearing requests from their customers. And as of 2013, over 95% of Karen Kane's collection is manufactured right here in the United States. The clothes are high quality, comfortable, true California style with a touch of femininity and sex appeal. Many of my wardrobe favorites, such as this dress, these pants, this dress, and this jumpsuit (sorry for the bad photo, I'll have to do an outfit post in it soon, they still have it in stock!) are from Karen Kane.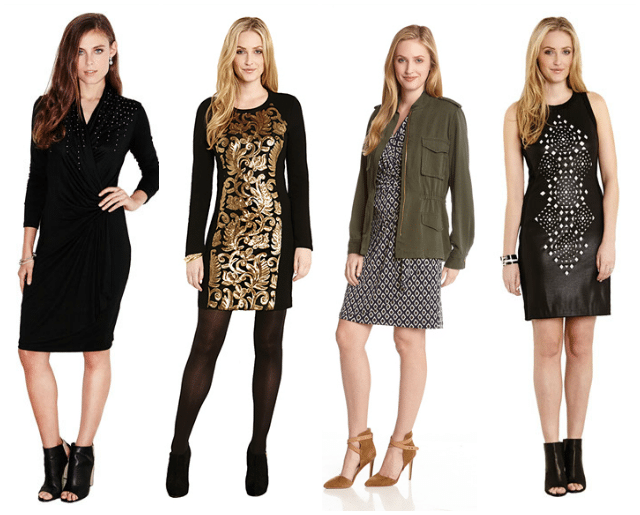 This season I'm admiring the Studded Wrap Dress, Safari Jacket, Gold Sequin Front Dress, and can't wait for this spring when Karen Kane will be offering jewelry and hats! I know I will be adding more Karen Kane to my closet this season and for many seasons to come.
I had a Small Business Saturday series before my surgery, but since then have realized how I love many brands who aren't small but still have heart. I'm changing this series to Style with Substance and will be featuring brands who offer great fashion with great ethics or goals.