This article may contain affiliate links; if you click on a shopping link and make a purchase I may receive a commission. As an Amazon Associate, I earn from qualifying purchases. 
Hi Allie, your suggestions for the orange pants were spot-on and I was hoping you could assist me with a similar situation. This weekend I purchased this blazer from Talbots (in orange) and while I love it I realize I am not sure how to style it. I wish to wear it for work as well as weekends, I tried it with a white blouse or t underneath and it looked sloppy. Any suggestions?
Wow, you're really pushing my creative side with this blazer! I totally understand why you bought it – it's adorable, unique, takes on the current equestrian trend, and I bet is terribly flattering to the figure. This is the type of jacket that could look incredibly chic… or terribly frumpy. It's all in how you style it. I agree that white may ruin the print, making it look dated or dingy. This is easily the kind of blazer that one purchases, wears once, and then it gathers dust in the closet. Here's some ideas on how to make it look fresh for work and for the weekend that are hopefully unexpected yet quite wearable: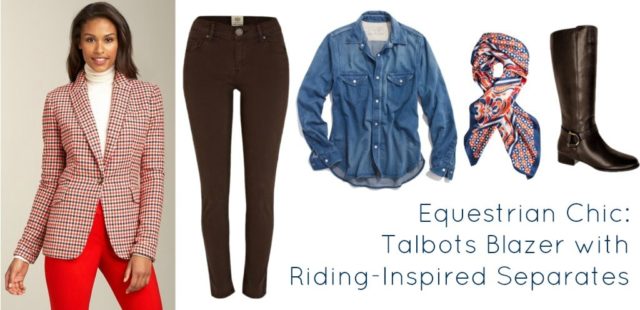 Equestrian Chic
The check of this blazer is orange, hot pink, and brown on an ivory ground. Technically you could use any of the three print colors as a base (I received a mailer from Talbots that had this jacket styled with a pink shirt and brown pants). I chose brown as the connecting color to give the jacket a more traditional feel. I took advantage of the classic riding jacket silhouette and added riding boots. The denim shirt won't compete with the print of the jacket, and a silk scarf at the throat continues the equestrian feel. Don't worry about the scarf matching exactly – as long as it pulls one of the colors from the jacket and isn't too loud or bright it will coordinate – look for scarves with classic prints (floral, paisley, horse bits and other riding images) to complete the equestrian chic look.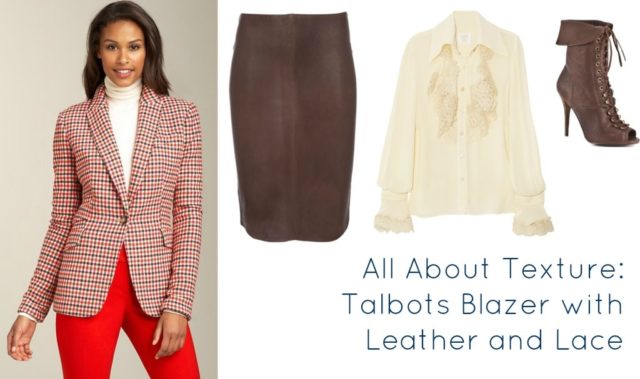 Classic Eccentric
When I saw this jacket, I thought of eccentric British society at their country house. I could imagine the jacket with a foofy skirt, Wellington boots, and a crazy hat and decided to take that concept and make it more street-appropriate. A brown leather pencil skirt is a great purchase for this season, and makes the jacket look luxe. Up the luxe factor with a lacy, ruffly cream blouse and some ridiculous booties that will stop people in their tracks. This is the kind of ensemble where more could be more – big hair or a messy updo, some crazy gold pendant necklace or cluster of brooches, maroon lips, a ring on every finger.
Pattern Mixing Master
Sometimes the best way to wear a bold print is with another print – the two balance each other. In this ensemble, I chose a printed blouse that had similar warm tones as the jacket, brown tweed pants, and croco-embossed booties. All pieces are in the same color story so it looks cohesive and purposeful. A bold yet simple gold necklace makes the look polished and complete.
Simple Yet Chic Weekend
This is a fabulous jacket to dress down. It would look great with a version of a Texas Tuxedo (a chambray or denim shirt and jeans), but also with a knit. With this look, I chose a simple brown turtleneck sweater as a base, darker wash skinny jeans, and brown flats with texture to balance the printed jacket. A charm bracelet continues the classic collegiate feel of the ensemble.
The longer I played with this jacket on Polyvore, the more I saw it as pretty neutral and versatile. I could totally see this with an ivory and navy Breton-striped tee and dark narrow jeans, I think it would look pretty fabulous with a band tee shirt with the neck cut up and vintage jeans or the brown leather pencil skirt, and I'd like to see this jacket buttoned up with a pleated skirt peeking out below and finished with ankle booties. This jacket looks great with textures – pair with suede, tweed, leather, lace, and cable-knit with ease. And don't forget about the versatility of denim – be it polished denim trousers or your favorite well-worn dungarees, jeans will complement this print perfectly.
I hope some of these ensembles will get your creative sartorial juices flowing and I can't wait to hear how you ended up styling your jacket!
Follow Me | Twitter | Facebook