This article may contain affiliate links; if you click on a shopping link and make a purchase I may receive a commission. As an Amazon Associate, I earn from qualifying purchases.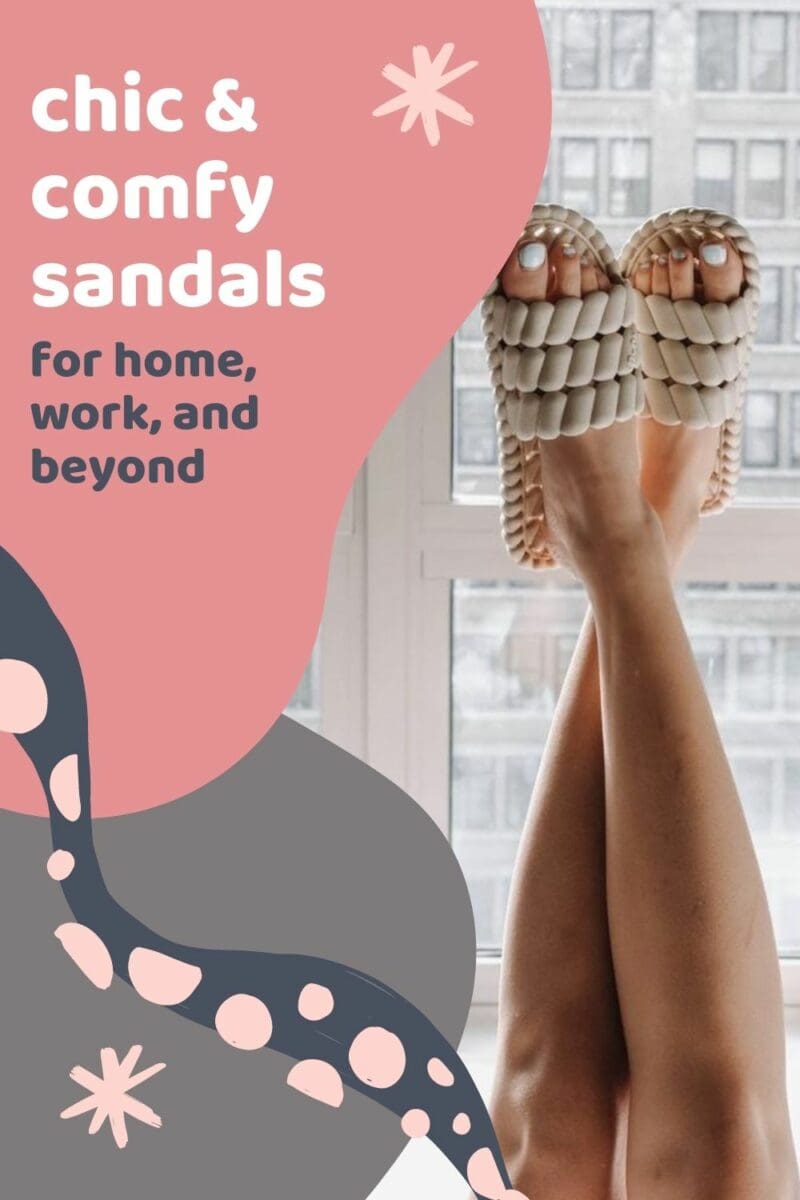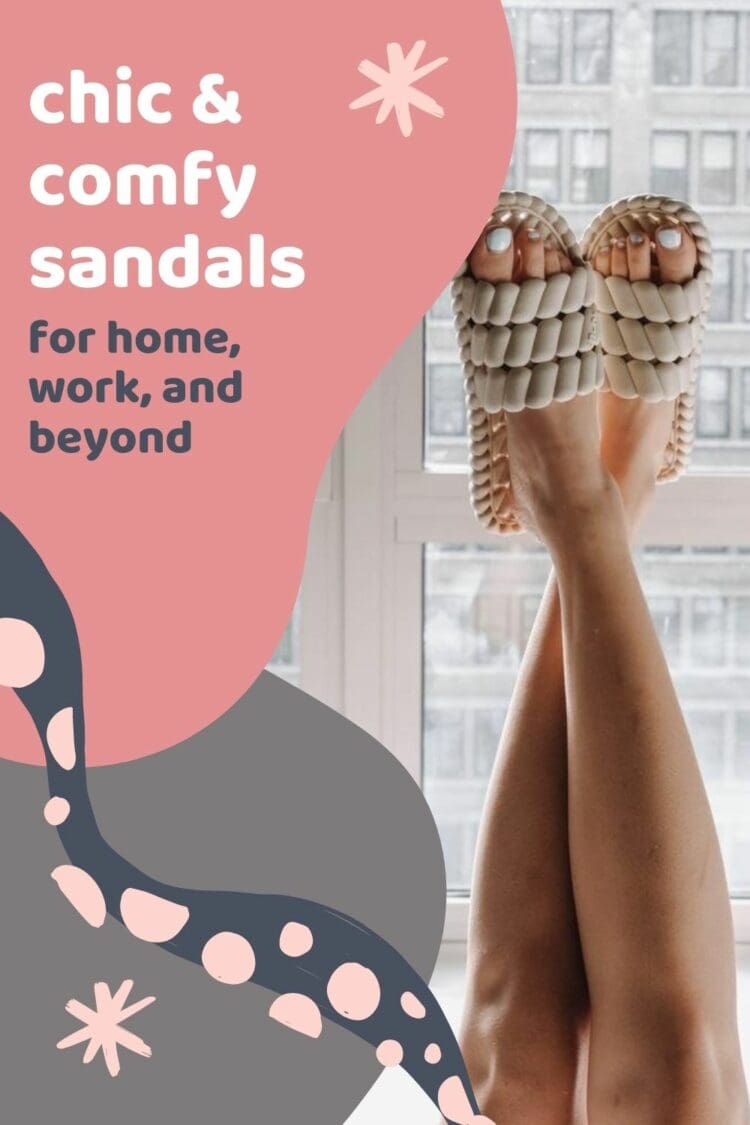 One perk to this past year of us working from home and spending most of our time at home is the focus on fashion that is comfortable and functional while still being stylish and enjoyable to wear. And this spring is showing the results with comfy and chic sandals.
Comfy and Chic Sandals
This spring and summer, the stylish styles of sandals are flat. They have cushioned soles and arch support and protective ankle straps to prevent chafing. They can handle puddles and long walks, some are washable, yet they're all super cute.
Many of the chic yet comfy spring sandals are athletic-inspired. See plenty of fashion versions of tried and true Teva, Merrell, and Chacao sandals and Adidas shower slides. The details make such shoes more stylish, looking great with wide-leg linen pants, mom jeans, midi-length dresses and skirts, lightweight joggers, and Bermuda shorts.
You'll also find that many sandals that just a few seasons ago were seen as "frumpy" or "orthopedic" are now seen as chic. Comfort brands are becoming mainstream, and many trendy spring sandals have molded footbeds, extra cushioning, and resemble styles from well-known retailers that focus on widths, support, and fussy feet.
Comfy AND Glam Sandals
For the past few years, dressy sandals meant delicate. Thin straps that often dug into feet, thin soles without support, and usually a heel. This year it's easier to find dressy sandals that are also comfortable.
Creating this article, I saw so many sandals that were almost dressy but had a thick dark-colored sole. While a thicker sole will provide support and cushioning, I recommend looking for a sandal with a lighter-colored sole or one that matches the shoe's upper. This will look dressier and will look more on-trend/less like ortho sandals (even if they are ortho sandals).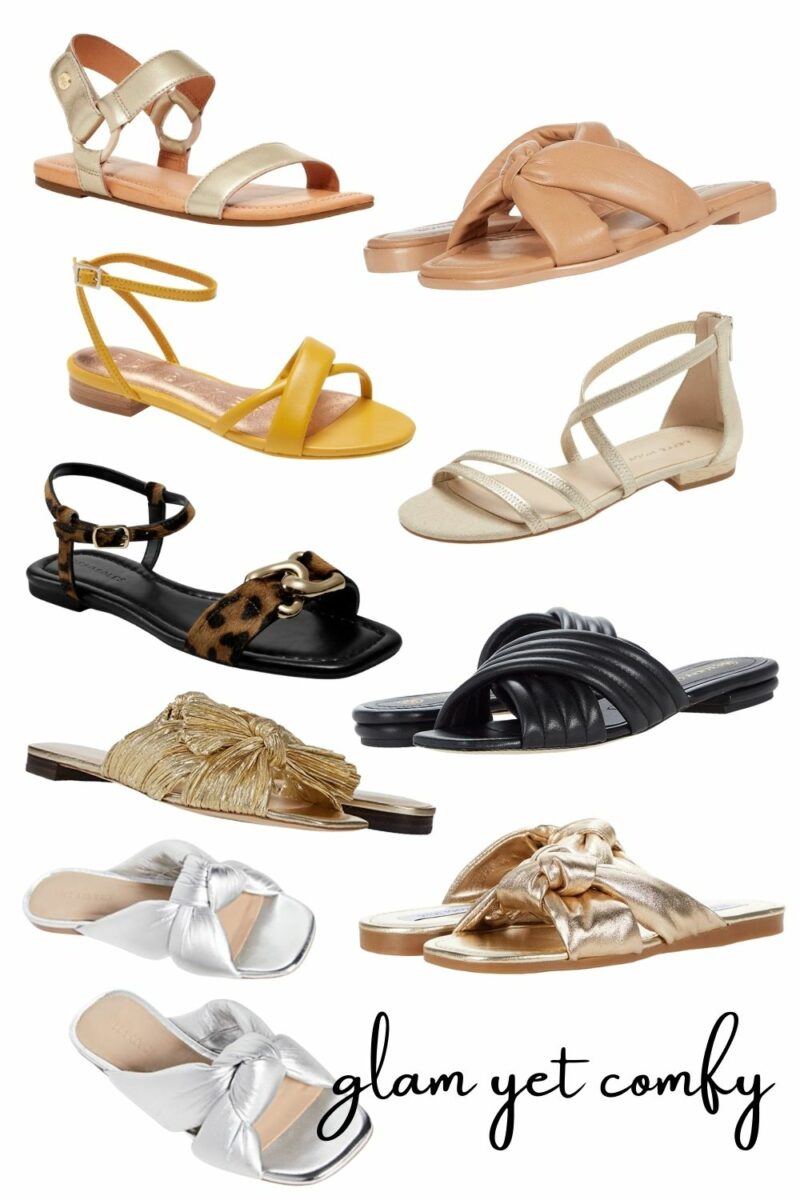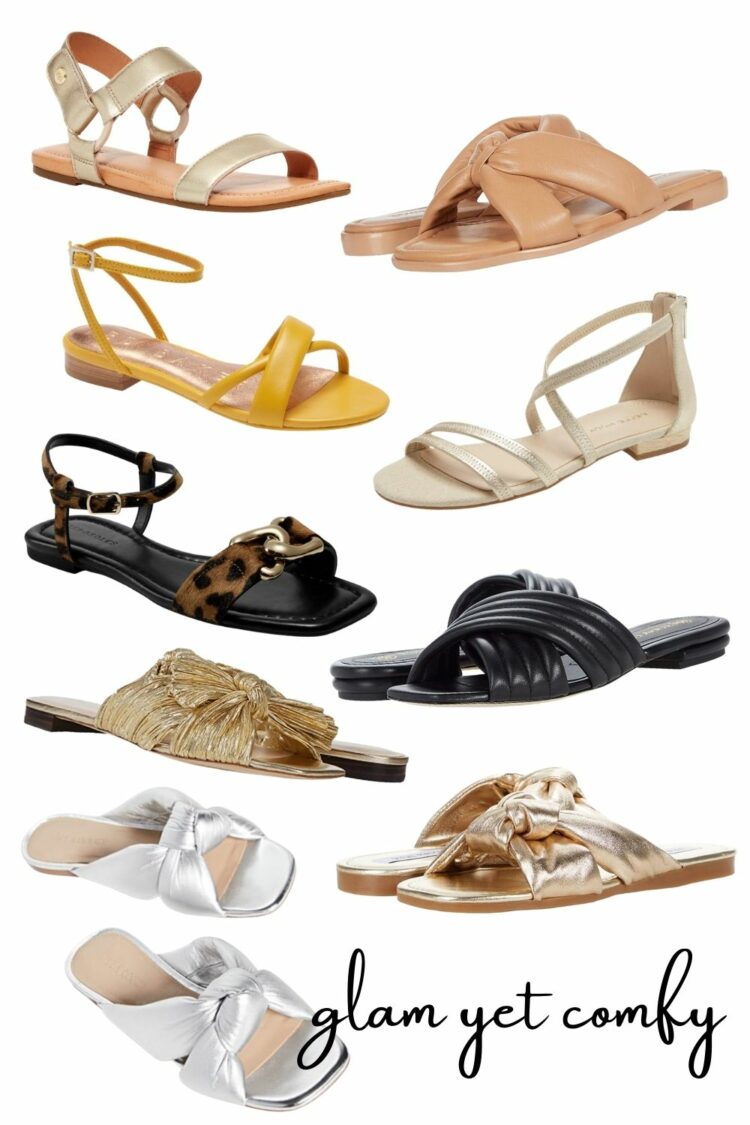 Left to right from top to bottom:
gold with ring detail (also available in three other colors) | tan puffy with knot (also available in black) | yellow cross-strap (also available in bone and black) | soft gold multi-strap (also available in coral and black) | leopard print with gold detail (available in six other colors) | black padded (also available in pale yellow) | gold crinkle with tie-detail | gold puffy knotted (also available in white) | silver puffy knotted

The puffy-looking sandals of this spring took a bit of getting used to… until I tried on a pair. Heaven! After seasons of skinny straps, these felt like I was wearing slippers. They look great with cropped wide-leg pants and jeans, longer loose and wide-leg pants and jeans, and midi-length skirts and dresses.
Delicate straps aren't out per se, but they are less popular than seasons past. The gladiator style that laces up, especially if the straps are thicker, are still in style. And any slides you bought last summer will still work this summer, especially if they are a nude-to-you color or a soft metallic.
Casual Friday to the Weekend Sandals
Depending on your workplace, sandals can be worn with dresses, skirts, and trousers. If not, these looks are perfect for your weekend styles, updating last year's spring and summer looks with this year's shoe trends.
Again, the look is more sturdy, wider straps, a more supportive sole. Keep colors low-contrast to your skin, and you will find that even if they aren't a skin tone or soft metallic, your sandals will be incredibly versatile working with a great range of colors and styles in your closet.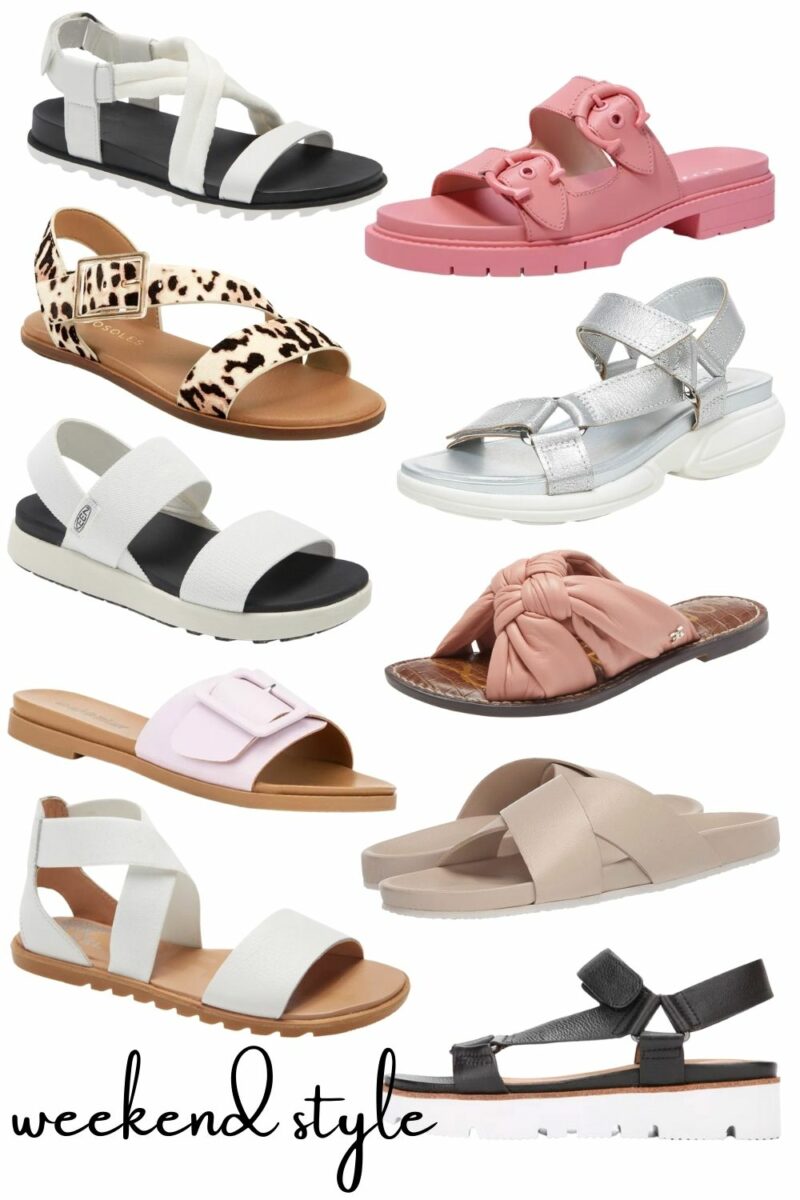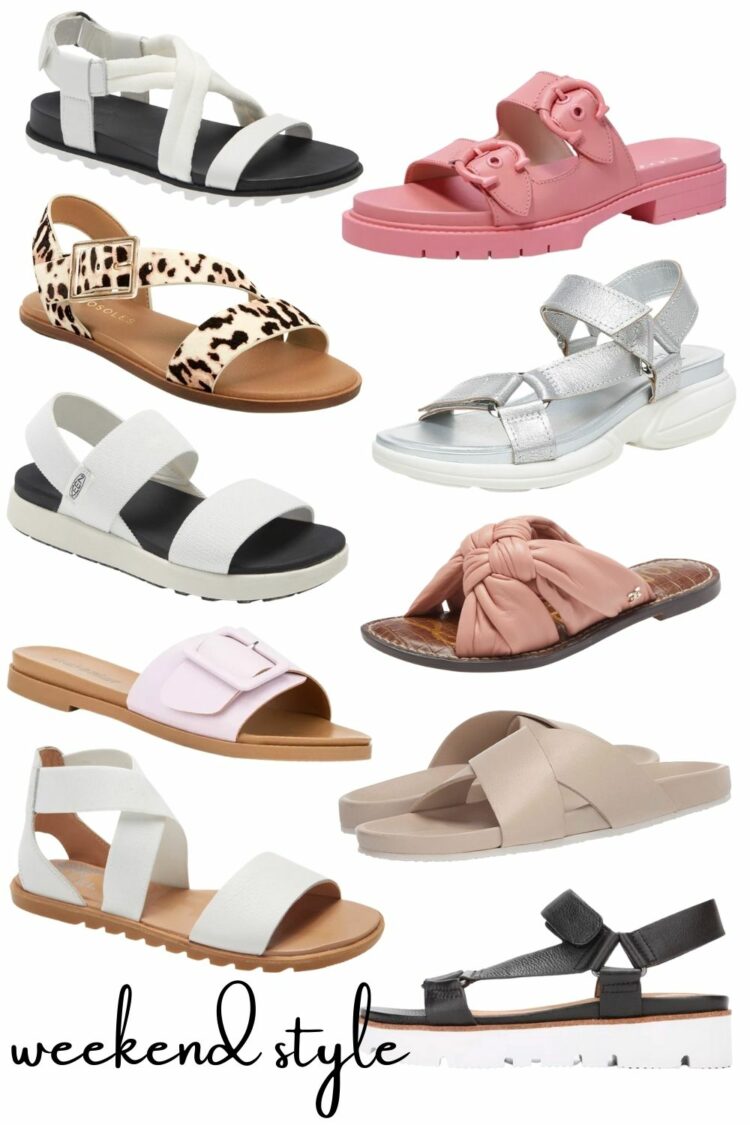 Left to right from top to bottom:
white with black sole (also available in black and gold/black) | pink chunky with buckles (also available in black) | animal print (also available in five other colors) | silver with white sole (also available in white and black)| white stretch with thicker sole | blush-colored puffy knotted style (also available in five other colors) | pale pink with oversized buckle (also available in pale blue) | beige cross-strap (also available in black and brown) | white ankle cross-strap (also available in six other colors) | black with white sole

Having a white or light-colored sole elevates a sandal, making it look more polished and modern. Soft colors look less athletic than brights, and can rock with your favorite joggers or a shirtdress at the office on a Friday in July.
Fun And Functional Sandals
Bring the Tevas out of the back of the closet; they may be great for canoeing but are also quite fashionable this season. The benefit of them coming back in vogue? An amazing selection of colors, prints, and fun details!
While the outdoor activity and athletic brands have great selections, don't discount dressier shoe brands which have some pretty cool looking sandals while still offering grip, fabrics right for water sports, and other techincal specs.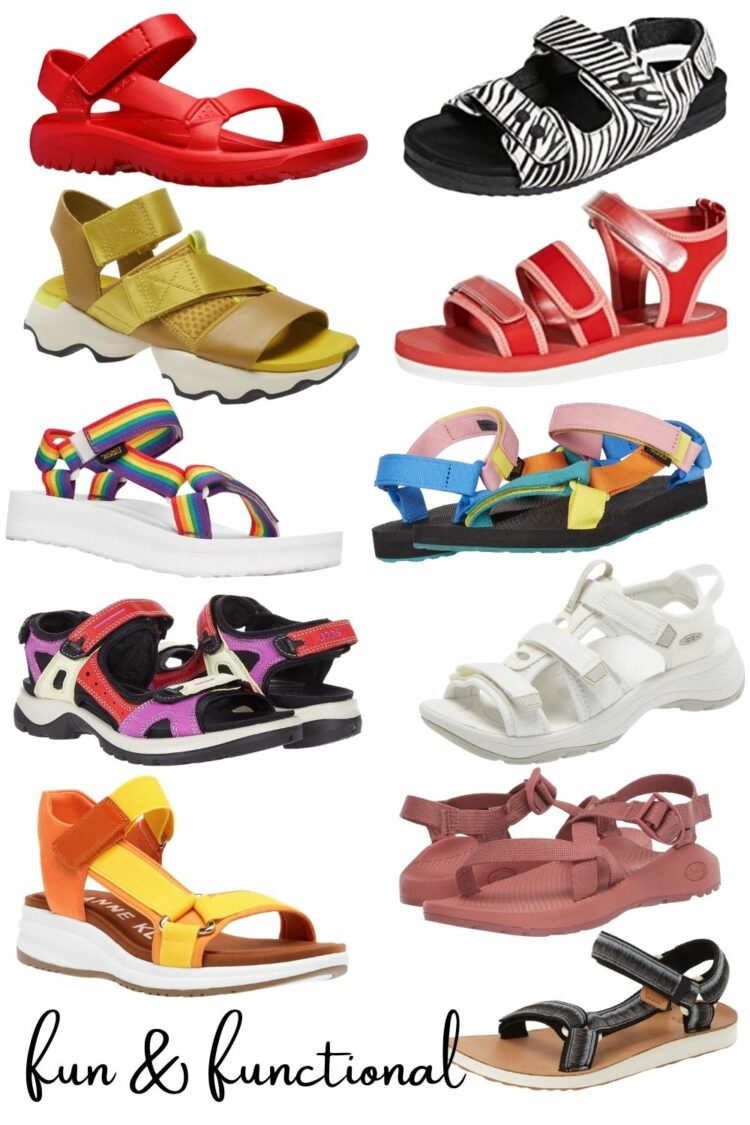 Left to right from top to bottom:
glossy red (also available in yellow) | zebra print | golden straps (also available in three other colors) | red and pink | rainbow with a chunky sole (also available in seven other colors) | pastel Tevas (15 other colors to choose from) | brights with black and white (also available in four other colors) | all white | orange and yellow (also available in black) | dusty rose | black with a tan sole (also available in seven other colors)


This collage could have been twice as long and I still would have run out. Whether you like your strappy outdoor sandals subtle and low-profile, or chunky and bold, I'll bet you'll find a style perfect for your personality as well as your personal style. Even I, who has never owned shoes like this before, have the all white style above in my virtual shopping cart.
Think of this kind of sandals like we've come to think of sneakers. They can be worn with dresses, with non-denim pants, with a variety of things and have that way of making something feel a little less precious.
If you've worn this style of shoe before, you may hesitate to wear it again. The way to make it work (that is, if you wish to wear them again) is to look purposeful. Purposeful means either you have no f*cks left to give and you wear what you want… or that you are fully aware that this trend has returned and that is why you are wearing them.
A pair of plain black Tevas can look as though they've been the same shoes you've worn since college, but a pair of multicolored ones with a slightly chunky sole will show you have a sense of humor and a sense of current trends. Even choosing a classic style in white is a way to say these shoes are for style, not sport.
Shower Slides
I know one of the best lessons I learned this year at home is that my feet are happier in shoes. Going barefoot made my feet unhappy, and I ended up taking one of my pair of Birkenstocks and turning them into my house shoes. The support made all the difference and I stopped having foot pain and my knees felt better too.
My daughter switched from slippers to her Adidas shower slides and also found she felt better, and her posture improved. The benefit to her shoes was that they could be hosed down if she did go outside, they could handle dew on the grass, walking on the beach, and washing the car.
Shower slides are a nice alternative to flip flops, offering the same ease with a bit more support. And this spring, there are some fun options along with the perennially cool classic athletic brands.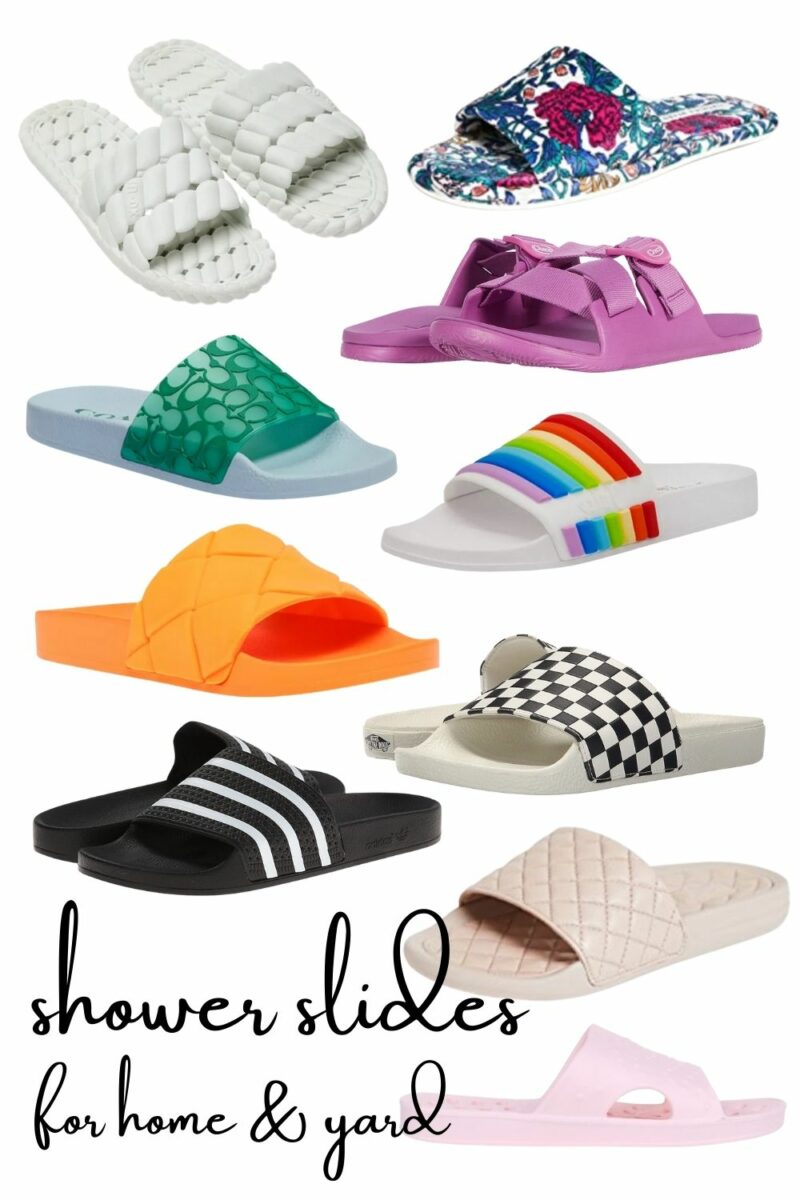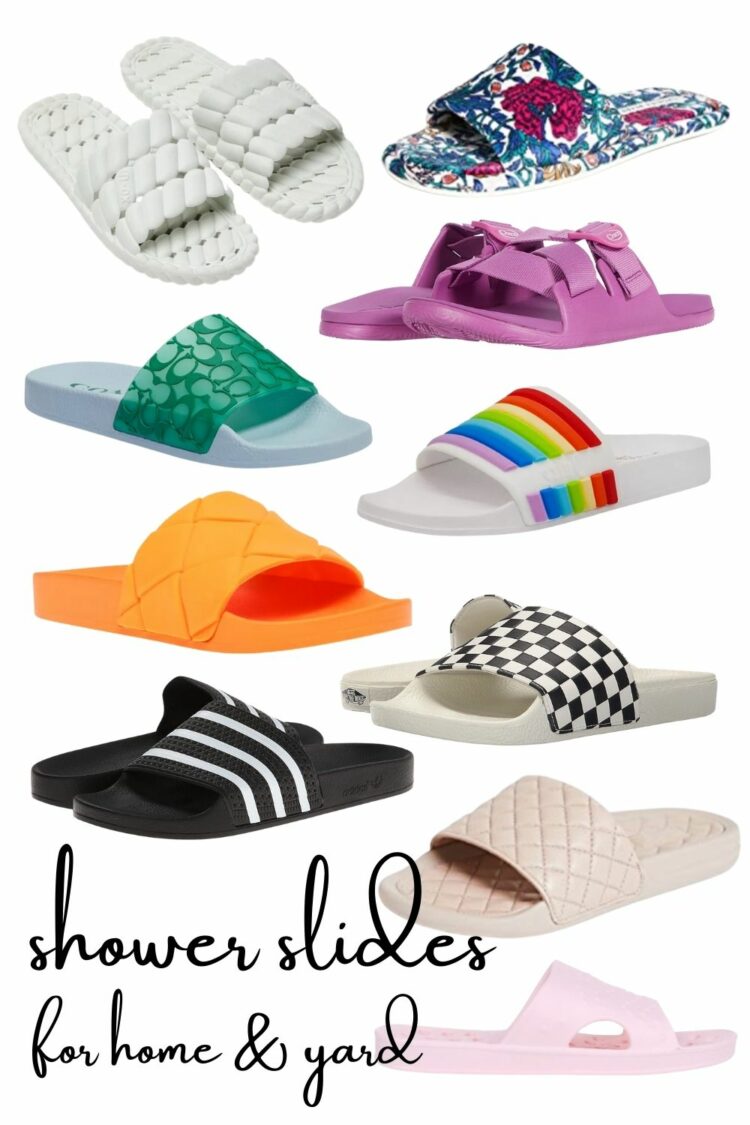 Left from right, from top to bottom:
white rope-inspired (available in four other colors) | floral | green logo | pink with straps (also available in 12 other colors)| white rainbow (also available in black rainbow) | orange woven (also available in black) | checkerboard (available in four other colors) | black and white stripes (available in two other colors) | beige quilted | pale pink

Shower slides can be worn out of the house; they're great for the beach and pool; they're also fantastic to wear if you're off to swim laps or switch into shoes specific for an activity. They can also be worn for fashion… but if you're asking me for advice on how to do that I won't. I think some people can totally carry them off and look amazing, but they have that kind of style that is innate (or have no f*cks left to give) and no advice can replace it.
What About Birkenstocks?
I didn't include Birkenstocks, not because they are out of style, but because they have already been in style previous springs and summers.
Birkenstocks are still a stylish option for chic comfy sandals this spring. I myself just bought a white pair with the Birko-Flor sole and my tween replaced her too-small Adidas shower shoes with a pair of EVA Arizonas in white.

Birkenstock has increased style with their popularity; this year they have a large buckle option that updates their classic look, there are options with shearling and fleece linings to replace house shoes and slippers, and I am a fan of a pair of metallic Birks to dress up summer basics.
Wear what makes you happy and works with your life. I think the only thing that looks really outdated this spring and summer are uncomfortable shoes that have you teetering on spindly heels. Unless a pair of fierce stilettos or ladylike kitten heels are part of your current personal style, consider letting the heels drop a bit and add a bit of cushioning or support.
We just lived through a hard year, and while it seems the light at the end of the tunnel is near, we deserve to have this experience improve our futures. And hell, let's let it start with women's footwear. If you want, embrace some comfort. Change your style, try something new, or screw all new trends and wear what you've always loved. Whatever your choice, you deserve it.