This article may contain affiliate links; if you click on a shopping link and make a purchase I may receive a commission. As an Amazon Associate, I earn from qualifying purchases. 
My family is traveling for two weeks this summer – we will be visiting some theme parks but also going to the beach, some historic sites, and will have a mix of casual and nicer restaurants. My sons are beyond the diaper stage but definitely still kids who need a mom who is not hanging out in an evening gown and 4 inch heels. Trying to figure out what to pack for a balance of nice and practical, good for a lot of walking and activities but still attractive — including for the full flying days in each direction. We do plan to do laundry on the trip a few times. In a perfect world I'd also have my running gear along for some workouts, but trying to do all this with a suitcase that will still fit in the overhead bin! Impossible?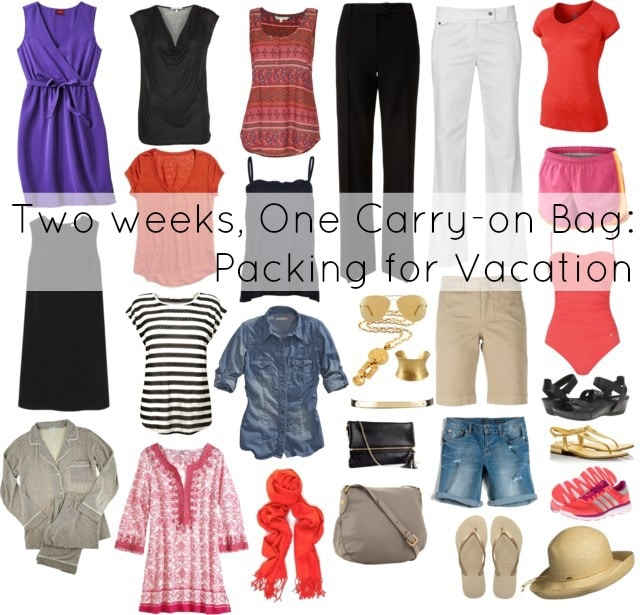 One good thing is you are traveling to a warm location during a warm time of year. No need for a winter coat or boots or bulky sweaters which can fill up a suitcase quite quickly. For this capsule wardrobe I chose pieces that are easily washed – matte jersey (great for washing, hanging up overnight and having ready next day), ponte, and cotton fabrics. I also chose items that don't really require ironing; the only exception is the pants, which are standard chino. These could be switched for white jeans if you feel they are dressy enough for the occasions you expect, or linen pants which are expected to be wrinkled and take up less space in your bag.
I kept shoes to a minimum, they take the most space. While I am not a big fan of rubber flip flops, if they are in a metallic color, they can pass as shoes in tourist locations and be a nice change after walking all day. With all shoes, make sure they are slip resistant – theme parks and historic sites often means puddles; if you have to chase after a kid or a taxi, it's best in shoes with grip. Instead of heeled sandals or pumps, some flat metallic leather sandals take up far less space and weigh much less.
On the Plane: I'd likely wear a pair of walking sandals (something that doesn't look like sneakers but you can wear all day; I have some from Softspots and Cole Haan that fit the bill) on the plane because they are the second bulkiest but more refined and easier to slip off at security than sneakers. Same with clothes – wear your heaviest piece on the plane (possibly the black pants, any of the tops, pashmina and the chambray shirt as a jacket/layering piece).
Sight Seeing: The nylon crossbody is lightweight so it won't be a strain when filled with water bottles, cameras, and souvenirs. Have walking sandals that are already broken in to prevent blisters and hot spots. Consider longer shorts to reduce chafing or shorts riding up when doing a lot of walking.
Orange tee, khaki shorts
Orange tee, denim shorts
Striped tee, denim shorts
Striped tee, khaki shorts
Denim shirt, khaki shorts
Printed tank, khaki shorts
Printed tank, denim shorts
Navy cami, khaki shorts
Navy cami, denim shorts
Black dress, walking sandals (more for museums than amusement parks)
Another outfit can be any of these tops with the white pants/jeans – of course that would be for more relaxed events that are primarily indoors. You could also wear any of the shoes with these pants
The Beach: Consider a cover-up that can double as clothing so it has more use. Many cover-ups these days look just like dresses or can be a tunic worn with Bermudas or pants. Choose a suit that can survive a jetski, parasailing, and other water activities. A "crushable" hat means you can shove it in your purse or carry-on and not worry. If you plan to do a lot of beach and water activities, consider bringing a second suit.
Suit with denim shirt and denim shorts
Suit with paisley cover-up
Casual Events: An addition of gold accessories and sandals can make many of the day outfits look appropriate for a restaurant. The denim shirt can work as a jacket if it gets chilly.
Purple dress, walking sandals
Black dress, walking sandals
Black top, white pants, walking sandals
Striped top, white or black pants, gold sandals
Printed tank belted over black pants, gold sandals
Printed tank tucked into white pants, any of the shoes
Denim shirt tied or tucked into white pants, gold sandals
Navy camisole with white pants, gold sandals
Paisley beach cover-up, white pants, gold sandals

Dressier Events: Use the clutch purse for instant formality, the pashmina as a wrap. If the gold sandals have a leather bottom and are slim and elegant, they can be dressy enough for many occasions
Purple dress, gold sandals
Black dress, gold sandals
Black drapey top, black pants, gold sandals
If you think you'll have more formal occasions, consider a chiffon-overlay maxi dress which can handle being balled up in a suitcase – hang it in the bathroom during one hot shower and it will be wrinkle-free.

Some tips:
A bar of Ivory Soap is good for cleaning your body, but also cleaning laundry. I use it often to spot clean a piece I don't want to fully wash. Also it's not a liquid so you don't have to worry about TSA.
Buy your sunscreen once you're there. You can always find a drug store outside a theme park that has reasonable prices – more room in your bag and more space in your TSA-allowed plastic baggie.
Choose a flexible carry-on bag. Many suitcases are made to protect when checked, and you lose a lot of space on padding and structure. A soft duffel is a good choice because it flexes and can be squished under a seat or into a smaller part of the overhead container.
Pack with your heaviest items on the bottom. Not only does this help with creasing, but it builds a foundation so your items are more likely to stay in place through the flight.
Don't pack to maximum capacity. You very well will come home with purchases and souvenirs, make sure you have space for them on the flight back.
This is a time when I don't necessarily recommend all the stuff on my travel checklist. If you can pare down and just use your phone or tablet as your e-reader and music and notepad, all the better.
Don't pack your entire lingerie drawer. Choose pieces that can work with the same kind of bra and don't need fancy foundation garments. Underwear takes up little space, but Spanx and strapless bras can make or break your carry-on bag.
Don't make your second bag your purse. I specifically used a nylon crossbody because I have one and know it can crumple down to nothing when empty. Use a bag that's to the maximum standards of your airline as your personal bag to get the most of your space. A backpack is a great choice because it's easy to slip out electronics for the TSA screening and then you have it for sight-seeing.
See what toiletries and amenities are available at your hotel. Do you really need your regular body wash or lotion? Can you get away for two weeks with the single-blade razor the hotel offers for free? Can you survive with the crappy hotel hair dryer? For me, I choose to wear my hair more wavy/beachy on vacation so I don't have to pack my fancy dryer, flat iron, and 50 different products. Elastics, barrettes, and even cute cotton scarves take up far less space than hot tools.
Don't bring a beach towel. Either use the hotel towel, or buy a cheapy one at that drug store on the way from the hotel and leave it there.
If it doesn't fit, try a different method of packing. Some like to roll, some like mesh cubes, some swear by Space Bags. Don't wait until the night before to pack, do a dress rehearsal so be sure it all comfortably fits in the bag you're taking.
What other packing tips do you suggest?
Follow Me | Twitter | Facebook | Instagram