This article may contain affiliate links; if you click on a shopping link and make a purchase I may receive a commission. As an Amazon Associate, I earn from qualifying purchases. 
I struggle to find leather jackets that fit me.  If it fits the bust, the shoulders are too wide and the sleeves too long.  If the sleeves are the right length, it's too tight to zip.  The jacket usually gets bunched up above my rear, and if I find one that fits, there's no way I can fit a sweater under it.  And why does it seem that the quality and style diminishes as the sizes increase?  Other than my beloved Universal Standard leather moto jacket, I usually encounter low-quality stiff leather, weird unnecessary embellishments, or cheap leather alternatives that don't look real or feel good on.  So when The Jacket Maker reached out offering the opportunity to create a custom-fit leather jacket, I was intrigued.  Offering up to a 3XL or allowing you to custom fit a jacket from your unique measurements, The Jacket Maker offers classic and trendy leather jackets styles for men and women at incredibly reasonable prices.
This post is NOT sponsored/paid. However, I did receive the jacket for free from The Jacket Maker.  There are affiliate links in this post; if you click a link and make a purchase I may make a small commission.  For more details on how blogs make money, read this article.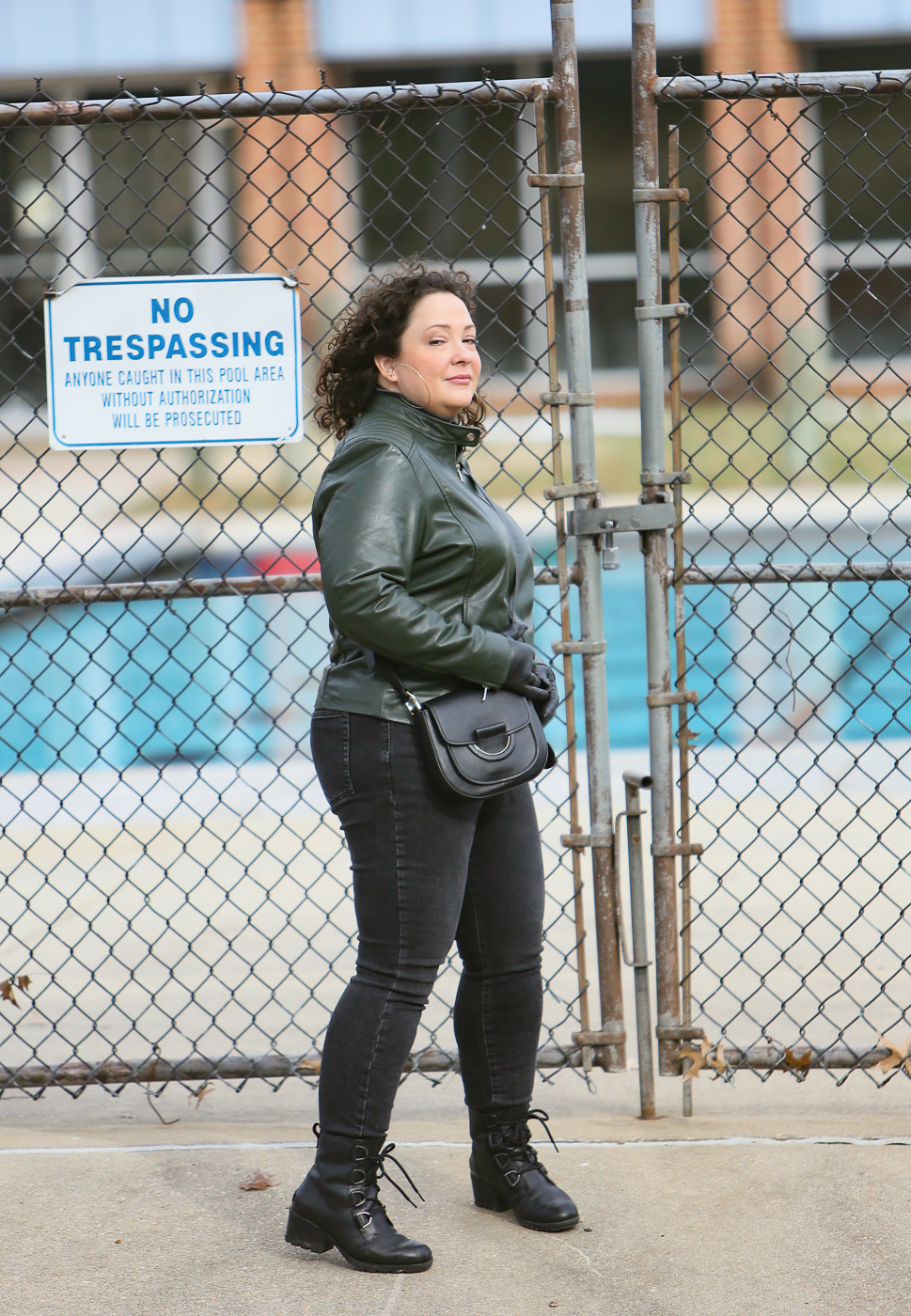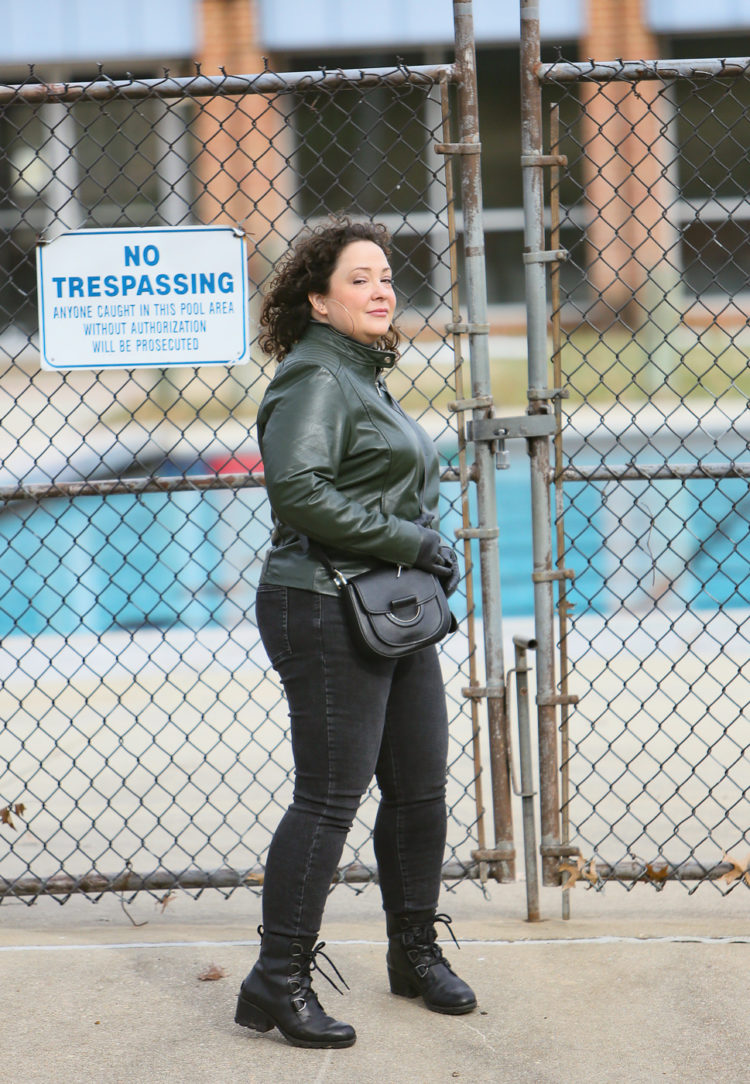 Jacket: Kelsee Leather Biker Jacket c/o The Jacket Maker (made to measure size) | Sweater: Universal Standard (XS) | Jeans: Authentic Stretch Button Fly c/o Universal Standard (32 Ankle) | Boots: Sorel (sold out; similar) | Bag: Cole Haan via Rent the Runway Unlimited | Ring: Empress Insignia Luxe Ring c/o REALM | Earrings: Monogram Hoops c/o Jenny Bird (sold out; similar) | Sunglasses: Ray-Ban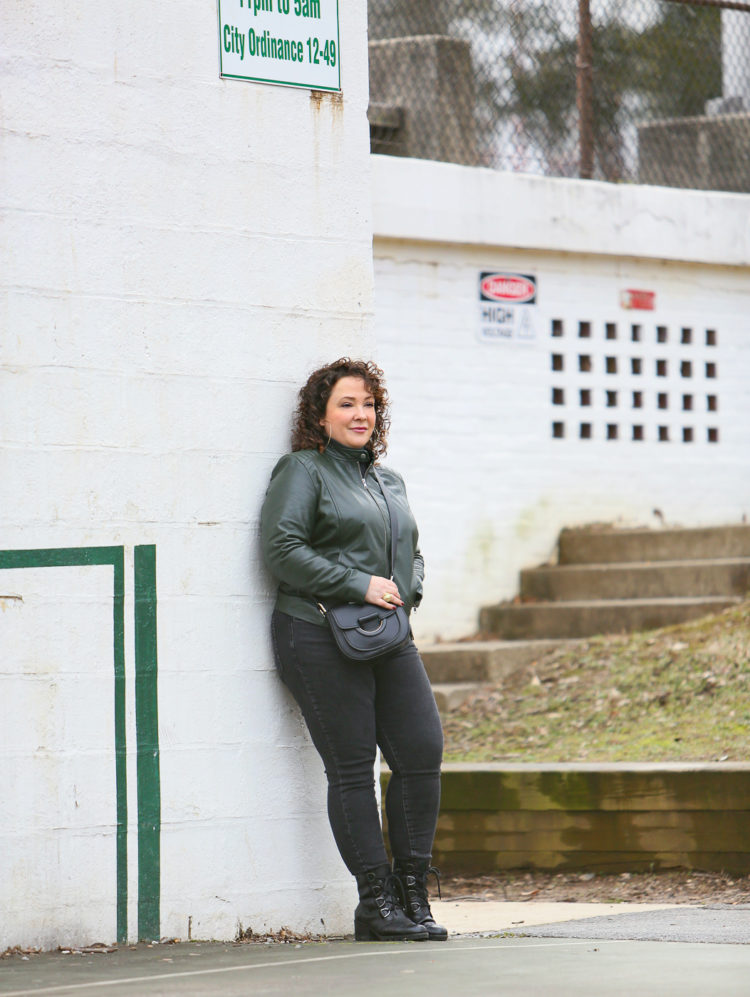 Since I own a black leather moto jacket that I love, I decided to use this opportunity with The Jacket Maker to get a novelty jacket – something unique but not so trendy I can't wear it a couple of years from now.  I decided on their Kelsee Leather Biker Jacket, a style inspired by motocross riders with quilted shoulders, a front zip, and a snap-close band collar that retails for $265 with free worldwide shipping.  It is made of sheepskin leather with a polyester lining dyed to match the jacket, has two pockets, and traditional zipper cuffs. This is the kind of jacket I have always liked but could never find one that fit my shape, usually being too straight up and down and the collar too high for my short neck. this jacket comes in nine colors; I chose green as it's one of my favorite colors and in a shade that can act as a neutral.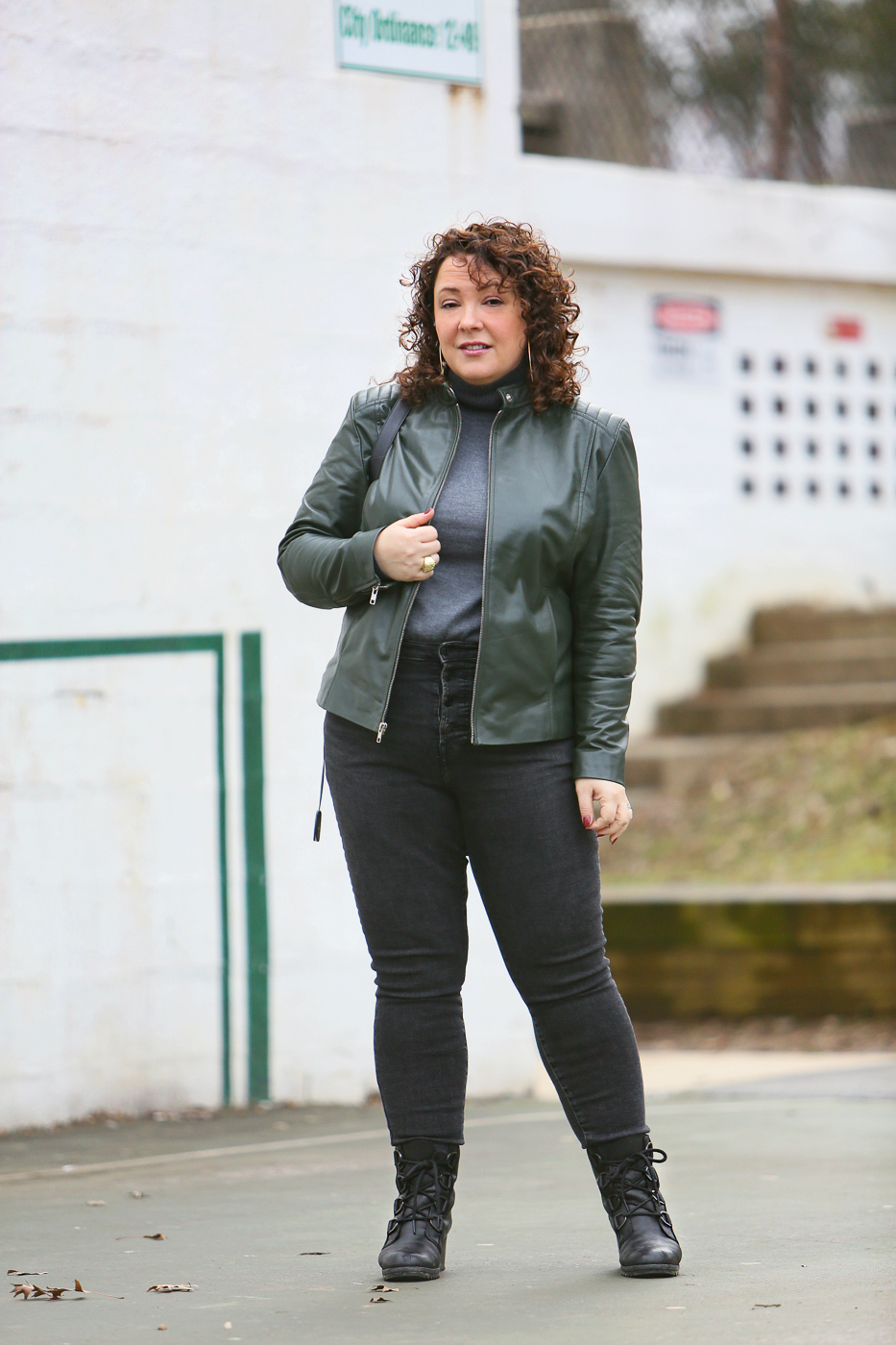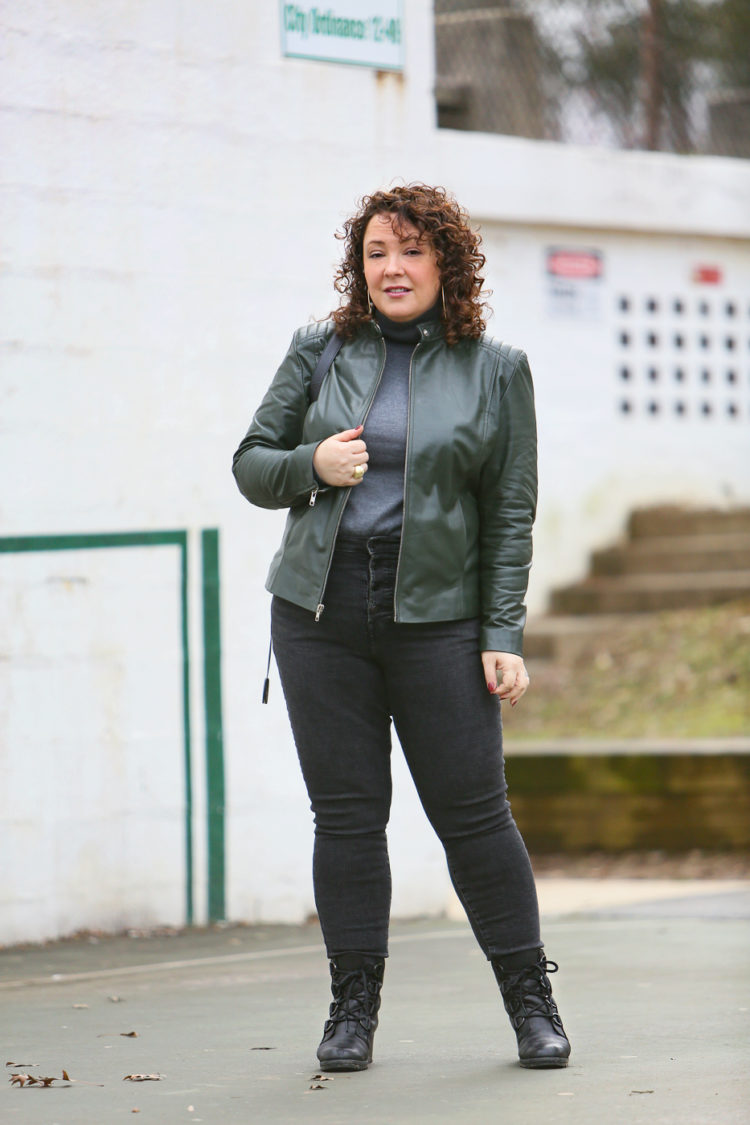 Size-Inclusive Made to Measure Leather Jackets from The Jacket Maker
With any jacket from The Jacket Maker, you can choose to buy it in a standard size, choose to have it "made to measure," or customize the product.  Customizing means you can get your jacket printed or embroidered with your own design or do fit customizations; The Jacket Maker will work directly with you to craft the jacket of your dreams. Going through their gallery, it shows that The Jacket Maker often makes matching jackets for groups and creates pieces for movies and music videos. The Made to Measure option requires a tape measure and a friend to provide eight different measurements to get a jacket that fits you perfectly.  This is the option I took.
The Jacket Maker offers video tutorials to help you get accurate measurements.  Even if you make a mistake, The Jacket Maker will reach out before proceeding.  I know, because I submitted my measurements and The Jacket Maker emailed me asking me to confirm my sleeve length.  They said that based on my other measurements they felt there was a typo.  I re-measured and they were right!  If they didn't have such attention to detail I would have ended up with bracelet-length sleeves!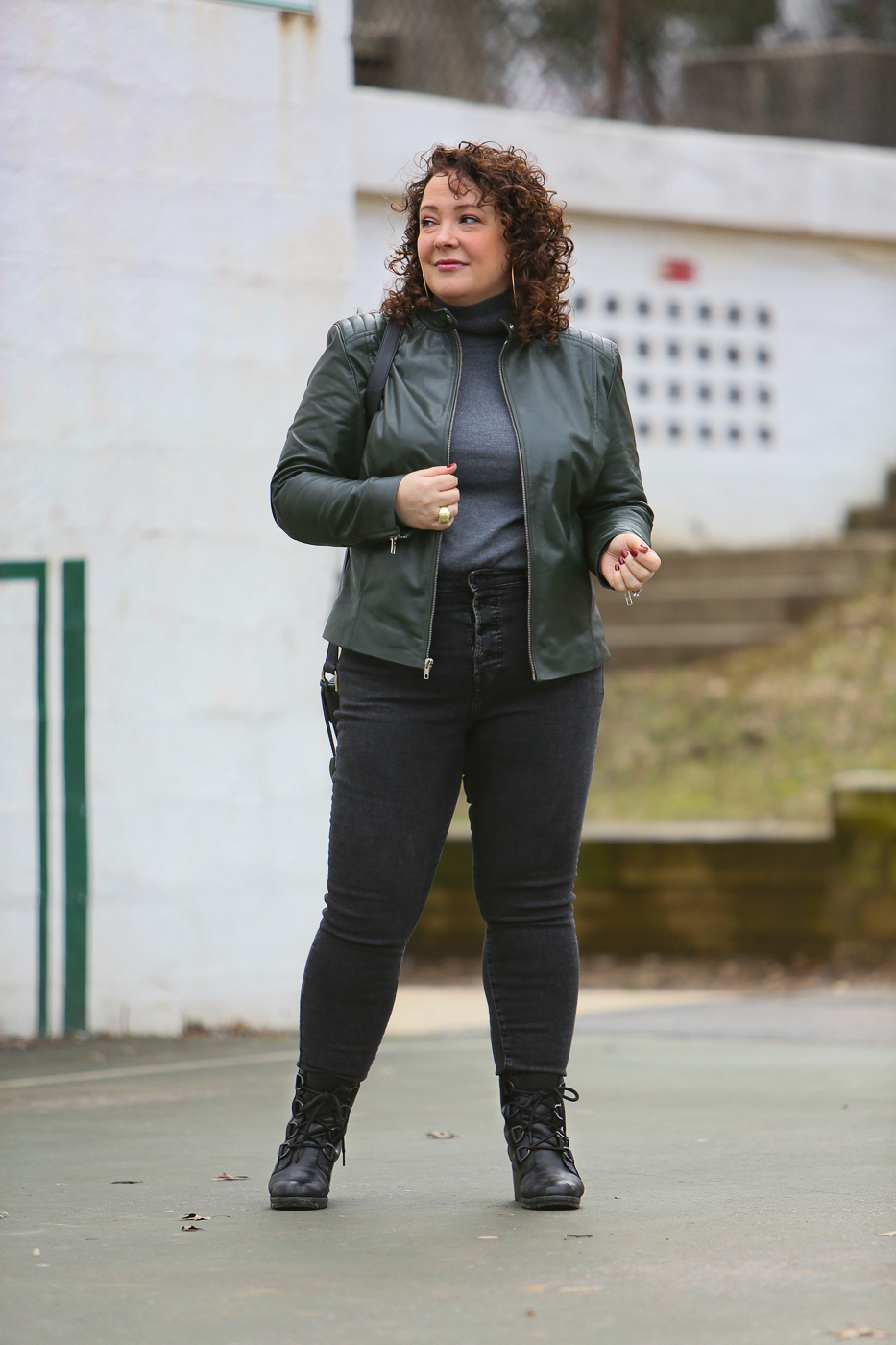 The jacket arrived via DHL around two weeks after placing the order.  Since it came via DHL I received a text and email when it was shipped and provided the date and delivery window.  The jacket came with few frills, which I like.  A cardboard box, a plastic bag to protect the jacket, and the packing documents.  The jacket had a bit of a chemical smell when it came out of the box but had completely dissipated after a couple of hours. The style and color are exactly what was on the website.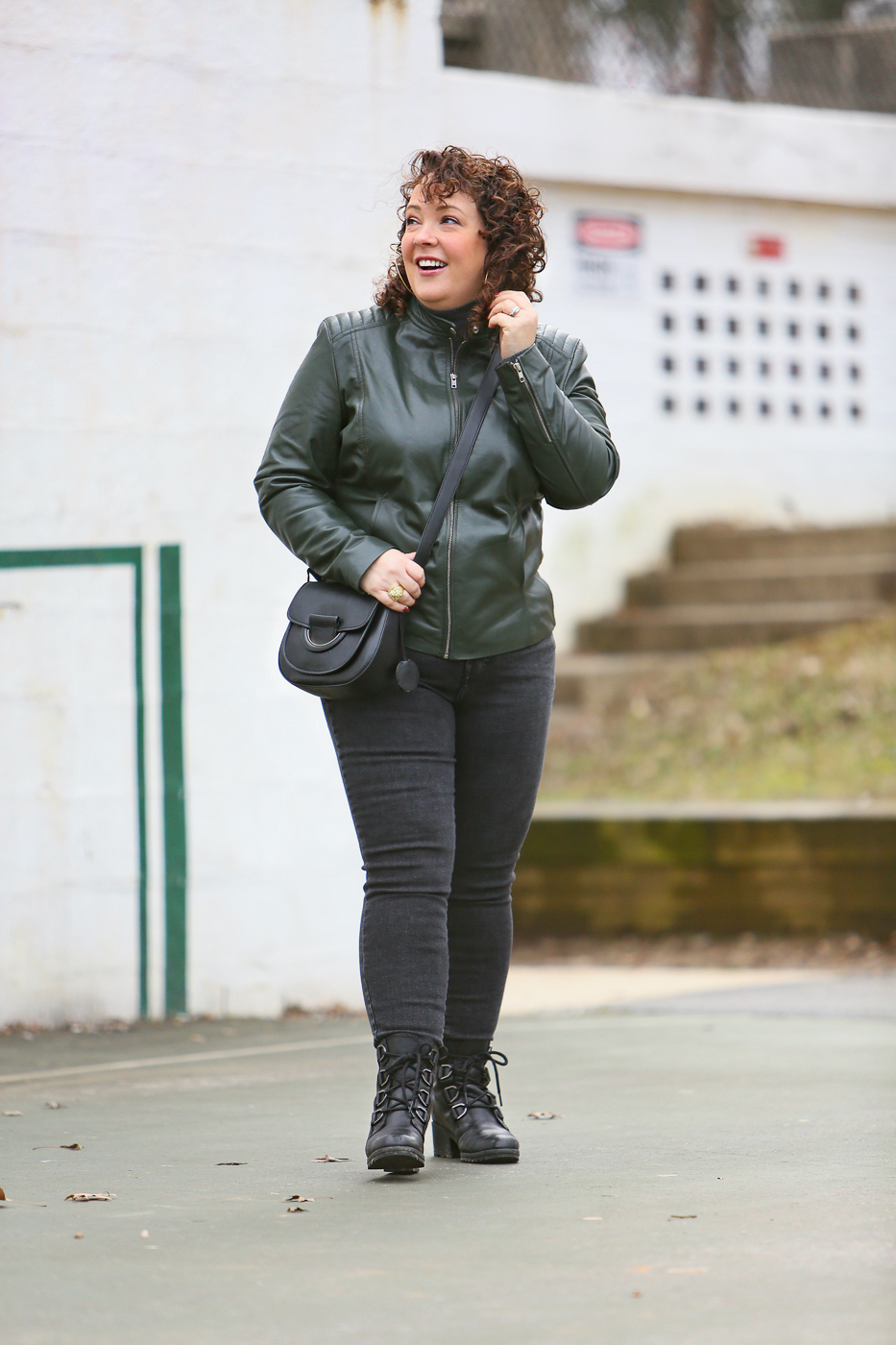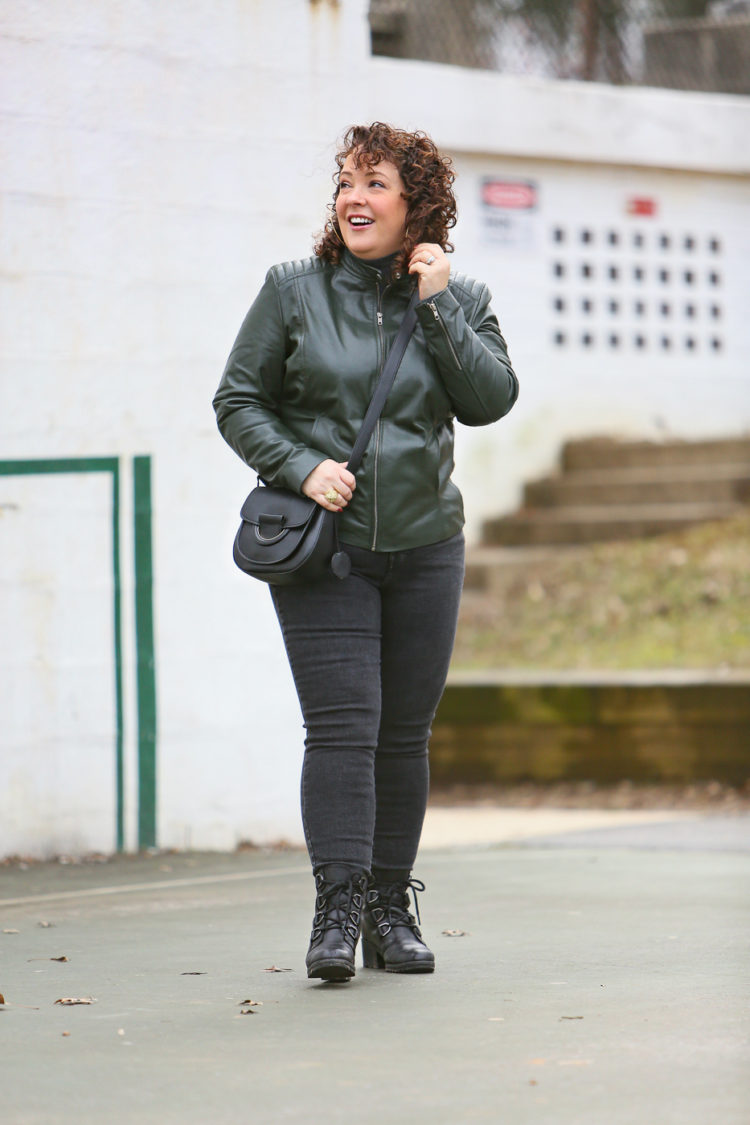 The Jacket Maker Made to Measure Jacket Review
The leather isn't as soft and luxe as my jacket from Universal Standard, but it also $200 less.  That being said, this jacket is higher quality leather than some jackets I've tried from brands like Halogen and Bernardo during the Nordstrom Anniversary Sale.  It is also well crafted; no loose threads, a smooth-moving and durable zipper, tonal lining, straight stitches, etc.  I find the zipper easy to use, the snap closes and opens easily, the zippers at the cuffs work, stay closed when you want them but unzip when necessary.  The lining is silky, not plastic-y.  This jacket would sell for at least $100 more in a department store.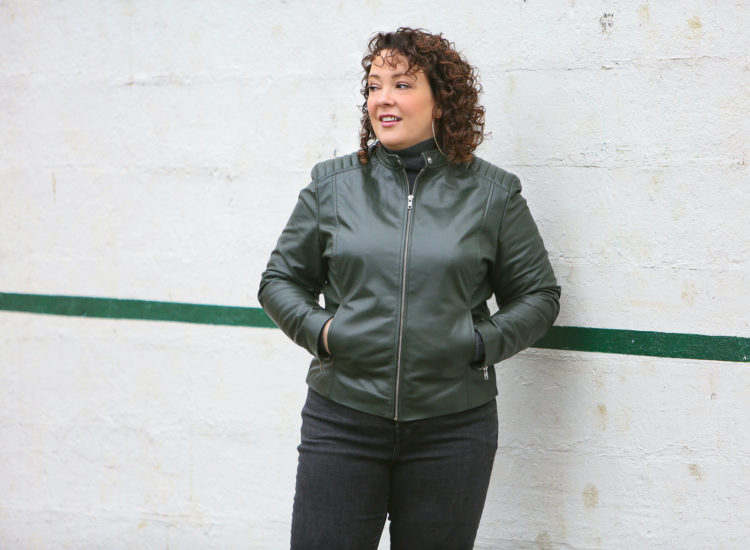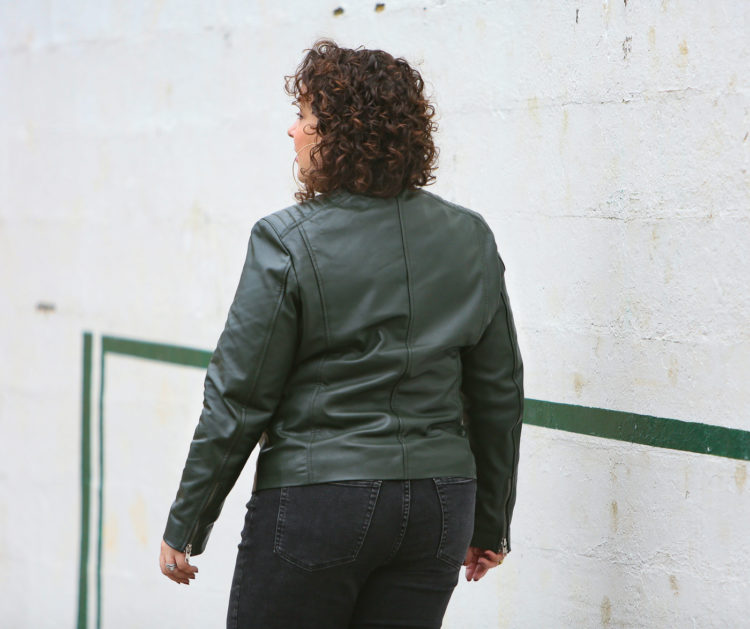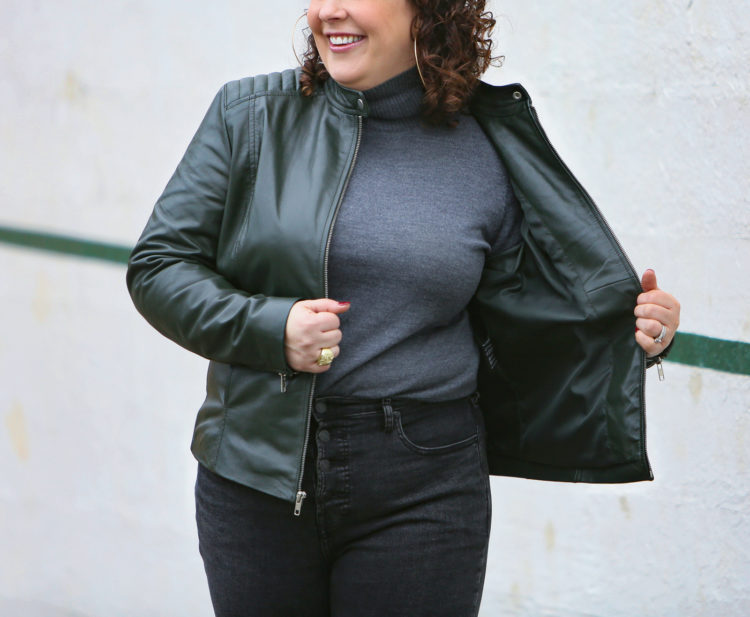 As for the fit, it's pretty great.  I am wearing it here with this Universal Standard merino turtleneck, but I have also worn it with my Lands' End cotton drifter sweater which is much thicker. The fit of this jacket is more for a jacket than an alternative to a cardigan or blazer; it's made to slip over sweaters, sweatshirts, and knits.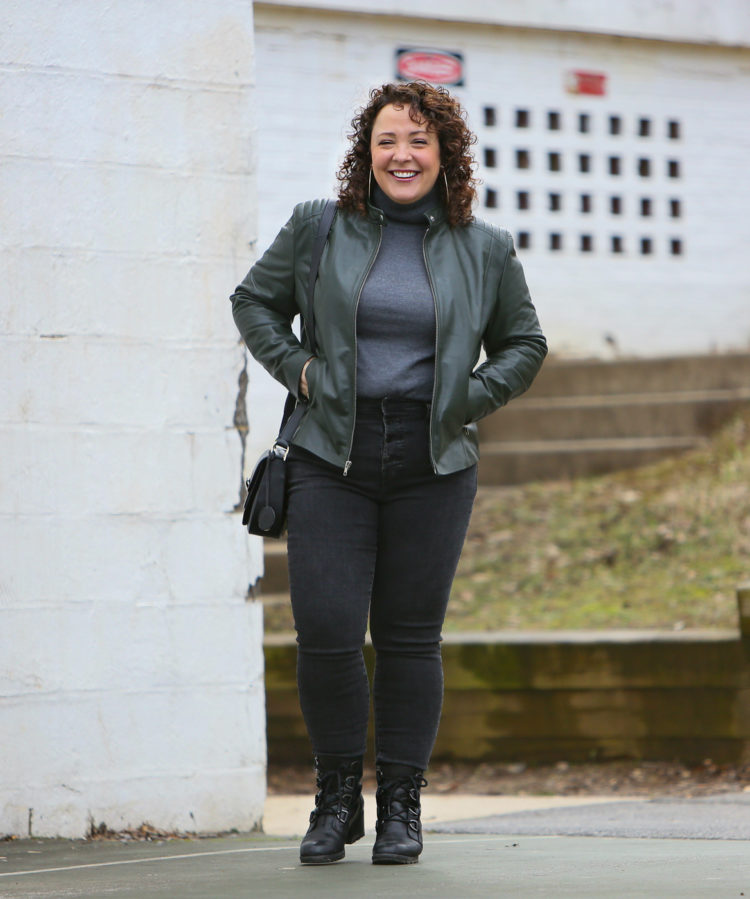 The Jacket Maker offers styles for men and women. At the time of writing this, The Jacket Maker had over 45 styles of jackets, blazers, trenches, dresses, and vests for women made of leather and suede.  You can choose from classic biker and moto jackets to trendy looks like a silver leather trench coat or a black and white splatter print leather blazer. Every style can be made to measure, customized, or available in off-the-rack sizes from XXS to 3XL and are offered with free worldwide shipping.
Shop the Look:


If you have any questions, do ask them below.  I am not paid by The Jacket Maker and will be completely honest.  I chose to do this review because I had a great experience and I know how hard it is to find quality size-inclusive leather jackets.