This article may contain affiliate links; if you click on a shopping link and make a purchase I may receive a commission. As an Amazon Associate, I earn from qualifying purchases. 
The colder months are easy for most any affair – whip out your little black dress and heels and you're good to go. However once the weather gets warmer, an LBD can sometimes seem too harsh or somber, especially for happy events like weddings.
That being said, with the extensive array of dress styles and cuts available, it can be hard to know what is appropriate for a wedding, and what is not. While different cultures and religions have specific beliefs on colors and how much skin to show (I always recommend contacting a member of the wedding party of extended family if you are unsure about the couple's traditions and sartorial expectations), below are some ideas that can be worn to most weddings and be seen as stylish yet appropriate.

The Daytime Wedding
I used to advise women that for a daytime wedding, wear what you would wear to your house of worship for services. That doesn't seem to be appropriate anymore as many houses of worship are making their dress codes more casual to make the experience more welcoming to all folks. Even I grew up attending church services in jeans and sneakers. So I recommend wearing a dress, suit, or pantsuit that is festive yet has a conservative touch. Skirts that end around the knee, no plunging necklines, steer clear of backless or cutouts. Fitted is fine, skin-tight is not. Consider fabric – sequins and satin are better for evening and more formal of affairs. This is a happy occasion so go ahead and wear cheery colors and prints.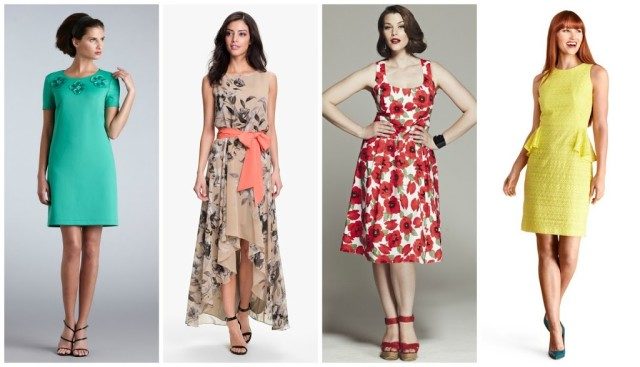 This green dress is from Muse Apparel; I own it and think it's even more lovely in person. The jade color is cheery without being overwhelming, the ponte fabric has a slight sheen making it more dressy, and the fun flower appliqué of plastic and gems catches the light without having you resemble a disco ball. Pair with nude heels for an elegant yet fun look. The tan floral dress is from Eliza J, a brand that I find flattering and budget-friendly. While the main color is subdued, the coral bow at the waist and the flirty high-low hem makes the dress festive and fun. Pair with some strappy heels and a great bracelet to finish the look.
Daytime weddings is when you can carry off a bold print – this poppy print dress from Bespoke is cheeky without being too extreme; make it more subtle with nude pumps or amp up the fun with some retro-inspired heels. A daytime wedding is a great time to try a trend, be it a Pantone-approved color of the year, lace, or peplum. This dress from Donna Morgan incorporates all three trends into one chic yet festive frock. With a demure hem length and full back, the dress doesn't veer into Fashion Victimville; keep it subtle with neutral shoes or add an extra punch with pumps in a contrast color.
The Evening Wedding
Evening weddings can be tricky – are you dressed up enough? Too much? A safe bet is to dress in cocktail attire – a daytime wedding sort dress but made of a dressier fabric like lace, silk, or beading. While a little black dress is a perfect choice, feel free to wear a dressy suit or a frock in a cheerful color. Current trends make hemlines anywhere from just above the knee to the ground appropriate, but unless the invitation specifies Black Tie, don't make your maxi a formal gown, sequined, beaded or otherwise overly dressy.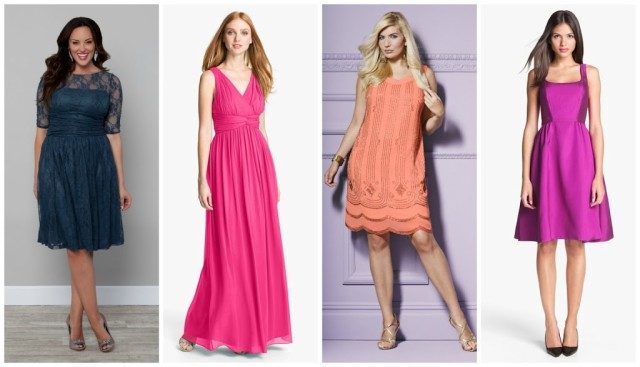 The blue dress from Kiyonna is a great way to show a little skin while still being tasteful. Pair with nude or metallic dressy heels to amp up the evening look; a sparkly accessory will be perfect for an after-hours affair. The pink gown from Donna Morgan is surprisingly versatile – with flat metallic sandals it could be worn to a destination wedding; with silk heels and a sparkly bracelet it's perfect for an evening affair and the bright color keeps it from looking too Black Tie. The peach flapper-inspired dress from Simply Be is the type that could be worn for a wedding with nude or metallic shoes, pair with more casual shoes for a night out, or even be worn with a black blazer and tights come winter. With the beading on the dress, keep the rest of your accessories to a minimum and consider a more dramatic eye to add a formal flair. The magenta dress from Kate Spade is a feminine and classic silhouette yet the fabric makes it evening-appropriate. The accessories is what can take this dress from day to evening to even a more formal wedding.
The Destination/Beachside Wedding
Such weddings are usually far more casual because of the sand and wind factor. It's hard to walk down to the shore in a satin pencil skirt and 3" heels. However, the casual environment doesn't give one permission to show up in a Hawaiian shirt and cargo shorts. A dress of matte jersey, silk, or a refined cotton or knit is a great choice because it will be flexible and comfortable in the heat. I specifically featured longer dresses for such a wedding because of the tropical breezes during such an event; no one wants to be worrying about doing a Marilyn in the middle of the vows, and a longer dress also provides modesty if you end up sitting on the sand or on blankets in a field. Longer dresses can seem more formal, so look for styles that do not graze the ground, are of more relaxed fabrics, and have a celebratory color or print.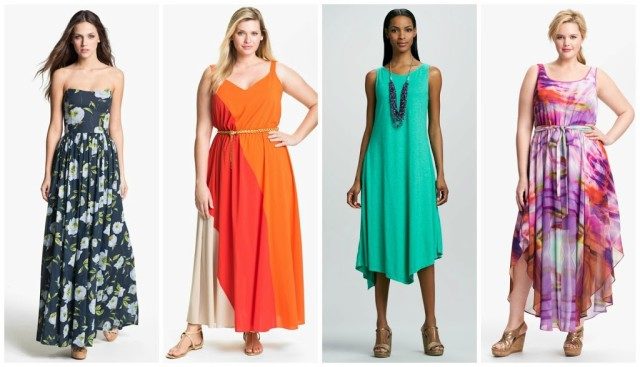 I love this dress from French Connection; while I am not a big fan of strapless for weddings I think this one works because the color and fabric is more demure and the bodice quite structured. This is also a dress you could wear again – pair with tan sandals and tie a Western-inspired denim shirt over it for a party or barbecue back home. The colorblocked chiffon maxi from Calvin Klein is cheery, modern, and easy to personalize. Pair with gold sandals and accessories, or switch out the belt for a brown leather one and have an armful of wood and beaded bangles. Come cooler months, pair with a denim jacket for a cool outfit for a night out on the town. The turquoise dress from Eileen Fisher is simple elegance; Eileen Fisher is expert at draping and bias cuts and this dress is no exception. I'd style in a similar manner with a beaded necklace and flat-bottomed sandals, or it can be glammed up with a bold silver necklace and gladiators. The watercolor-inspired dress from Ivy & Blu for Maggy Boutique is romantic, tropical, and very on trend with the unique hemline. With such a pattern, you can keep accessories to a minimum. If you want to switch up the look, consider replacing the self belt with a metallic one or a skinny patent belt in a color that's part of the print.
Follow Me | Twitter | Facebook | Instagram