This article may contain affiliate links; if you click on a shopping link and make a purchase I may receive a commission. As an Amazon Associate, I earn from qualifying purchases. 
This morning Refinery 29 sent out their e-newsletter with the headline, "10 killer outfits that prove ANYONE can wear shorts." Well with that headline, you're going to have this soft curvy size 12/14 gal click to read more!
And this is what I saw, all images via Refinery29's slideshow for these, "10 shorts styles and the outfit tips that'll make 'em sing."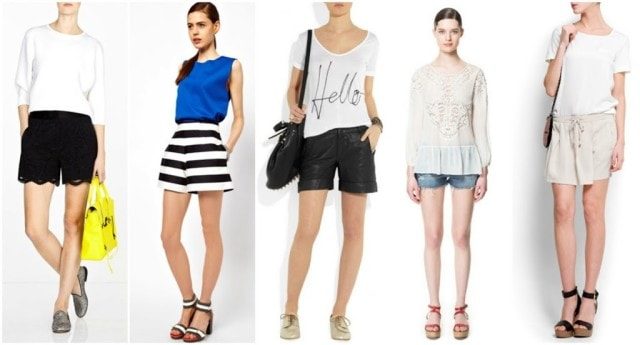 Not a single plus sized woman, no one with large hips or thighs, no ladies with bellies and no butt, no cellulite, saddlebags, or knees over 30 years of age (because those of us over 30 know the knees start experiencing gravity, no matter our size). Well thanks a whole heck of a lot for NOTHING Refinery 29 for showing us how tall, young, slim, white women can rock anything under the sun. That's just as groundbreaking as florals for spring.
I spent many a summer sans shorts. My legs are fleshy and pale, susceptible to chicken skin and visible stubble by 5pm. Now that I am over 35 and over 150 pounds, my legs also have some blue veins showing through my less-elastic non-tanned skin, and yes, the thighs have… we'll call it texture. The past two summers I said screw it. I'm chasing after a kid, I spend a lot of time outdoors, and shorts are cheaper and more convenient than spending all summer in sundresses with bike shorts underneath (for modesty and to prevent chub rub).
Last summer I bought a pair of denim shorts from Target and self-distressed them. I bought them a size larger so they wouldn't pucker at the crotch or ride up and they are totally, completely my jam. You can see me wear them here and here. I also got a pair of shorts from Nordstrom's Caslon line, regular not petite, again one size larger than normal. I cuff them once for a good length on me, but chose regular instead of petite to have the waist higher/less muffin top.
They're a faded orange which is a nice contrast with the navy and white striped tees I always wear and also looks nice with neutrals like gray. I still have pale, soft, veiny, textured legs but now I don't have sweat running down them or have to iron something every morning. I don't think one should be punished for not being built like one of the women in the Refinery 29 slideshow.
And so, I will provide you with pictures of women of all shapes, sizes, and colors who ROCK shorts in summer. Do they look like the models in the Refinery 29 piece? No. Do they look fabulous? Yes. Are they comfortable and able to enjoy their summer like everyone else? HELLS to the YES.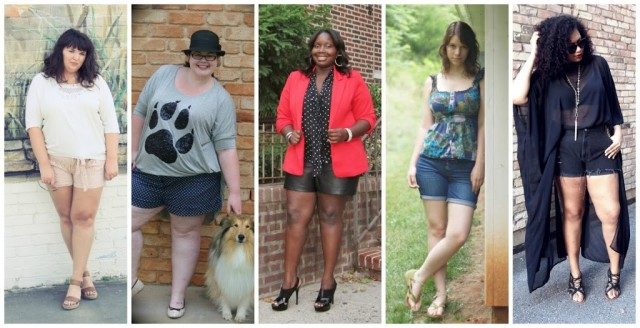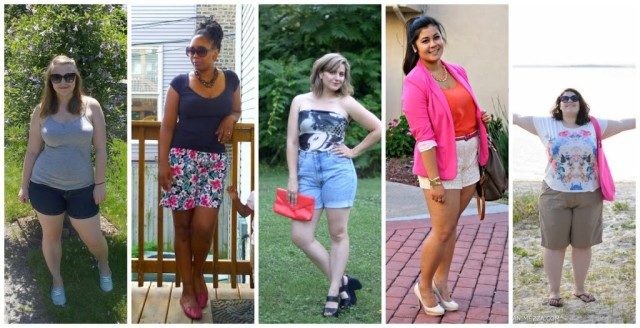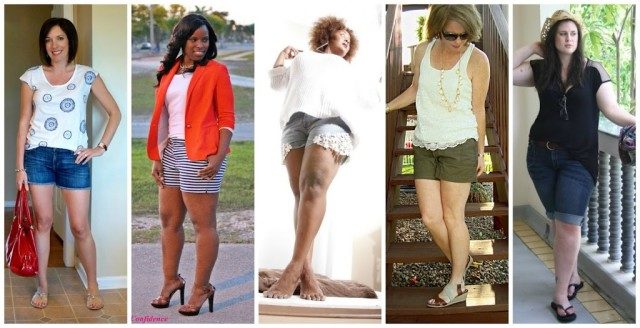 It's summer, we ALL deserve to have a good time. For some, a pair of cropped pants or a full cotton skirt is perfection. And for some of us, it's just damn nice to be able to whip out a pair of shorts.

Tips for Buying Shorts if You're Built Like Me:
Go up a size. Go ahead, cut out the tag if that number upsets you, but having them a size larger will reduce muffin top, will reduce creasing at the crotch/leg joints and will just make them more comfortable. I don't mind them slung on my hips/held up by my booty, but sometimes I do whip out my Beltaway to keep them from hanging too low.
Buy one inch longer than you think you need. Most shorts are made of cotton, and cotton shrinks. I have a pair of white shorts that were PERFECTION in the dressing room, but after one washing (in cold and line dried even!), they ended up looking like hot pants. For those that don't shrink, I do what I do with the orange Caslons – I just cuff once. This looks perfectly fine and on trend for most styles of twill, chino, and denim shorts.
Run away from pleats. Even one pleat in the front can make your soft belly look like second trimester. Flat front is my jam.
The fewer pockets, the better. I like those little coin pockets – they're big enough for a hair elastic or my driver's license, but not so big that they gape, add bulk, or deform my figure. Same with back pockets – I never buy styles with flap pockets, and prefer besom pockets over patch because it gives a smoother line and draws less attention to my booty. The only time I like a lot of pockets is for denim shorts, but they're expected and usually pretty streamlined.
If you're petite, buy regular. Unless you're very petite and have a very short torso, I as well as friends I have with similar figures like the extra length in the rise of shorts because it's more likely to hit the natural waist. And if you're built like me, you're not going to be tucking tops into your shorts on a regular basis. This way, when you sit, your tummy doesn't spill over, you don't get that creasing that is like arrows to your crotch, and you don't end up having plumber's crack.
Do you rock shorts?  What are your tips for flattering shorts for your figure?