This article may contain affiliate links; if you click on a shopping link and make a purchase I may receive a commission. As an Amazon Associate, I earn from qualifying purchases. 
Hi Allie, I have an a-line eyelet skirt that my cousin gave me. It's very pretty but I don't know how to wear it without looking like Annie Oakley. Any suggestions?




Thanks,

Rebecca
Dear Allie,

I know you recently wrote about how to wear white before Memorial Day, but I just don't know how to wear it at all, even in the summer. I have this gorgeous white eyelet dress that I fit into again, it's sleeveless and knee-length with a belt. White shoes look weird, black shoes look harsh. Any suggestions? Should I switch out the belt or wear something underneath?




-Carolina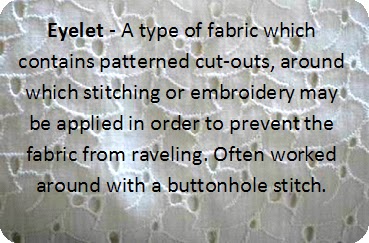 Oh eyelet, how pretty yet difficult you can be. Carolina and Rebecca, do know you are not alone in trying to figure out how to wear this fabric without looking like a preschooler or as Rebecca said, Annie Oakley. Personally, I steer clear of eyelet for this very reason; just thinking of the fabric reminds me of Easter dresses my mom would sew for me and my sister.
With the return of chambray, friendship bracelets, calico prints, and all things from the late '80s or an episode of the original Beverly Hills 90210, we're also seeing a return of eyelet. Both of you women have items in your closet that would probably be highly coveted in a trendy vintage boutique. There are ways to wear it without looking like a child, a pioneer, or a Saved By the Bell reject.
How to Wear Eyelet: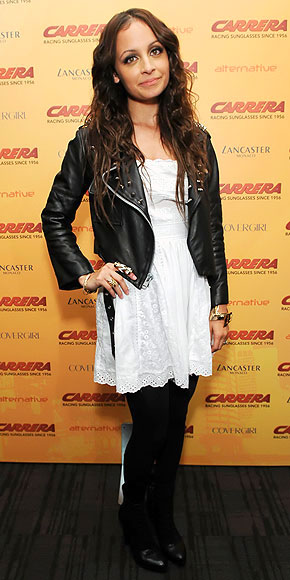 Tough but Sweet. Diamonds and denim, leather and lace. There's a reason why these combinations are so popular. Pairing a girly fabric with a tough one balances the two out. Take that eyelet dress and pair it with a wide leather belt with lots of metal hardware and some beat up engineer boots. Wear that eyelet skirt with a leather biker jacket to balance it out.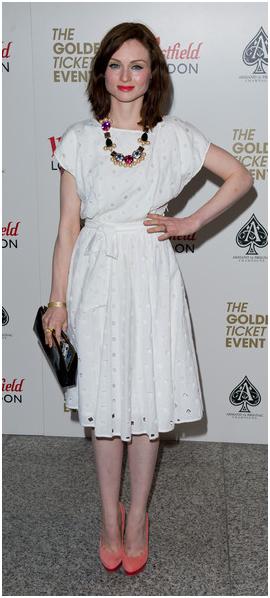 Go vintage. Is the piece a vintage silhouette? Then play up the cute factor. Wear the eyelet skirt with a wide belt and a blouse with puffed sleeves or a bow at the neck. Wear the dress with a ponytail tied with an oblong scarf and carry a frame clutch bag. Without adding too many touches, you can make your eyelet piece look purposefully retro without verging on costumey.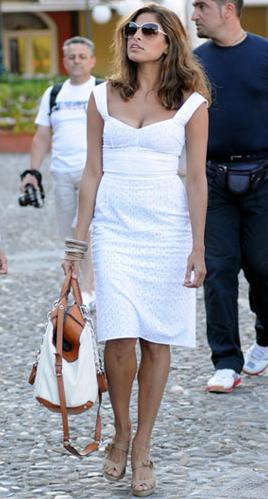 Go neutral. Wear your eyelet dress with some tan sandals and a tan woven belt and very simple jewelry. The eyelet skirt with a pale yellow tank and tan flat sandals, a slim gold bangle bracelet. Accentuate the fabric, show off the detail, let it steal the show and let everything else fade into the background. Think breezy, light, summery.
What Not to Do:
Pair with denim. This is a quick way to look like an extra from Little House on the Prairie if you are unsure of what you are doing.
Wear with white shoes. I don't really believe in white shoes unless you are a nurse or a bride; a pair of tan or beige shoes are far more versatile, on-trend, and will make your legs look miles long.
Pretend it's not eyelet. So many times I see women try to play off eyelet clothing as just plain cotton. They pair it with crisp button-down shirts in primary colors, knit tops with surplice necklines, fitted sweaters in candy-colored hues. Eyelet is a unique fabric, and should be treated as such. When you try to ignore the fact that it is textured and often a floral print, and a distant cousin of lace you're setting yourself up for sartorial disaster. Embrace the eyelet, or leave it on the hanger.
Follow Me | Twitter | Facebook