This article may contain affiliate links; if you click on a shopping link and make a purchase I may receive a commission. As an Amazon Associate, I earn from qualifying purchases. 
Dear Allie, any suggestions for a stay at home mom's capsule wardrobe? I left the workforce two years ago when my second child was born and I have a terrible wardrobe of cocktail dresses and stained sweatpants and never seem to have the right thing to wear anywhere. While most days are spent in comfortable knits playing with the kids or working around the house, I'd like a wardrobe that could get me back out of the house and not look a mess. Clothes for volunteering at the school and church, wearing to book club or an unexpected night out with my husband or the girls or just basic clothes that won't make me look like a mess when running errands. Clothes have to be comfortable, be washable, and be versatile since I don't have an income any more. Any suggestions?
This sample capsule wardrobe will have you ready for everything from your husband's work party to book club to the market to the playground. Stretch denim, ponte black knit separates, and colorful knits keep you looking polished even when you're spending the day on the floor with your little ones. Choosing solids makes the pieces less memorable and more versatile; fabrics like ponte and merino wool look luxe but are machine washable on the gentle cycle and hold their shape through washings and wears.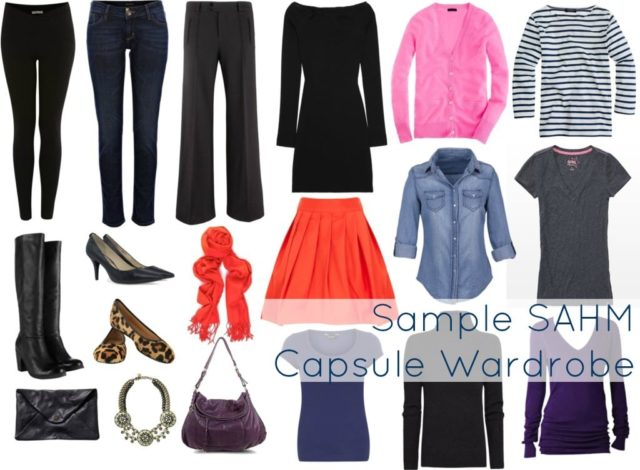 Twenty Possible Ensembles (though you can make many many more):
Black leggings, striped tee, cardigan, boots
Black leggings, black turtleneck, boots
Black leggings, chambray shirt, boots
Black leggings, gray tee, pashmina, boots
Jeans, striped tee, pashmina, boots
Jeans, turtleneck, flats
Jeans, gray tee, pink cardigan, statement necklace, flats
Jeans, purple sweater, boots
Jeans, chambray shirt, statement necklace, boots
Black pants, black turtleneck, pumps
Black pants, purple sweater, flats
Black pants, gray tee, statement necklace, pumps
Dress, boots
Dress, leggings, flats
Dress, pumps
Skirt, scoop tee, flats
Skirt, striped tee, cardigan, pumps
Skirt, purple sweater, boots
Skirt, turtleneck, flats
Skirt, chambray shirt, flats
Black ponte leggings are thicker than jersey knit, making them look more polished, are more opaque and better hide any lumps and bumps. With a boyfriend cardigan and tall boots, comfy leggings and a tee can look downright chic. The same holds true for dark narrow jeans with stretch – the added Lycra keeps the jeans in shape when you're active and keeps them comfortable. A dark wash will look more sophisticated and stay stylish longer than a trendy wash. A pair of trousers in black ponte dress up easily but have the stretch and machine washability that makes them practical; pair with everything from a tee shirt to a silk blouse for a put-together look. For ponte, even if it says dry clean only, it can be washed on the gentle cycle and hung to dry.
A black ponte dress in a simple silhouette can be worn with leggings and flats for a weekday casual look, with tall boots for Date Night, or with pumps for a social engagement. Dress up with a statement necklace, dress down with a pashmina. A gathered or pleated skirt in cotton blend (100% cotton may need ironing, a bit of poly will keep the wrinkles at bay) or a heavy knit like ponte gives you the fabric you need to be able to get on your knees to retrieve your child's toy from under the table but still looks polished. A skirt can make simple flats and an old v-neck tee shirt look chic and purposeful and a lightweight sweater sophisticated.
A mix of different necklines keeps your wardrobe from looking like a uniform and makes layering a breeze. A black turtleneck sweater is insta-chic when paired with everything from trousers to jeans to a fuller skirt.  Merino wool is a great alternative to blends or cashmere as it doesn't pill and can be washed on the gentle cycle of your machine.  A striped knit is an unexpected neutral which looks great on its own or with a sweater or shirt layered over it. Stripes also do a great job of hiding spots that are visible even on dark colored solid knits.  Chambray is also an unexpected neutral which can add interest under the dress, alone with jeans, or tucked into a skirt.  Unlike a white shirt, chambray looks okay a bit wrinkled, gets better with time and wear, and easily hides stains.
A big slouchy leather bag in a statement color can hold everything from your Kindle and bottle of water to a bag of Goldfish crackers and change of clothes for your child.  No need to be matchy-matchy with your bag, choose one that you like the color and shape and it can become an accent to the rest of the hues in your wardrobe.  Steer clear of metallics, suede, crinkle glazes or patent – all show wear and stains much faster than regular leather or a microfiber. Owning a sleek purse and pair of comfortable pumps in classic black leather will make dressing up your staples simple and they're easy to polish up for special events. No need for a ton of different shoes – tall boots are surprisingly versatile and quickly add polish to simple knits and jeans. A pair of flats in a print like leopard are often times more versatile than a solid. Simple black pumps are there when you need to dress up.  If you'd like another pair of shoes, some ankle boots with a low heel or slight wedge would look great with all the pants and if they have a Western or engineer look, can also work with casual skirts and dresses.
Update: I created some sample capsule wardrobes for the summer months, you can check it out here!
Follow Me | Twitter | Facebook