This article may contain affiliate links; if you click on a shopping link and make a purchase I may receive a commission. As an Amazon Associate, I earn from qualifying purchases.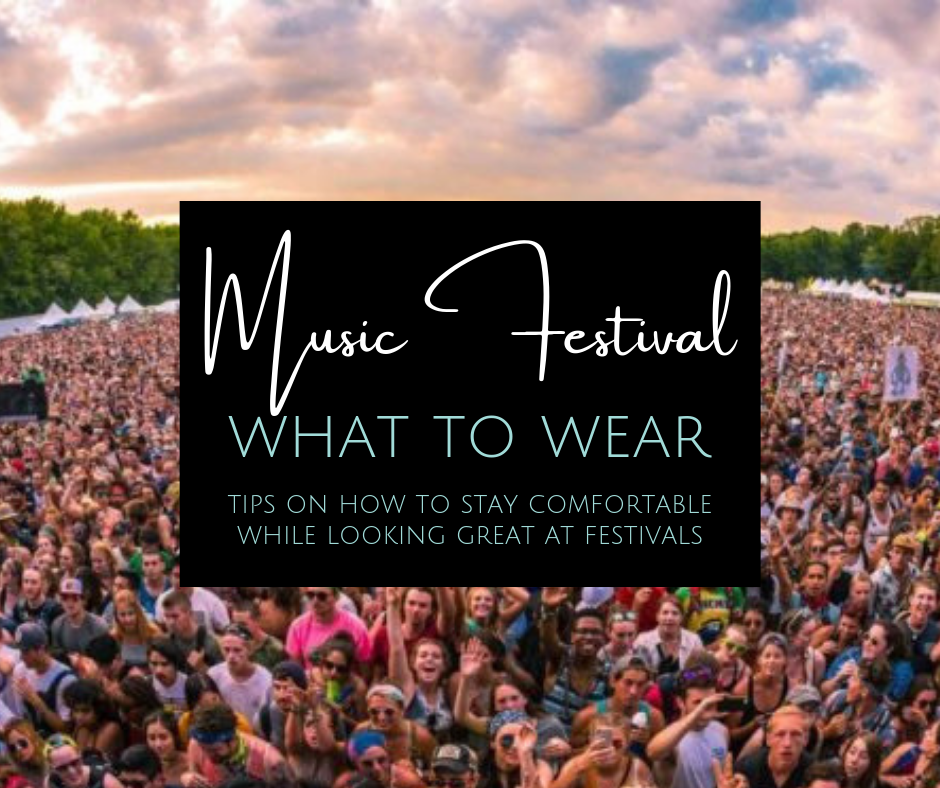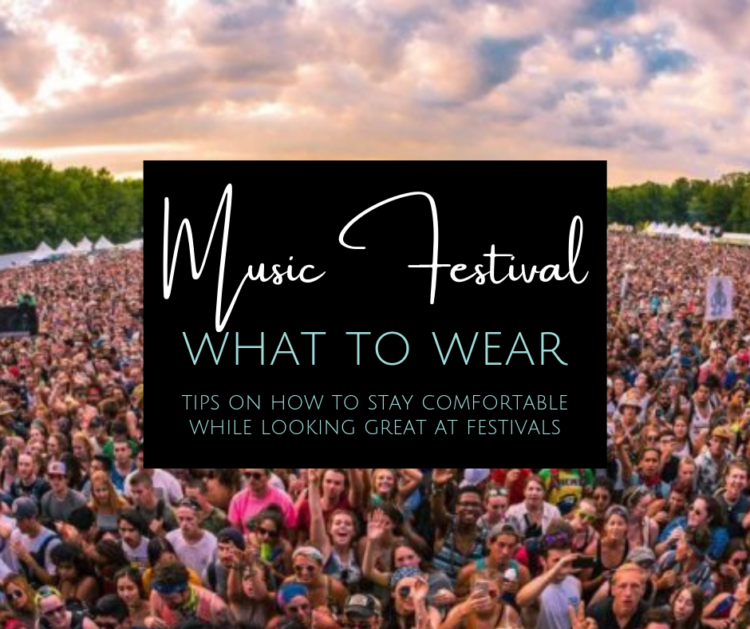 I have written many times before on what to wear to a music festival. In my 20s and early 30s, I loved music festivals and attended over a dozen. I had my style down pat and had very definite opinions on what to wear. A decade later I attended my first music festival in a while – the Firefly Music Festival in Delaware. Unlike street and city-based festivals I have attended more recently, this is a classic music festival on a giant field with a lot of walking and not a lot of shade. Such music festivals can be a test of endurance and a test of your wardrobe. However, you don't have to sacrifice your style or your personal goals for attending to be comfortable. Below I share what to wear to a music festival when… when you want to be you yet comfortable in the heat, sun, possible mud, rain, and the dreaded porta-potty.
What to Wear to a Music Festival When You Want to Look Like You Fit In
Never been to a festival and fear looking like a complete noob? Don't worry, no one is really caring what you look like and everyone wears EVERYTHING. Seriously, in one day I saw people in cargo shorts and Tevas, swimsuits and Vans, boho dresses with well-worn boots, jeans and Docs, body paint and thigh-high boots, denim skirts and cowboy boots, and even two women in Renaissance-period dresses (not sure the about the shoes as the dresses were grazing the ground). You can truly wear anything to a music festival and fit in.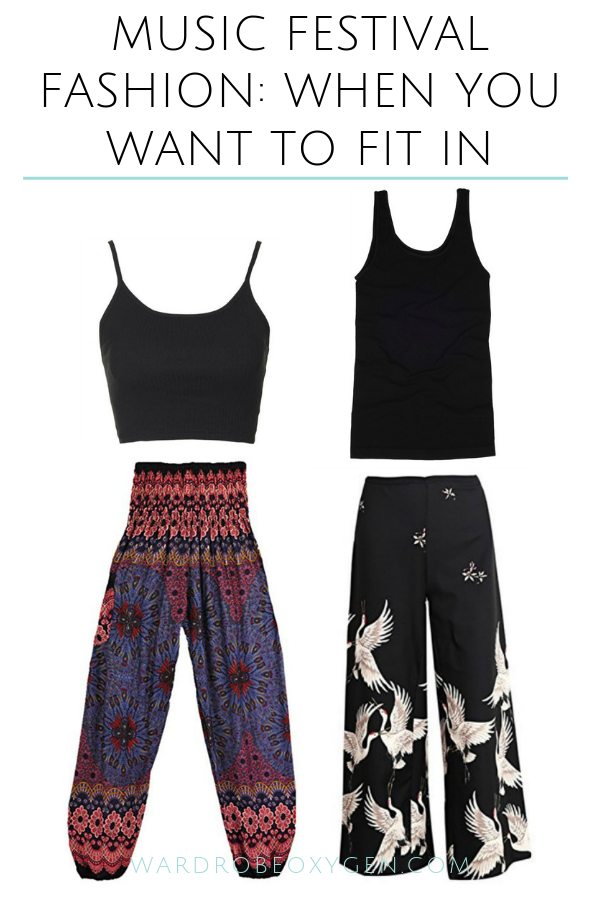 However, the look I saw that was both popular but also practical was a black fitted tee, tank, bandeau, or cami with lightweight full-legged pants. I saw this on teenagers and grandmothers, on women who were size 4 and women who were size 24. Women who rocked knee-length culottes with a flowy linen tank, harem-style pants with a tube top, cropped linen trousers with an off-the-shoulder t-shirt, and a mix of prints, solids, sheer, and opaque. At a music festival, it's completely acceptable to have your bra straps show or to choose to go without. If you're up for showing some skin, this is the place, or wear as much coverage as makes you comfortable; no one will look twice.
Shop Loose Pants Perfect for a Festival:

This look works because it's not cumbersome. A fitted top balances the volume of the pants. The pants prevent chafing and protect your legs from the sun and when sitting on the ground, but allow for airflow and aren't going to be difficult in a dark porta-potty after three glasses of wine. An elasticized waist is comfortable and easy, and most pants like these have pockets to store a bottle of water or your cell phone.
As for shoes… choose what is comfortable for you. I saw people in athletic hiking-style sandals and shoes, actual hiking boots, desert boots, and plenty of low-top and high-top canvas sneakers like Vans and Converse. I recommend a closed-toe shoe as the paths are usually gravel and it will get in your shoe; also there is often mud, occasionally broken glass and torn metal cans, and a few clumsy folks who may step on your feet during a performance. No one will notice if your shoes aren't totally trendy or the right silhouette for your outfit.
Make the look your own. Consider a pair of fun earrings, a few beaded and woven bracelets, a bandana tied cowboy-style around your neck, any kind of straw hat, visor, or baseball cap, even some beads or bells around your waist. Metal jewelry can get hot in the sun, consider jewelry that is instead made of thread, natural fabrics, beading, or plastic. And sunglasses are a must – go classic or have fun with a wacky pair you'd never wear anywhere but a music festival.
Shop Comfortable and Stylish Sneakers Under $100:

What to Wear to a Music Festival If You Don't Want to Show Skin
Do a quick Google search and you'd think the only people who attend music festivals are skinny toned 20-somethings who are most comfortable half naked. I've found it varies by festival to festival, but it's rarely more than half the crowd like that. The rest of the crowd is dressed more like how you see people dress on weekends going to Target or attending a wine festival at a nearby farm.
If you want to cover your legs, consider wearing a calf-length dress with a pair of Skimmies underneath it to prevent chafing. I also saw many women in traditional workout leggings since they're moisture-wicking and meant for sweat. Also, the above outfit idea is great for not overheating yet covering your legs.
If you want to cover your bum, tie a shirt around your waist. I snagged one of my husband's plaid shirts which was both longer and wider than my own, left it unbuttoned, folded in the collar and tied at the smallest part of my waist. This created an hourglass shape and covered my bum like a gathered skirt. A lightweight cotton, voile, or chambray is best for flow and reducing bulk.
If you want to cover your arms, consider a kimono. I saw women wearing all types of kimonos, from sequined ones that ended at the hip to long printed ones with fringed edges. Some were very sheer, while others were a thicker fabric or a burnout pattern.
One of the chicest women I saw at the festival was wearing a lightweight denim shirt over a camisole, the shirt tied at the waist. She wore a lightweight printed cotton voile maxi skirt that reached her ankles, a bandana tied cowboy style at her throat, and a straw hat with a relatively large brim. Another chic woman I saw was in a white linen long-sleeved shirt and matching white linen wide-leg pants, a straw hat, and a floral scarf tied at her throat. There's no need to expose skin if you don't want to; don't believe the Google Images, there are women in every outfit possible at a music festival and they all look fantastic.
Shop Comfortable and Stylish Boots Under $200:

What to Wear to a Music Festival When You Don't Want to Sunburn
Music festivals rarely have a lot of shade, and you are often there during the hottest time of the day. Sunscreen is a must; even with SPF 50 reapplied regularly you will still go home with a hint of color. Apply liberally before you enter the festival, but also bring a bottle with you (check the festival regulations because many forbid aerosol or spray sunscreens) to reapply regularly. It sounds hokey but set an alarm on your phone or watch; you will be having so much fun you can easily forget and get burned. Even if you have a base tan or never burn… wear the sunscreen. Seriously, nothing sucks more than getting a burn on Day 1 and being miserable the rest of your time there.
It very well may be so hot that you're drenched with sweat before you even get through security at the gates to the festival. However, you can still be protected from the sun without getting heat stroke. The key is choosing pieces, not just that offer sun protection, but also airflow.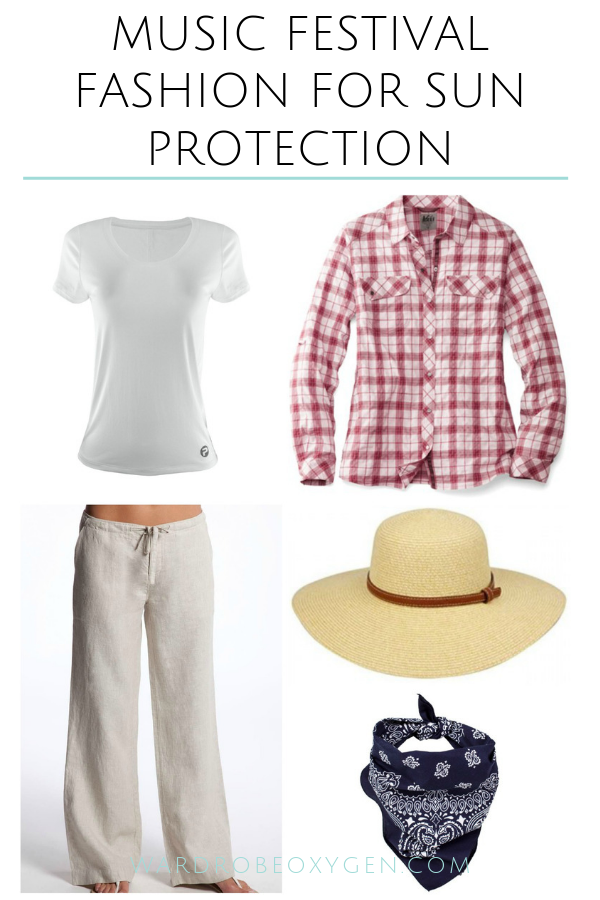 Shop Similar: UPF tee | pants | UPF plaid shirt | hat | bandana
This look has a breezy shirt that will cover your arms and back, but not cling with sweat. The base tee is moisture-wicking as well has having UPF. The pants also offer airflow; far better than a fitted or heavyweight cargo pant (especially when sweaty and needing to use a tiny hot porta-potty). A bandana at the throat protects your neck and chest and can also be pulled up to protect your face from sun and dust. A large-brimmed woven hat offers protection without looking as though you're ready to hike the Appalachian Trail.
If you require even more sun coverage, do not be afraid you'll stand out. Wear what will make you comfortable and safe. Again, no one cares what you wear to a music festival.
What to Wear to a Music Festival When You're a Mom (or the group's practical pal)
Whether you're responsible for kids or a bunch of fun-loving friends who don't always make the best decisions, you'll want to dress to have fun but also carry what is necessary to care for more than just yourself.
Many music festivals are limiting the size and types of bags that can be carried onto the grounds. At the Firefly Music Festival, they allowed only small fanny pack-sized bags or clear totes and backpacks. I got a clear backpack from Amazon and it was great. Very lightweight, easy to find things, durable enough to handle being yanked open and closed and holding heavy things, and padded straps for comfort. On the zipper pulls, I had the container for my earplugs and a battery-operated glowstick on a carabiner so I would stand out in the crowd at night. The fanny pack was great for items I wanted to grab regularly – sunglasses, lip balm, my phone, my mini wallet, the map, and schedule.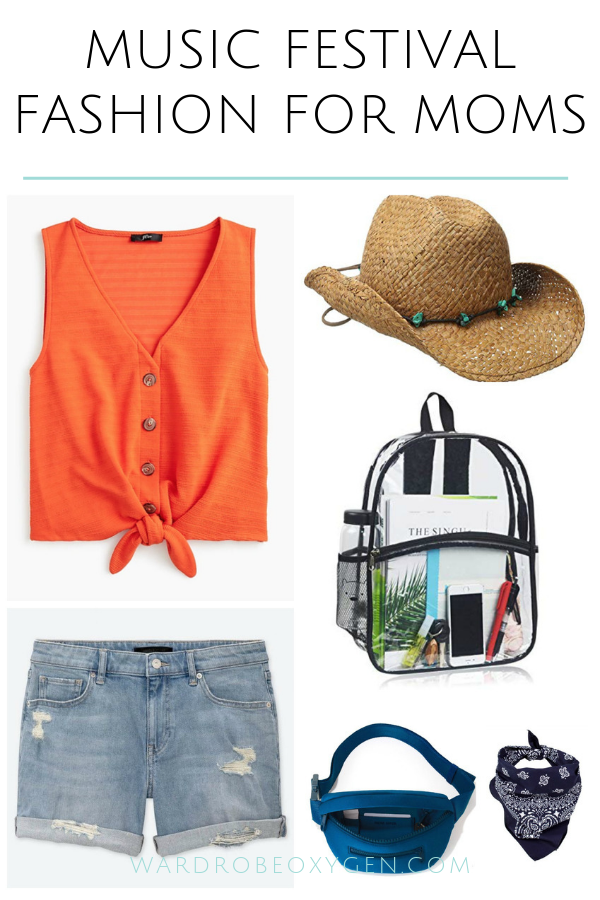 Shop Similar: orange shirt | denim shorts | hat | clear backpack | fanny pack | bandana
Your outfit should be comfortable, but also have aspects that are memorable. Something like a bright orange shirt and a cowboy hat is something your acid-tripping college roomie or a six-year-old can remember, and it's easy to see in a sea of people without looking too out of place.
There are parts of your outfit that can also be helpful for others. A bandana protects you from the sun and dust but can be handed to another who has a runny nose, a cut on their leg, or forgot sun protection. Especially if you plan to be there as the sun goes down, a lightweight cotton or flannel shirt tied around your waist or tucked in your backpack can be handed to someone in your group who is unprepared or decides to take a disco nap in the shade of a fence before the headliner.
My Favorite Products for Preventing Thigh Chafing and Ensuring Comfortable Feet:

What to Wear to a Music Festival if You Want to Be There from Start to End
As I have gotten older, I have decided to forego seeing bands, even if I love them, if they are before 3 pm. I know the sun will sap all my energy and I'll be depleted before the big acts in the evening. However, many feel they want to get their money's worth, they are hardcore fans or enjoy the endurance test. I love that music festivals are for everyone and all types of fans.
To enjoy a music festival from the time the gates open to the encore of the final act, it's important to dress the part. Layers and replacement pieces are smart for when you leave the sunny field for the air-conditioned comedy tent when you decide to run through the fountain but won't be going back to camp to change before nightfall.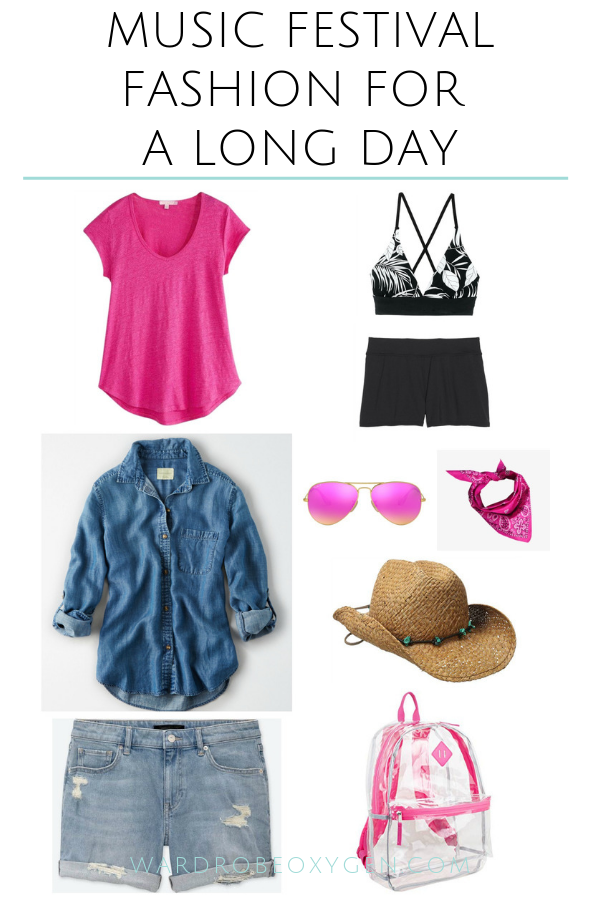 Shop Similar: pink tee | chambray shirt | denim shorts | swim top | swim bottoms | sunglasses | bandana | hat | backpack
I recommend going in a two-piece swimsuit under your clothes, the type you'd be comfortable wearing on its own. It could be a classic bikini or a supportive underwire or high-necked style with boyshorts or bike shorts. Especially if it's hot, there's a good chance you're going to want to strip down and take advantage of any water-based activities (fountains, slides, misters) to stay cool and you don't want your clothes to be drenched. If you deal with thigh chafing, bike shorts may be the best choice and look just fine peeking out of a pair of regular shorts. In your backpack, have a replacement bra and underwear and a plastic bag to hold any wet clothes. A lightweight cotton or chambray shirt will dry fast, protect you from the sun during the day, and keep you warm in the evening. A t-shirt or tank that's lightweight can be worn over the swimsuit top or just left in the bag for when the temps drop or you wish to change. Bring a bag bigger than you think you need to store clothes you're not wearing, anything you may buy while at the festival, and to help out a friend who may have under-packed. I'd recommend throwing in there a replacement pair of socks in case the first gets damp to help prevent blisters and hot spots.
What to Wear to a Music Festival if You Want to Be Photographed (or just have fun with your fashion)
It's 2019 and a great photo can launch a career, a clothing brand, and bring your influencer game to the next level. A music festival is a fantastic place where you can express yourself through your clothing. This category doesn't have a sample outfit because honestly… anything goes. The Firefly Music Festival is very big about consent, which includes not taking pictures of people without their permission so I didn't get any photos of the fantastic fashion I saw. But some suggestions on what I saw people wearing mid-day and still looking comfortable and their outfits intact by the end of the night:
Sports bra and high-waist two-piece swimsuit. This can be made of something reflective, something neon, or your favorite color. Can be worn with or without large-hole fishnets underneath (though most who wore the fishnets had them torn or torn off within a couple of hours). When the temps drop, add a pair of distressed denim shorts and a plaid shirt left open, or just put an oversized sweatshirt or band t-shirt over the suit. As for shoes, the popular choices were high-top Vans or Converse or lace-up hiking-inspired boots.

An alternative to this is a black swimsuit in a similar silhouette with a fringe belt and boots. Can add a denim jacket or vest when the sun goes down, switch out or top the swim top with a very cropped tee or loose tank. This is a look that works really well with body paint and/or embellishment.

Black bikini top, distressed shorts, plaid shirt. This was by far the most popular look after the black tank and loose pants. Some wore longer shorts slung down on the hips, some wore very short cheeky styles, some switched out the classic bikini for a sports bra-inspired top or a bustier, some put a very cropped band tee over the bikini. This looked great with lace-up combat-style boots and a pair of classic sunglasses (think Lennon, aviator or Clubmaster).
Athletic leggings and a top of your choice. Your favorite Fabletics in the wildest print will wick moisture, protect you from the sun, be easy to pull on and off in a porta-potty and make your rear look fantastic. There was a lot of activewear at the music festival, and seamed high-waist leggings were the most popular. They were worn with bikini tops, very cropped t-shirts, and even just with pasties and body paint. This look is great with additional creative bling – body glitter, gems glued to the face, glitter along the part of your hair, colorful extensions or a wig, wings, and more. Shoes don't matter with such a great look so throw on your Vans or combat boots to feel secure and comfortable.

An alternative is switching out the leggings for a pair of track pants. The kind that snaps up the sides is great because you can open them for ventilation during the day.
I saw music festival fashion as a mix of a Guns n Roses concert in 1990, a Soulcycle class, and Burning Man. The Coachella-inspired looks of gauzy boho dresses and flower crowns were predominately on young teens and tweens. The swimsuit and activewear-inspired looks were really practical and easy to add on with sequins, fringe, holographic fabric, wings, chain mail, and rhinestones for a unique and fun look. Consider looks that light up when the sun goes down – these are always fun in a crowd. Whatever your look, be smart with your shoes. I saw many people in the coolest looks at sunset, limping barefoot, carrying their fierce boots in their hands. Seriously, no one cares what shoes you wear so be practical so you can have the best time ever.
What Not to Wear to a Music Festival
Skinny jeans. I saw so many women in skinny jeans looking utterly miserable. Okay, those jeans make you look slim but who cares if you look five pounds smaller when you look completely miserable and out of place. And I felt for those women who were all sweaty in their jeans going into a hot porta-potty.
Catsuits, jumpsuits, and rompers. Unless they're the type you can easily and quickly pull down without straps and ties all loose ready to fall into a toilet or porta-potty, keep such clothes home. Some rompers have wide enough legs that you can just slide it to the side and that's fine. But seriously, you need to stay hydrated and a complicated outfit, no matter how cute, isn't worth dehydration and having to leave the festival early.
Traditional flip-flops. They get stuck in mud, they're not thick enough to protect your feet from what may be on the ground (I had a friend one year get stabbed in the foot by GRASS that was so sharp it pierced her flip-flop), they're slippery when wet, they easily snap apart… I could go on and on. Wear a proper shoe, preferably one that protects your whole foot.
Anything prohibited on the festival's list. Read that list, check it twice. Even if you're VIP or with the band, you can get that one person at the gates who won't find you cute and charming and will tell you to toss your cute bag, your skirt made of glow-sticks, your mask.
Anything promoting hatred. Music festivals are places where people from all over, with all kinds of lifestyles and cultures and interests, come together over a common bond of music. Feel the love and leave the MAGA hats, the t-shirts making fun of politicians or celebrities, the gross jokes, the misogyny all at home.
What Everyone Should Bring to a Music Festival
Whether you're into body paint and bikinis, a band tee and denim shorts, or a pair of gauzy pants and a loose tunic, there are some items you should bring to a music festival:
Earplugs. It's easy to pick up a pair of cheap foam earplugs at the gas station the drive to the festival, but if you see live music on the regular consider an upgrade that is more comfortable and actually makes the music sound better. This year I upgraded to a pair from Eargasm. They have a ton of styles, but this one is made for smaller ears and I found them comfortable for hours on end and you can hardly see them in my ears. They come in a screw-closed metal container that you can attach to your keyring or a zipper pull on your bag.
Sunscreen. You can get a sunburn when it's cloudy, you can get a sunburn at 5 pm. You can get a sunburn if you applied SPF 100 but didn't reapply. Apply before you get to the festival and apply again after a couple of hours.
Sunglasses. Without a lot of shade, the glare can be downright painful. And honestly, sunglasses are so great for being able to people watch as you walk to the next stage!
Bandana. When the golf carts drive through taking staff to different locations, they stir up a lot of dust. If it has been dry several days before the festival, there will be even more dust. I have been to festivals where I wore sunglasses and a bandana all day because it was so dusty and hard to breathe. If it's not dusty, a bandana is still great for wetting and applying to your neck to keep cool, to wipe your brow, to protect your sunglasses at the end of the night, and more.
ID and a Point of Contact. Whether it's tucked into your bra or your phone case, your wallet or your fanny pack, the least you should bring is your driver's license or photo ID, a credit card (for food, drinks, or in case of emergency), and stick to it a post-it note with the phone number of someone else in your group or an emergency contact. My friend and I also changed the lock screens of our phones with a photo of us and one another's phone number so if we lost our phone we'd have a better chance of getting it back.
Comfortable Shoes. I know, I am a broken record but I've been that person with the super cute outfit and the cute shoes that look all Coachella who is limping and miserable the next day. It's so not worth it. If you want to get the photos, that's fine but bring a bag with a change of shoes so you can enjoy the entire weekend.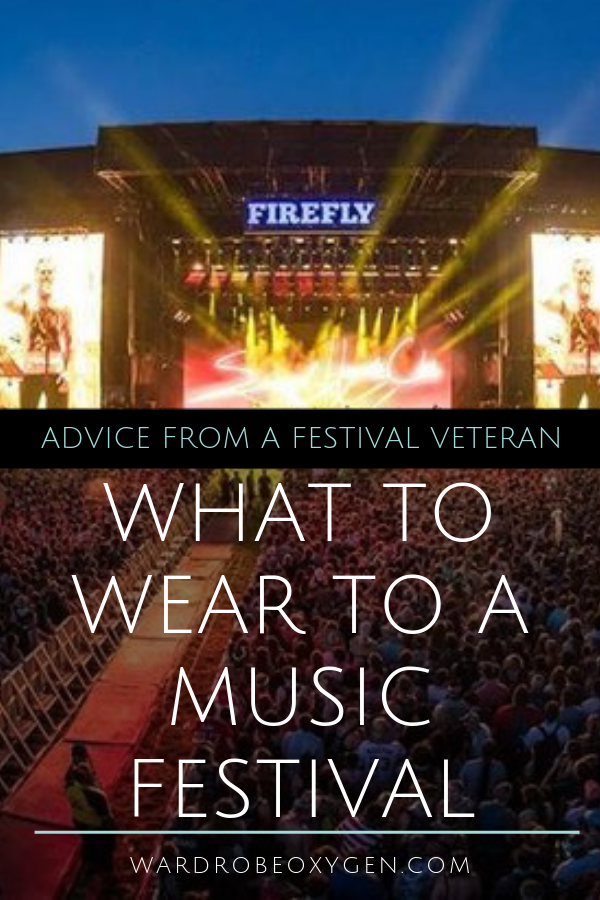 I will be sharing more on the blog about what I wore, how I liked the music festival, what I saw, and what were the best things I bought, brought, and wore to the festival. You can find all of my previous and future music festival content at this link. And as always, if you have questions or advice for others, please leave it in the comments!