This article may contain affiliate links; if you click on a shopping link and make a purchase I may receive a commission. As an Amazon Associate, I earn from qualifying purchases. 
A few years ago, some of my friends from my retail days made the switch from their current companies to work for Talbots. Talbots was known as being good to their store management, understood there needed to be a balance between work and life, and had shops outside of malls (those who have worked retail know a boutique shop is great to have normal hours and be easier to manage in regard to payroll, staffing, merchandising, etc.). They came back raving not just about their work environment, but the stylish and quality fashion that Talbots carried.
So I came to visit them at their home away from home, and check out this great Talbots fashion. I left feeling underwhelmed. I still felt several decades too young for the fashion, and even if I was of the right age, I surely wasn't of the right personal style. I like modern, I like clean, I like a bit of edge to my classic style. I couldn't find this between the embroidered pink twill capris and pointelle-knit sweater tees.
Years later, right after I had Emerson I had a devil of a time finding retailers who had stylish work clothing that would fit a plus sized petite woman. You readers suggested I visit Talbots. There was a Talbots right near my job so I decided to visit, not expecting much.
Wow, Talbots had changed over the years. I walked it skeptical, and left with bags full of new fashion. Their pants were the only ones I could find ANYWHERE that fit and even flattered my postpartum body. They had gorgeous wrap dresses that made me feel svelte and even sexy. Far less frou-frou and more classic, simple pieces that I could make more "Allie" with bold accessories and shoes.
Of course, just as I was getting my Talbots stride, they closed their location near me. To actually visit a Talbots, it would be substantial car drive to a megamall (and malls give me hives). Talbots fell off my radar until last Fall when it seemed every blogger was raving about Talbots' great new style. Recently I even wrote about how impressed I was with the new Talbots collection, but I never got around to experiencing it first-hand. Last week Sally at Already Pretty let me know that Talbots denim was on sale. I saw it as a sign to try some pieces from Talbots and placed an order that same day. My review of what I purchased: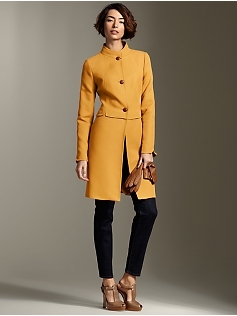 I have a trench from LOFT that I adore and have tailored to fit me perfectly. It's a gorgeous raspberry sorbet color and it makes every rainy day seem brighter. However, I do not own a non-rainy day spring coat. I saw this topcoat from Talbots and though it may be the perfect choice. I love the stand collar, the oversized buttons, and the Nectarine shade looked to be an unexpected neutral like my raspberry raincoat. I ordered a 12 Petite.
The color is more lovely in person than on the Web – it is the color of a ripe peach or apricot, but not pastel or delicate. The buttons are polished wood and very unique. The fabric has a great weight, the piece is fully lined and looks far more expensive than the current sale price of $113.99.
That being said, it is being returned. The 12 Petite is too large for me – it hung over my shoulders, it was a bit boxy in the torso, the sleeves were about an inch too long, and the coat itself would need an inch or two taken off the bottom to make it flattering. A 10 Petite would be too tight in the bust and upper arms. If I were a taller person with more proportional arms and bust, I may have kept this jacket because it is quite gorgeous. It could be worn like the model with a simple tee and jeans, would be a great dress coat with a simple frock, or even make a modern suit jacket.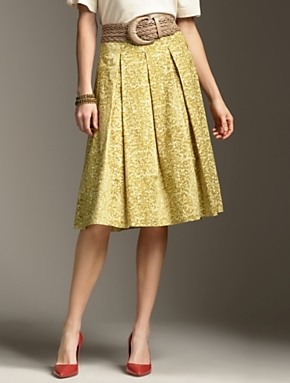 Well based upon my outfit on Friday, I like this skirt! I am not usually one to wear such a "girly" silhouette, but after wearing a fuller longer skirt the other week and liking the look, I thought I would try this skirt from Talbots. I chose the Garden Print Full Skirt because the color looked as though it could be a neutral – I could pair it with white, black, brown, navy, denim, and cheery colors like pink and red. I ordered it in a 12 Petite.
Winner! This skirt runs a tad large, but fits like a petite – the waist hung at the right place, the hips at the right place, the length of the skirt pretty much in line with the model on the Website. The pleats are perfectly placed, not adding bulk to my curves, just offering a ladylike silhouette.
The color is true to the picture on the site – though it is called "Green Multi" the color is more like flax, or even more like brass on a white background. As expected, this color looks great with basics like white and black, but also shines with chambray and denim, and colors like leaf green and candy pink.
The skirt has a hint of spandex which helps with fit and also preventing wrinkles. For such a lightweight cotton skirt, I was highly impressed that I wasn't a wrinkled mess by the end of the work day. I could have easily gone straight to a happy hour or dinner date in the skirt and not felt frumpy.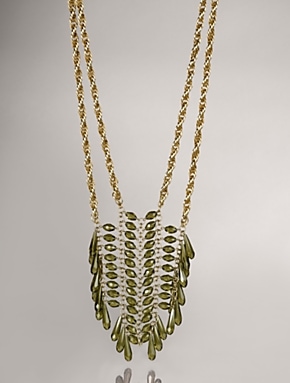 Gosh I wanted to love this necklace. I was thinking of wearing it with the Garden Print full skirt, a simple scoop tee and sandals. I imagined it with a ribbed tank and beat up jeans and flat sandals, or with a shift dress in orange or pink.
I have to say, this is a quality piece of costume jewelry. Great weight, great construction, beautiful color. But it's not a winner for me. The chain looked a bit like Mr. T, the beading got caught between my breasts and lost its impact. It looked okay… just okay. Far better piece for someone with small breasts, slim figure, where the piece will really be a statement and won't get lost in the curves.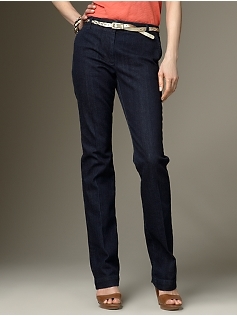 I came to Talbots because of the denim, and I wanted dark saturated denim, and a classic yet flattering style. I thought the trouser jean would be a good choice that could be worn for play, but also for work. Based upon the inseams, I chose 12 Regular.
These don't fit me. The rise was too high, I definitely needed a petite. However the petite inseam would be too short for even flats. The pockets bulged, the denim was too soft and let everything hang out. Just not my style at all. However this weekend my mom came by and tried them on and they were quite flattering on her. I think a petite would be a perfect fit on her, quite elegant. I hope she gets a pair, I think she will find them to be a much-loved piece in her wardrobe.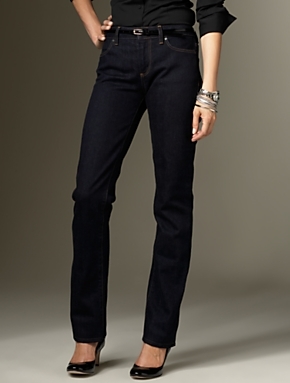 For these, I ordered 12 Petite. I figured in the summer I would be more likely to pair jeans with flat sandals, and wanted some dark straight denim to pair with them and breezy tops. Again, I was looking for dark saturated indigo and these looked to fit the bill.
I liked the denim better on these jeans – a bit heavier, a tad less stretch. The jeans looked very classic and crisp in the plastic. On me, another story. I could hardly get them over my hips, they fit like jeggings on my curvy legs, and I couldn't button them they were so tight. Far too low of a rise and I can't believe it but too petite of a cut.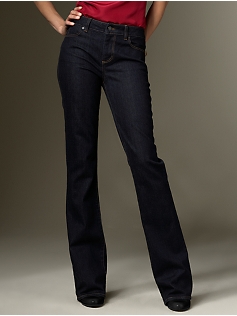 I ordered these in 12 Regular. Another fail. They were a big sloppy mess and looked like Mom Jeans in two sizes too large. They were pooling at my feet even in heels, gaping at the waist, drooping at the crotch, and the denim was so soft and spongy it didn't keep any shape at all.
Do know many people like soft denim – it's comfortable, it gives and moves with you. This is why Pajama Jeans are so popular. However I don't like soft denim. I will wear it for Not Your Daughter's Jeans because those jeans suck in my mama pooch and don't "look" like soft denim. But otherwise, I don't find it figure flattering and would prefer a heavier weight, more rigid denim. So if you like your soft comfy denim, Talbots may be for you. Just go to the store and try on in person to ensure you get the right cut and right size.
So all in all, not a successful shopping experience with Talbots. But I am not deterred, I know that Talbots makes classic, quality fashion and I do adore my new skirt. I just think that until I know how Talbots fits my body, I will need to take the trek to a brick and mortar store, spend an hour or two in their fitting room and figure out what works. And I do believe Talbots is a brand worthy of such an endeavor.


Have you purchased from Talbots lately? What do you like a dislike? How do you find it fits you?
Follow Me | Twitter | Facebook