This article may contain affiliate links; if you click on a shopping link and make a purchase I may receive a commission. As an Amazon Associate, I earn from qualifying purchases. 
Dear Allie,

You have big boobs like me, what do you wear as pajamas? This might be TMI but I hate pajamas because they don't lift my boobs and it makes me look sloppy and definitely not sexy. My boobs are too big for PJ pants and a tank, and in a nightgown my boobs are down to my tummy. What do you wear?

Thanks, Ashley

Hi Alison:

Love your style but would love to see what you wear for loungewear. After work or for bed, what do you wear that is stylish and flattering to your body? I know you can't be wearing sweats like me, I need inspiration from a fellow woman with curves!

-Rhonda

Please help, I am in a new relationship and want some lingerie that isn't corsets and g-strings but everything is either made for girls with small breasts and firm young bodies, or else for porn stars. Is there any happy medium? Any suggestions on brands that would make me feel pretty and not trashy?
Oh my dear women, I feel your pain. The Victoria's Secret catalog arrives in your mailbox, you flip through page after glossy page of beautiful women in comfy pajama pants and tank tops, cute printed pajama sets, feminine chemises and you think, "What about me?" While their loungewear is gorgeous, it's geared towards the firm or the slight. Loungewear trends aren't kind to a woman with curves – knit and flannel drawstring pants aren't terribly flattering, and a shelf bra in a standard tank can be downright ridiculous on a woman larger than a C cup.
With this new post-baby body I have been on the search for loungewear and sleepwear – pieces that are feminine and flattering but I can still answer the door or enter Emerson's room when she has a nightmare. Garments that are comfortable, but also supportive. It has been a challenge, but there are some brands out there that create such sleepwear and loungewear:
Two Figs:
Two Figs is a San Francisco-based brand of sleepwear specifically created for women with breasts of a D cup or larger. Founder Deb Figge had the same desires as us – loungewear and sleepwear fit and flatter a woman with a large bust. The pieces are sized by bra band size (1= 30/32 band, 2=34, 3=36, 4=38).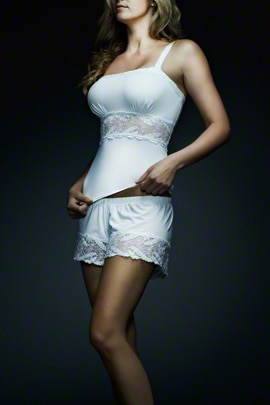 Two Figs was fabulous enough to send me their Two Figs Empire Camisole and Shorts to review and I have to say I am highly impressed. The camisole has a structured shelf bra inside that truly fits and supports my 36E bust. The straps are adjustable for a custom fit. The lace band below the bust whittles the waist and creates a true hourglass frame. The stretchy silky fabric glides over curves and doesn't roll at the hem. The shorts are adorable – retro-inspired tap pants that don't cling to the bum and hips. I loved the separates – this camisole would be equally adorable with a pair of silky or modal pajama pants for a true loungewear look. While this collection is sexy and feminine, you don't have everything on display and your curves are properly supported and flattered.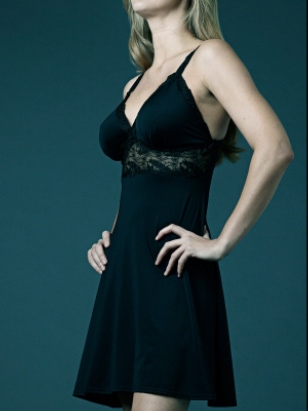 Composed of custom Swiss lace and lustrous materials, Two Figs' collection of camisoles, chemises, gowns and bottoms is engineered to satisfy the expectations of the woman who has long deserved more from her sleepwear. The quality of Two Figs is stellar, the style classic yet feminine. Two Figs is available in specialty lingerie boutiques – see their site for locations.
Bijte:
While researching this topic I also came across the brand Bijte, a US-based lingerie brand created specifically for busty women. Bijte specifically caters to women who are not plus size, but have full busts. Bijte garments are designed to fit women sized 4 – 14, with cups sizes from C to F.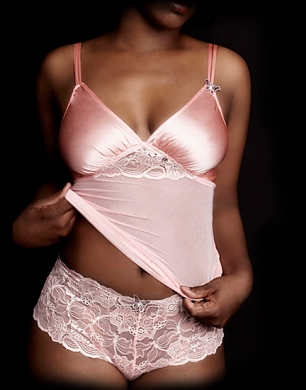 While their pieces are considered to be more along the lines of lingerie than loungewear (they specialize in camis, babydolls, boyshorts, briefs, and thongs), pieces like their Triangle Lace and Silk Mesh Cami could be paired with traditional lounge pants for a comfortable ensemble, or worn with the boyshots for a sexier look.
Glamourmom:
One great thing about being a nursing mom was finding bra tanks that actually fit my large chest. I could be one of those women in plain flannel pajama pants, a tank, and fuzzy slippers sipping coffee and reading the paper on a Sunday morning! The thing is, nursing tanks LOOK like nursing tanks. Often you can see the cutout through the top layer of the bodice, and there's those plastic clasps right there on the straps. Glamourmom realized that women loved their tanks even if they weren't nursing and made a non-nursing version. They look like traditional bra tanks, but have a built-in soft cup and fit up to DDD cups.
Soma Intimates:
Soma Intimates prides themselves on lingerie and loungewear that is not only beautiful, but comfortable. They have a line of sleepwear called Cool Nights that keeps you cool and dry (wonderful for hot flashes or if you're like me and sleep next to a person that radiates a ton of heat). The camisoles in this line have soft cups built in for shape and soft support.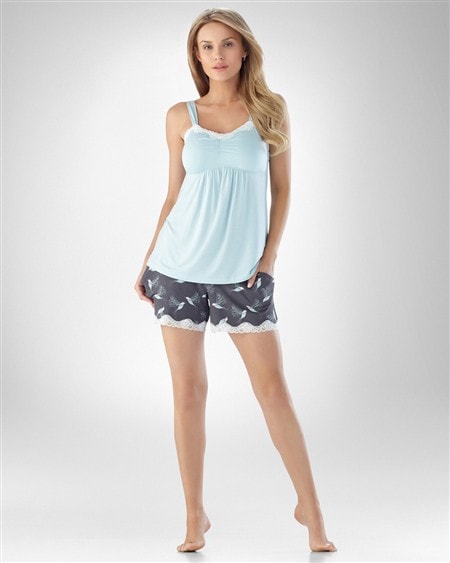 All sleep camis, gowns, and chemises from Soma Intimates have at least an empire waist and gathers for some bust shape, if not a soft cup bra.
Bravissimo:
Bravissimo is a UK company that specializes in lingerie, sleepwear, and swimwear for women up to a KK cup. Though they are in the UK, they do ship to the US (read shipping and return details prior to ordering).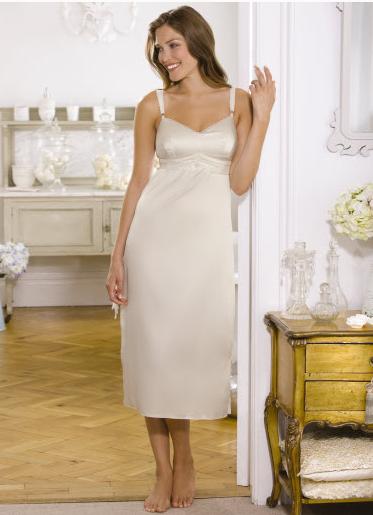 Pieces like their Lace Nightdress and Silk Nightdress are feminine and flattering while offering a built-in wire-free bra. Their pieces are sold by bust size for a custom fit.
***
Do you have a large bust? Where have you found flattering yet supportive lingerie and loungewear?
Follow Me | Twitter | Facebook