This article may contain affiliate links; if you click on a shopping link and make a purchase I may receive a commission. As an Amazon Associate, I earn from qualifying purchases.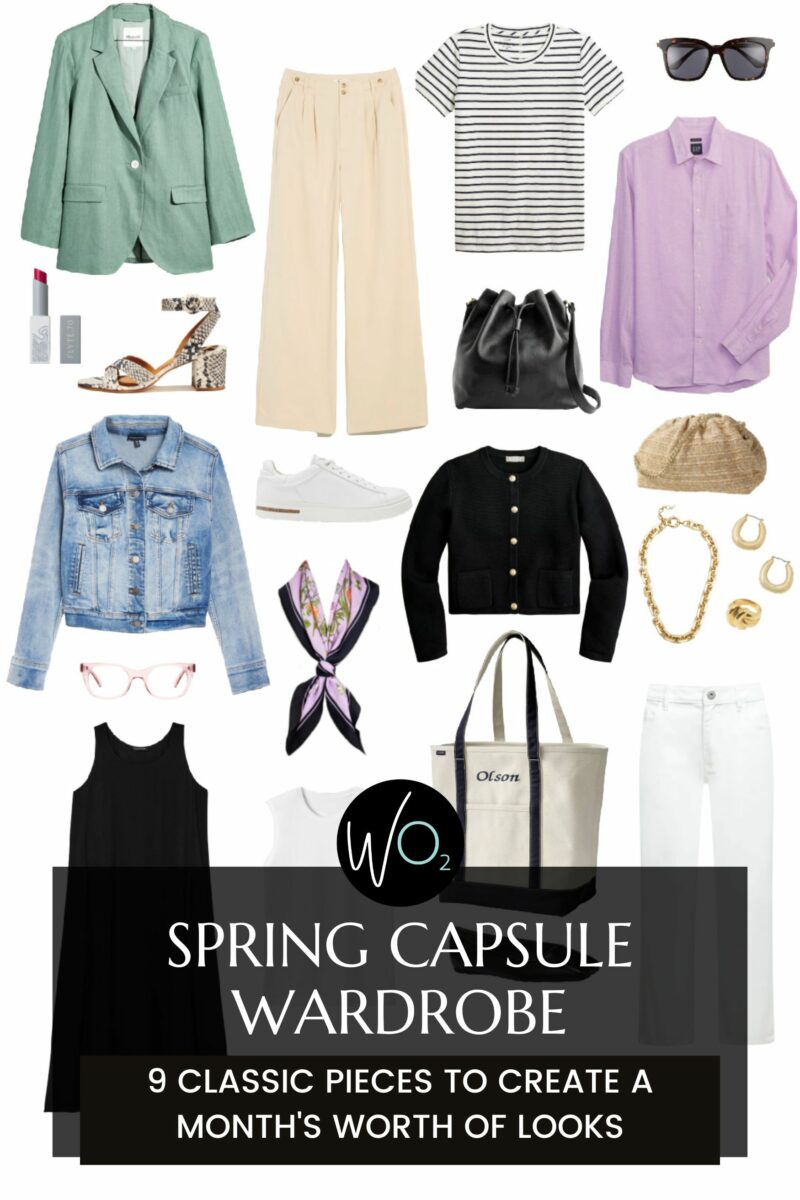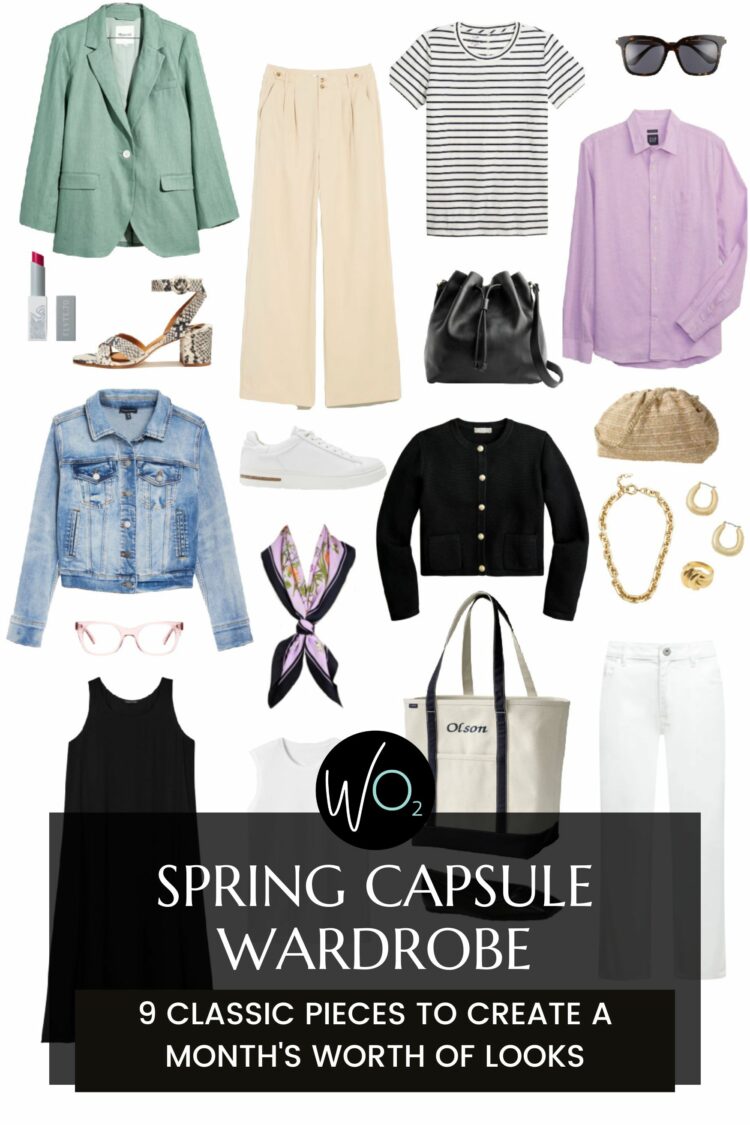 Fashion designer Donna Karan created the first capsule wardrobe in 1985 with her "7 Easy Pieces" collection. This was a capsule of clothing items for the working woman to simplify getting dressed each day. I've been creating capsule wardrobes at Wardrobe Oxygen since 2005. I believe in the power of capsule wardrobes for achieving big style with a small closet, and extending the life of each garment you purchase.
Capsule wardrobes are a way to see how a garment can live multiple lives, and they help you think in this manner when adding new items to your closet. While I don't believe one must stick to a capsule wardrobe, I have found over the years that thinking in a capsule wardrobe mentality helps you shop more thoughtfully, saves you money, and helps you find your personal style. I'm excited to share my latest: a spring 2023 capsule wardrobe for us grown women! But along with my usual capsule, I break down how I made this capsule and why I added the pieces I did. I hope it will help you when creating your own capsule wardrobes!
Spring Capsule Wardrobe
A capsule wardrobe is a small yet hard-working collection of apparel and accessories that mix and match. Capsule wardrobes can be created for a specific reason like a road trip or to create a collection of go-to clothing items for the office or dressy occasions. Capsule wardrobes are often created for seasons to curb shopping and create big style with a small closet.
This spring capsule wardrobe features pastels with neutrals, creating looks for the office, special occasions, social events, and casual weekends. I focused on spring activities: outdoor brunch, a day wedding, evening cocktails with friends, heading into the office, heading to the farmers market, and a day of sightseeing. This capsule is comfortable, travel-friendly, and relatively size-inclusive with classic enough pieces you can find in different sizes or price points.
I designed this spring capsule to work with an existing closet. In fact, you may find you already own pieces very similar to ones featured below. But by adding items you already own, you can extend this capsule collection to have a stylish season, and find it will transition to summer quite nicely. In fact, I have one summery look included in my possible capsule outfits below!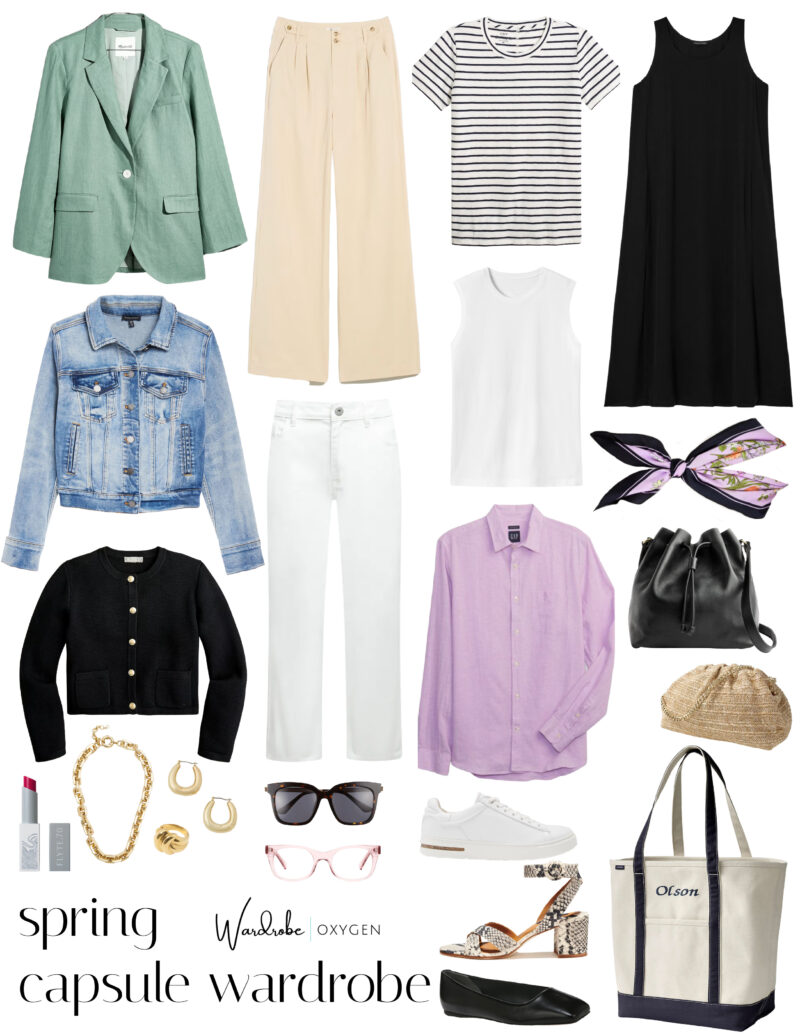 Shop this Spring Capsule Wardrobe:
striped shirt (sizes XXS-3X) | white relaxed-fit tank (sizes XXS-XXL w/ petite) | green linen blazer (sizes XXS-4X) | black cardigan (sizes XXS-3X) | denim jacket (sizes 00-40) | white relaxed straight jeans (sizes 00-40 w/ tall) | beige wide-leg pants (sizes 00-28 w/ petite & tall) | black crepe dress (XXS-3X) | lilac linen shirt (XXS-XXL w/ petite & tall) | snakeskin low heels (narrow and wide widths available) | white leather sneakers | black leather square-toe flats | black leather bucket crossbody bag | woven clutch purse | canvas tote (large with long straps) | silk scarf (34″ square) | gold ring (sizes 3.5-12) | gold hoops | gold necklace | raspberry lip balm/color | pink reading glasses | tortoise polarized sunglasses
Not above, but occasionally featured in the outfits below: laptop tote | straw hat | swimsuit

Below I break down how I built this spring capsule wardrobe, how you can go about building a spring capsule wardrobe, how I mix and match the pieces in this capsule to create a month's worth of pieces, and how you can easily extend this capsule to create up to 100 outfits from your existing closet.
Capsule Wardrobe Essentials
When building a capsule wardrobe, there are some essentials that will help you achieve big style with a small closet. Thinking about these wardrobe essentials will help you not just when building a capsule, but when shopping for your closet, and when deciding what to purge from your existing wardrobe.
Start with a Layer
When creating an outfit, one usually adds a layering piece last, but when building a capsule wardrobe I think it's smart to start with a layer. A layer is a piece you wear on top of everything else: a jacket, a cardigan, a blazer… it's the third piece that turns separates into a true outfit. And it's usually the most personal part of a look.
Your layering piece is determined by the climate where you live, the formality of your workplace, the effectiveness of your social life, your favorite colors, your preferences for types of fabrics and texture. A layering piece is also the easiest piece to switch out with the seasons and with current trends, so it's where you can have as bit more fun and be creative.
Starting with the layering piece means you will have all other pieces work with its shape, structure, color, and textile. For this spring capsule wardrobe, I started with a pale green oversized linen blazer and then added other pieces that would work with it, and with one another.
You likely will want more than one layering piece, but to start, choose a layer you own and love, or one you'd love to add to your wardrobe.
Next, Add Two Different Bottoms
Every capsule wardrobe benefits from not just two bottoms (pants, jeans, skirts, shorts), but two different ones. Not just color, but fabric and silhouette. Variety is the spice of life, and variety in your capsule will provide you versatility and the ability to dress up and down your collection.
For this capsule, I added a pair of high-rise soft cotton pants in a wide leg (I own and love), and a structured pair of mid-rise jeans with a straight leg (own in a different wash). While one is drapey and loose, the other is rigid and straight but they both work with the linen blazer.
Try on items in your existing closet with your primary layering piece; there is a good chance you already own at least one bottom that works with it. Creating a capsule wardrobe takes time, and a lot of that time is trying things on to see if the pieces work together. I promise you, it's worth the effort.
Thirdly, Add Two Bases (That Also Work Alone)
You need some pieces to go under that initial base layer, but like your bottoms, you want at least two that give different vibes. You also want them to work on their own.
For example, tank tops are often included in a capsule wardrobe as a "must." But if you aren't comfortable wearing tank tops alone, it's not a very practical addition. Everyone's comfort levels, tastes, cultures, and climates are different. Your base layers need to fit all those aspects of your life on their own.
As for variety, it doesn't have to be as drastic as your bottoms, but you do want them to be unique pieces. Different fabrics, different necklines, different kinds of sleeves, a print and a solid… or a mix of all of these! If you have a more professional or social lifestyle, you may look for refined or dressy fabrics. If your lifestyle is more casual, knits and soft cotton or linen pieces may be a better choice.
In the spring capsule wardrobe I created, I have a boxy sleeveless t-shirt/tank with a subtle texture (I personally own and love it), and a fitted t-shirt with stripes. Both pieces work with both bottoms, with the primary base layer, and on their own. While this capsule wardrobe is versatile, it's primarily for a casual and business casual lifestyle so knits made sense.
I can't stress enough the benefit of a striped knit in your capsule wardrobe. Stripes are a neutral, as they go with most any print, color, or aesthetic. However, they aren't boring. A striped top will elevate a look faster than a solid, and add interest at the same time. And unlike other prints, stripes are eternally chic and won't go out of fashion. For tips on buying striped tops check out:
Fill the Hole
You've tried on all five pieces, mixed and matched. Now think about your life and what holes are in this collection of apparel. Are you missing something for work? For social occasions? Need something more casual? Find everything to be more utilitarian than your usual eclectic or colorful self? This is when you fill the holes in your capsule wardrobe.
For this spring capsule wardrobe, I felt there was a hole for the warmer-weather dressy event. An anniversary dinner at a nice restaurant. A wedding. A day at the office when you want a switch from pants and blazers. A warmer than usual day when a breezy skirt or dress (possibly with some cooling slip shorts) sounds really lovely. I added a crepe dress in a very simple style that could dress up with heels and a clutch, or dress down with sneakers and denim jackets to fill that hole.
Build To Fit Your Schedule
Now, some individuals may be able to create all the style they desire with six garments. But many of us desire a bit more variety to extend a capsule wardrobe from a week to a month, a season, or even a year. Using what you learned to get to these six or so pieces, you need to build out with more versatile pieces that mix and match just as well.
I wanted to create at least 20 looks from this spring capsule wardrobe. While a month has 28-31 days, rewearing exact looks is not only common but proof of good style. Every chic person rewears looks, don't let Instagram make you think otherwise.
Scrolling through retailers that I know carry the sizes and pricepoint I was looking for, I kept my initial six pieces in mind and also kept in mind the kind of situations and events where this capsule would be worn. I looked for statement pieces that would add modernity and interest to the capsule, and versatile pieces that could live multiple lives.
The cardigan (which had been in my mind since I recreated an outfit in my Birkenstock sneaker review) embraces the Chanel-inspired jacket trend that is hot this year. However, it's not too on the nose so this piece will still be chic a year or two from now. It also has a formal/dressy vibe which could elevate existing pieces to look more appropriate for the office.
The linen shirt was inspired by my article on how to tuck in a shirt. I had seen this pretty lavender linen shirt and ordered it. I was surprised by its length and extreme shirttails, making it extremely versatile. It can be tucked in, tied in front, worn open like a jacket, closed like a tunic… and could even be a swim coverup. And being linen like the blazer, it created a bit of a theme.
The denim jacket was the last addition, and an addition I often add to my capsule wardrobes because denim jackets are so easy, so versatile, and so classic. I own this exact denim jacket and like that it looks vintage, isn't too distressed, but it's also stretchy (easy to push up the sleeves or throw on and go). When you want a layer but don't want to look too formal or too corporate, a denim jacket is always a good idea.
Time to Accessorize!
Accessories make the outfit, especially when you are working with a smaller wardrobe. Think about the black dress in this capsule; how different it is with snakeskin heeled sandals, with black leather flats, with a pair of sneakers. Then add to the mix a work-friendly laptop tote, or a crossbody leather bag, or a clutch purse. Just by switching up these accessories you take the same dress from day to night, work to weekend.
Two Pairs of Shoes
I believe every capsule wardrobe needs at least two pairs of shoes: dressier and more casual. Even if your life is 24/7 casual or 24/7 dressy, shoes should have a day between wears to cool and dry off so they maintain their shape and condition. For this capsule, I found that a third shoe was necessary to elevate some looks for the office, and extended the capsule to fit an entire month.
Two Bags
Your life will determine the kinds of bags that you need in your capsule wardrobe. For most, it's an everyday bag and then a bag for the second biggest part of your life. That could be a laptop bag, an evening bag, a belt bag, a backpack, a large tote, a small crossbody.
Don't skimp on bags, like shoes they can really transform a look. Embrace color, especially if your capsule is primarily neutral-colored clothing. A clutch purse or dressy bag on a delicate chain strap is the quickest way to elevate a simple dress into evening or special occasion territory.
A Large Square Scarf
Most of my capsule wardrobes contain a large square scarf, and that scarf is usually silk or a silky fabric. Around 35″ square, such a scarf can be folded on the diagonal and be a belt, can be tied twice around the neck and fill the collar of a shirt, or even be tied around a purse strap or ponytail.
Folded in half on the diagonal, such a scarf can be tied near the points and hang inside the opening of a cardigan or blazer to give the effect of a cowl-neck blouse. Tied tighter, in "cowboy" style it can dress up a simple knit top or dress, or fill the opening of a jacket or shirt. Depending on your personal style and the size of the scarf, it can be styled into a dressy top or worn to cinch a loose dress.
Other Accessories
This category is up to you. I know I accessorize more than many, and in a bolder manner. But I do believe in the power of accessorizing elevating outfits and changing the effect. My go-to accessories for a capsule wardrobe: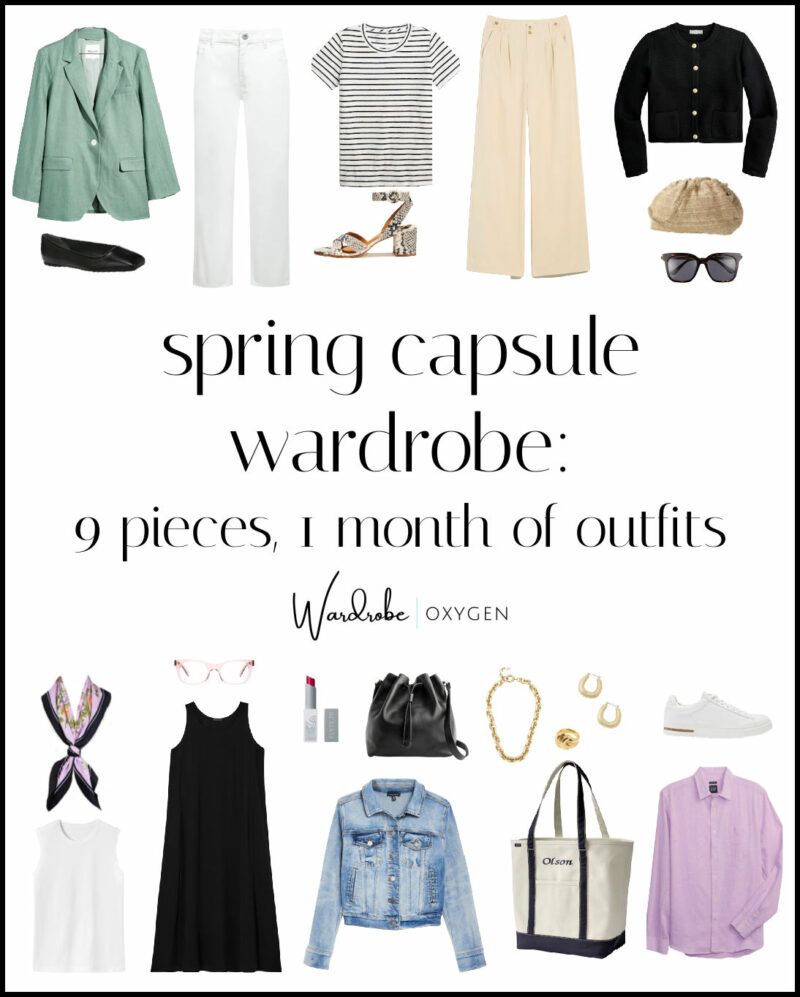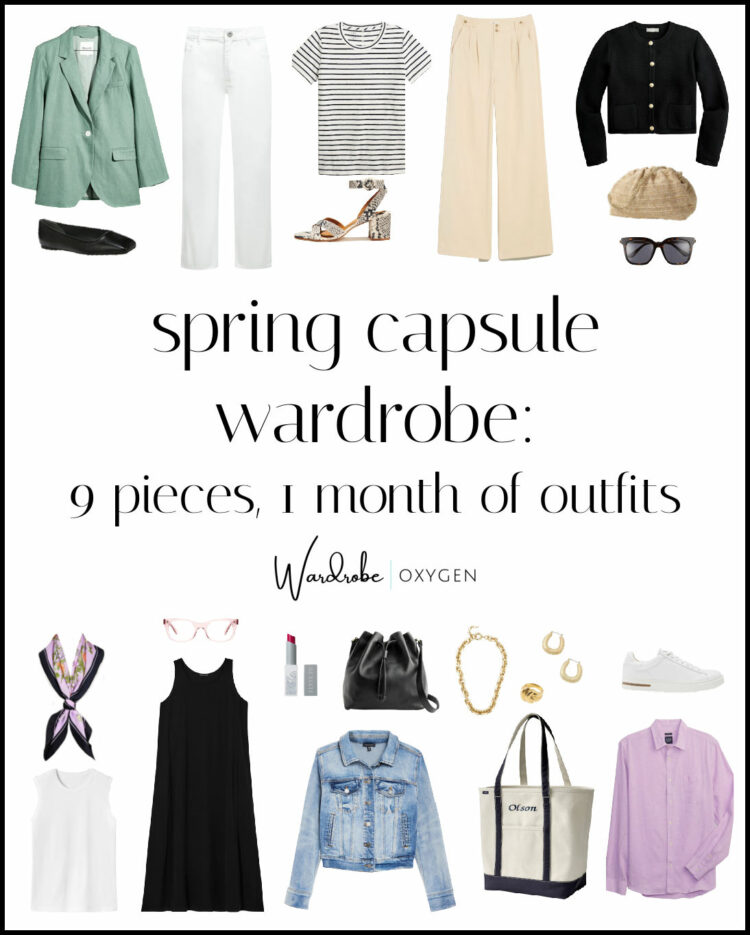 Spring Capsule Wardrobe Checklist
I know this is a lot of information. To break it down and have a tool while shopping (and shopping your closet), I made a printable checklist. I added all the pieces I think make sense for building a spring capsule wardrobe, but have several of them optional. As always, this is a guide, not gospel.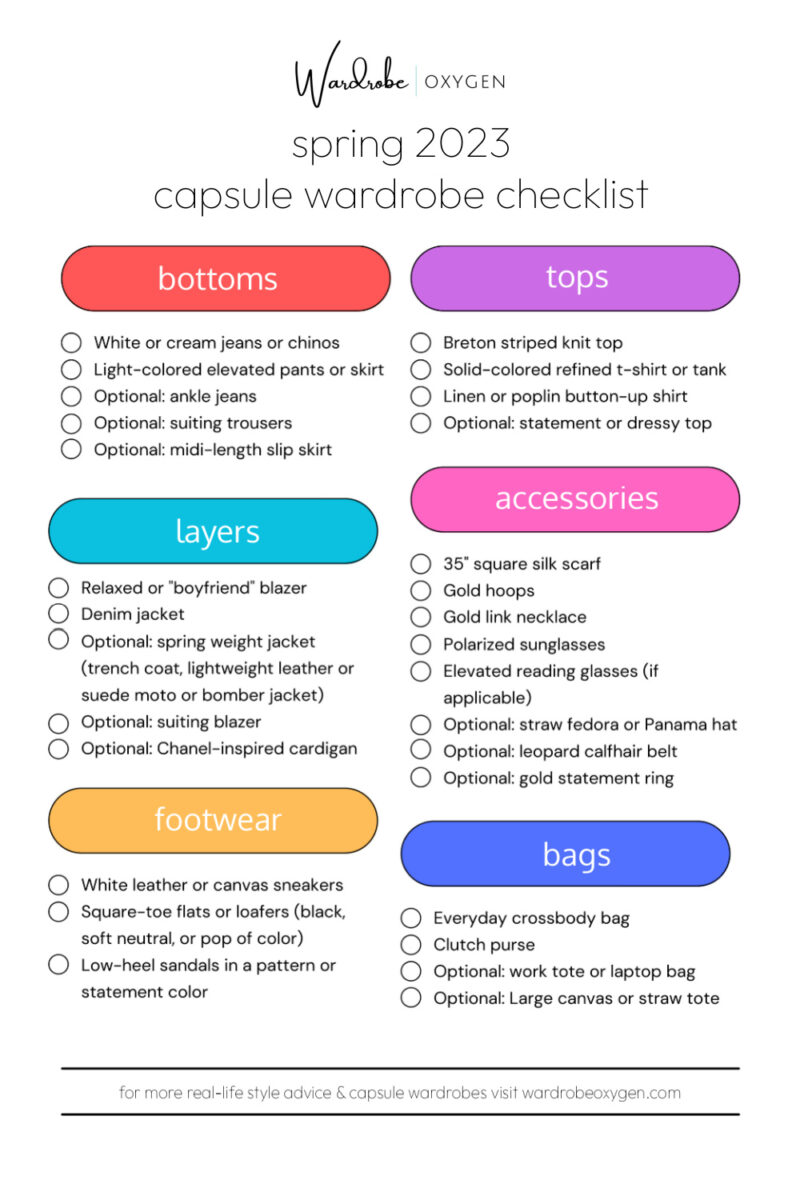 And if you would like a printable of this checklist, click this link for an 8.5 x 11″ PDF version!
How to Build a Spring Capsule Wardrobe
When thinking about wardrobe for spring, it needs to be pretty versatile beyond just having the clothes mix and match. Spring is a time of outdoor events, changing weather, as well as a time to update your wardrobe with bright springy colors and lighter fabrics. To build a capsule wardrobe for spring, consider these factors:
Consider the Weather
In spring, you can wake with frost on the ground one day, and the next it can be sweltering hot. Layers are key, as are breathable fabrics that will help you keep your cool when it's feeling like summer by lunch.
Spring is also a time for "April Showers" as well as rain in March and May. While it may be warm, I usually stick to closed-toe shoes to protect from puddles and slightly larger bags to contain a travel-sized umbrella.
Embrace Classic Style
Spring begs for classic pieces: chino pants, white jeans, Breton striped tops, canvas sneakers, trench coats, and t-shirt dresses. Spring is also a short season, so by choosing more classic pieces you know your spring apparel will still remain chic when you bring it out next year and the year after.
Choose Springy Fabrics and Colors
Embrace the warm weather, the budding trees and tulips with breezy fabrics and softer colors. Winter is a time for heavyweights and dark colors, spring is when you can literally lighten up!
Not into pastels? No worries! Soft neutrals like dove gray, navy, olive, taupe, cream, and ivory feel seasonally appropriate. Cheery brights like hot pink, turquoise, coral, orchid, and yellow also feel right this time of year. With denim, consider either a lighter/faded wash or a crisp rinse denim with contrast stitching. Colored denim in lighter colors, especially white and cream, make black and dark colors feel like spring.
And for those who think you can only wear white after Memorial Day, know that is an old dated rule and in 2023, rule-breaking is especially fashionable!
22 Spring Capsule Wardrobe Outfit Ideas
Below I share 22 unique outfits I created from the above spring capsule wardrobe. My hope was to show versatility; these pieces can live beyond the office, the Target run, the date night. With a little creativity and choosing smart pieces that can mix and match, you can truly achieve big style with a small closet.
To see these sample outfits larger, click on any of the thumbnails. You can swipe or use the side arrows to scroll through the looks. Click the "X" or anywhere outside the photo to return to this screen.
Spring Outfits for the Office
I know based on comments here and on Instagram and discussion in the Wardrobe Oxygen community on Facebook that most of you if you're going in the office, the dress code most days has become a bit more relaxed. Jeans are allowed beyond Friday, and a pair of sneakers is more common than a pair of pumps. The work-appropriate outfits in this capsule fit that more relaxed vibe while still looking professional.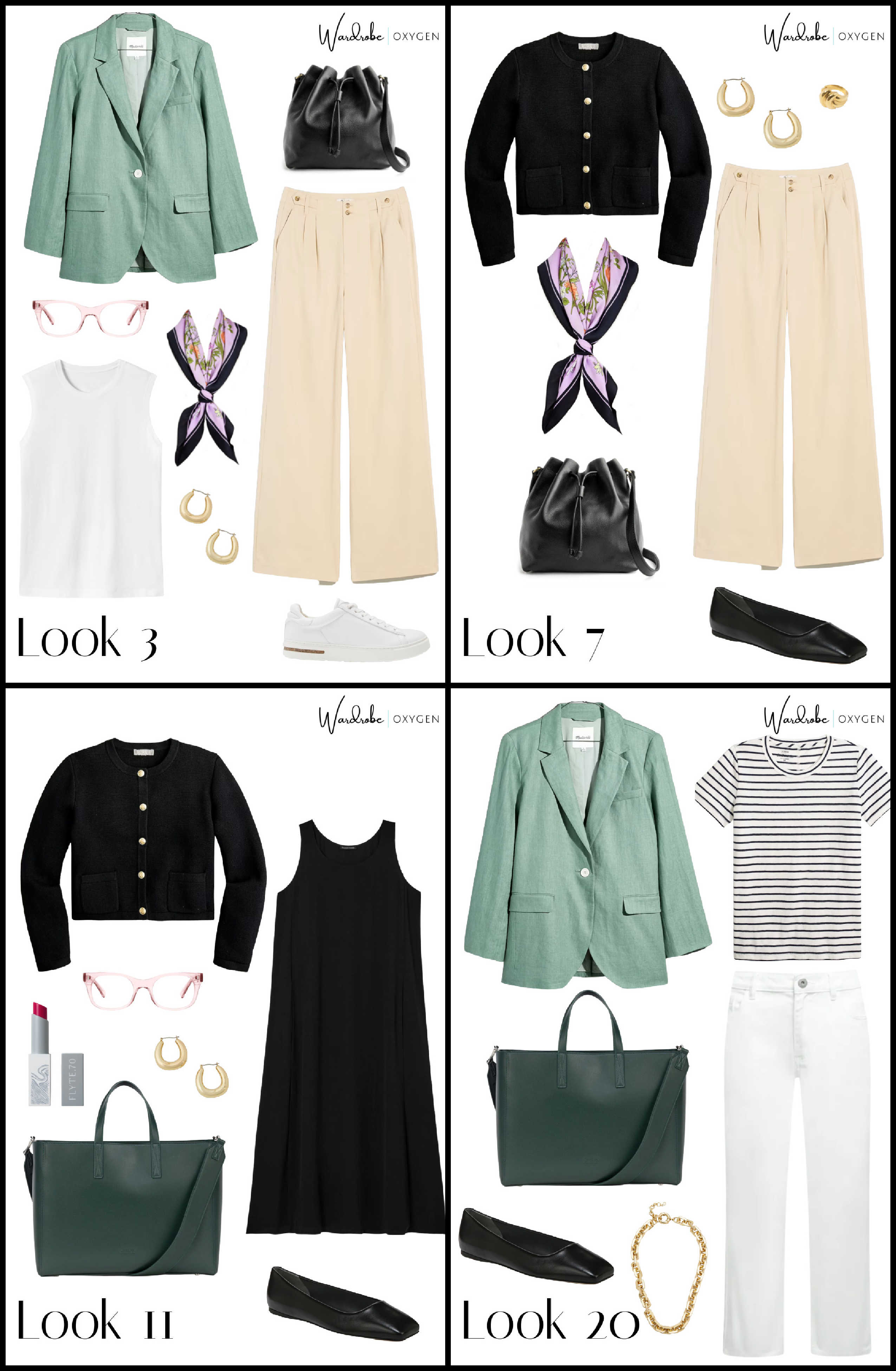 These are just four of the looks I created envisioning them for an office environment. The square-toe flat is comfortable but more polished than the sneakers. The laptop tote comes highly recommended and is a color that will look great all year long. The scarf adds polish, whether worn around the neck or around the waist in place of a belt.
Spring Outfits for Social Occasions
Come spring, a lot of social situations end up outdoors. I added a pair of comfortable (I own them myself) low-heeled sandals that you can stand in all evening, and a heel solid enough to not sink into grass. While I chose a neutral snakeskin pattern, you could easily switch these for a nude-to-you leather or a pop of color in leather, suede, or a non-shiny fabric.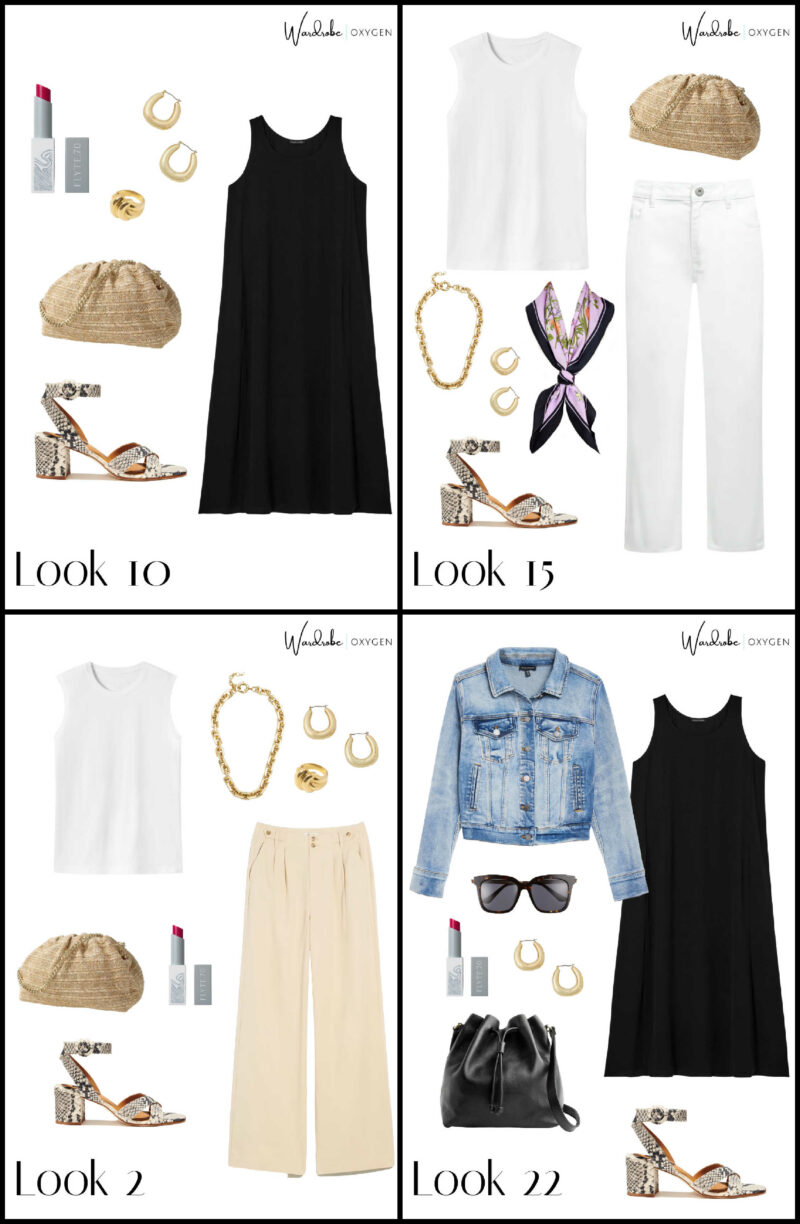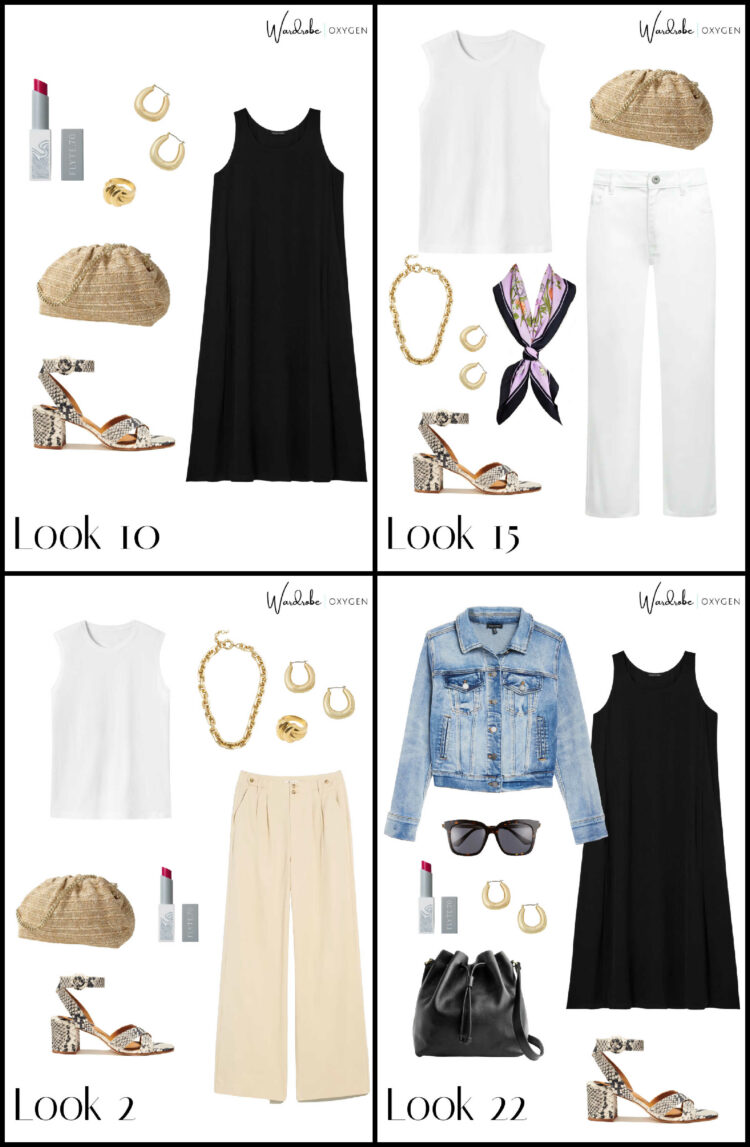 The clutch also reads "social" and "evening." This one made from a raffia textile is perfect for spring and summer, and because it doesn't exactly match any of the shoes, it goes with everything. A delicate gold chain lets you wear it as a shoulder bag. I own this bag in a different fabric and find it the perfect size.
Spring Outfits for Travel and Sightseeing
When on travel, you want comfort and ease. I recently reviewed these stylish comfort sneakers and think they're perfect for travel. Add a crossbody to keep your hands free (I own this one and think it's great quality and the small version a nice size for everyday) and you can visit historical sites and exciting cities without issue.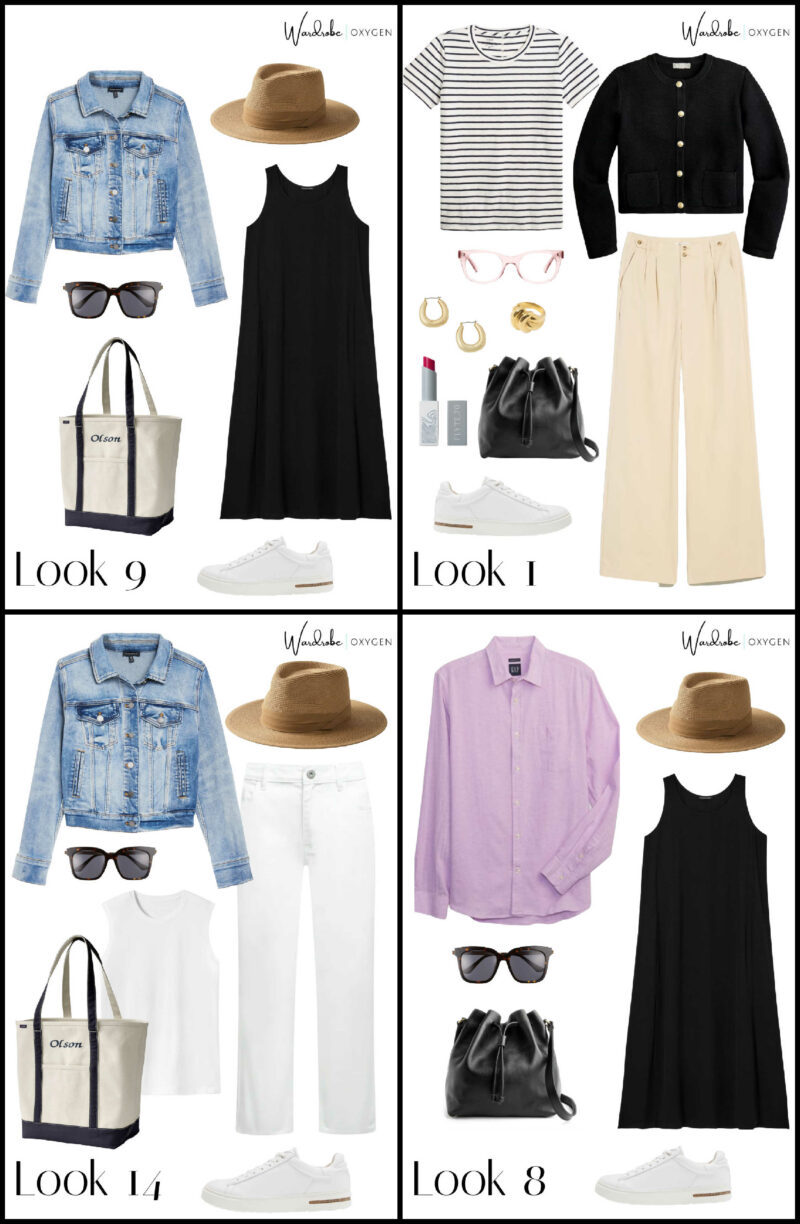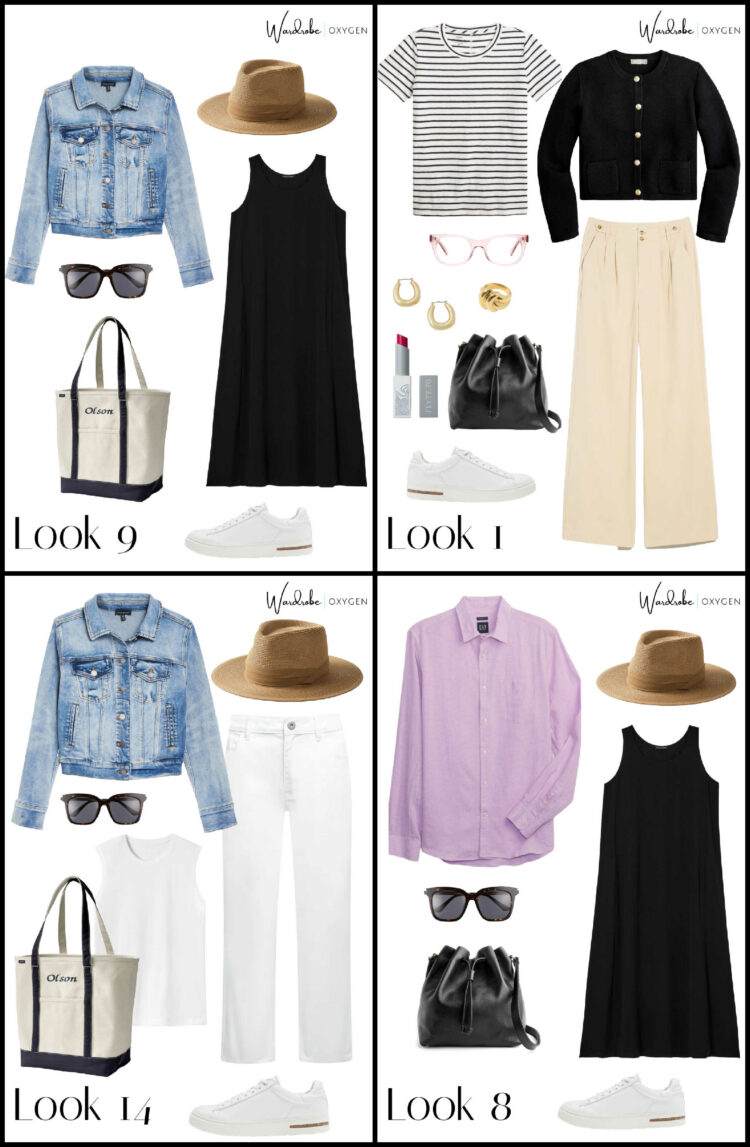 Add a hat and sunglasses for sun protection. I love this little gadget that hangs from your bag; it has powerful magnets that will hold your hat when you're not wearing it! And as I mentioned above, I highly recommend Thigh Society slip shorts to wear under your dress to keep cool and prevent thigh chafing!
Spring Outfits for Casual Situations
You likely already have items in your closet for the most casual of situations. But if you want a slightly elevated yet still comfortable look, this spring capsule has it!
Switching blue denim for white is just as easy but looks refined. For those afraid of white denim, I carry one of these pens with me. Chico's also carries white denim that is stain-resistant (up to size 20/22). I own a pair of the no-stain girlfriend jeans and they truly work!
What About [Enter Garment Here]?
I know a lot of spring capsule wardrobes include a trench coat. I didn't include one because if you're a grown ass woman and don't yet own one, you likely don't need one. I know myself, my two spring coats I wear the most are a denim jacket and this rain jacket.
A lot of spring capsules also include a lightweight leather jacket. Where I live (the Washington DC suburbs) a leather jacket usually is kept to fall because spring is either too hot or too cold for leather, and often too wet.
I don't think one needs to wear florals, or a crisp white shirt, or a skirt, or a dress, or really anything to be stylish come spring. My capsule wardrobes are guides, not gospel and my hope is you can shop your closet and find most already residing inside. And as you shop, you do it thoughtfully, thinking of what you already own and how they can mix and match. Style doesn't come from how much you own but how you wear it. Thinking in a capsule wardrobe mentality helps you achieve big style with a small closet!