This article may contain affiliate links; if you click on a shopping link and make a purchase I may receive a commission. As an Amazon Associate, I earn from qualifying purchases. 
Dear Allie,

In my work place, there is an expectation on Fridays for the staff to wear our staff t-shirts, usually with jeans. The t-shirts are men's sizes, and the fit is boxy and unflattering. Any advice on how to work a men's style t-shirt and a pair of jeans so I don't end up looking like a sloppy college kid?
As soon as you wrote this, I thought of a woman who works at a little café in my town. All the staff wear boxy men's-cut tee shirts with the café logo on the front. Most just wear it with a pair of jeans or chinos and don't give it another thought, but this one woman does her utmost best to make the t-shirt look feminine and stylish. While she sticks to the dress code of the shirt and jeans, she makes the ensemble positively chic:
Change the Silhouette
I don't mean get all DIY on it to make it the t-shirt differently. While this is a fun idea for some tees, I don't recommend this in a corporate environment. However you still have the ability to adjust the fit.
The woman at this café wears a skinny hip-slung leather belt with her tee shirt, and uses it to blouse out the tee over her jeans. The addition of this simple belt makes the tee have a silhouette more similar to a peasant shirt – no need to tuck in the top to get a more streamlined look.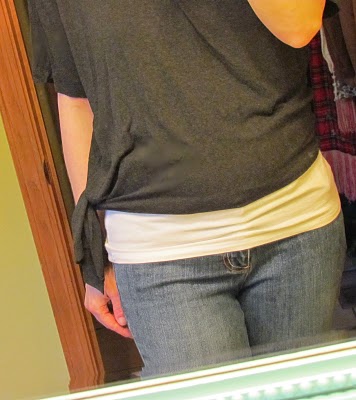 I used to work at a company that had us wear company tee shirts for trade shows. They would issue all of us the same stiff cotton tee in a size Large and expected us to "make it work." I used to make a slice 2" up from the hem on the side and knot the two pieces – this was more conservative than a traditional tee shirt knot, letting the shirt still be long enough to cover my waistband and upper hips. The cutting was so subtle, I don't think many realized I did this instead of knotting the tee. Like the skinny hip belt, it adjusted the silhouette enough to make it appear more feminine.
Accessorize
The woman at the café knows how to accessorize her tee shirt and jeans. Along with the skinny belt, she wears an arm full of bangles, small silver dangly earrings, and a bandanna folded into a headband and tied at her nape. Without being gaudy, she adds accessories to distract from the t-shirt and to add a sense of femininity and personal style to the overall look.
Again, when I used to wear tee shirts for trade shows, I would accessorize. I usually wore my silver cuff which had maximum impact without jangling around and getting in the way. Along with that I would often wear a printed silk scarf at the neck and red lipstick to make the tee look more like an outfit, and the whole look more "me." If the scarf and red lipstick wouldn't fly with the audience, I would do silver hoops and a more dramatic eye. Upping the accessories will make the most dowdy of t-shirts look more chic.
Focus on the Rest
So you're "encouraged" to wear a goofy company tee shirt, that doesn't mean you have to sacrifice the rest of your ensemble! Get a great pair of jeans – either a really dark rigid pair in a straight cut, or a novelty pair (I am partial to denim trousers and sailor-inspired widelegs) to show that you still have killer style. A jean with a wide or flare leg will also adjust the entire silhouette.
Along with the jeans, consider your shoes. While many may take such a dress code to mean it's a chance to wear sneakers to the office, choosing an elegant shoe will show you are stylish while still a team player. A dark ankle-length jean with a patent driving moc in a cheery hue, cuffed jeans with a leopard-print ballet flat, baby bells with a sleek pointed-toe pump, wide legs with a platform wedge in a jewel toned suede. If the shoe is fabulous, it will draw the eye away from the shirt and remind everyone that you have a sense of style under your Hanes.
Over and Under
I don't know how specific your dress code is, but if it's lenient, there's no harm in adding a layer over or under your corporate t-shirt.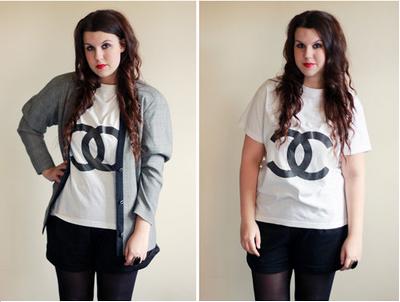 A blazer over the (tucked in) tee will add a chic layer perfect for chilly air-conditioned offices or the upcoming cold fall and winter months. If you keep the blazer on, no one will be the wiser if you fold over or pin the shirt in the back to make it a tad more fitted. A winter white or white blazer can be utterly chic with a black company tee and jeans; a black blazer with the sleeves rolled up boyfriend-style will work with a tee in most any other color.
When I used to work trade shows, I would sometimes wear a black micro-ribbed turtleneck under the tee shirt. I would do this with dark jeans, black boots, a messy updo, cat eye liner and red lips. This combination made the t-shirt look more like an afterthought and I felt as though I channeled my own version of Audrey Hepburn (with a company logo on my chest).
Have any of you had to deal with this issue? how have you made a standard issue t-shirt look feminine and stylish?
Follow Me | Twitter | Facebook