This article may contain affiliate links; if you click on a shopping link and make a purchase I may receive a commission. As an Amazon Associate, I earn from qualifying purchases.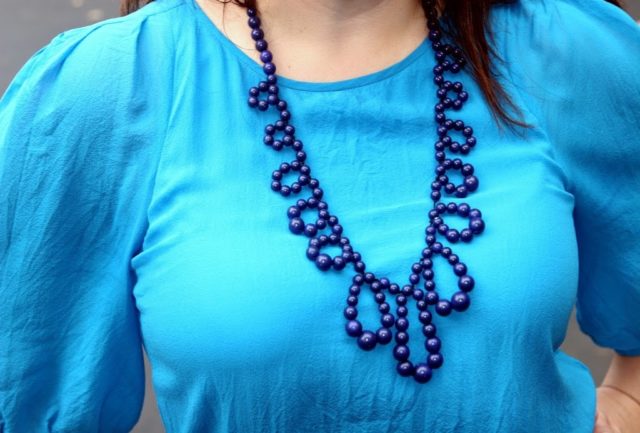 Blouse – c/o Ann Taylor
Skirt – Halogen
Necklace – J. Crew (similar)
Shoes – Nine West (similar)
Bag – Brahmin (similar)
Almost every morning, my husband makes us coffee so we can get through the day. We recently got reusable cold cups, so on muggy days like today we sip homemade iced coffee in place of hot. Each Sunday we head to our local farmers market and bring these cups for iced coffee and sip it while we shop and catch up with neighbors and friends. It's funny, a decade ago I never drank coffee -found it gross. Now I drink it almost every morning and love the flavor in other things (coffee ice cream and hello! dark chocolate-covered coffee beans!). I figured a picture of the "real me" in the morning would be appropriate (though no picture this morning of me wrangling Emerson into her carseat prior to the photo shoot!).
My closet it in progress! Yesterday the contractors came, fixed the hole in the actual bedroom (no more daylight peeking through our ceiling!) and spackled all the cracks and chips from the tree damage. I came home and my bedroom looked like a meth lab – they had taken down all the curtains and had plastic dropcloths surrounding the entire room, taped to the top of the walls, and then more dropcloths over the bed and nightstands. The closet is full of buckets, drywall, ladders and tools; today they are supposed to fill the old skylight space with insulation and cover with drywall. I think I will be able to use my closet again by the weekend! I can't wait, I am so sick of digging through my clothes in cardboard boxes and a teeny tiny rolling rack. My bags and shoes are stacked in a corner of the office and I can never find what I am looking for. Do know, once the closet it repaired and filled I will be having a post about the contents and why I organized it in the manner I did!
Follow Me | Twitter | Facebook