This article may contain affiliate links; if you click on a shopping link and make a purchase I may receive a commission. As an Amazon Associate, I earn from qualifying purchases. 
I have wide feet and I am in a wedding this summer. The bride said we can wear any shoes we want as long as they're metallic. My friend found a great pair at DSW but I can't find any dressy metallic shoes in a 9 wide! Help!
While I can wear regular width in closed toe shoes, I find I am better off with wide strappy heels or sandals. So I feel your pain, but also know that there ARE options out there. Your best bet is to get out of the stores and get to your computer; web-based shops can have more sizes because they're not restricted by the size of their stock room. Below are places to find wide-width shoes that have free shipping and returns, so you can try at home without buyer's remorse.
I'll admit selection is more limited when looking for wider width shoes. I try to look less for trendy styles and instead focus on classic looks that will be chic now and years from now. Especially as a bridesmaid, you don't need a statement shoe but one that will be comfortable enough to survive several hours on your feet. Choose smartly, and this shoe will be a popular one in your closet with everything from denim to holiday frocks.  You'll be amazed how versatile a metallic shoe can be!
Nordstrom is my favorite footwear retailer. Not so huge of a selection that you get overwhelmed, but large enough to find something for every personal style. Nordstrom offers free shipping and free returns with no expiration date, and now is price matching if you find an item for less at another retailer.  At Nordstrom from the primary navigation click shoes, then go down to Specialty Sizes. You can then choose your specific need. I went to All Wide Shoes and then used the size navigation to only choose size 9 and then the color navigation to only choose metallic.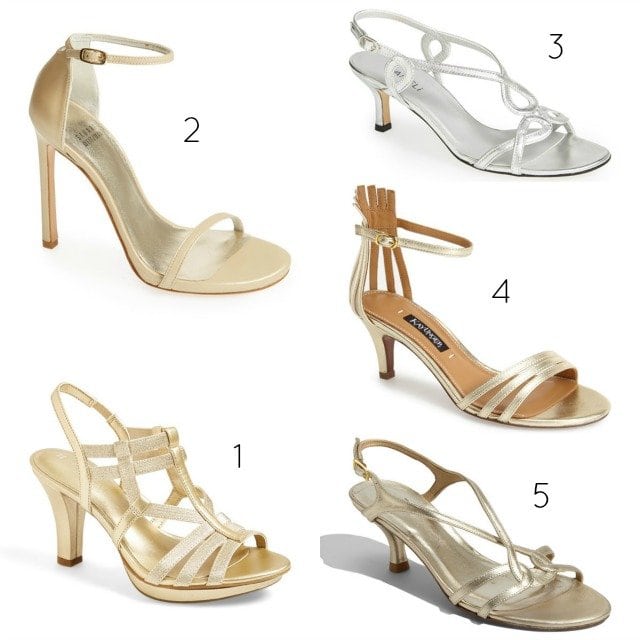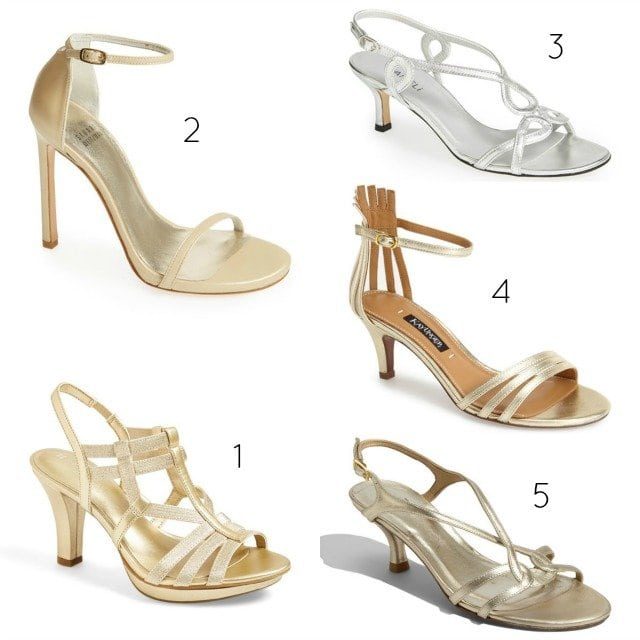 1.  Naturalizer 'Darzy' (Gold) | 2.  Stuart Weitzman 'Nudist' (platinum snakeskin, gold satin, silver satin) | 3.  VANELi 'Milbie' (silver) | 4.  Kay Unger 'Basque' (gold, iridescent, silver) | 5.  Stuart Weitzman 'Reversal' (silver, gold)
Zappos is a great destination for wide width shoes with style. They offer quick and free shipping and free returns within 365 days of purchase. To narrow down their extensive selection, I chose Women's Shoes, entered 9, then W and WW and then chose the color (I picked all the metallic – silver, gold, bronze, pewter and metallic). After this, I chose the Occasions of Wedding, Dress, Prom & Homecoming, and Evening & Cocktail.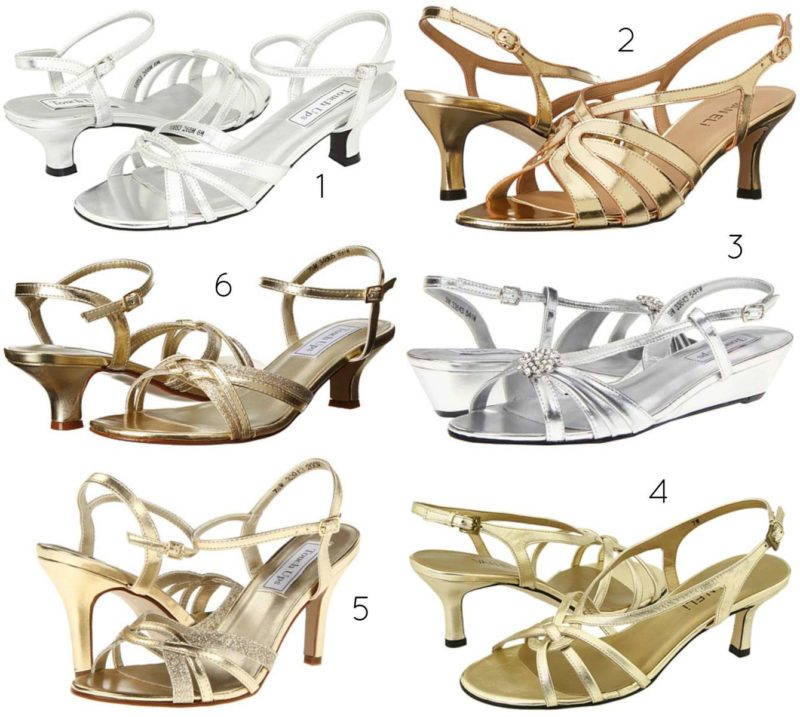 1.  Touch Ups 'Dakota' (silver) | 2. VANELi 'Marza' (gunmetal, gold) | 3.  Touch Ups 'Geri' (silver)| 4.  VANELi 'Modesta' (Platino/gold, silver)| 5.  Touch Ups 'Taryn' (silver, gold)| 6.  Touch Ups 'Melanie' (gold, silver)
Shoes.com is an underrated online store. They have hundreds of brands, free shipping, and free returns within 60 days of purchase. From the main navigation, I went to Women, then Wide Shoes. From there I narrowed down by size and width, then chose Dress, then the colors. As a heads up, the color boxes don't have words, but if you hover over them the URL will state the color. Also higher up in the sidebar it will show which colors were chosen so if you accidentally choose off-white when you wanted silver, you can click X to easily remove it.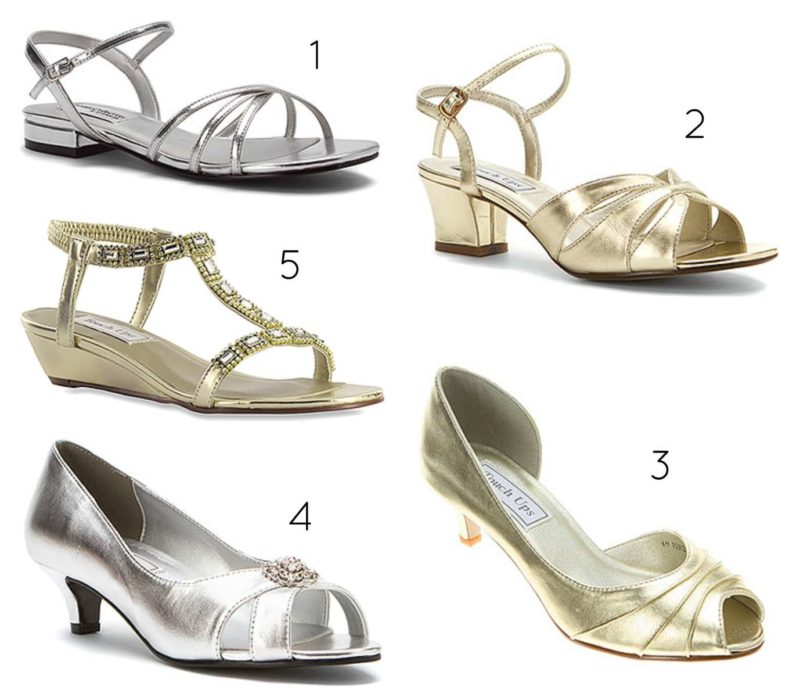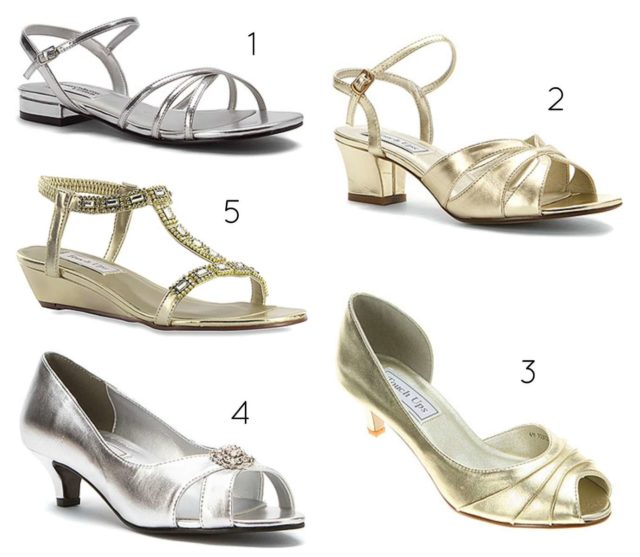 1.  Dyeables 'Palace' (silver) | 2.  Touch Ups 'Monaco' (gold, silver) | 3.  Touch Ups 'Abby' (gold, silver) | 4.  Touch Ups 'Dot' (silver) | 5.  Touch Ups 'Jazz' (silver, gold, pewter)
Shop the Post: