This article may contain affiliate links; if you click on a shopping link and make a purchase I may receive a commission. As an Amazon Associate, I earn from qualifying purchases. 
Alison, you said you couldn't wear heels after you had Emerson yet you wear them now, how did you get used to them again? I stopped when I gained a lot of weight but have lost 63 pounds on Medifast and want to wear heels again. Any suggestions?




How does one adjust to wearing heels? I see that you wear some sort of heel or wedge almost every day, and was wondering how you manage it? Do you use special insoles to cushion your feet? I desperately want to wear my heels more often, but after a couple of hours, can't bear them anymore. Any suggestions?
I don't know if my advice will work for all women because I have a weird advantage – I have walked on my toes all my life. My relatives called me Tippy Toes as a kid, and I had to wear special shoes to fight against pronation and all sorts of other things that happen when you run around town on the balls of your feet. This is why I have such trouble finding boots to fit – walking on my toes not only built up my calves but also my shins and ankles. This is also why you will rarely ever see me in ankle-strap shoes. So walking in heels has never been a problem for me, I even wore 4" heels when working retail; I'd dash around 12-hour shifts on tile and concrete and do a few calf stretches behind the register while ringing up customers.
However, when I was pregnant my legs and feet swelled. A lot. A whole heck of a lot. By the end of my third trimester, I, Alison Gary, Crocs Hater was wearing my sister's Crocs because they were the only thing that would fit (she wore two sizes larger than I). After Emerson was born, I spent the first few weeks barefoot or in sneakers because I was so unsure on my feet. Not only that, my feet permanently grew a half size, meaning all my lovely heels no longer fit.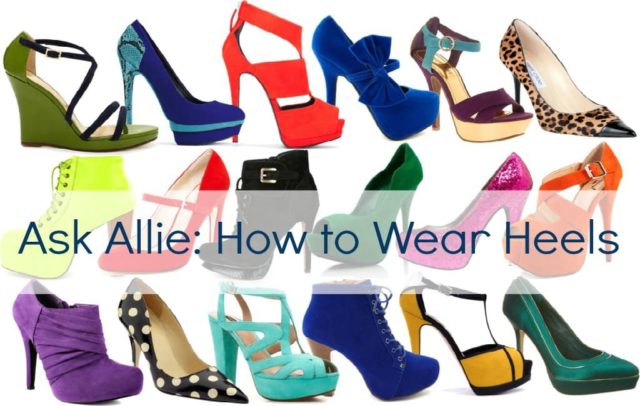 When I knew I had to go back to the office, I purchased a pair of black ankle boots with a 1" heel. They were practically flat for the Old Alison, but the Postpartum Alison ended up with aching tootsies by noon. I decided to only wear them twice a week, and have those be days when I didn't have to do a lot of walking. I looked into brands who specialize in comfort – Fitzwell who strategically places heels to have the least amount of pressure, Sofft who makes uber comfortable shoes that are also stylish. As I got comfortable with these shoes, I ventured into higher heels and different styles. I found that hidden platforms were a Godsend – I would look as though I was wearing high heels but they felt as though they were up to an inch shorter thanks to a platform in the footbed.
I stick to just a few brands for heels – ones that I know fit my foot well. If the toebed is too narrow or the heel is loose you will be spending much time clenching your toes just to be comfortable and keep the shoe on, which affects your gait and the comfort of the heel. For me, Vince Camuto, Nine West, and Sofft are safe bets for heels.
A shoe that stays securely on your foot will always be more comfortable. I love my Miss Sixty booties because they wrap around my foot – I can run in the rain and they will stay on. T-straps, lower ankle straps, Mary Janes, booties, caged sandals… all styles that will let you focus on walking and make the shoe more comfortable.
Almost every pair of shoes I own has a pair of Footpetals in it. Footpetals are very slim, but are very effective. They absorb sweat so your foot doesn't slide into the toebox, and they offer a bit of cushioning making the heel wearable a couple extra hours. My favorite feature of Footpetals is that they collect the funk. Sweat, dead skin, gosh knows what ends up on the Footpetal and at the end of each season I pull them out (they have adhesive backing but are still easy to remove from the shoe) and replace with a fresh pair. Not only do they make the shoe comfortable, but they extend their life.
Before I wear a pair of shoes to work, I wear them at home. I put them on at the end of the day when my feet are swollen so they stretch out and I wear them while making dinner, putting Emerson to bed, watching TV. This way I can break them in and also get a true feeling for how they will feel for an entire day. If a shoe is too tight to fit at the end of the day, I try this process on a weekend morning. If the shoe is uncomfortable first thing in the morning when my feet aren't swollen they go right back in the box and to the store – I don't believe in a major breaking in process for shoes. There are plenty of shoes out there that are relatively comfortable right out of the box – give those shoes your hard earned money and save your time and effort for more useful endeavors.
Give your feet a break. On weekends I wear lower heels and flats. I rarely wear the same heel height two days in a row. I put my feet up under my desk to give the tootsies a rest. If shoes are really high or crazy, I will pack a pair of flats in my bag for the commute.
And finally… heels aren't necessary to be stylish. There is many a stylish woman on this planet who don't leave the land of flats. If you have foot issues, don't exacerbate them with uncomfortable or inappropriate shoes. Your feet work hard enough as it is – don't torture them. Sites like Maryland Square, The Walking Company, and even Nordstrom have amazing selections of comfort shoes, many that are right on trend and stylish. Blogs like Barking Dog Shoes review and feature comfortable shoes for women with all sorts of personal style.
Follow Me | Twitter | Facebook