This article may contain affiliate links; if you click on a shopping link and make a purchase I may receive a commission. As an Amazon Associate, I earn from qualifying purchases. 

Growing up, I remember my mom having a bunch of weird accessories from the 70's that seemed normal for the times. Remember dickies? For those who don't, they were faux turtlenecks or collared shirts you slipped under a sweater. They had the traditional collar and even a few buttons, but were as long as a bib so you had the layered look without the bulk. I remember having sweaters from The Limited a few years ago that had detachable white collars and French cuffs that felt like a new-millenium version of the dickie.
I also remember shoe clips. Who needs a closet full of shoes when a clipped-on buckle or rosette can transform your simple pumps? The only time I donned a shoe clip was in 9th grade – my mom made me a strapless homecoming dress and it was a bit too big in the bust. No worries, we rouched the fabric in the center of the bodice and held it in place (and held the dress to my strapless bra) with a black grosgrain shoeclip in the shape of a rose. Gave the dress a nice sweetheart neckline and some security for my underdeveloped frame. Besides that one time, I thought shoe clips were hokey and just as hip as say… wearing a dickie.
Recently the company Aliza Darik contacted me regarding their collection of shoe clips. Shoe clips? They still make those things? I mean I see them when trolling through eBay and think they are fun in a vintage/campy way but wouldn't consider them for my personal style of clothing. But then I visited the Aliza Darik site and received two pairs of them and well… I am a shoe clip convert.
These are GORGEOUS and very current. No cheesy grosgrain rosettes or gold-plated pilgrim buckles in the bunch – these are elegant pieces that honestly can add current style and pizaaz to your existing shoe collection.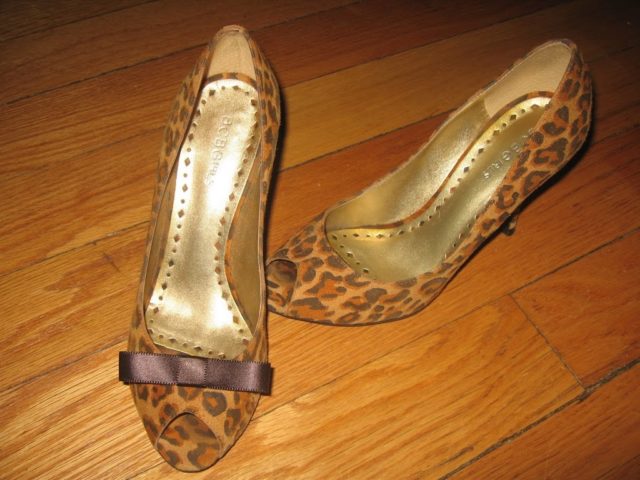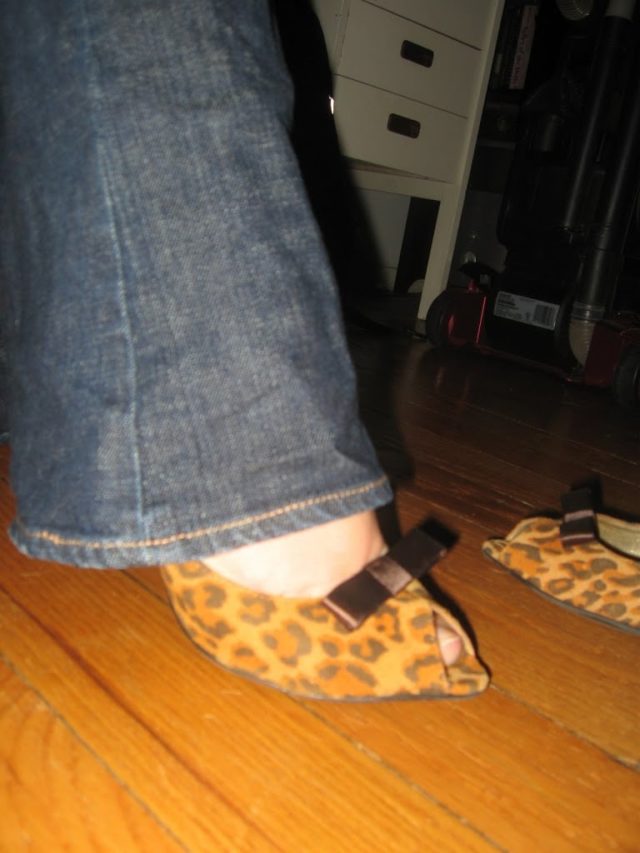 Aliza Darik sent me two very different styles – a pair of brown satin bows, and some flashy bejewled clips in a variety of cool tones. I was impressed by the materials used – very elegant and the clip itself is strong and sturdy (wish the one for my homecoming dress was as secure – it fell off during a slow dance to Babyface). I went to my shoe collection and easily found favorite pairs that could get an easy makeover with a clip. (click on photos for a larger version to see detail.)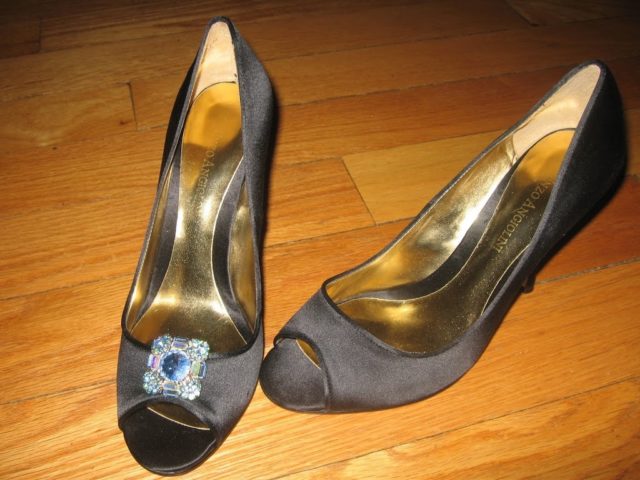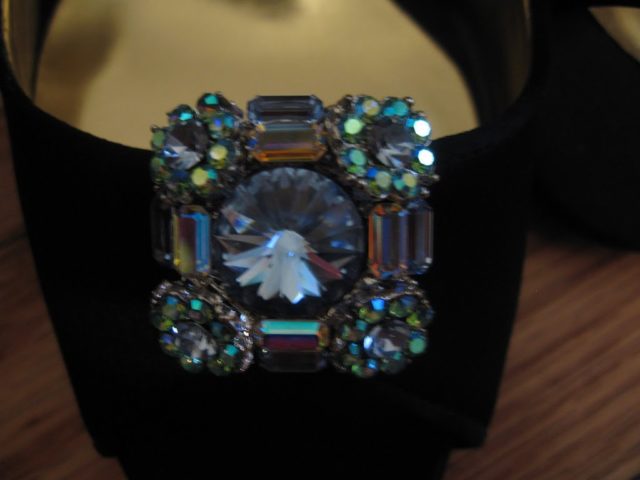 These are pictures of my own shoes, and how they have been transformed with these shoe clips. Websites can show you pretty perfect pictures with pretty perfect shoes, but I wanted to show you the actual quality and size of the clips with shoes bought this season (those who visit my other blog will quickly recognize the leopard-print heels). When the shoe is worn, you cannot feel the clip itself – it is very slim and streamlined. The clip did not put a dent in the shoe and held in place while walking and moving about.
As you know from my other posts on this blog, I believe in buying quality simple staples from which to build your entire wardrobe. A pair of simple black pumps and some dressy heels are on my list of must-haves. Instead of investing tens (or hundreds) of dollars more on additional pairs to match your entire wardrobe, shoe clips are an economical way to take your classic footwear and make them fun, creative and look completely different. I love the cute styles that Aliza Darik sent me, and am also eyeing their tropical pink orchid clips to add to my tan sandals come summer!
Best news – you too can join in on the shoe clip fun!

I am having a contest where one reader will win a pair of Aliza Darik shoe clips! Just send me an email (address link in the left sidebar) or a comment with your name and email and I will pick a reader at random. Contest ends Sunday, November 11th at midnight.
For everyone else – Aliza Darik has set up a 15% off discount code just for Wardrobe Oxygen readers! At checkout, enter the code 273zpfest and you too can enjoy these beauties at a great price! Discount valid until 12/31/07.
Enjoy!