This article may contain affiliate links; if you click on a shopping link and make a purchase I may receive a commission. As an Amazon Associate, I earn from qualifying purchases. 
As soon as September comes I start thinking about boots. I can go without sweaters and scarves and pumpkin spice lattes, but I miss my tall boots. For many years, I was jealous of others for they were able to snag great tall boots, and my large calves and shins made it impossible. I purchased my first pair of wide calf boots in 2007 and now I have a pretty great selection. If you're willing to step outside the shopping mall, there's a ton of online retailers who offer wide calf, extra-wide calf, and custom sized calf boots made from high quality materials and in trendy as well as classic styles. Here's a list of my favorite retailers: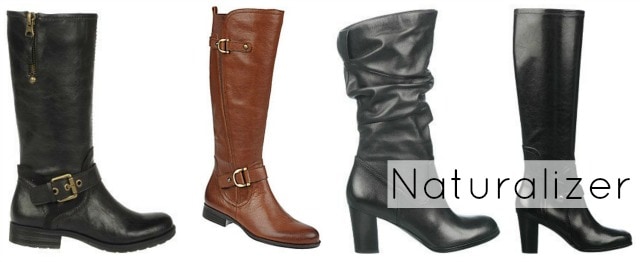 Naturalizer
This is not your mother's Naturalizer. I have been so impressed with their recent collections – stylish shoes, on-trend heels, and fantastic well-crafted boots. Naturalizer's boot shaft circumference varies with the foot size, but their wide calf boots are two inches wider. As an example, a size 9 boot has a 14 and 7/16" circumference, and the wide shaft version is 16 and 7/16".
This season Naturalizer has some drool-worthy styles in their boots. Jersey is a classic riding boot, and has an elastic gusset to add a little more comfort for those with wider calves. Available in Banana Bread (warm honey brown) and Black, this is the type of boot that would work over skinny jeans or leggings, with flowing midi skirts, or even a simple shift. I love Britain, a tough boot with a distressed finish and workboot details that would make it perfect with this season's '90s-inspired fashion, or with slim jeans and a slouchy sweater.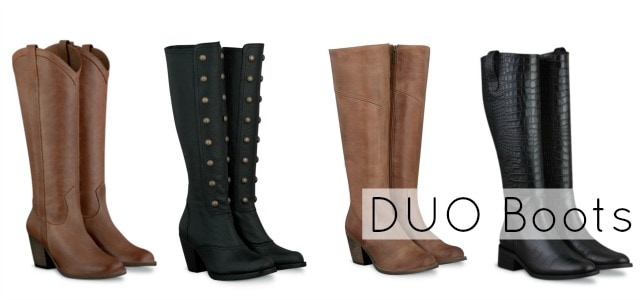 DUO Boots
I own two pairs of DUO Boots and find them to be amazing quality, well designed, and comfortable. My first pair is over six years old and I still wear them regularly; I just got my year-old pair back from the cobbler where I had them reheeled and resoled for fall. DUO is a great choice whether you have large or small calves, as they sell the boots by shaft size, measured in centimeters. While DUO is in the UK, they have improved their shipping policies to the US and you don't have to pay customs and they often have promotions of free shipping to the States. Their customer service is stellar, I highly recommend contacting them prior to an order to be sure the style you desire will fit the height of your leg, the size of your calf, as well as the size of your shins and ankles.
DUO has many classic styles, but updates their collection each season with boots that fit the current fashion trends. I love the Olson in Black, which has a military or even steampunk feel, and would look amazing with dresses as well as a pair of skinny cords and a sweater. Beaumont is very similar to the black riding boots I got from DUO last year, and I find them incredibly comfortable and versatile. And I am loving the croco-embossed leather of Amora, which give a luxe feel to a classic boot; it would look so chic with skinny jeans and a silk shirt, or paired with a simple wrap dress.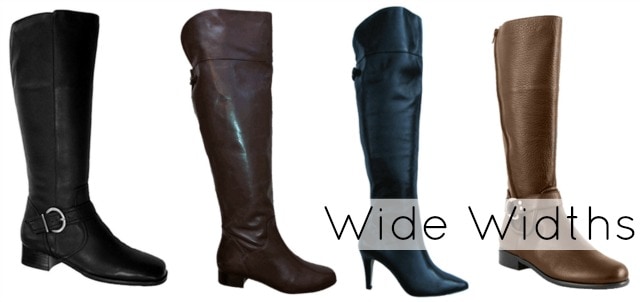 Wide Widths
Wide Widths is an online resource for many different brands of wide calf boots. I have found their customer service to be excellent and their prices competitive with other retailers. They have an extensive selection of Ros Hommerson boots, which come in wide and extra wide calf sizes, and are made of quality leather. I bought a pair of Ros Hommerson boots from Wide Widths and find them well made, a classic style, and quite comfortable.
This season, I'm loving the Ros Hommerson Jenny, which is a classic riding boot with boot detail. For those who prefer a deep chocolate brown to the more caramel hues, Jenny comes in a great espresso color that would look amazing with the jewel tones that are on trend for this fall and winter. And there is something so amazingly badass about Ross Hommerson's Sherlock with it's slender heel and soft leather shaft that pulls over the knee; I want to wear them with some ponte leggings and a soft cashmere sweater that falls off one shoulder and a ton of kohl liner!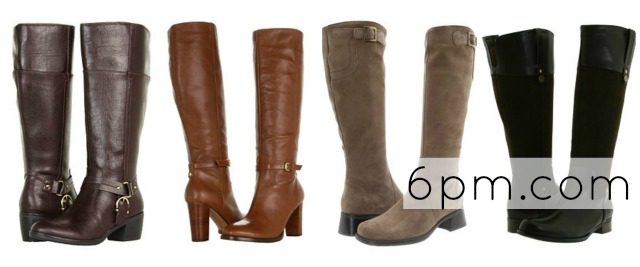 6pm.com
Once I know the fit of a brand, I head to 6pm where I can often find brands like Fitzwell, Naturalizer, and Ros Hommerson for far less. I found a pair of wide calf riding boots there last winter for under $50 and this summer I scored a pair of tall tan boots for less than $40. Sizes and styles are limited, but sometimes you can really score a good deal. On 6pm you can narrow down by shaft width, even by specific shaft circumference.
I'd love to hear from you – where have you found great wide calf boots? What styles and brands have you found to fit and flatter?
Follow Me | Twitter | Facebook | Instagram