This article may contain affiliate links; if you click on a shopping link and make a purchase I may receive a commission. As an Amazon Associate, I earn from qualifying purchases.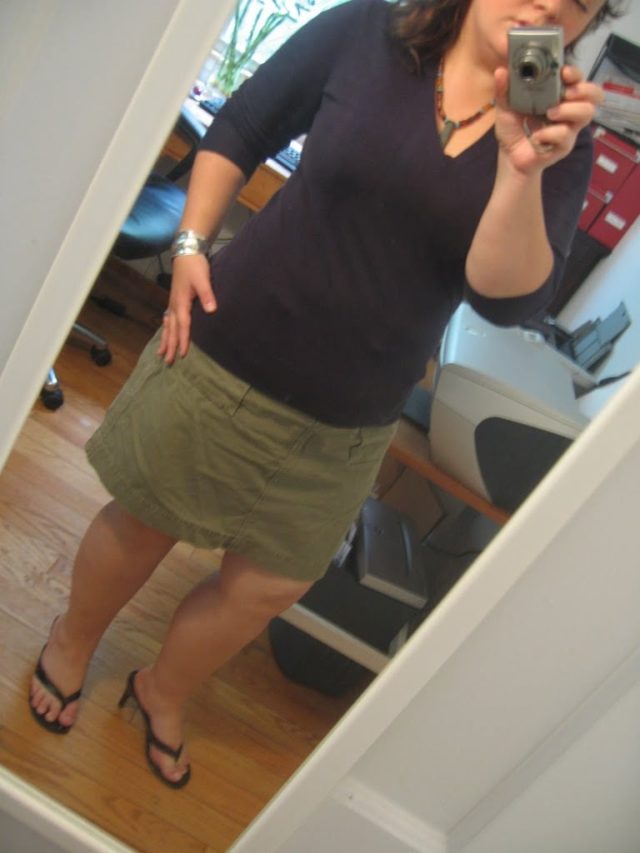 Gosh, all these new visitors to my blog (hello you 5,000+ people) and I look like crap. Murphy's Law, huh? Glad I have been working on my skin (that's a future post).
Navy stretchy cotton v-neck sweater from Banana Republic, olive ripstop cotton cargo skirt from J. Crew, black leather thong heels from Mossimo, silver cuff, jade and other bead necklace from the hubby's trip to Mexico, black headband made from the hem of the sleeve of my Jack Daniel's tee (yeah, from this day). Amazing how my arm is almost the same size as my head… this realization came a few days ago when I found this piece of hem on the floor just outside the office's trash can and it was when I was ironing and the AC wasn't pumping as hard as I desired… now it's a new accessory (and I have been doing light weights every morning along with yoga to get the arms smaller than the noggin). Usually relegated to the bathroom for when I wash my face at night, today it was a necessity for the Real World.
So makeup is L'Oreal True Match foundation in C3, Cargo matte Beach Blush in Tenerife, some brow powder so I am not all beige (I wear it every day but never mention it because there's so much else going on), Max Factor Lash Perfection in black – one coat, non-curled lashes and a super quick swipe of Revlon Super Lustrous Lip Gloss in Pink Afterglow.
Hair… I took a shower last night, put in a very small amount of Jonathan Silky Dirt in and went to bed. Woke up with a very soft and silky 'fro. I put in the headband, took my Body Shop wood bristle brush to the super tangled pieces and left it as-is. So now you see the natural texture of my hair is tres reminiscent of Jon Bon Jovi circa 1987. I had it MADE back in middle school (never needed that body wave).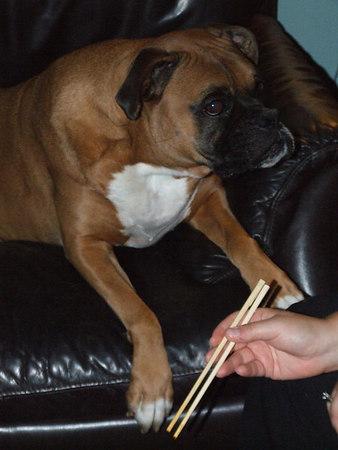 So as you all readers know, I have a dog – Ruckus. Ruckus is a boxer who is 8 1/2 years old. Back when my hubby and I were still boyfriend and girlfriend who hung out only on weekends, he decided to get a dog. We did the internet searches and came up with a few breeds he thought were appropriate (read: big, burly and will look cool in the passenger seat of his Jeep Wrangler). Boxer was not on the list. To see the animals in action, we went to a few places – breeders, pet stores, yadda. His plan was to get one from a breeder, but we stopped by a pet store just to see the puppies.
And we saw Ruckus.
He was in what looked like a terrarium up so high I couldn't make kissy faces at him. He didn't care. he was upside-down licking the glass, his tail wagging frantically. We asked to see him in the play pen. He freaked me out a bit – chewing the sides of the pen, the toys and even my shoes. I thought he was quite the hellion. My husband/then boyfriend fell passionately in love with this fawn-colored bundle of energy. When the pet store manager told us he was too old for them and Monday he was probably going to "another location" (read: shelter) we snatched him up.
On the way home he was named Ruckus and he proceeded to pee all over me. Somehow me, a person raised a cat person found this endearing and by the time we returned to my boyfriend's house I too was passionately in love with this dog.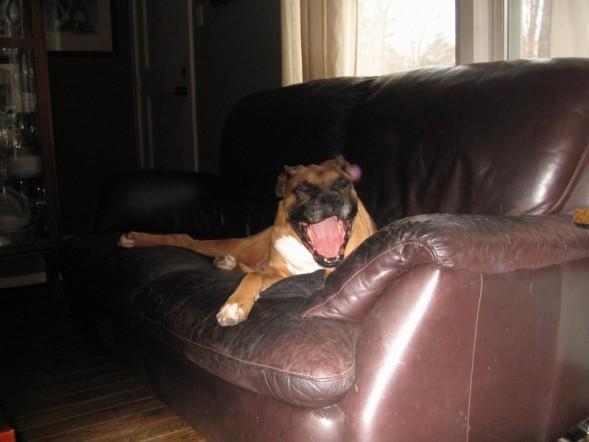 Over the years, he went from being my boyfriend's dog to our dog to my baby. He stopped chewing shoes and was satisfied with a Jolly Ball in the yard. He would have bursts of insane energy, and then be the most cuddly and darling pup. Though my husband is the Alpha Male in the house, I am the Mommy. I put peanut butter on his thyroid pill every day. I brush him and walk him and feed him mist of the time. I sing to him and cuddle with him and he follows me around like… well like a puppy dog.
Well last night reminded me he is getting up in years (boxers average 8-12 years). Guess his legs are starting to bother him (he had ACL surgery on his back legs several years ago when he tore both of them jumping off the deck) and he spent the whole night pacing, I think standing was more comfortable than lying down. With some pet-friendly meds, I think he got comfortable and the doc says just to watch his activity level and keep him off the stairs, but the night was spent mostly on the living room floor with my baby, cooing and scratching his belly. this morning when the alarm went off, I had been in bed for a total of an hour and a half and the last thing I cared about was my appearance.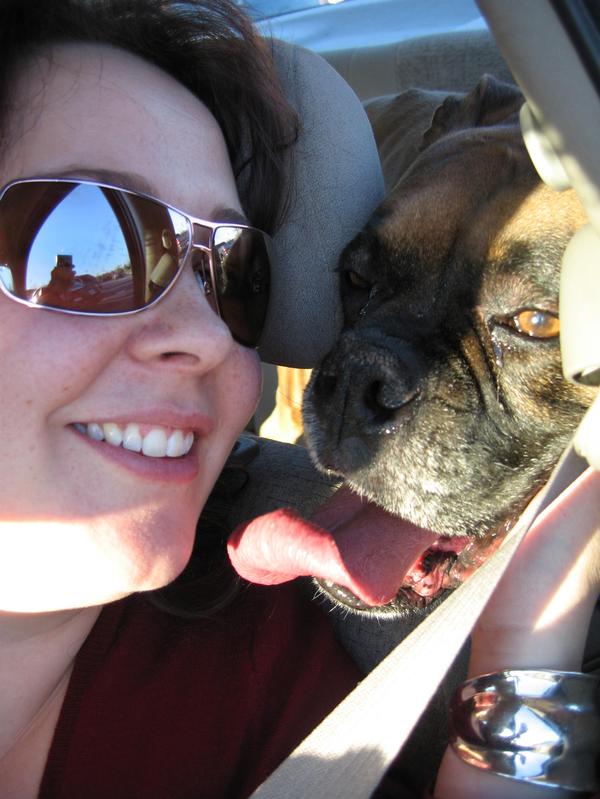 Ruckus had gotten some sleep and seemed okay getting up and hop/walking into the front yard to take care of business. He heartily ate his breakfast and pills and was full of boxer-esque grins and tail wags even though you could tell the experience freaked him out and he was still sore. I think last night we both realized that Ruckie-boo ain't the spring chicken we both believe he still is.
So, I look a bit off, but I am happy that my dog is feeling better. Even happier that in six hours I will be back home to hang out with him!