This article may contain affiliate links; if you click on a shopping link and make a purchase I may receive a commission. As an Amazon Associate, I earn from qualifying purchases. 
I love back and navy together, but how do you wear them together? I try and I look messy. I wear mostly black, white and gray but my hair is going gray and I think navy would be a better choice than gray for me now. I like a classic look, no crazy clothes too young or trendy but not frumpy either.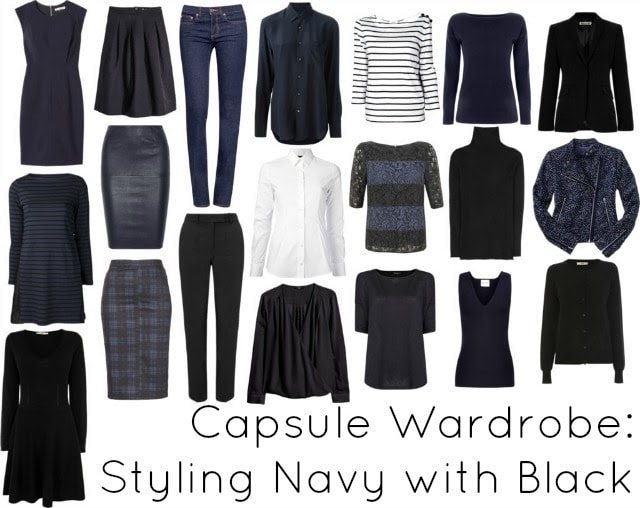 You're a gal after my own heart. Navy and black is one of my favorite fashion color combinations, and I have been wearing far more of it as of late. What's great is the apparel world is also in love with this pairing, so it's easy to find not just navy or black pieces, but garments that incorporate both colors together.
Here's a few tips to make navy and black look purposeful together, not messy:
Choose pieces that incorporate both colors. As I mentioned above, retailers are embracing this color combination trend, so it's easy to find pieces with both navy and black. Adding such a piece to your outfit makes the pairing cohesive and purposeful. Pair a navy and black striped tee with a black pencil skirt or a pair of navy trousers for a quick yet chic look, consider a skirt that has both colors in the print to pair with solids and other prints.
Introduce texture and luxe fabrics. When it comes to colors that are very similar, it's a great idea to use fabric to add even more contrast. A navy leather skirt will be a stronger contrast to a black sweater than a skirt of knit, a silk blouse catches the light in a different manner from cotton which will add contrast, a navy tweed jacket over a black dress looks more purposeful than standard suiting fabrics.
Use a third color for contrast. You mentioned white, and that is a perfect color to add to navy and black. White is such a strong contrast to these colors, it will emphasize the difference between navy and black. A crisp white shirt under a navy dress with black tights, a white striped knit under a black or navy cardigan, white jeans with a navy and black top and jacket.
Add an accent print. You all know I love using leopard as a neutral! Leopard or cheetah is a great contrast print for navy and black because it's warm and light to navy and black's cool darkness. Add a leopard print calfhair skinny belt or cheetah print silk scarf for contrast and to define the difference between black and navy.
Create a long line. Don't go too crazy with the navy and black combination; if you have a navy dress, black tights, and navy shoes it will look messy. A safe bet is matching your shoes to your hosiery or pants for a clean long line. Black shoes are more versatile and more likely to match other blacks in your wardrobe. Unless it's a print or statement shoe, I don't recommend investing in navy footwear until you have a firm grasp on mixing these colors.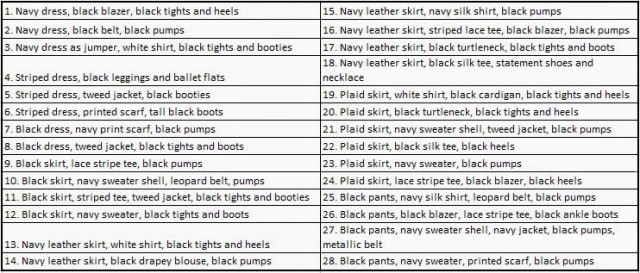 Click to enlarge and see possible ensembles for the capsule above; jeans were not included because they're simpler to style.  For exact pieces in the capsule wardrobe, please visit my Polyvore account.
Follow Me | Twitter | Facebook | Instagram