This article may contain affiliate links; if you click on a shopping link and make a purchase I may receive a commission. As an Amazon Associate, I earn from qualifying purchases. 
I LOVE your wardrobe capsules. They are always amazing. I would love to see a simple mix and match capsule for evening. Specifically, I just returned from a 10-day cruise of the Caribbean. It was amazing, with one glitch. The evening dress code was smart casual; and on a cruise ship this is more dressy than I expected (I'm from California, where jeans are cocktail attire!). I was woefully underdressed with dowdy shoes. I usually travel with black and white clothing, but a color capsule would be awesome too!
While I haven't been on a cruise for a few years, I have experienced the issue of "smart casual" and formal nights on cruise ships, and understand how hard it is to dress appropriately for the situation. Not only are you dealing with limited luggage space, but you have folks from all over the globe dressing in all sorts of different manners. I found it's best to pack simple garments and statement-making accessories.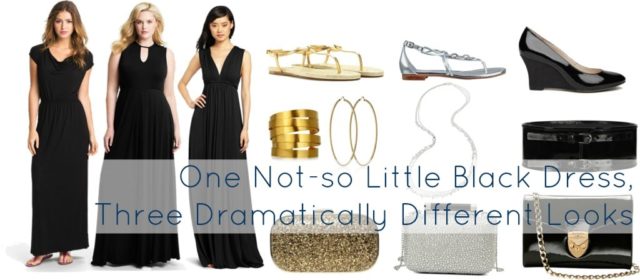 Three years ago, I was asked to be in my friend's wedding and she let me pick any black dress I desired as my Matron of Honor gown. I got a black matte jersey maxi dress from Calvin Klein that had twisted straps that were thin but thick enough to cover my bra, a faux wrap skirt, and a self-tie belt. I wore that dress for the wedding with black heeled sandals and a statement necklace. A few months later I attended a destination wedding in Charleston, South Carolina and wore that same dress with flat gold sandals, gold dangly earrings, and an armful of gold bangles. I also wore that dress with beaded earrings and a weathered brown leather belt and brown leather thongs. My point is that such a dress is surprisingly versatile. Choosing a silky jersey (Rachel Pally dresses fit the bill, are a classic style and come in a broad range of sizes) or matte jersey (Calvin Klein continues to have great options season after season) maxi dress means you can dress it up or down with ease and it will travel well (few wrinkles, any you get can come out easily if in the room with a hot shower).
Here I took a simple black maxi dress and showed how a switch of accessories can completely transform it. I know you mentioned comfort shoes in a different part of your Ask Allie request, so I chose shoes that aren't sky-high. The wedge can easily be lower or even flat – another perk of maxi dresses is that they look great with flat shoes and said shoes aren't the focal point of the ensemble.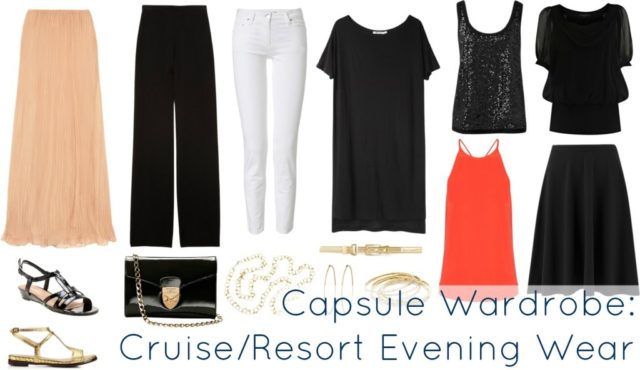 A black maxi dress is a great choice if you have a formal night, but many cruises and resorts just require "smart casual" or "festive" attire. This capsule wardrobe helps you pack light but with many options:
Maxi skirt with sequined tank and black sandals
Maxi skirt with orange top and gold sandals
Maxi skirt with a simple neutral tank or tee in your luggage, gold belt and gold sandals
Black jersey pants with sequined top and black sandals
Black jersey pants with orange top and black sandals
Black jersey pants with sheer top and black sandals
White jeans with any of the three tops and gold sandals (add the hoops, bracelet, and belt for discothèque drama)
Black jersey tee shirt dress with black sandals
Black dress with gold belt and gold sandals
Black skirt with any of the tops and either sandals
This can be dressed up with a different choice of shoe (a heel is always seen as more formal), switching the pants to a tuxedo or shantung cigarette pant, the skirt to something sparkly, the dress to something more form-fitting or dramatic in silhouette. However, I used this based upon my own experiences on cruises and at resorts, where some nights you will find folks in full-length gowns, the other nights in club attire or sundresses. Solid colors and fabrics like matte jersey and stretch silk look elegant while being travel-friendly and versatile. These pieces can also be worn during the day – the orange top would be adorable with olive chino shorts, either of the skirts with a simple tank top, the dress could even be a beach coverup.
Choosing a single concept for accessories lightens your luggage load – I chose gold jewelry because it's easier to find decent-looking costume pieces and instantly adds glamour. I really believe in a long necklace of chain or sparkly beads like jet – it really changes the silhouette of any ensemble and can make the simplest dress look chic. The addition of a belt, be it a scarf cummerbund, a leather obi, or a gold chain can quickly change the shape of a dress, add definition to a monochromatic ensemble, or dress up a simple tank and maxi skirt. Using color sparingly and thoughtfully will give extra miles to neutral pieces – the skirt could easily be switched to a neutral or a bold hue, the orange top could be a print or another dressy fabric, all the black pieces could be gray or ivory. This just gives an example of how very simple pieces can create an elegant and festive evening wardrobe for a vacation.
Follow Me | Twitter | Facebook