This article may contain affiliate links; if you click on a shopping link and make a purchase I may receive a commission. As an Amazon Associate, I earn from qualifying purchases. 
Every year, as soon as September hits, every blog writes about wearing white after Labor Day. And every blog seems to say it's okay NOW.
Then they post pictures of ivory wool coats, ecru shearling boots, snowy angora sweaters and the random off-white belt over a black merino sweaterdress.
Well the "rule" of No White after Labor Day never included ivory, winter white, or basic shirts. The rule is about summery white items – chinos, pique dresses, eyelet skirts, and peeptoe slingbacks. I don't care what designer sends white items down the runway, for regular folks (that means me and probably you if you are reading this), wearing summery white items after Labor Day looks tacky.
I wrote about wearing white after Labor Day before, and that post gets almost as many hits as my post about wardrobe staples. I think people are confused, and all these posts saying that white is now acceptable is making things more confusing.
White that is Acceptable: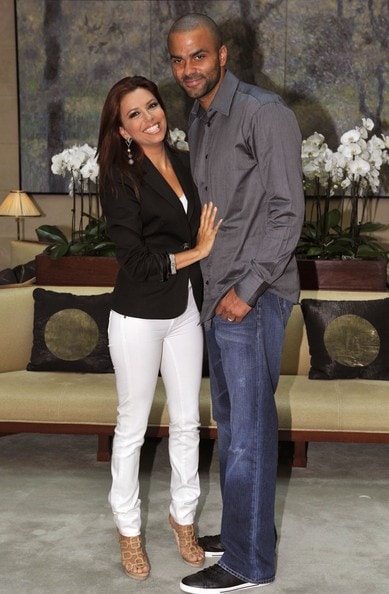 White Jeans. Not white denim skirts, not white denim shorts, not a white purse made out of denim, and not white Capri jeans. White jeans. And if you wear these white jeans, it should be with a darker top and darker shoes to balance it out and not make you look like the middle of June.
A pair of white jeans with black booties and a black cashmere turtleneck is eternally chic. Pairing white jeans with charcoal gray, camel, khaki and other neutrals can be quite lovely no matter the weather. The jeans should be heavyweight, and I personally prefer the jeans to have a slight off-white hue or tan stitching to make them look a bit more comfortable during cold months.
White Shirts. No one is asking you to pack away your white button-downs, white sweaters, white tanks and shells. White is fine to wear on the top half of your ensemble – just as with anything else keep the look appropriate to the weather. If it's warm, go ahead and wear a short sleeved white blouse or tee, if it's cool there's nothing wrong with a white merino crewneck or tailored white shirt.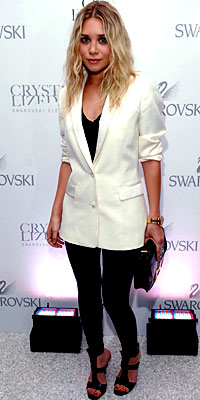 White Jackets.  We're talking heavier weight blazers and novelty jackets.  I used to have a crisp white stretch twill blazer with black piping and buttons that I would pair with black trousers or dark jeans.  Since the white was of a heavier fabric, in a seasonless silhouette and balanced by darker colors and fabrics, it worked.  However with this, if you are unsure pass it by.  A white denim jacket can look tres summery on one woman and quite appropriate on the other.
Not-Quite-White. Winter white, ivory, French vanilla, ecru, bisque, foam,whatever you call it – if it's not stark white, it's not white and it's wearable year-round.
White for True Fashionistas. I have written about True Fashionistas before. These are the folks who can carry off runway looks on a work day, somehow look fantastic in the most random vintage pieces, have a true passion for fashion, and don't read blogs like this because they have complete confidence in their established personal style.
True Fashionistas can carry off white patent peeptoe booties in November, pairing a white cotton gauze sundress with a black body suit and thigh-high boots, making eyelet look fresh and current with a leather blazer.
Today I was walking to my office and I saw a woman in a white heavy cotton shirt dress. She had the collar popped, a scarf tucked into the neckline, a very wide leather belt with chains on it, and peeptoe booties with socks. Her hair was natural, she must have been wearing 30 various bracelets and a pair of gold aviators. She didn't look summery at all because of her strong accessories. But the thing is, not every woman can carry off that look, and if they try, they rarely can carry it off correctly. I love fashion, many people compliment me on my personal style, but I know that even so, there's no way I could carry off a white dress after Labor Day in such a fabulous fashion. If you wonder if you too can do it, I hate to say it but you probably can not.
What that is Not Acceptable: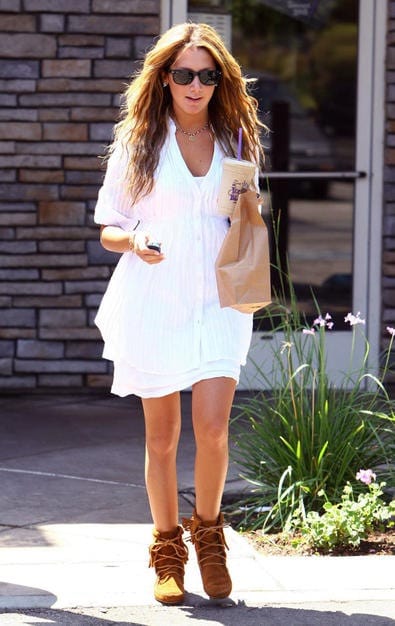 Lightweight White. Sateen, gauze, voile, linen… great fabrics in the summer. When paired with white, the look can be cool, elegant, relaxed. Once the cooler months come, they look obviously out of place. A black gauze top can transition into fall FAR better than one that is white.
White Shoes. Unless they are sneakers (or you are a True Fashionista), white shoes aren't cool when the weather is cool. I honestly think that regardless of the time of year, white shoes should be left to little children, nurses, and brides. A tan or skin-colored shoe will be just as summery, far more versatile, and do a better job at elongating your leg and highlighting your frock.
White Skirts. Yesterday as I walked home from work, I saw a woman who was wearing a black twinset, a red stone necklace, a pair of black leather peeptoes, and a white twill pencil skirt. Yes, the rest of her outfit was seasonally appropriate in weight and color, but that white skirt stuck out like a sore thumb (and also accented her VPL). White skirts always look summery. If you want a light colored skirt, a winter white, cream, or ivory skirt will give the same effect but look great in September (or December!).
White Capris. Same as with skirts. Pair white sateen capris with a charcoal cashmere turtleneck and black ballet flats, and you look like a woman who spilled something on her first pair of pants and in a hurry grabbed from the box that was to go up in the attic. White capris are for summer cookouts, winery tours, outdoor baby showers, but not for fall.
Final Words…
If you don't like this rule, no one is telling you that you HAVE to follow it. This blog is about how to have style, my ideas on how to be stylish regardless of age, figure, budget, or lifestyle. I don't believe that white is stylish between Labor Day and Memorial Day. Call me old fashioned, but I believe that this "rule" is a classic, and classics are always in style!