This article may contain affiliate links; if you click on a shopping link and make a purchase I may receive a commission. As an Amazon Associate, I earn from qualifying purchases.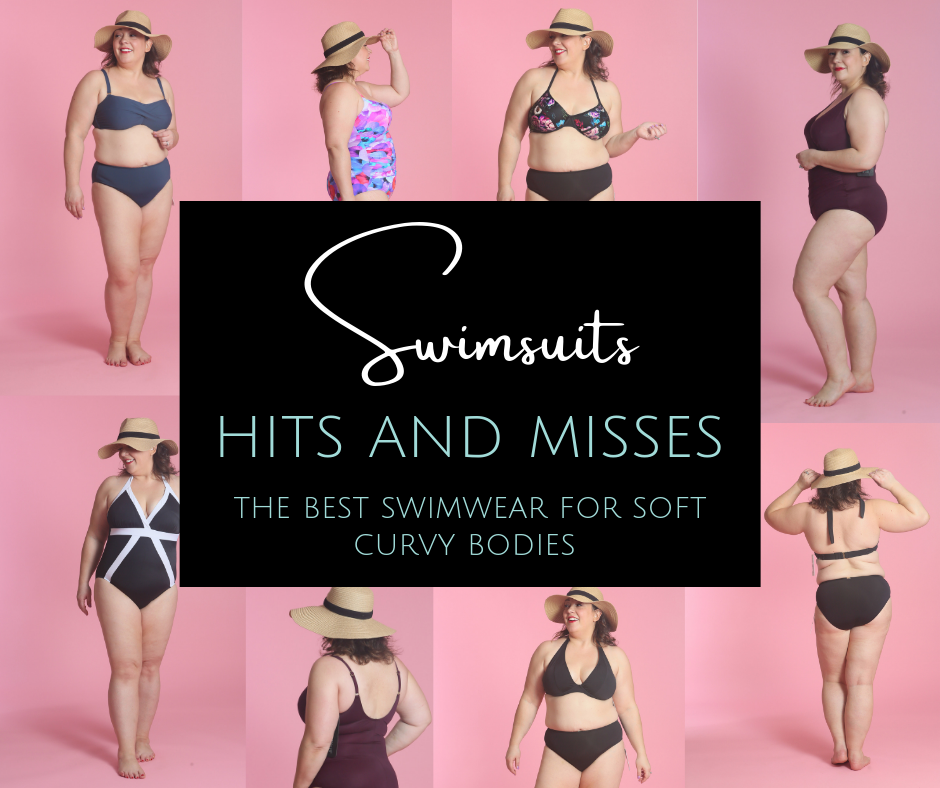 Last week we discussed the difficulty in finding a great pair of white jeans. This week, another difficult item to shop for, swimsuits. The worst! If they fit on the bottom they don't on the top, they ride, they sag, they showcase everything we want hidden, they don't support or if they do they lack any style. Swimsuits can be demoralizing, especially when you're in a fluorescent lit fitting room standing there with your winter pallor and your underpants gaping out of the legholes as a college-aged salesperson knocks on the door and excitedly asks to see how it's going. I hate shopping for swimwear, but have found it less awful when I shop online. Better lighting, a mirror I trust, plenty of space, the ability to take time and not have to answer to any salesperson. Not only that, online you will find more selection and more sizes. I am searching for a swimsuit – my suits from last summer no longer fit. I like to have one that makes me feel super fierce, but also one I can wear to play in the pool with my daughter and swim some laps without a wedgie or losing a strap.
I am 5'3″ with a 36 F chest and I usually wear a 14 petite or 32 in pants and jeans. I have been lifting weights for a little over a year but am still very soft and round. With age, breastfeeding, and fluctuating weight I have lost a lot of buoyancy of my breasts; I also have extra skin at my stomach. I have always carried my weight in my tummy and rear. I think this body is pretty great – it's strong, it's healthy, and thanks to a new fitness routine it looks better now than it did five years ago. However, as a 44-year-old mom with a defined personal style aesthetic I am not one to hang out at the beach in a string bikini. That being said, I like showing a bit of skin, I think it balances my frame nicely and I find that suits with wider straps, lower legholes, and skirts make me look larger and shorter. Swimsuits are a very personal decision; I respect whatever suit you put on or if you choose not to wear them at all. I believe all bodies are swimsuit bodies, all ages, all abilities, all sizes, all shapes. I've learned that no one is analyzing me at the pool or the beach, I am not that important so I am going to wear a suit that makes me feel confident, comfortable, strong, and a little bit sexy. The suits I recently ordered and whether they are hits or misses.
Two-Piece Swimsuits: Hits and Misses
I like a two-piece suit because it better fits my petite curvy body. I can buy one size for the top and another for the bottom, and I am more likely to find bra-sized tops to properly lift and support my large bust. As I mentioned recently in the WO2 Community, you don't need to stick to one brand when building a two-piece swimsuit. An Old Navy bottom will usually coordinate with a Lands' End top, a Swimsuits for All top will work with a Miraclesuit bottom, etc. And these days, no need to have a matched set. You can wear two different solid colors, a print with a solid, even mix and match patterns that coordinate with one another. I'm a big fan of Lands' End separates as they carry bra-sized tops and a variety of bottoms from scoop bikinis to boardshorts, control-tummy high-waist tops to swim skirts. Therefore, a tw0-piece suit may be a better fit for your body and your budget than a one-piece.
This is where I wanted to feel fierce. I wanted a top that would support my bust without having it all on display, a bottom that would go up to my belly button and have good coverage over my rear and would stay in place. I had luck in the past from Bare Necessities as they carry a variety of bra-sized swimwear brands and have a good shipping and return policy. What I ordered:
Sunsets Black Muse Bikini Top (36E) with Sunsets High Road Bikini Bottom (Large)
I had never worn swimwear from Sunsets before so I went with my regular size when shopping for swimsuits. As usual, the model is really slim, toned, with full breasts so the photo didn't help me with knowing how much coverage I would end up with on top or the bottom. I own a similar top (this one from Freya though in a different print) and love it (though it's now too big) so I hoped this bikini top would provide the same amount of coverage.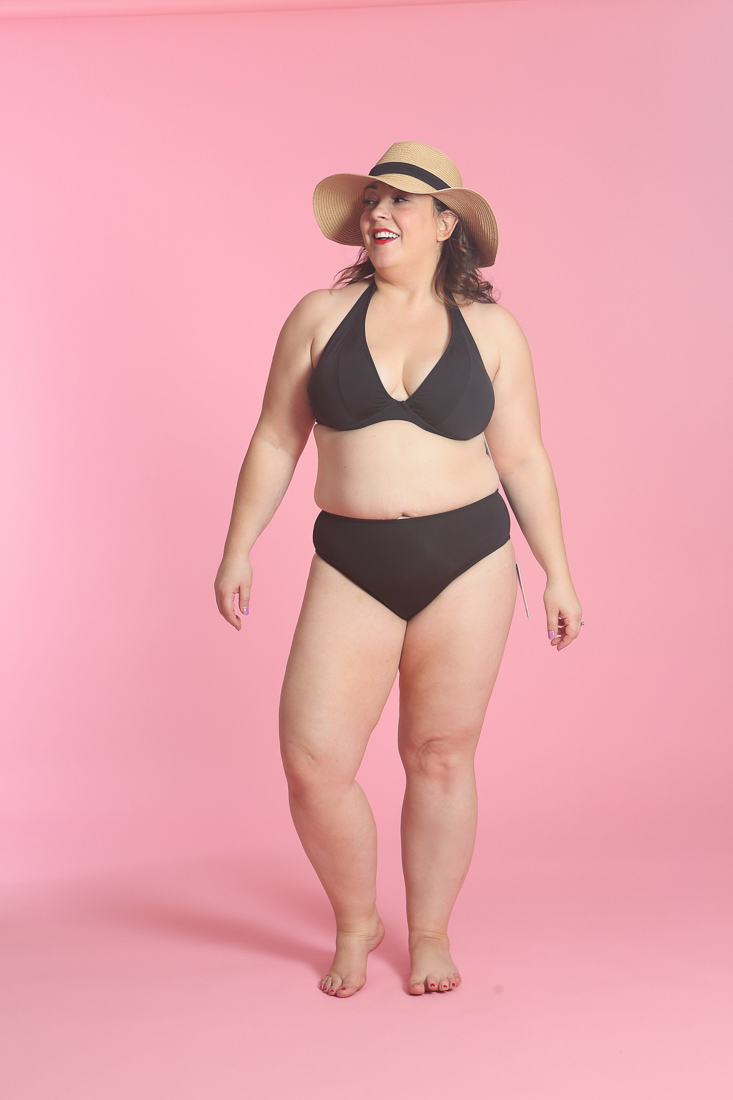 I have to say I like this top better now that I see the photos. I wished the cups had some padding in them so they offered a bit more support and coverage. I felt very boobalicious in this and didn't think I'd be comfortable wearing it to the neighborhood pool, though I'd totally rock it on a girls' getaway or weekend with the husband. This top is extremely well made, did offer support, a good amount of coverage, and was comfortable. A good introduction to the Sunsets brand, I would try them again but this for my current needs is a miss. This bikini top from Sunsets is $76 at Bare Necessities.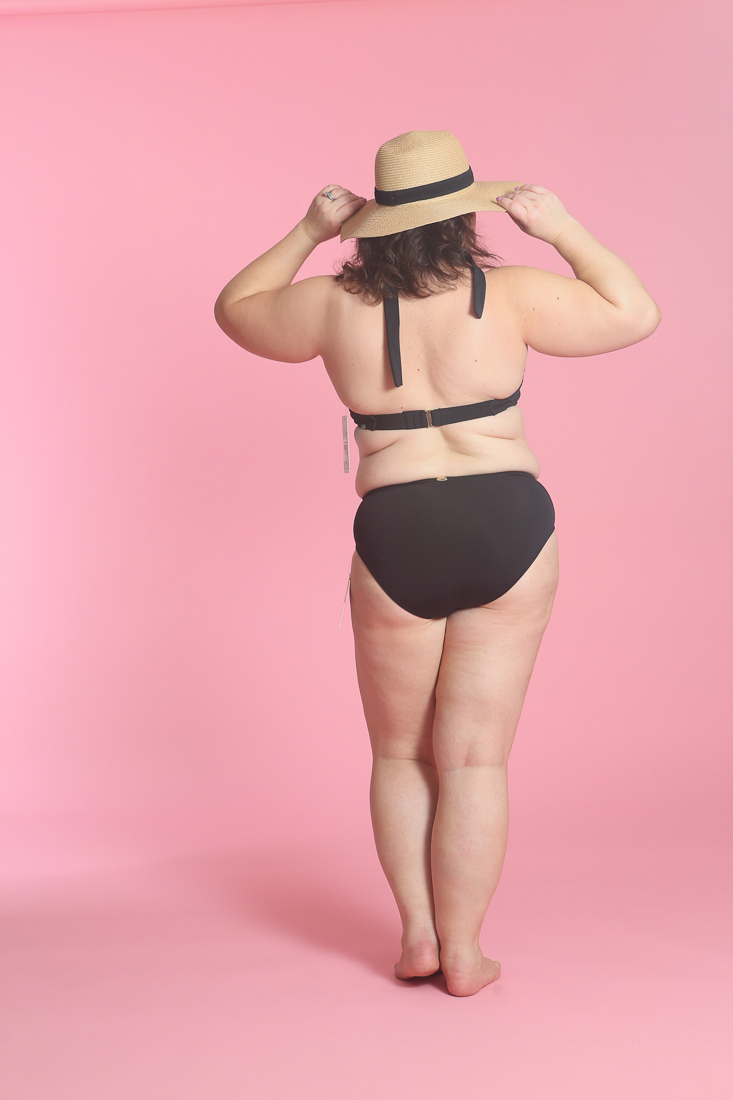 The bottom isn't anything remarkable. A size larger would have sagged when wet; I'm okay with a bit of "muffin top" because it's a given with my soft midsection. No control panel, no adjustable waistband, a very standard issue high-waist bikini bottom. As I mentioned above, there's no need to buy the matching bottom to a top; I just did because I currently do not own a black swimsuit bottom. This high-waist bottom from Sunsets is $52 at Bare Necessities.
Sunsets Iconic Twist Bandeau Bikini Top (36 E) with Sunsets The High Road Bikini Bottom (Large)
Since this was a unique color, I ordered the bottom to match the top. I love the idea of a strapless swimsuit, I think they're super chic and no pulling on the neck. However, strapless suits are rarely in cup sizes and if they are, they rarely stay up. This one looked promising being so solid and having removable straps.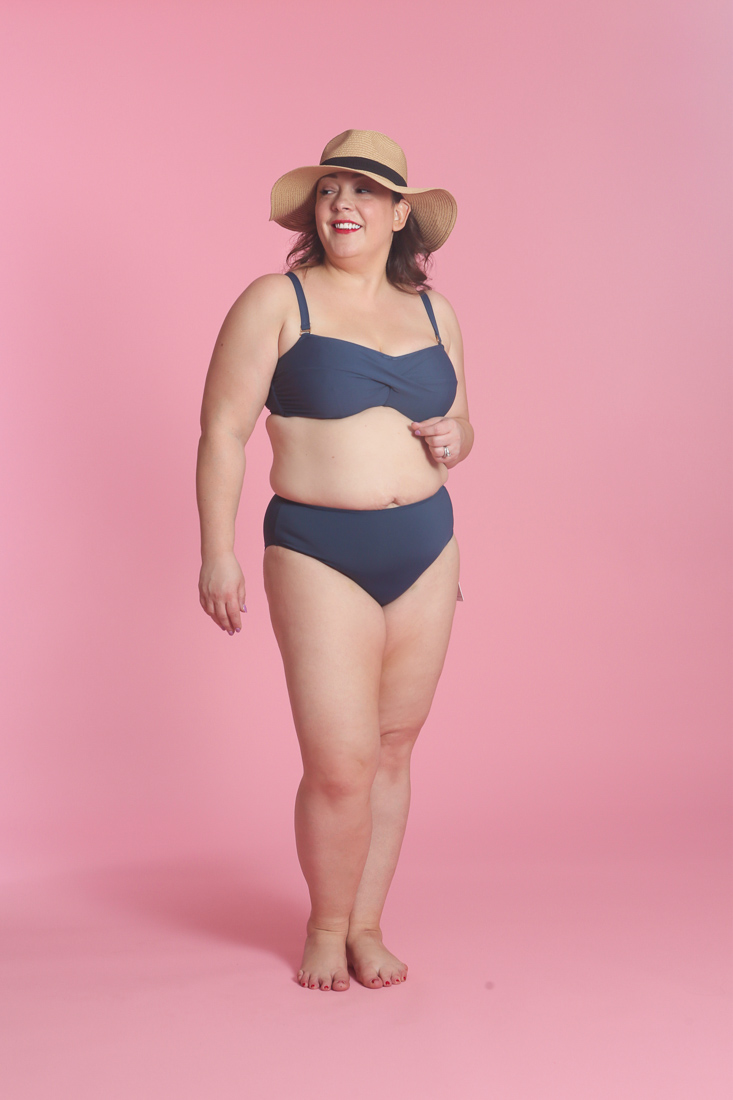 Unfortunately, this top was no match for my gravity-affected breasts; I couldn't wear it without the strap outside of a bit of sunbathing without moving. And as for the straps, they were struggling a bit to hold up the weight of my bust. This would be a great top for firmer breasts or a smaller cup size as like the other Sunsets top, it's well made, good quality, and good construction. Just not up for supporting this bust. I also love the color, it's a nice change from black and navy, very chic and timeless. This bikini top from Sunsets retails for $72 at Bare Necessities.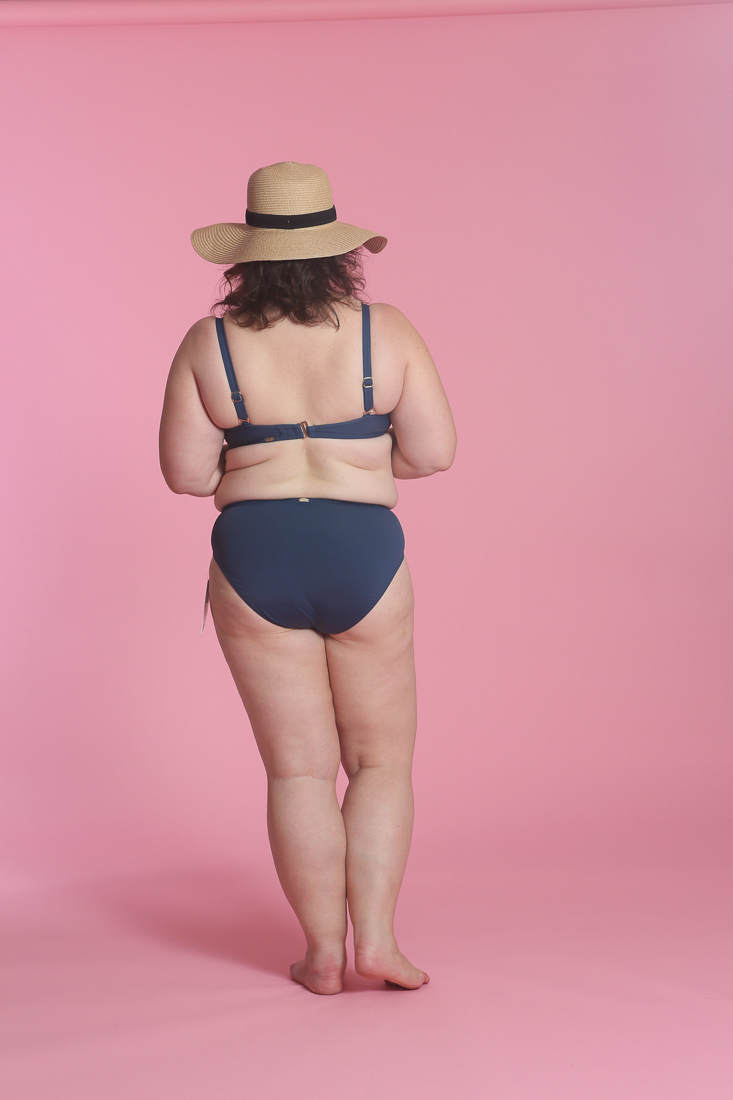 Same bottom as the one in black. However, this backview shows how this top is not up to withstand my boobs. The hook holding the swimsuit on is hanging by a thread and the straps are struggling as well. I wouldn't be able to shorten the straps much which is weird since on the site they advertise wearing these straps crossed in back and I'm not very long from shoulder to bust. This suit for me is a miss. As before, this bikini bottom from Sunsets retails for $52 at Bare Necessities.
Panache Jolee Halter Bikini Top (36 E)
I liked the bold floral of this bikini top and the black trim, making it easy to pair with any black swim bottom. I have had luck with Panache swimwear in the past and on the model, this top looked to have decent coverage. I am wearing it with the Sunsets bottom featured above.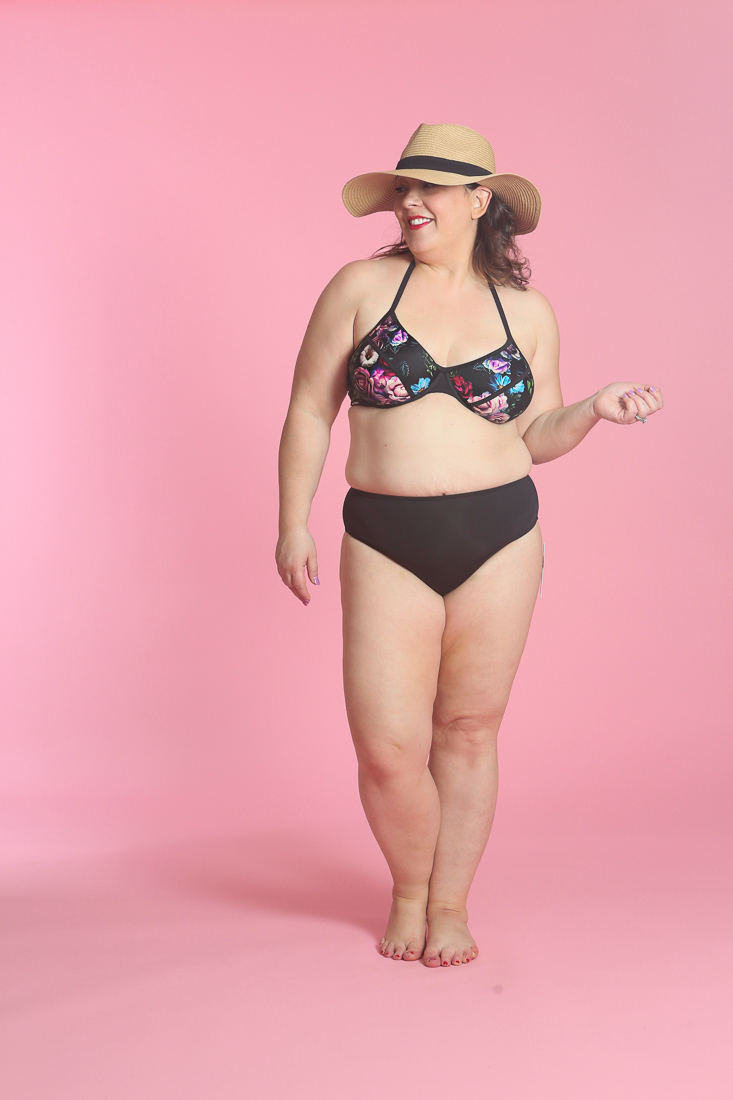 I would have totally rocked this suit a decade ago when I was a bit firmer and wearing suits to girlfriend getaways to the beach not the community pool with my kid. It fits great, it stays in place even if you jump around or dive into a pool or play in the surf. The print is super pretty, the black piping gives it a modern edge. It's just not enough coverage for my current comfort level. Miss. This Panache bikini top is on sale for $33.99 at Bare Necessities.
One-Piece Swimsuits: Hits and Misses
I love a one-piece for the majority of my time in a swimsuit. Hanging out at the community pool with my family, swimming a couple laps, enjoying a friend's backyard hot tub, using the sauna etc. at a day spa, playing in the ocean on beach vacations. A one-piece gets less notice; if it's a nice color and cute enough style no one takes a second glance. I have my tugless one-piece from Lands' End but was looking for something a bit more stylish and so I'd have two suits (one to wear while the other one is drying from the day prior).
Did you know that Soma carries swimwear? They have popular brands like Miraclesuit, Magicsuit, and Gottex but what makes shopping from them so great is the extensive customer reviews. Soma has loyal customers and they love to help others with their feedback. While it's early in swimsuit season so reviews are minimal at this time, they will keep rolling in and help you make the best decision on what swimwear is best for you. The focus on Soma's collection of swimwear is color, style, and support. Plenty of cup-sized options, styles with control panels, silhouette to whittle the waist, and provide coverage without feeling frumpy. Also, Soma gives you 60 days in their return policy, giving you plenty of time to deliberate before the pool opens Memorial Day weekend.
Profile by Gottex Pocket Full of Posies DD Cup One-Piece (12)
I loved the cheery colors, the ruching to camouflage the belly, the higher back, the adjustable straps on this swimsuit. While it's only a DD cup I knew it would likely work. For years I have had to deal with DD cup since most brands don't go above that size and they hold the girls in well, just with a bit more cleavage.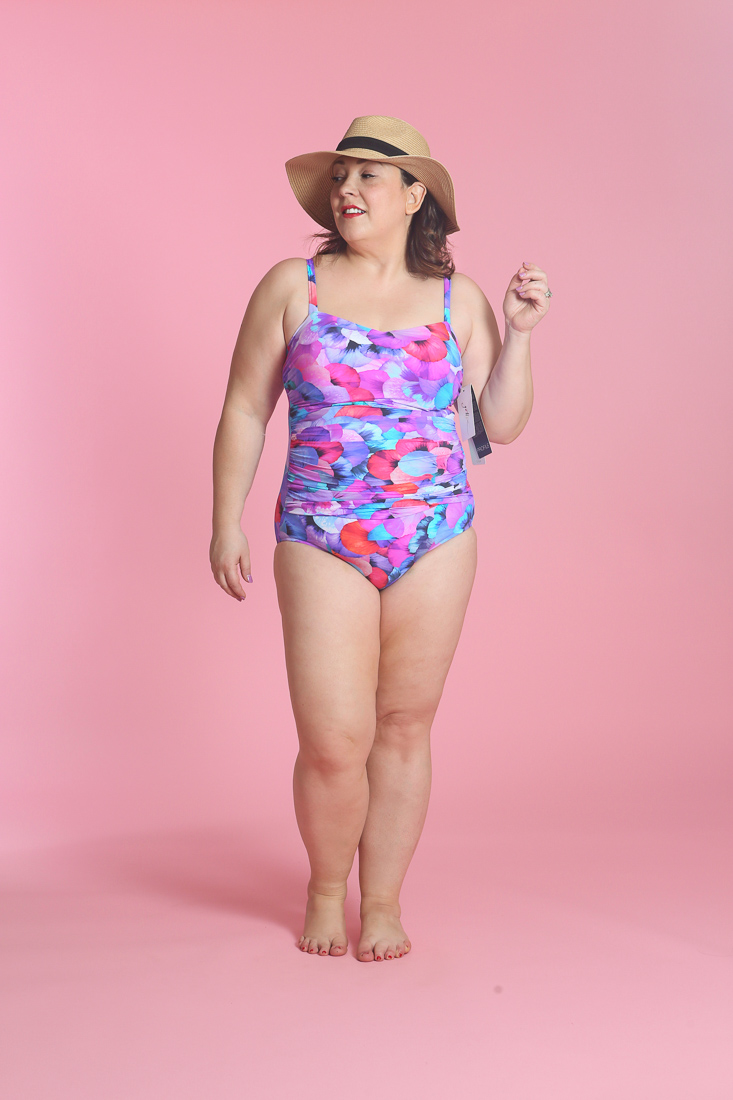 This suit was a workout to get on. There are like three layers in the bodice so while the suit isn't specifically one to suck you in, it does because of all the fabric. I wasn't about Photoshopping my body for these photos, but I did use a shine reducing tool to get rid of all the sweat on my face from trying to get this suit on!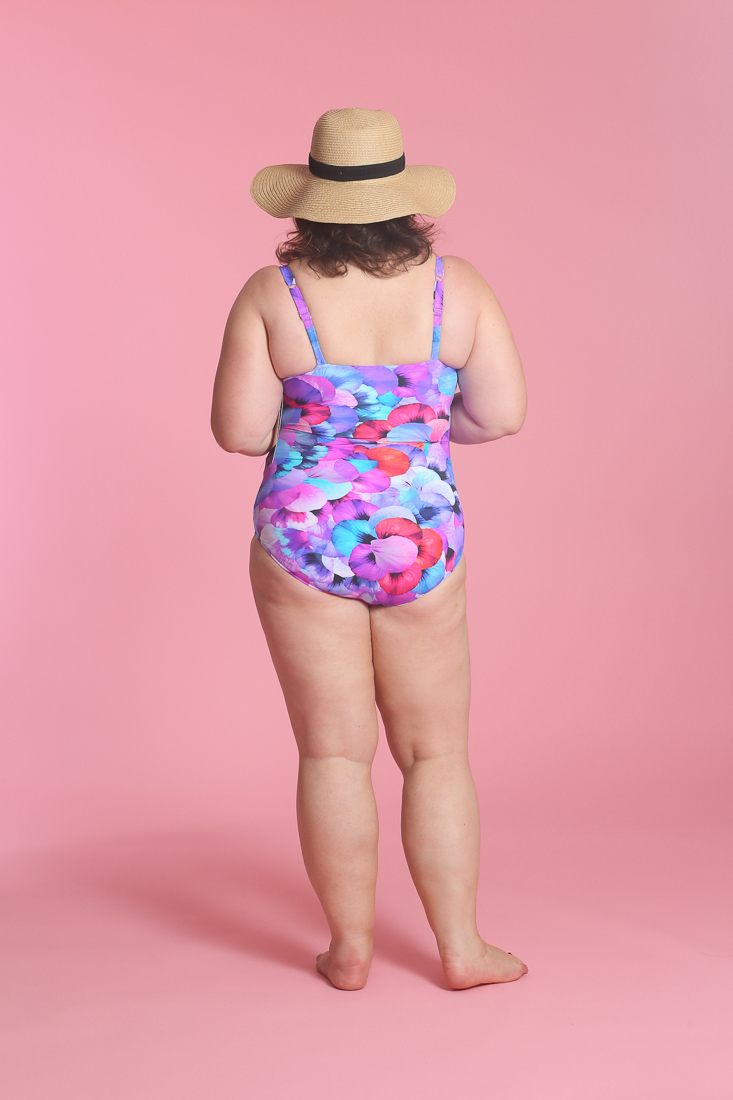 Even with all my wriggling, I would have done better with assistance on getting on the suit. You can see the back isn't fully pulled up and my back is pouring over the top. Also you can see ruching on the back… that's not ruching, that's my torso being a bit too short for this suit.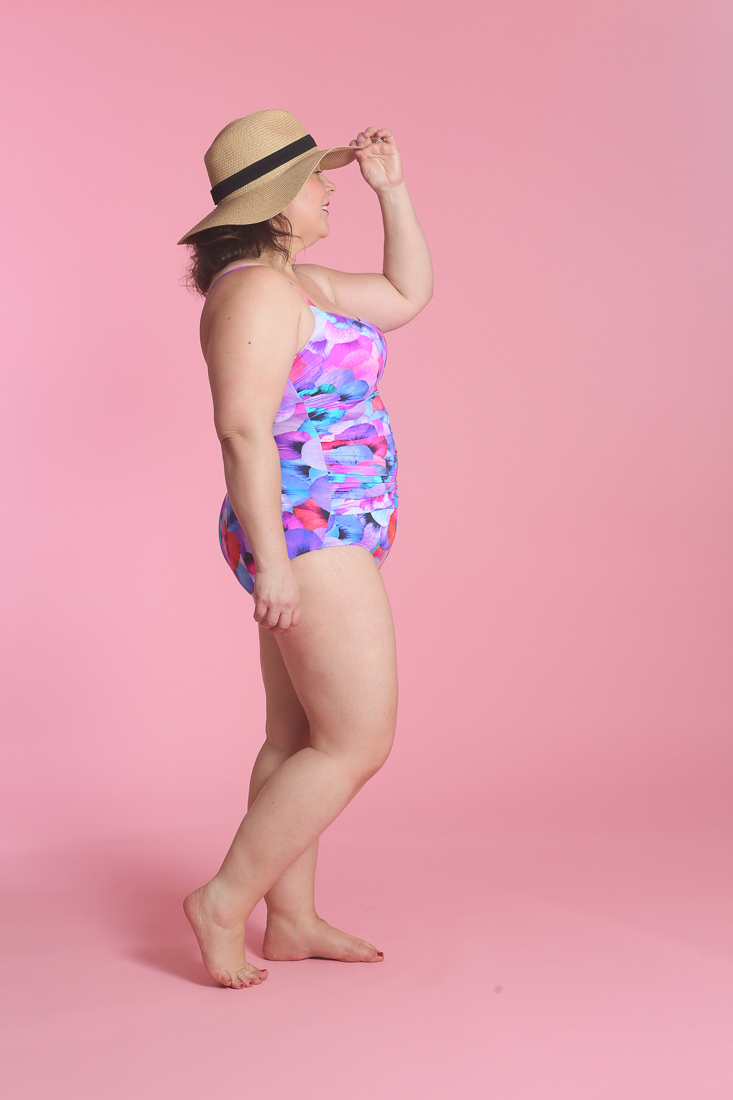 I could have gone up to a 14 and this suit would have been easier to fit, but I know once it got wet it would be too big and sag in the rear. Once on, this was quite comfortable. However, the shape of the bust is not the same shape as my bust and the ruching kept rolling up under my bust because the torso was too short so this was a miss for me. However, this is a great suit for someone a hair taller, and likely with a DD cup chest or smaller. This Gottex swimsuit retails for $128 at Soma. If you like the pattern but desire a tw0-piece, they also have this print in a bikini.
Magicsuit Bailey One-Piece (12)
This suit isn't designed for large busts, but I thought with the halter neckline it could work. I loved the white trim, it looked super modern and fresh while providing coverage, an optical illusion, and a control panel to slim the belly.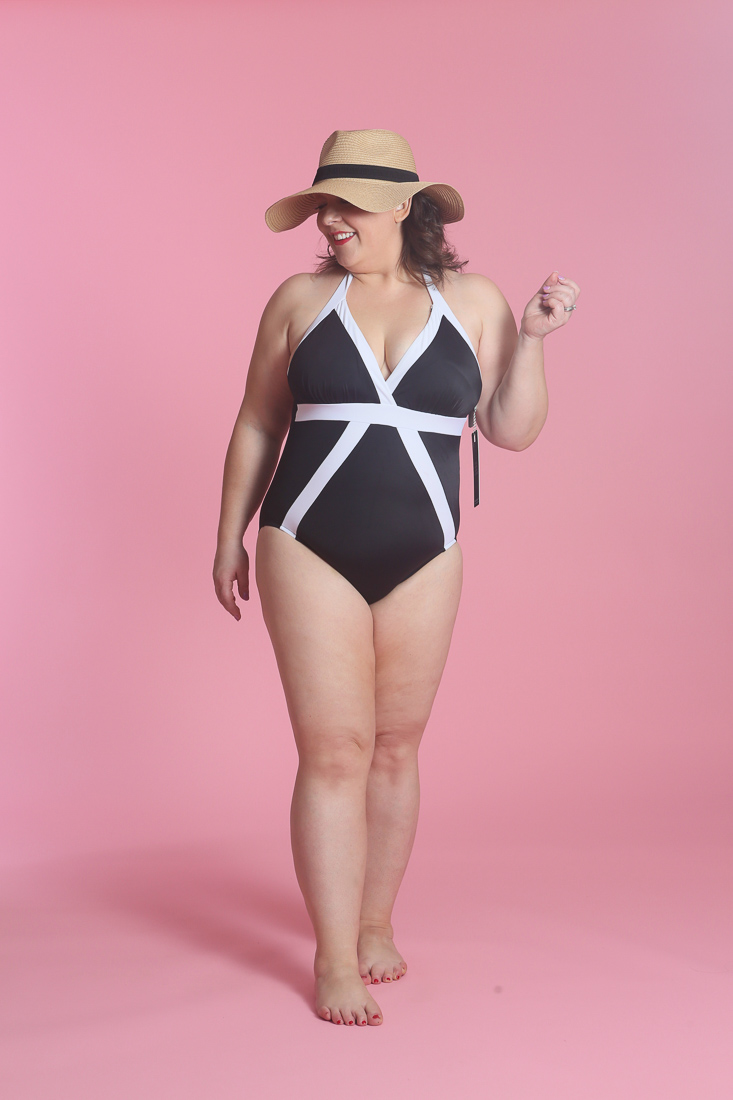 So yes, this suit does work for larger busts… but I think mine is just a bit too big. I think this would work up to a D cup. I was surprised by how the white lines didn't work as an optical illusion in a positive way by creating an hourglass shape. Instead, it seemed to remove any curve I had at all.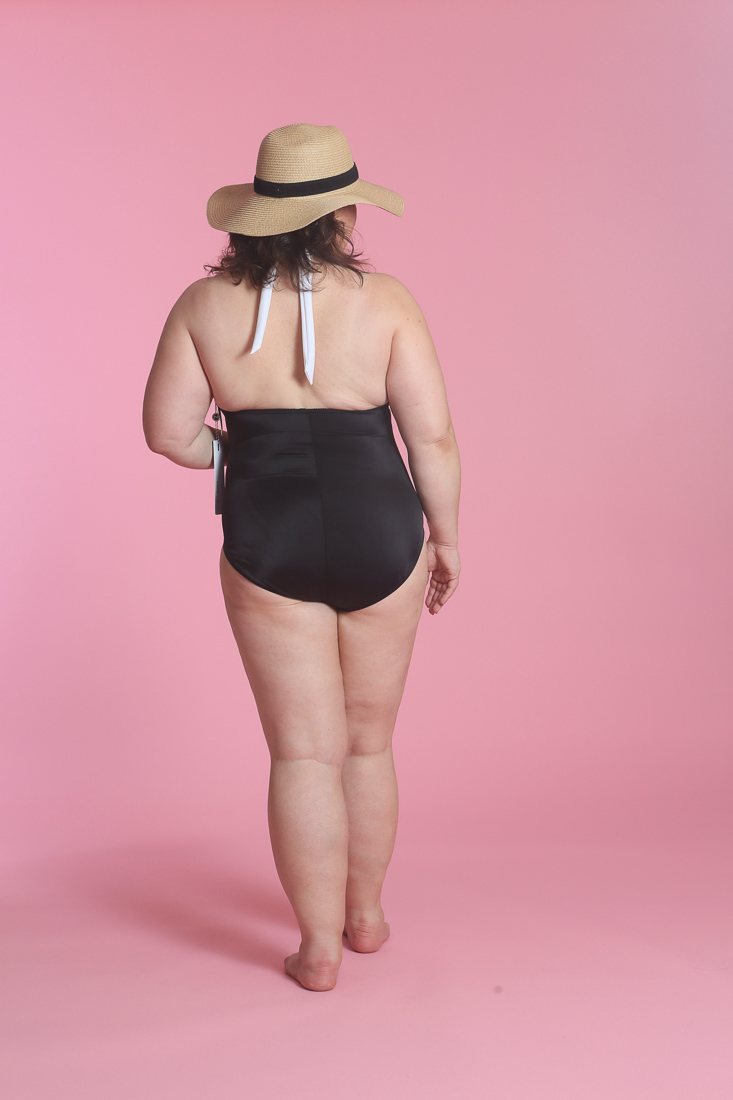 This isn't a bad suit, in fact I think it would be super cute on someone with a different figure. Someone who carries their weight in their lower belly more than all over, who has a smaller bust… it's a good looking suit that could be quite lovely on the right frame. Just for me, it is a miss. This Magicsuit one-piece swimsuit retails for $154 at Soma; if you're not a fan of a halter neckline, Soma also carries this suit from Miraclesuit that is very similar but with traditional straps.
Miraclesuit Oceanus DD Cup One-Piece Suit (12)
Okay, I'll be real here. This suit did not appeal to me at ALL. However, I knew I'd be doing a review online and I know this type of suit is super popular so I figured I'd order it, review it, admit I don't like it, and send it back.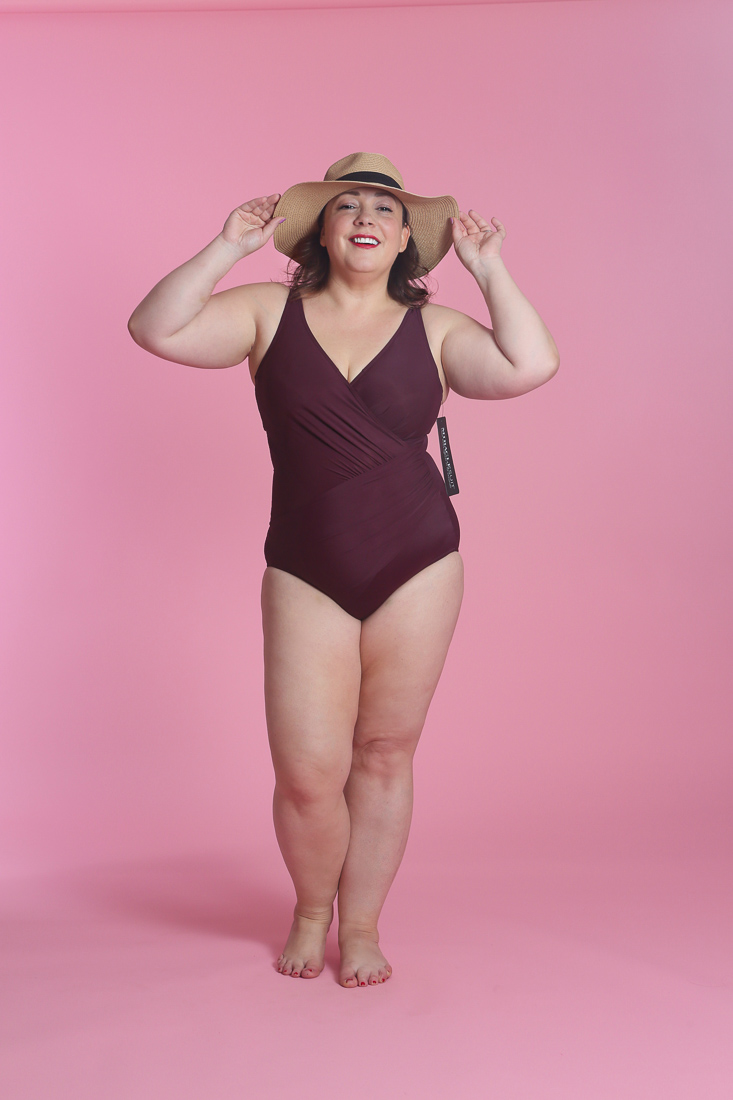 So… I like this suit. I see why it is so popular. It makes me feel like Betty Grable, like Marilyn Monroe. It's no tighter than the Gottex suit; yes I did break a sweat putting it on but it was far easier to fully get on and adjust solo and it's made to suck in and make you appear smaller. And the color that online looked meh is quite lovely in person.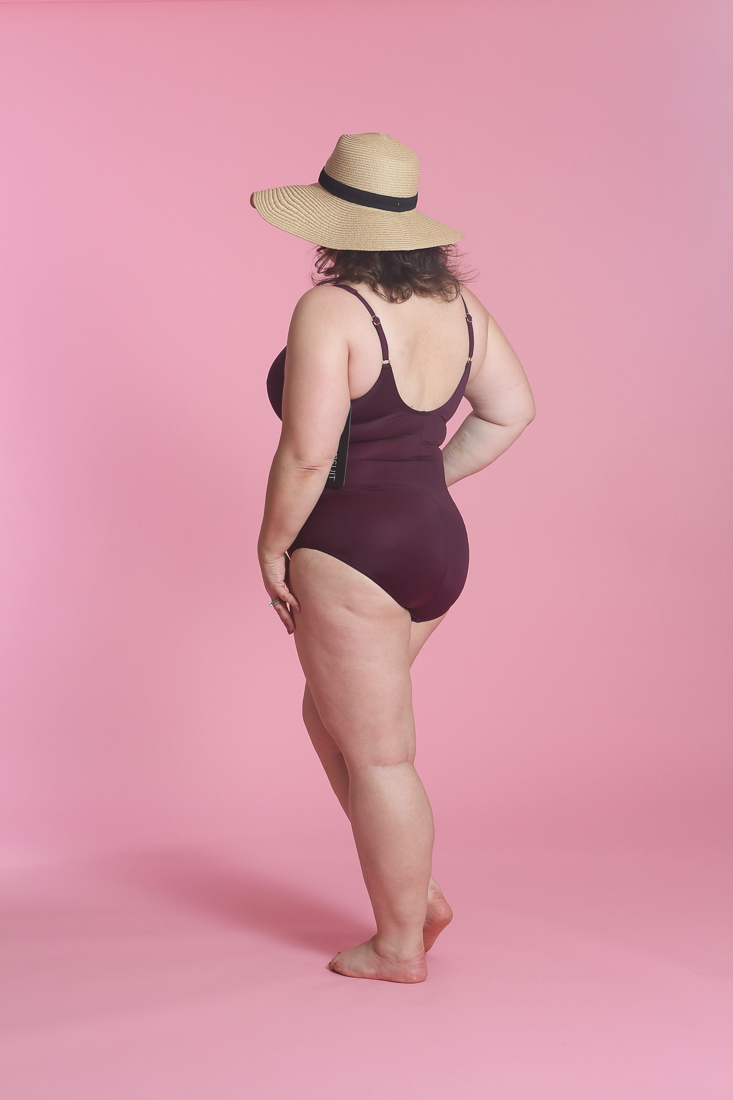 Rarely does a one-piece of this shape have adjustable straps. I usually end up having straps slide down or the neckline too low. This one has adjustable straps and helped me get a custom fit. And I see the curved back is far kinder to a soft squishy back than a straight line; this one made my back view look the best.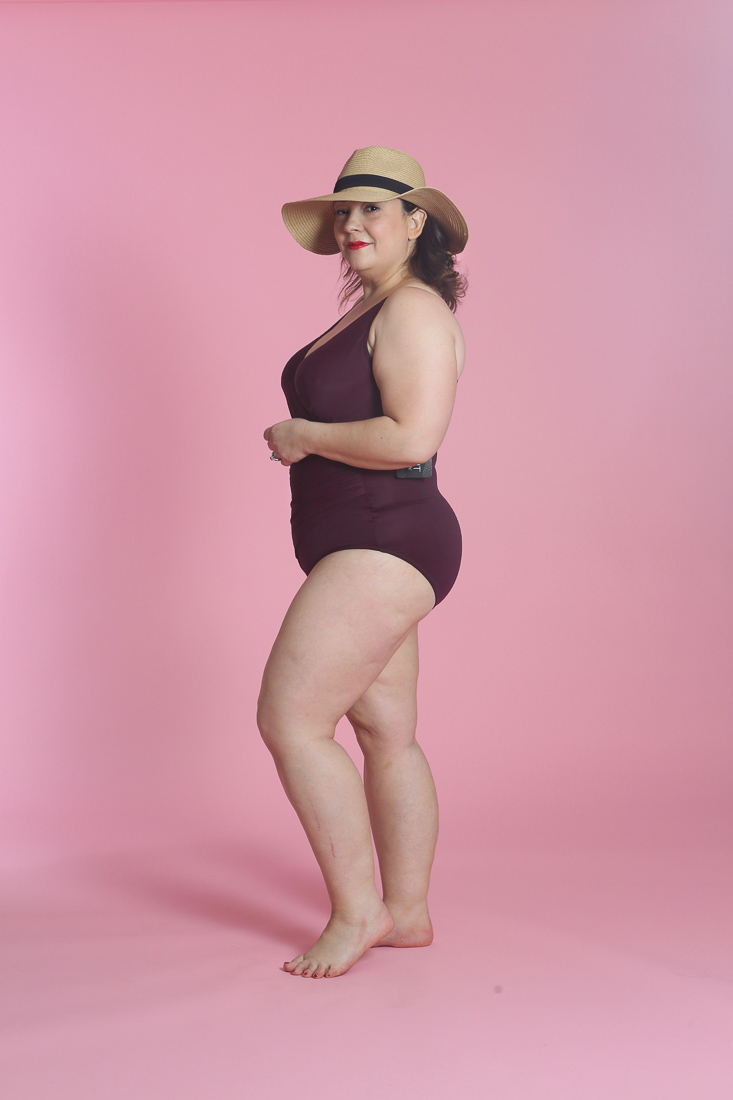 No armpit fat pouring out, good coverage at the legholes, plenty of room for my bust, and a slimming panel in the tummy that doesn't make me feel like a stuffed sausage but does suck me in a bit. Color me impressed! This one-piece swimsuit from Miraclesuit retails for $170 at Soma. If you like the idea of this suit but want a different color or have a smaller bust, Soma has you with a good variety of patterns and colors of the Oceanus.
Lands' End DDD-Cup Tugless One-Piece Swimsuit Soft Cup (12 No Tummy Control)
I shared this swimsuit in this post, but I felt it deserved a proper review where you could see it not covered up by a robe. Lands' End has been creating their Tugless One-Piece Swimsuit for years and it's a classic. It keeps its color and shape, it comes in a fantastic variety of sizes, lengths, cup sizes, and colors and has options for tummy control. This is not my first Lands' End Tugless and likely won't be my last.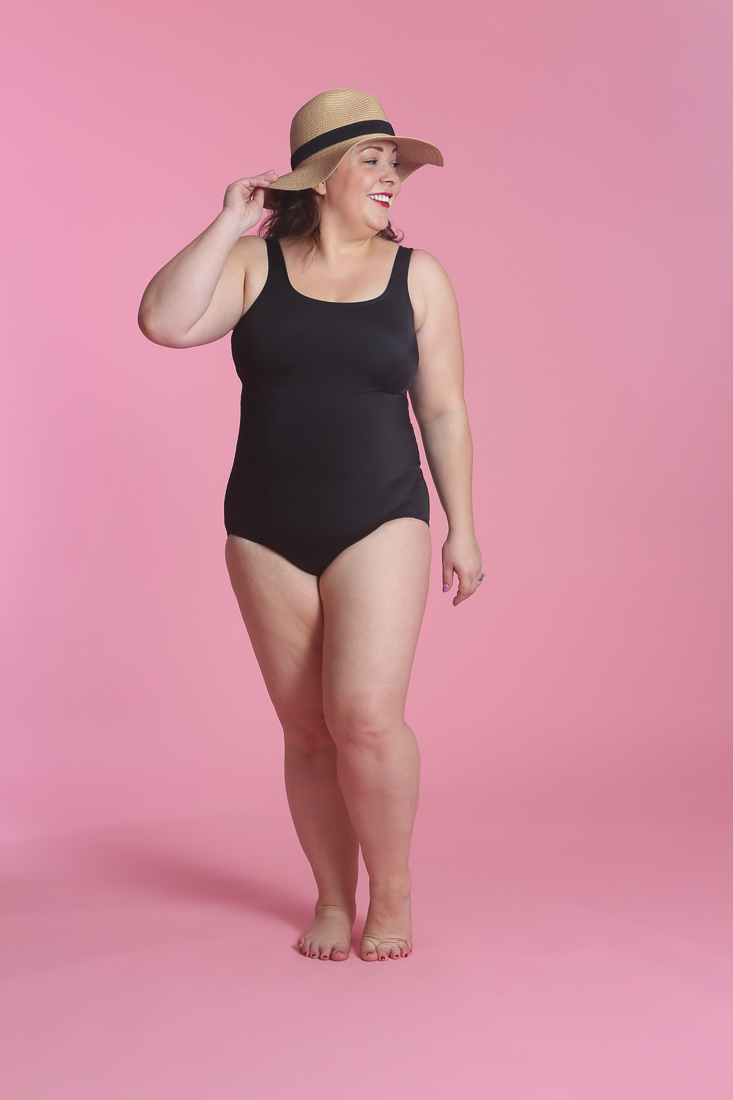 This is a suit you can wear to water aerobics, but also a backyard pool party. Take it on a cruise and wear it snorkeling and also on the veranda with a cotton voile caftan or pareo. It's the kind of suit you can wear with an old denim shirt open over white shorts and not look half-naked when perusing the boardwalk. If you desire more coverage, it's a style that won't look strange paired with board shorts. It's not memorable at all, and I know for many, that is their utmost desire with a suit. Classic, simple, elegant, yet functional.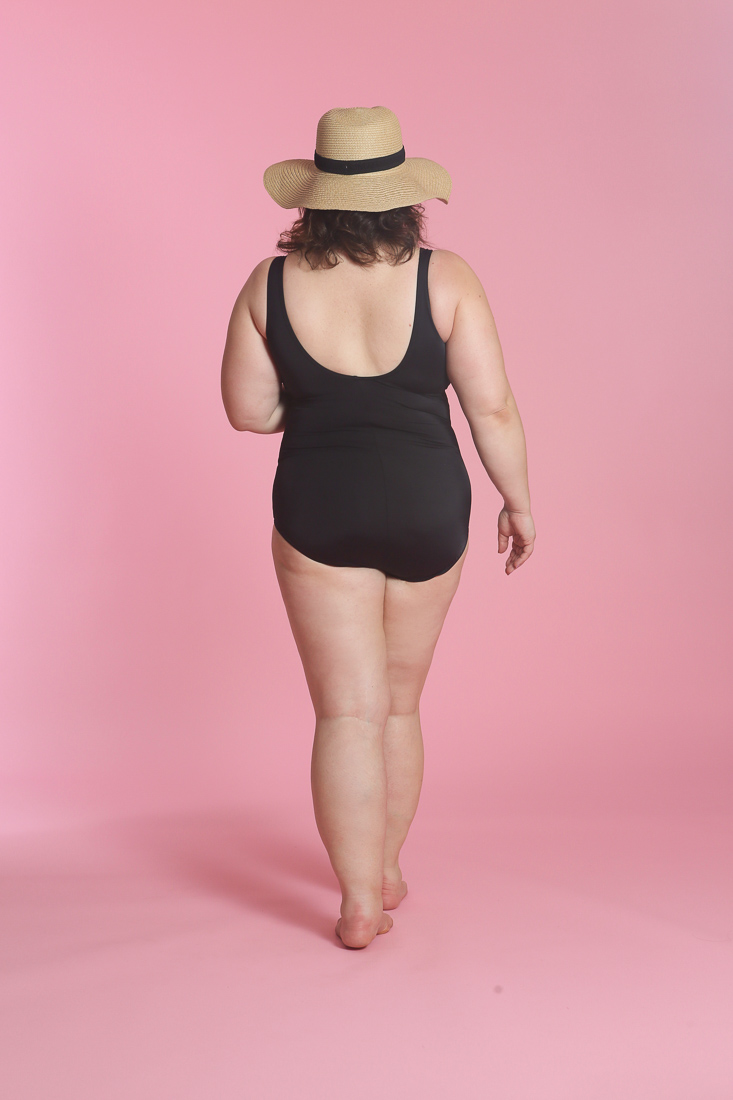 Again, a suit with a curved back is far more soft curves friendly than one with a straight back. A good height – not frumpy but high enough to keep everything comfortable and contained.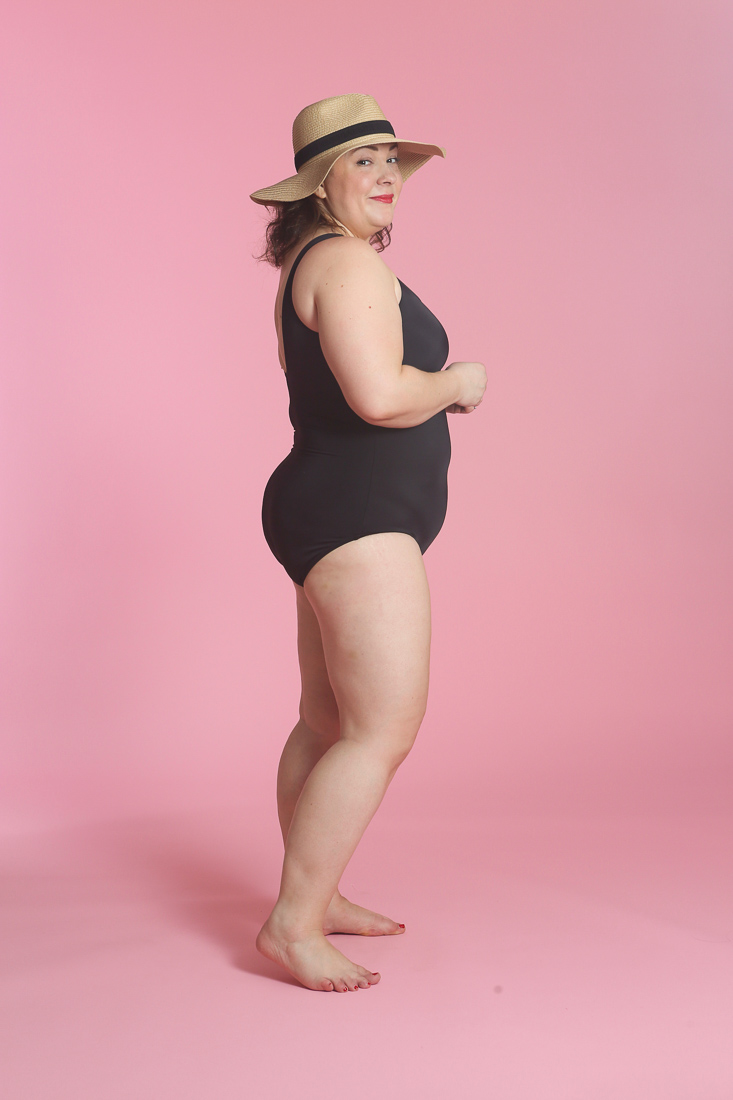 This is the version without the tummy control; I have never purchased the one with it from Lands' End so I don't know how it differs in regard to fit and construction. While it clearly doesn't suck me in, it's thick enough of a suit that it doesn't all hang out (no chance to see my belly button through the suit, which happens quite easily with many swimsuits). This is a great basic, get her done kind of suit that is my go-to when going on travel or water activities. I am glad to now have the Miraclesuit as well so I have a more stylish alternative. Oh, the best part of this suit? The price. The Tugless is currently less than $30 at Lands' End thanks to one of their many promotions. Click here to see all the Lands' End Tugless Suit options.
Shop the Suits Featured in this Post:

Suits I've Owned and Loved that Didn't Make the Shoot
Tips for Shopping for Swimwear
Size down. If you usually wear a 16, try a swimsuit in a 14. Swimsuits get bigger when they get wet. Also, the more you wear it, it gets drenched in chlorine and saltwater, the more the suit will grow. It may be more difficult to get on, but you're likely to have a better fit once wet and throughout the season.
Don't base fit on the model photo. Even if the model is plus sized or your size, she isn't necessarily your height, your age, your fitness level. Look for sites that provide extensive customer reviews and look for reviews that sound more like you (your suit size, bust size, height, or age).
Order as much as you can afford at the time. I know that returns are a problem these days, but ordering one swimsuit and thinking it's going to work is just going to lead to disappointment and frustration. I couldn't afford to order more than I shared here or I would have. Being able to try on a variety of silhouettes will help you find a good fit for your unique body. Just be sure to order from a place with a good shipping and return policy. My favorite places for shopping online for swimwear are:
And stay tuned, since this shoot I received two more suits and placed and order for a lower-priced retailer. I know swimsuit shopping is difficult; I hope these reviews can narrow down your choices and help you have fun in the sun this summer!