This article may contain affiliate links; if you click on a shopping link and make a purchase I may receive a commission. As an Amazon Associate, I earn from qualifying purchases.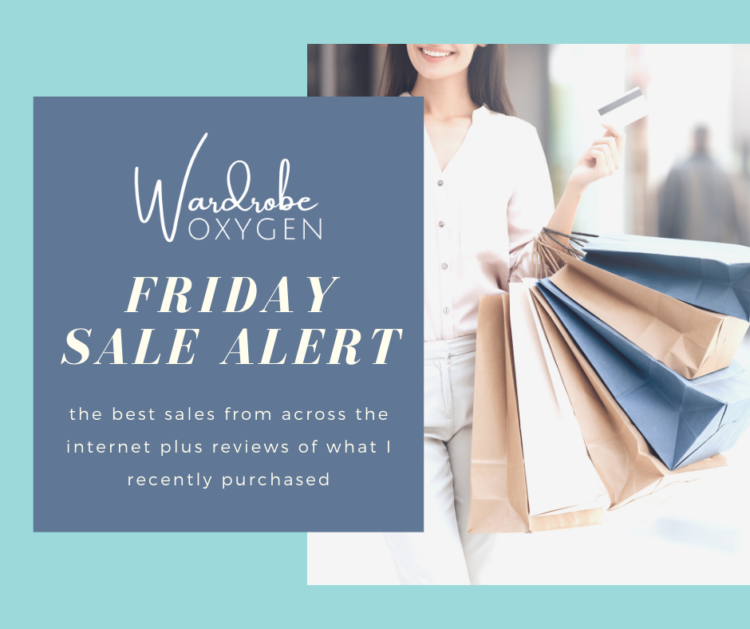 I've added a new feature to Friday Sale Alert: What I Bought and What I Think. I've bought a couple things lately and would love to share my thoughts in case you too are considering them. Good, bad, I'll share the details and if it's good stay tuned as I hope to photograph it for a more detailed review!
Friday Sale Alert
Lane Bryant: 40% off Clothing, Sleep & Lounge and $29.50 Bras at Cacique!
I don't think everyone realizes that Lane Bryant starts at size 10/12 and their intimates brand Cacique starts at size 0/2 or a 32A. It's a great brand especially for bras and undies with good fit and design at great prices (see my review of the best bras for large busts at Cacique). They also are far from boring with fabulous prints and details. I know less about their fashion; I've had their jeans and loved them but besides the occasional tee or sweater that's all I know though you readers say quality is mixed and customer reviews on the site help to determine purchases and fit. I focus on summer dresses as that is an item I find can do at a variety of quality levels since they are great with a pair of slipshorts and some sandals for everything from hanging out on the weekend to attending a social event. Summer casual dresses usually take a beating and I feel better spending less knowing the ones I love, no matter the quality, may not last more than one season.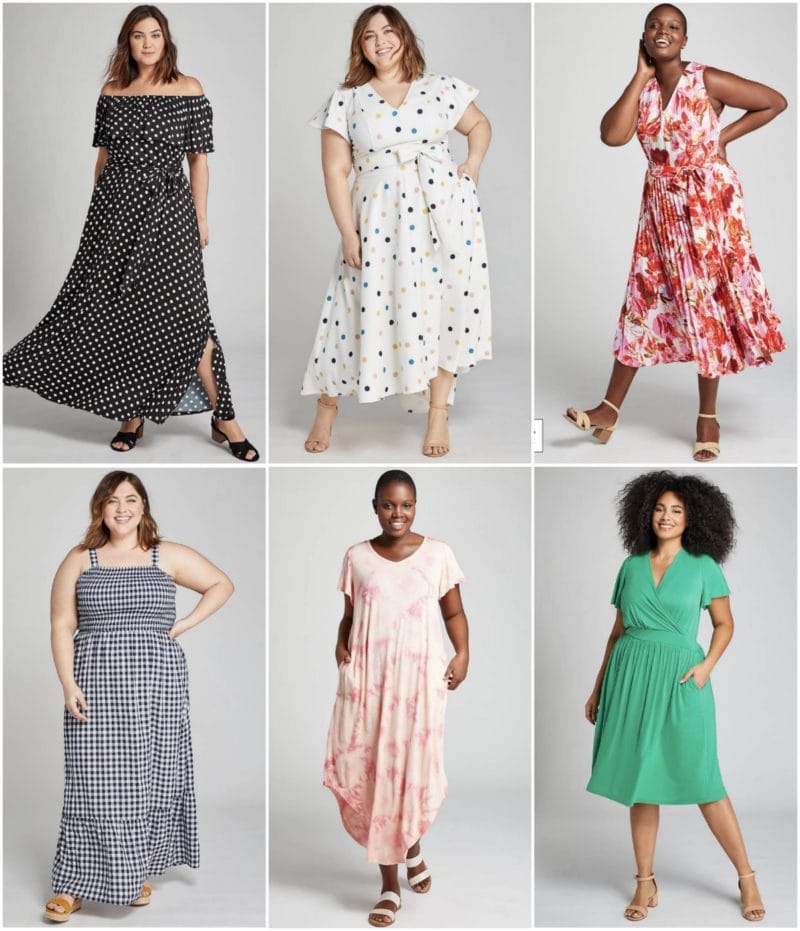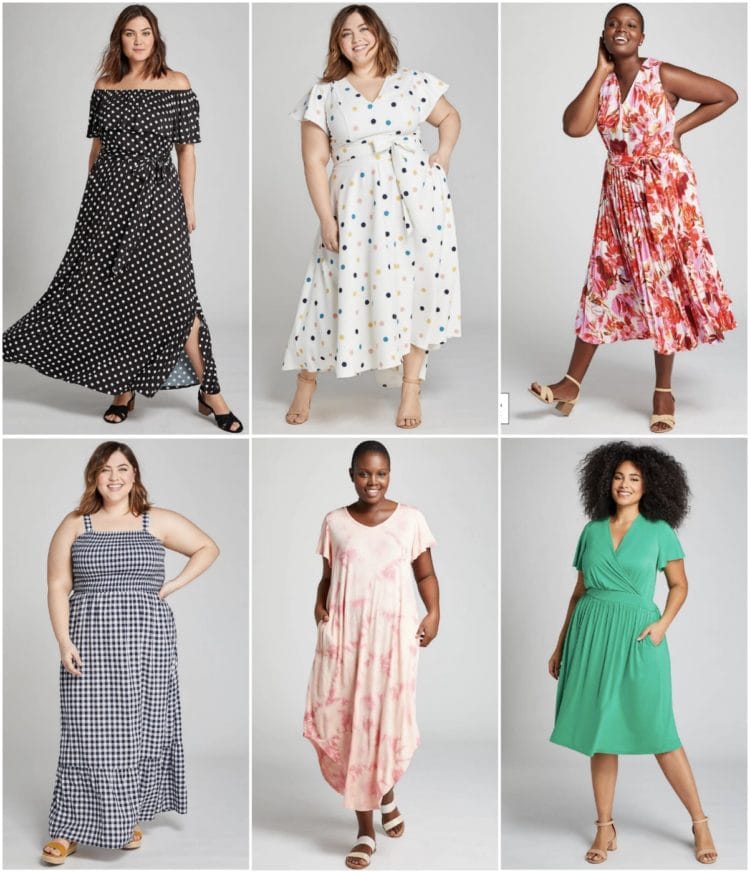 polka dots are hot this season! (available in petite and two prints) | a pretty dress named after Lane Bryant's founder (also available in petite) | that perfect dress for most any occasion with a change of shoes and jewelry | the kind of dress I wear all summer long (also available in petite) | how to look cute when sheltering in place and look great out and about with a denim jacket and trendy sneakers (hello pockets!) | from work to wedding to when you're at home (available in petite and two colors)
Ann Taylor: 70% off One Item and 50% off Most Everything Else!
Use promo code FORMOM through 5/9 to save 70% off your first item and 50% off most everything else at Ann Taylor (items will be noted if not included). They are also offering free shipping on orders of $49 and more and free returns. Ann Taylor has some of their items go up to XXL and an 18 and has lengths. The items that caught my eye: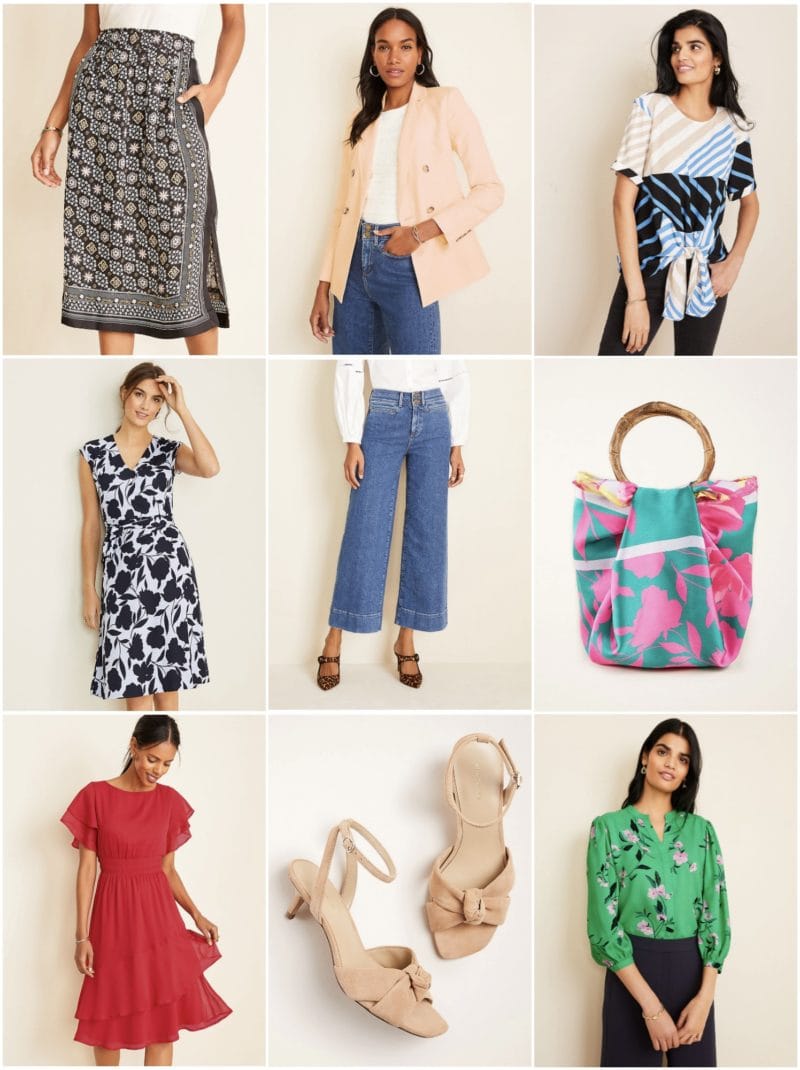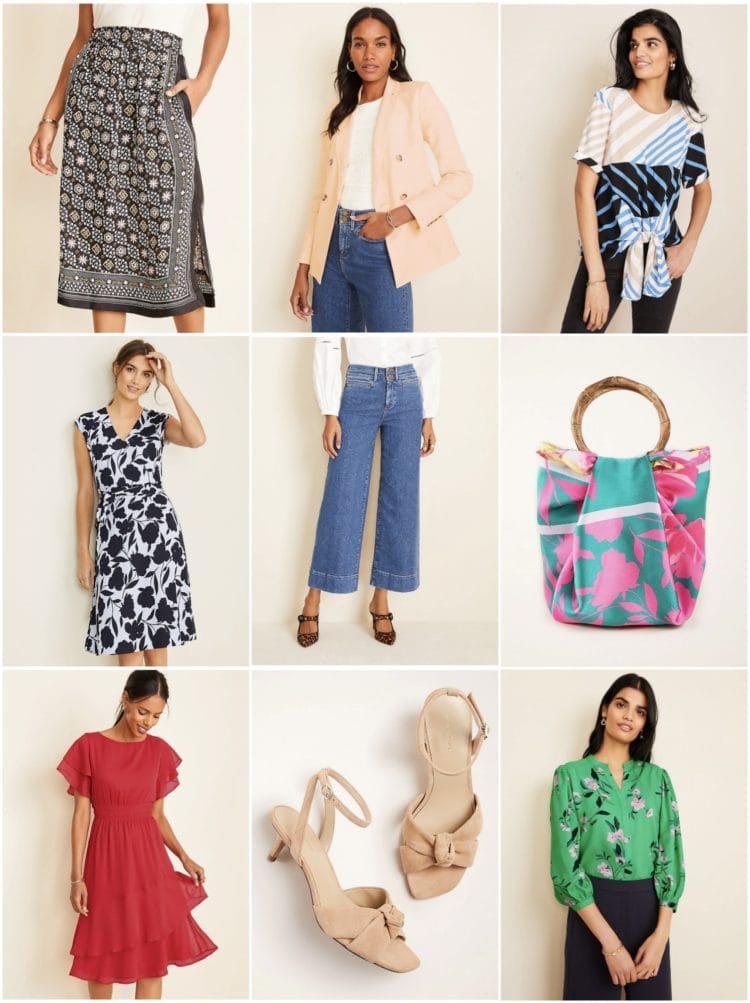 a skirt that looks chic enough for the office but perfect now with a t-shirt and sandals | linen blazer in one of the colors of the season | this washable blouse would look great with black, white, khaki, denim, and more | I've owned almost this same matte jersey wrap dress from AT and it's the perfect summer go-to | I love the wash and cut of these jeans | how darling is this bag? | this dress makes me want to dance all night | the must-have spring and summer shoe (two colors) | here's the prettiest "Zoom blouse"
Dermstore: $80 Suncare Kit for only $35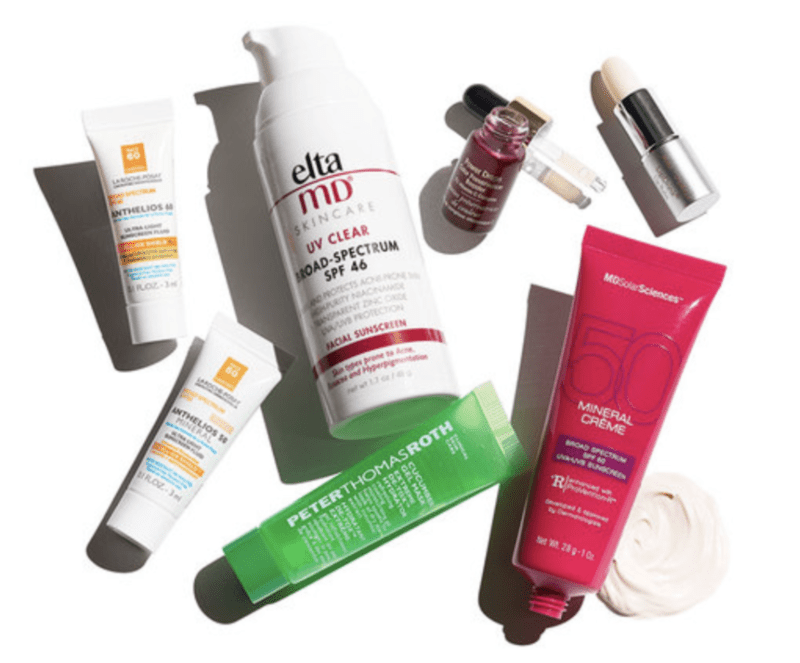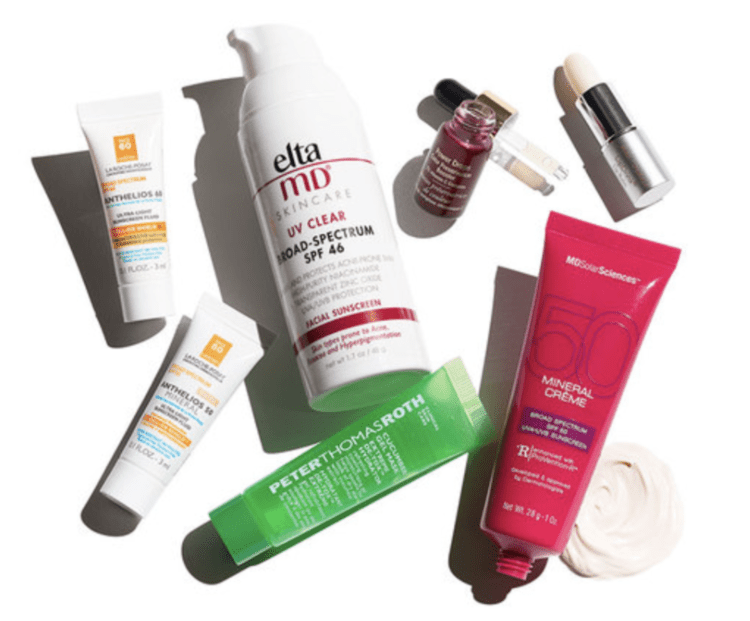 This is a good one. While we have been hanging out at home, we need to get outside once in a while and SIP restrictions are lifting in various states. Be prepared with this collection Dermstore is offering in partnership with the Skin Cancer Foundation for only $35. The hero of this kit is the full size EltaMD® UV Clear Broad-Spectrum SPF 46 but you'll also get substantially-sized products from La Roche-Posay, MDSolarSciences™, jane iredale, Peter Thomas Roth, and more. For those unfamiliar with Dermstore, it's sort of like a Sephora but more focused on skincare and offering high-end brands next to drugstore brands while also offering dermatologist-sold products you can't find elsewhere like SkinMedica. Like Sephora, they have a rewards program, free samples and gifts with purchase, extensive customer reviews, free shipping, and returns are free if you are cool with store credit for future purchases (they take returns for money back too). Unlike Sephora, Dermstore has regular promotions; it's worth it to get on their email list because they'll let you know about cool deals like this suncare kit.
Boden: 15% off Plus Free Shipping and Returns
If you have been hesitant to try Boden, which goes up to size 20 and has limited styles in petite and tall, now is the time. They don't do sales often and they have some amazing new arrivals!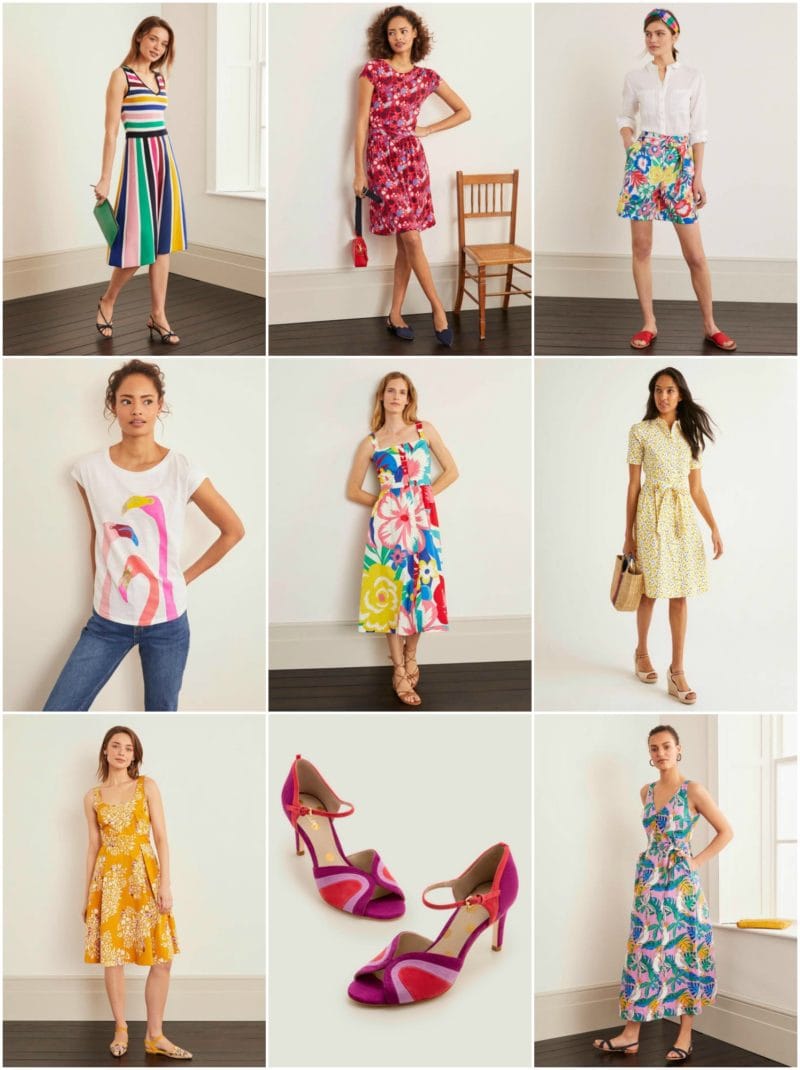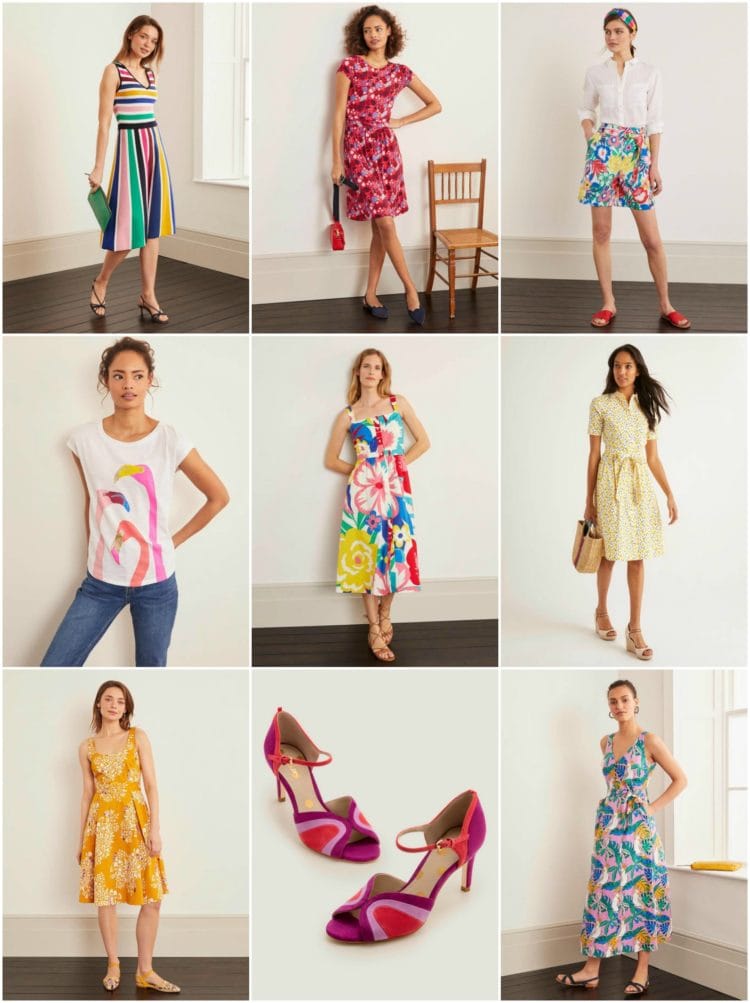 cheery striped knit dress | I think this dress is perfect for now, comes in a variety of colors and prints | I think I need these shorts in my life (other colors available) | for those looking for cool graphic tees, these are a great shape, fabric, and I love the variety of prints | the must-have summer dress (comes in two prints) | crisp cotton (with a hint of stretch) shirtdress (several solids and prints available and hello pockets!) | classic and chic cotton fit and flare with pockets | these shoes are like a work of art making them eternally chic (two colors to choose from) | linen maxi dress (two prints to choose from)
Other Great Sales this Weekend
What I Bought and What I Think
I mentioned in previous posts that I bought this cotton maxi dress from J. Crew. I ordered a size 14, my standard size in the brand, though I'd prefer a petite if it was available. The dress arrived earlier this week. The print is just as bright and cheery as it is online. The straps are adjustable with buttons in the back and three buttonholes on the straps. The straps can be crossed or straight. The dress has pockets, a must for me. The dress is machine washable but will need to be ironed or steamed to get it back to its original crisp glory (though it could look pretty in a boho way if left rumpled). I have not washed it yet. The straps for me are still too long, even when on the shortest setting and crossed in back. I will be pinning them to the right length and once it's safe to do so, will be taking to the tailor to add additional buttonholes on the straps. I like the ability to switch between cross and straight straps so I don't want them permanently sewn to one length. The dress either needs a demi or balconette bra or a strapless as the neckline is straight and my standard bra, while it hides under the straps and in back, shows a bit where the straps meet the dress in the front. Spoiler alert, I have an upcoming post with Cacique where I will be reviewing bras I think will be good for summer and if it's in stock, I'll be reviewing this one which looks like a perfect summer strapless bra and likely would be perfect for this dress. If you are comfortable going bra-less, especially at home, this dress is double-layer on top with darts and an under-bust seam so it can work without; I am comfortable going that way at home, even if I'm out in the yard and someone walks past on the sidewalk or a delivery person leaves an item at our gate. As for length, it is a true maxi on me, brushing the tops of my feet. Not too long to wear with my flattest sandals and a length that can glam up nicely.
If you have ordered from Old Navy lately, you know the orders are coming slowly, usually one item at a time. I ordered this tank in a blue tie-dye and the matching leggings about two weeks ago, the top arrived this week. Wow, this thing is awful on me. First of all, it came from a store so it had a sticker on the pricetag claiming it's $5.99 yet I paid $19.99 for it. Secondly, this thing is ginormous. I wondered if it was mis-sized but the label sewn into the top matches the hangtag – Large. I think it fits more like XXL. I know it's not supposed to be tight and you can tie the sides to create a blouson top, but when I tie it like that it doesn't look blouson, it looks like I tried to hack a too-big shirt by tying the sides, and it's not tight enough because it's so big so it slides down and blouses out right at my lower belly. It's so weird because reviews are raving, some even say too small. I only found one other review saying it's too big. The only plus is the tie-dye print is beautiful in person. Nothing else from the order has arrived; I don't want to wish other items to also be fails but I don't want to have to mail back this single top and there is no way to redeem it.
Shop my Sale Picks: