This article may contain affiliate links; if you click on a shopping link and make a purchase I may receive a commission. As an Amazon Associate, I earn from qualifying purchases. 
I just wish that more dresses came with sleeves, any kind of sleeves. It's annoying trying to find the perfect cardigan or jacket to wear on top. And fully bare arms are a no-no in my workplace.

I hate my arms and it seems every summer dress is sleeveless. I need ideas for work dresses with sleeves.

My job's dress code says sleeves are mandatory, even if it's 100 degrees outside. I keep a black cardigan on my chair year-round but would love some suggestions on how to make outfits for summer that have sleeves. Thanks Allie!

Do short sleeved blazers exist? I am in sales and wish I had suits for the summer. I travel a lot and it's not comfortable being in and out of cars and planes and trains in a heavy suit, but don't want to interact with my clients in just the tank under my suit jacket.
While at my office I can get away with sleeveless dresses and tops for summer, that doesn't mean I want to all the time, especially when I am meeting with clients. While at first glance it may seem that all summer apparel is sleeveless and bare, there are some really great options out there that are professional yet stylish and far more comfortable for the warmer months.
Short-sleeved Blazers
They DO exist, and they can be quite stylish and on-trend.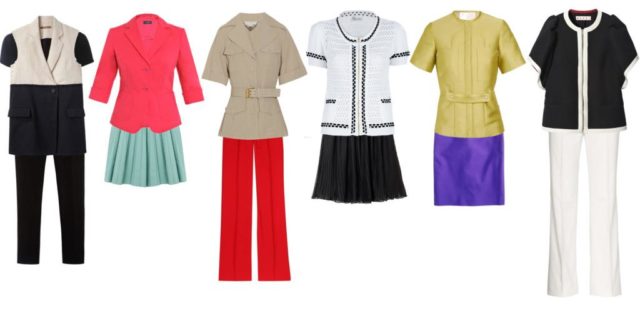 The safari look always seems to be en vogue and each season I have been able to find short-sleeved safari and cargo jackets. This belted safari jacket from The Limited would look with either trousers or a pencil skirt for the office, but could also be dressed down with jeans or white Bermudas for the weekend. This elbow-sleeve linen jacket from White House Black Market is lightweight and would look polished with a skirt or pair of wider-leg trousers.
As for classically-styled blazers, they do come in shorter sleeves. Again, The Limited is a place to go for budget-summer blazers – this gray short-sleeve blazer makes a matched suit with their coordinating pants or skirt yet would be equally chic with white or even brightly-colored trousers; their Shawl Collar Jacket can also be made a suit with coordinating pants or skirts, and would look lovely with a softly pleated skirt or pair of cropped trousers in a cheerful hue. Heads up – right now The Limited is having a sale on many of their suiting separates!
Short-sleeved matched suits are often available this time of year, and a great way to get more bang for your buck while stressing less on coordinating separates. When I think of stylish yet wallet-friendly suiting, Tahari immediately comes to mind. This belted skirt suit from Tahari via Bluefly is professional without being dowdy; the jacket would also be quite smart with white or black pants or even a red skirt or pair of cropped trousers. This gray Tahari suit via Dillard's is more conservative but doesn't lack feminine detailing.
Short-Sleeved Dresses
These are also available, though they may not be the piece featured on the front page of the retailer's website or the mannequin in the front window. Retailers think people want sleeveless for hot weather, and will feature such pieces in front, but will have sleeves for the corporate customers and the many who do not wish to show off their arms all summer long.
Short-sleeved shift dresses are classic, chic, and don't cling in humidity. This colorblock shift from Joan Vass is elegant and professional – wear as –is with navy or nude pumps for a more conservative look, or get bold with a third color in statement necklace and pumps. This simple pink shift by Hugo is a classic style in an unexpected hue – wear with solid pumps for a classic look, or bring current trends into your ensemble with printed platform pumps or a statement necklace in a popular summer shade like neon yellow. This loose shift dress from Goat would look classic with simple pumps and a strand of pearls, or can look on-trend with wedge peeptoes and a bold necklace in tortoiseshell or even mint green.
Shirtdresses are a great way to look professional yet keep your cool on the most muggy of summer days. This stretch silk Ikat-printed shirtdress from Classiques Entier is stylish yet professional – pair with simple black pumps, or pump up the fashion by wearing nude heels and switching out the belt for a skinny patent one in a neon hue. While this chambray shirtdress from Lands' End may be too conservative for some workplaces, pairing it with a wide black leather belt and black pumps will make it a great choice for business casual settings. This hot pink silk number from Calvin Klein looks great on its own or can be jazzed up with a belt in a neutral or a contrasting color.
Wrap dresses will forever be one of my favorite wardrobe pieces – versatile and oh so figure flattering! This modal wrap dress from Lands' End is simple, elegant, and comfortable on hot summer days. This cobalt silk blend wrap dress from Milly is elegant and professional, will make a statement on its own or can be paired with a bold necklace for more impact. I love the bold print on this matte jersey dress from Issa – no need for fancy accessories, the print is its own accessory!
These are just a few options I found when perusing my favorite online retailers, but really there are a ton of options out there if you get past the front-door displays.  For details on the outfits and dresses in the photos, please click on the photo to go to the Polyvore set.  Happy shopping!
Note: There is nothing wrong with putting a cardigan over a dress, and this can be a very stylish option.  However, I believe all of you can do that, this post is to give you some ideas on short-sleeved work clothing that goes beyond the cardigan.
Follow Me | Twitter | Facebook