This article may contain affiliate links; if you click on a shopping link and make a purchase I may receive a commission. As an Amazon Associate, I earn from qualifying purchases.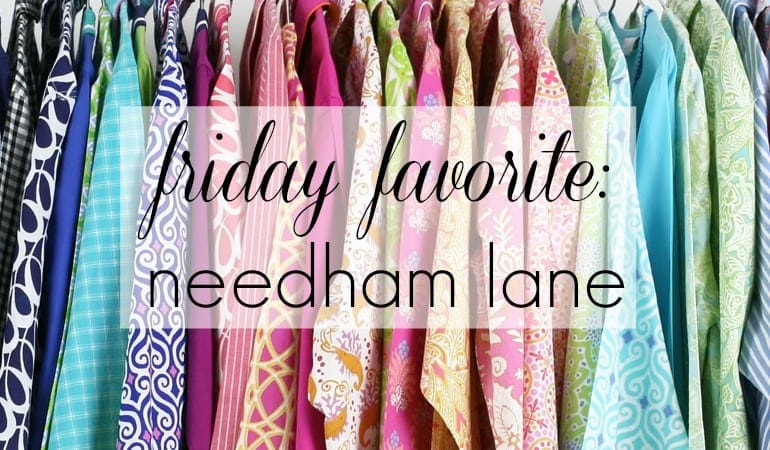 One of the coolest parts of blogging is learning about new brands. A great way to get your new product or service in front of a large audience is to connect with bloggers. For gifted product and/or a small fee, a blogger will style and photograph your item, write about it, link to it, and mention it on social media. It's so great when a small brand I never heard of reaches out and thinks you, the Wardrobe Oxygen audience is the right audience for their product and their product is really really great. One look in my closet or medicine cabinet and you'll see the majority of the real estate is for brands like these who I may have never known about if it weren't for blogging.
One of these brands is Needham Lane.
Earlier this year, Needham Lane reached out and asked if I'd like a pair of their cotton pajamas. I'll be honest, most nights I sleep in the buff so my sleepwear selection is lacking. Knowing I'd be traveling later in the year and always dreaming of being that woman reading the Times in bed over her fabulous designer tortoiseshell frames, wearing crisp white pajamas and sipping coffee; I asked for the Logan pajamas in white with navy trim and fell in love. I even wrote a post about it.
Since then, I have acquired more sleepwear and loungewear from Needham Lane and have fallen in love not just with the product but the brand. When I travel I take the Ellie Short Sleeve Pajamas; I usually sleep in the shorts with a cami and use the top like a robe for a bit of modesty and warmth. The Ellie Robe has become my favorite piece of loungewear and you'll find me in it most mornings and I always take it on travel. I love the little details that make these pieces different from robes and PJs I've bought from other brands in the past. The pajama bottoms have pockets that are deep enough to keep my iPhone secure but don't add bulk. The robe ties closed inside and around the waist, stays put, and gives the perfect neckline – low enough to look flattering but high enough to keep everything under wraps.
And the cotton… it's crisp yet smooth and just gets better and better with each washing. I've washed my Ellie robe dozens of time and it still looks crisp with saturated colors. The Ellie shorts have been washed more often than the top yet they still make a lovely matched set.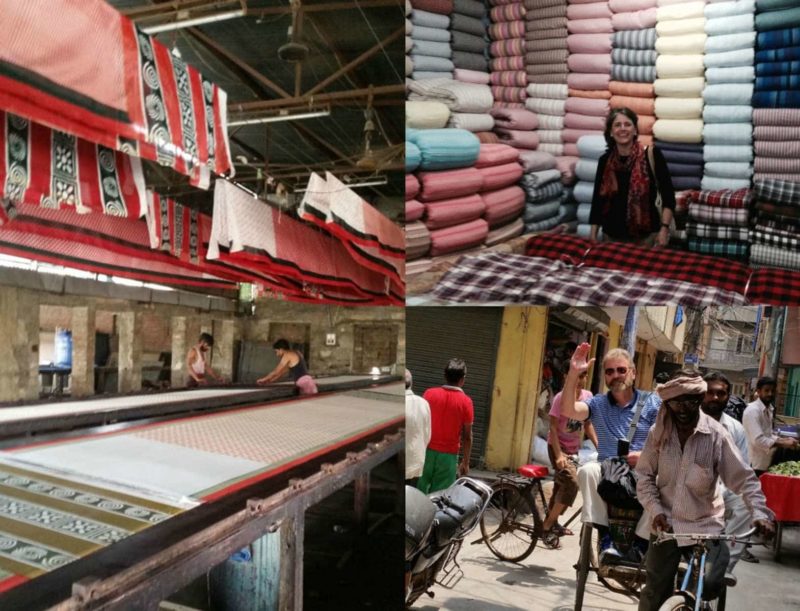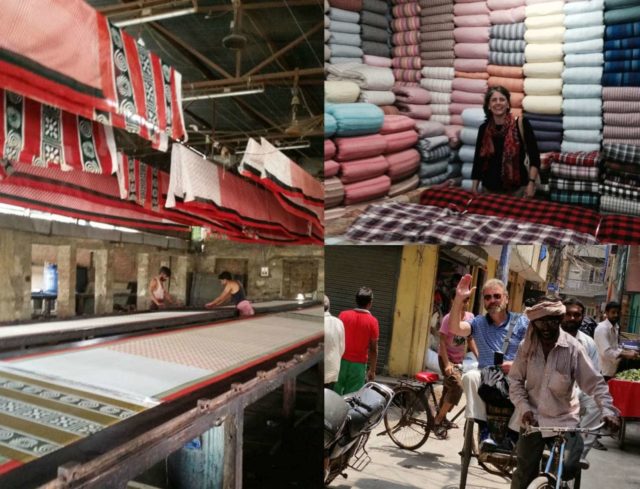 Pictures Dan sent me from their recent trip to India to source fabric and meet with their manufacturer
But the coolest thing is getting to know the people behind Needham Lane and how they source, design, and create their line. Dan and his wife Maura are the couple being the Massachusetts-based brand; Dan runs the business while Maura is the creative. As a blogger, I email with Dan often and love reading the excitement when he and Maura get back from a trip in India to meet with their manufacturer or when they're planning out their next season of merchandise. In this day and age of mega brands and mediocre customer service, Needham Lane is a breath of fresh air.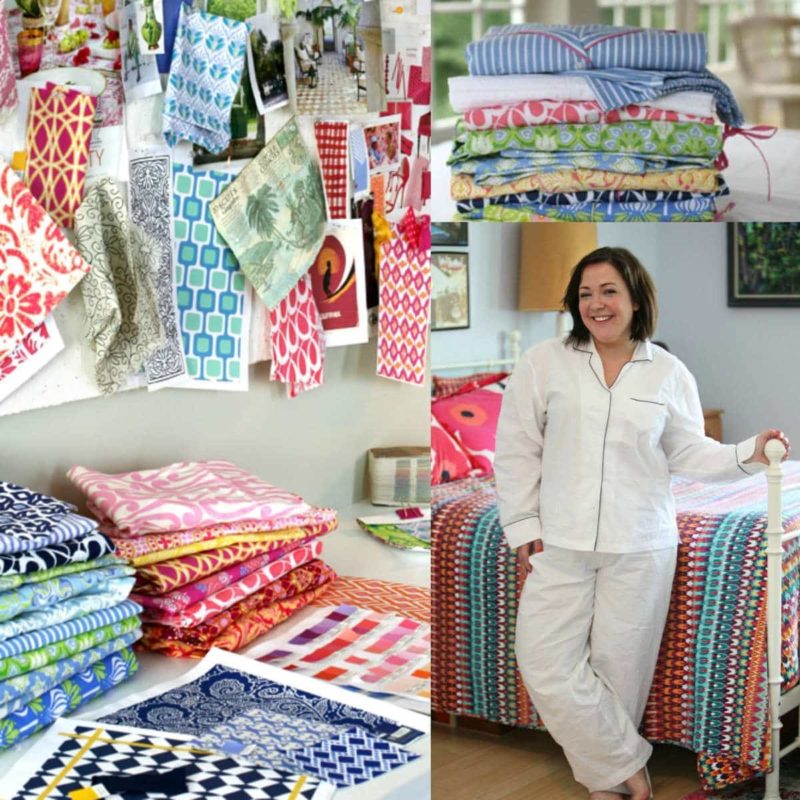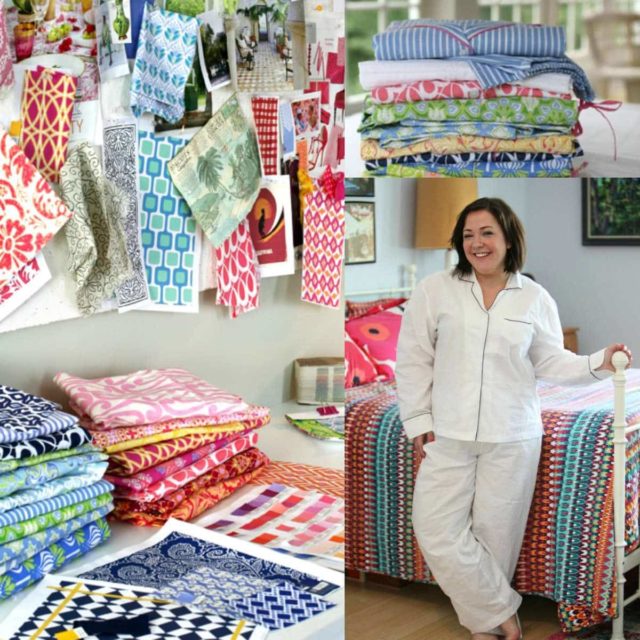 I think it can be dicey buying clothing as a holiday gift, but I think pajamas and robes are a safe bet. The sizing is more fluid (size up if you're unsure, a relaxed fit makes for a comfortable sleep), and it's a part of your wardrobe where you can take more risks, get out of your personal style comfort zone. I may be a denim, leather, and leopard girl by day, but one peek in my sleepwear drawer you'll see my inner girly prep comes out who loves pink, pinstripes, and candy-colored prints. As I mentioned the first time I featured Needham Lane on the blog, I think pajamas are a form of self-care.
While I started writing this post a few days ago in the clothes I wore to work, it's fitting that I'm finishing it up and adding the links and photos sitting on my couch in my Needham Lane boxer shorts and robe! So glad they pitched to me last March and became a new favorite!