This article may contain affiliate links; if you click on a shopping link and make a purchase I may receive a commission. As an Amazon Associate, I earn from qualifying purchases. 
Could you recommend some LBDs or cocktail dresses. Need something for one of husbands work parties, a bit fancy. My style is pretty conservative, and I really want to look great for this event.

I was wondering what suggestions you might have to find a suitable dress for a wedding? I don't want to buy a dress for one time use only. I would like to be able to cycle this dress into my fall/winter wardrobe to be re-worn for work and after-work events. I am a girl on a budget and holiday season usually stresses me out trying to find cute things to wear to every party. This year I found a dress ; it's black ponte knit shift dress that falls just below the knee and has 3/4 sleeves with an exposed gold zipper in the back. Any suggestions on varied ways I can style it so that I don't look the same in pictures of all the events?

I have two company parties (mine and my husband's), a charity event, and two weddings in December, all that require cocktail party dress. I'd love to be able to just purchase one dress for all, and have that dress be classic enough that I could wear it after this year. Any suggestions?
Unless you're going to an event at the White House or on a red carpet, I don't really see the point in purchasing a statement-making dress that can only be worn once. The holiday season could cause you to file for bankruptcy if you tried purchasing a different frock for every event on your social calendar; it makes more sense to purchase a simple appropriate dress and accessorize it to look different for each affair. This way, you are ready when life requires you to have cocktail party outfits, wedding outfits, New Year's Eve dresses, and more.
While some are anti-black clothing, I find a little black dress (LBD) to be incredibly versatile and easy to wear to the office as well as to a more formal affair. Not only that, black is super easy to accessorize and transform with said accessories. While any color is great, I am going to focus on black dresses for this post. I have chosen dresses that come in a broad range of sizes, are from easily-accessible retailers, and have a simple style to make them easier to accessorize.
Talbots Doupioni Sheath
Simple, classic, elegant, versatile. Silk doupioni is such a gorgeous fabric that catches the light and looks incredibly luxe, however it can dress up and down relatively nicely with the correct accessories.
For the first look, you could wear this anywhere from an evening wedding to your company holiday party. Classic pearls, simple leather heels, and a swipe of matte red lipstick for instant glam. For the second look, I was imagining a more festive holiday party or New Year's gala where glam is the dress code. Show-stopping glittery heels, a smoky eye, and a faux fur chubby show you're ready to party. For the last one, I wanted to show how this sheath can be transformed into a sophisticated and formal suit with the addition of a tux jacket. To keep from looking like the waitstaff I added some rocker-chic accessories.
Ann Taylor Doubleweave Twill Shift
This is the type of dress you may already have in your closet, which is exactly why I picked it. No need to go out and buy something brand new, a dress of a work-fabric like gabardine, triacetate, ponte, or doubleweave can go glam with the right accessories.
The first look would be perfect for your friend's holiday party – a sparkly collar, opaque tights and high-heeled booties will fit in whether people dress up or down, a strong eye and faux fur chubby make the look evening-appropriate. For the second look, this would work for your company holiday party or a friend's wedding – a boxy shift is made sweet with bow-topped heels, lace tights, and long strands of classic pearls; red lipstick keep it from looking too precious. The final look is perfect for New Year's Eve or a holiday party at a club – feathers, fur, sparkle, and a bold lip take this LBD from the office to the dance floor with flair.
Lands' End Long Sleeved Faux Wrap Dress
This is another dress you could very well have in your wardrobe. Fine jersey, matte jersey, silk knit – it's a piece that works in the office, but can also glam up for after hours. One year I wore a black matte jersey wrap dress to a company party with silk peeptoe heels, a sparkly statement necklace, lots of black liner and red lips and looked just as appropriate as the women in silk cocktail dresses, so I know this can be done and done well.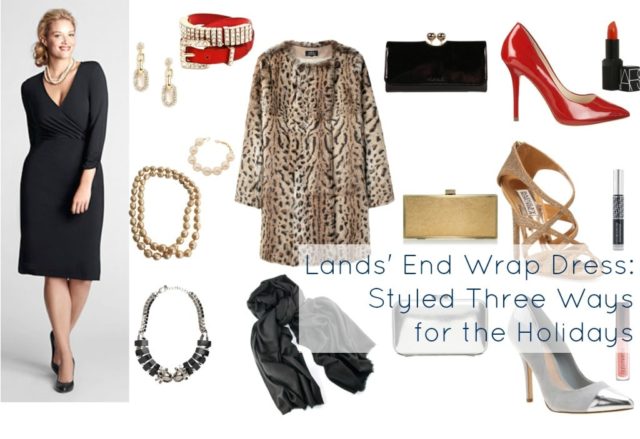 For the first look, I embraced the holiday season and all its kitch with a red patent and rhinestone belt, matching red heels and a red pout. No need to wear Christmas tree earrings, a pair of sparkly dangly ones will be just as festive and more chic. A faux fur in an animal print is luxe but still whimsical, pulling together the holiday accessories. I used the same coat with the next dress combination, which is more sophisticated and classic. Baroque pearls, subtle sparkle in the heels, a muted gold clutch and a few coats of mascara will have you looking chic for holiday parties and winter weddings. The final look is simple but not boring with mirror-like accessories and a glossy mauve mouth.

Donna Ricco Sleeveless Gathered Dress
Versatile matte jersey, sleeveless style that works year-round, and figure-flattering pleats make this dress a winner and a wardrobe classic. Such fabric is easy to dress down with sandals in the summer or a blazer for the office and dress up for any social occasion this holiday season.
For the first look, I transformed the dress into one with sleeves thanks to a sheer sequined bolero. Such an accessory is a great way to change the look of tanks and sleeveless dresses currently in your closet. Sequined booties, simple black accessories and a deep wine pout make this classic dress rocker chic. The second look would be perfect for a more formal gala – strappy gold heels, sparkly accessories, a luxe embroidered silk coat and fluttery false lashes look elegant without being over the top. The final look shows how accessories can really make a simple dress look unique and fabulous. Taking inspiration from a peacock, accessories and makeup in shades of purple and teal in luxe fabrics like faux fur and feathers make you a holiday party diva.

Donna Morgan Tulip Dress
This is a classic dress with a trendy edge. While the tulip skirt is very of the moment, it would still look chic in a few seasons thanks to the rest of the dress being so traditional. Since this dress is made of ponte knit, it can dress up and down with ease and work almost every month of the year.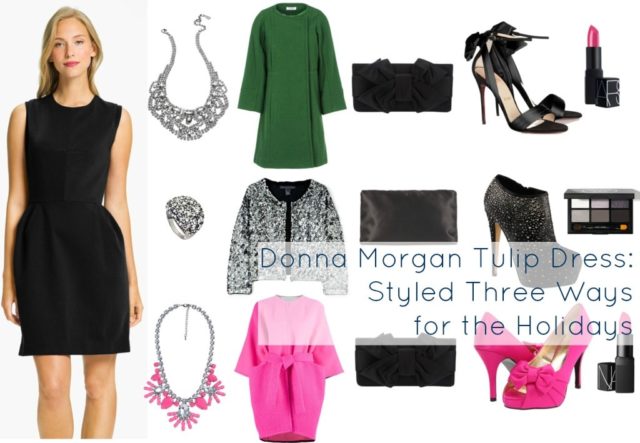 For the first look I channeled a modern-day Holly Golightly with a sparkly necklace, satin heels and bag with bow details and a princess coat. A bold pink lip finishes the look. The second look is a modern look for this dress with a sequined jacket, platform booties, and a strong smoky eye. The final look will have you the belle of the ball with a pink coat that has the same tulip shape as the dress, feminine pink bow heels that look great with the same bow clutch from the first look, and a sparkly pink statement necklace.
***
Hopefully these collections will give you some ideas on how to take a classic and versatile LBD and make it work for a variety of holiday occasions.  Such concepts would also work for a longer dress or a dress or a versatile color like ivory, navy, or red.  If you shop smart, there's no need for a completely different frock for each event on your calendar!
Follow Me | Twitter | Facebook