This article may contain affiliate links; if you click on a shopping link and make a purchase I may receive a commission. As an Amazon Associate, I earn from qualifying purchases. 
We've all been there… we look at the clock and realize we are 10 minutes late and still have sopping wet hair and our bathrobe on. As a blogger who posts her outfit daily for all to see, has a dog, a decent commute for work and a ton or responsibilities that pile up each day, I have worked hard to streamline my morning routine so I can get to work on time and still be polished and prepared. Here's a few tips:
1. Don't hit the snooze button. I know it is sooo tempting, a few more minutes under that comforter all snuggly and cozy. But really think of what you could be accomplishing in those extra nine minutes. Also hearing your alarm TWICE in one morning makes anyone a twinge more grumpy.
2. Be realistic with your tasks. This coming Monday, really see how long it takes for you to feed the cat, take the dog for a walk around the block, put out the recycling, pack the lunches. Also be realistic with what HAS to be done in the AM, and what could be done at a different time of day. When you over-schedule your morning, you set yourself up for failure. Consider packing lunches at night, laying out your clothing, even showering before bed.
3. Keep the TV off. If you want to hear the news, listen to the radio. When you have the TV on, you are more likely to sit down "for just a minute" and wait to leave the house or hop in the shower until a commercial break.
4. Invest in your hair. If you have a great cut and color, you will spend less time cursing your mane and torturing it under hot tools. I have difficult hair – thin but lots of it, not fully wavy but not straight and it seems to never curl in the front and curl too much in the back. And the cowlick? But getting my hair properly cut, trimmed every 6-8 weeks and my color maintained has made hair styling each morning almost product-free and a breeze. It really is possible to get a good cut for ALL hair types. It may not be what the It Girl of the week is wearing, but if it is flattering to your face and hair, then it is stylish.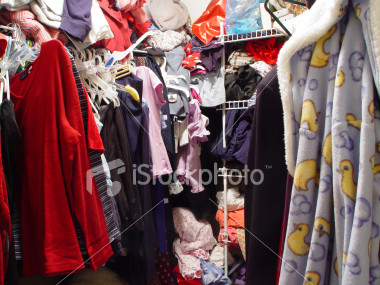 5. Gut your closet. Take out all your out-of-season pieces, hide in the back the things you don't wear on a regular basis (interview suits, cocktail dresses) and leave in the forefront only that which fits, is clean, pressed, and looks good when on your body. Donate that which depresses you, doesn't fit quite right or is not in optimum condition. Remove any item that requires repair and don't let it back in the closet until it is fixed. Now after this if you only have one pair of pants hanging there… well heck it's going to be much easier to dress in the morning! Less options means less time to fuss over what to put together. It is far better to own one pair of black pants that fit like a dream and wear them every day, than to have a closet full of ill-fitting, stained and ugly trousers that make you wince each time you catch your reflection.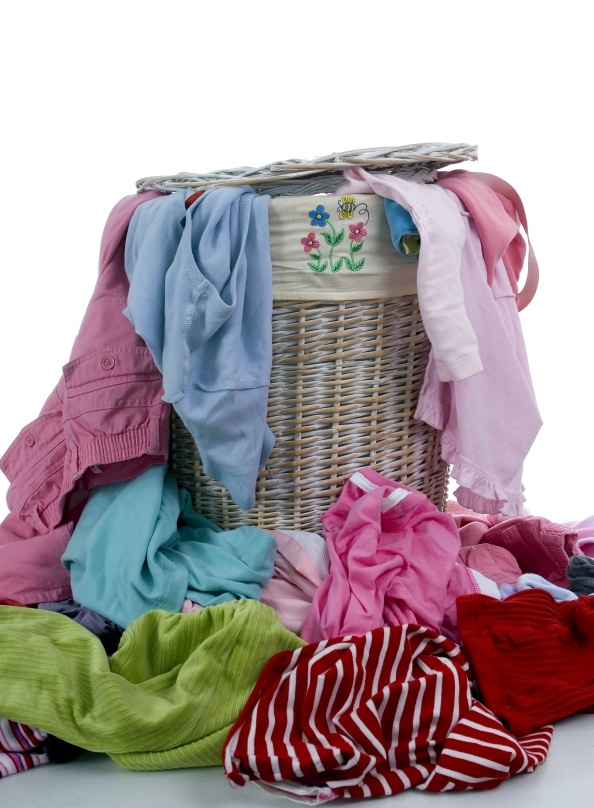 6. Do your laundry. Often times we fret over what to wear because what we want to wear is balled up at the bottom of the hamper. You should be doing laundry at least once a week. If you only have time (or the quarters) for one load, stop and think about your coming week and what takes precedence – is it jeans and tees for casual events, or is it sweaters and trousers for work? I often put a load in the washer before I go to bed, in the morning throw it in the dryer while the dog is doing his thing in the yard and then fold and put away when I get home from work (this works best for things like towels and workout clothes that can handle being a bit wrinkled).
7. Save the beauty treatments for the weekend. You don't need to scrub, steam, mask and bleach every day; find a day (or evening) that isn't the AM to get these things done. My weekday shower consists of shampooing, conditioning, leaving it in as I wash my body, do a quick swipe with the razor to the underarms (and anywhere else if I am wearing a dress or have a special event), rinse hair and go. I wash my face at night, I do the fancy shaving and the scrubbing and the foot polishing on weekends. If your hair, face or skin require special treatment, consider switching your showers or routine to evening.
8. A place for everything, and everything in its place. Your mother probably said this to you multiple times as you grew up, but if you took the time to put things back after using them, you would spend less time later cleaning up your mess. Same holds true for your morning routine – take the time to put back your brush, hang up your bathrobe, store away your cosmetics and you will spend less time searching for something or digging through piles to find what you need. If your moisturizer, your contact lens solution, your deodorant, your shoes, your earrings are always in the same place, you can easily assembly-line through getting ready each day.
9. Keep it simple, stupid. Who needs three concealers, a mattifier, a primer, a foundation, powder, highlighter, four shades of shadow for a weekday? On a day when you have time, play with making a simpler face uniform (hopefully you have started to make a bit of a wardrobe uniform based on previous posts). There are so many new two-in-one products on the market that you may be able to consolidate. For me, I found a powder foundation that does triple duty for all day wear, good coverage and shine control and a shadow quad of long-wearing colors that go great with my entire wardrobe and look great for day wear.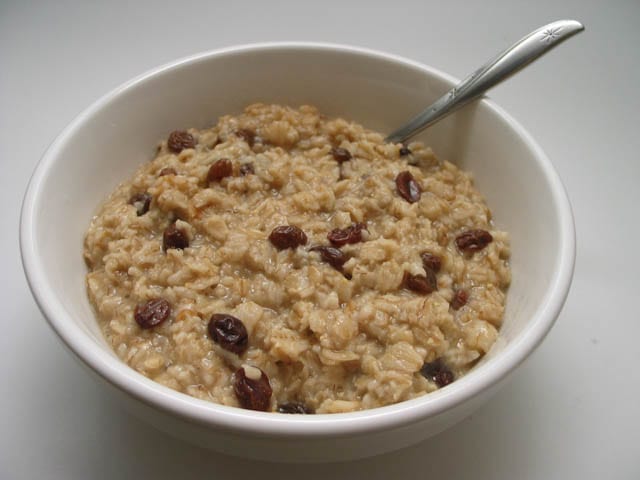 10. Make time for breakfast. Even if it's a piece of toast as you head out the door, eat something. You may not be hungry now, but you will be ravenous later and it will ruin your whole day, your appetite, your diet, your metabolism and your mental clarity. Instant oatmeal, a whole wheat tortilla with some cheese and leftover meat or veggies from last night's dinner (fold and cook for like 40 seconds) is a great dine-and-dash solution. Get your breakfast to be a routine and it won't end up being left out due to lack of time.