This article may contain affiliate links; if you click on a shopping link and make a purchase I may receive a commission. As an Amazon Associate, I earn from qualifying purchases. 
Dear Allie, my boyfriend invited me to spend a week at the shore with his family at their beach house. I've met them before, but I'm nervous with what to wear when on the beach and at the pool. I'm comfortable in a bikini, but I don't want to look inappropriate, is it okay to wear a bikini in front of his parents? What about a coverup? I'm at a loss, I want to look good for my boyfriend but I don't want to look as though I'm flaunting my body or trying to be sexy for his relatives.
First and foremost, unless their religion or culture encourages women to wear more modest of swimwear (in that case I would wear it out of respect), you can definitely wear a bikini. However, there's a lot of styles of bikinis, and I would steer clear from the really small ones and absolutely no thongs or racy cut-outs. But a two-piece that covers and flatters is appropriate.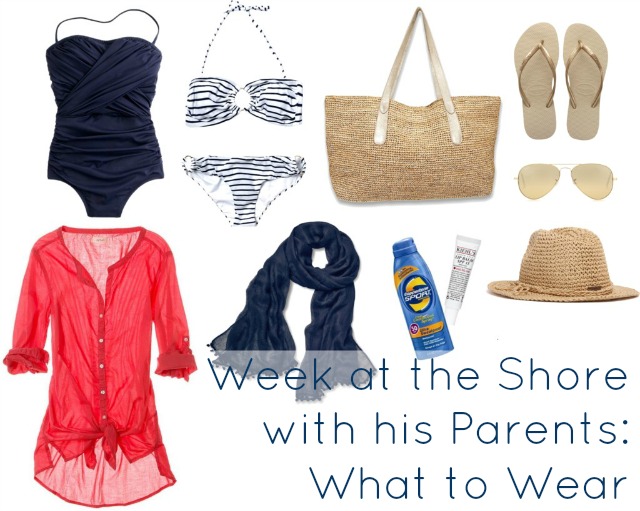 I created this capsule to show that one can be on trend and wear a bikini and still look polished and sophisticated. While I picked a bikini, I chose one that has optional straps in case a day of sunbathing becomes one involving boogie boards or jet skis. I always believe in taking two suits on a vacation so one can dry while you wear the other; having the second one in a more substantial style means you can race his cousins across the pool or feel more comfortable if it's a day on the beach with his mom and grandmother. Again, a style with a strap (this one is also optional) ensures you're prepared if the day includes activities.
Having the accessories cohesive and subtle is elegant, achievable on any budget, and is more versatile if you end up with the country club set or with neighborhood folks around a beach bonfire. A straw bag will filter out sand but can double as a purse if you leave the beach to go shopping or have lunch at a nearby café.
I also recommend a variety of cover-ups for any vacation, in case there's a chill in the air, you need to head into town, or go from beach to beachside restaurant. The navy wrap can be tied at the waist to be a skirt, wrapped and tied behind the neck for a halter short dress, or tied under the arms for a short strapless cover. It can also be a shawl or even a beach blanket in a pinch. The coral coverup can double as a dress, or be worn with cutoff denim shorts; the color isn't too extreme but adds a pop to your beach ensemble.
Of course, don't forget sunscreen – nothing ruins a trip faster than sunburn. A spray formula is easy for reapplication and there's no awkward moments when you need your boyfriend's relative to rub lotion on your back.
Take all this advice, but still wear what feels true and comfortable to you. If you're donning a costume for this trip, it will only add to your anxiety. Be you, but be conscience of what the family is like, their religion and cultural traditions. It's so nice that they have invited you, respecting their comfort level shows that you care about them, as well as their son.
Follow Me | Twitter | Facebook | Instagram