This article may contain affiliate links; if you click on a shopping link and make a purchase I may receive a commission. As an Amazon Associate, I earn from qualifying purchases.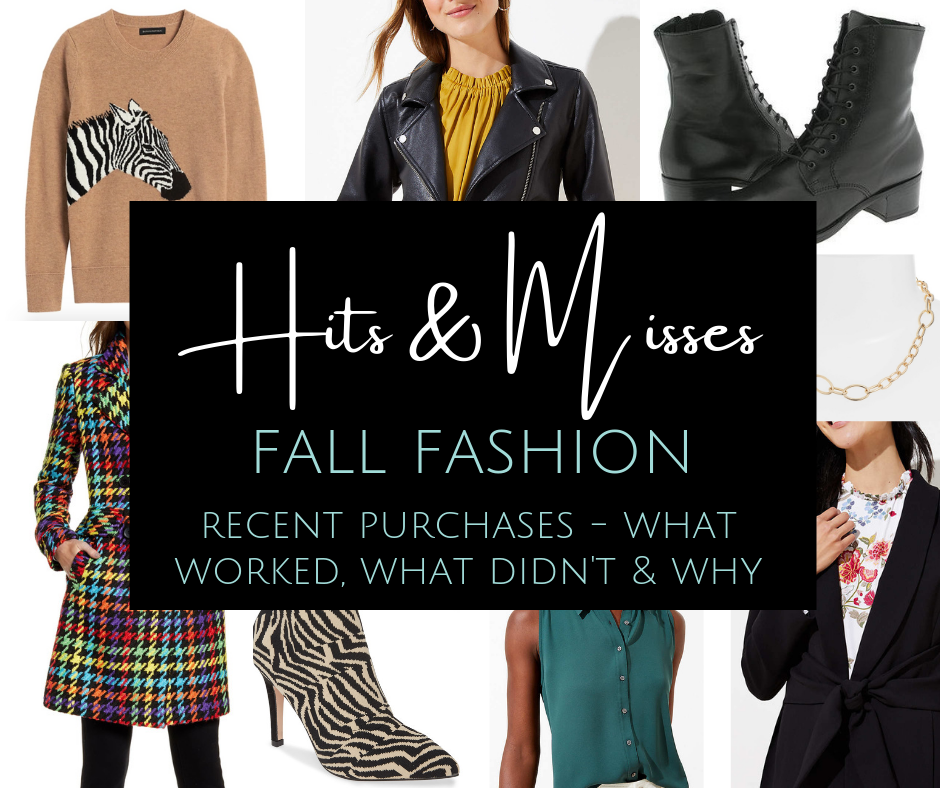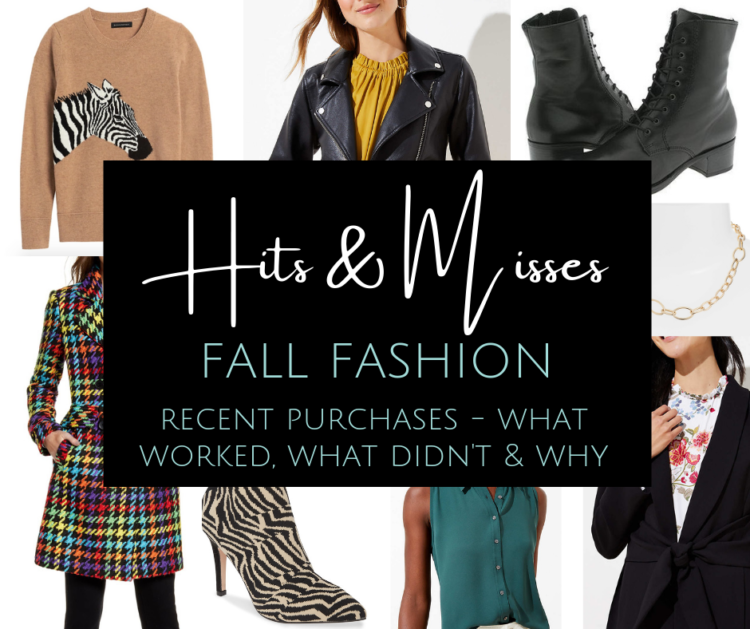 Welcome to the latest edition of Things Alison Bought and Whether or Not They Suck.  I've been putting this off because I don't have pretty photos, but I hope my words and stock photos can paint a picture in your mind of the awesomeness or awfulness of these different items.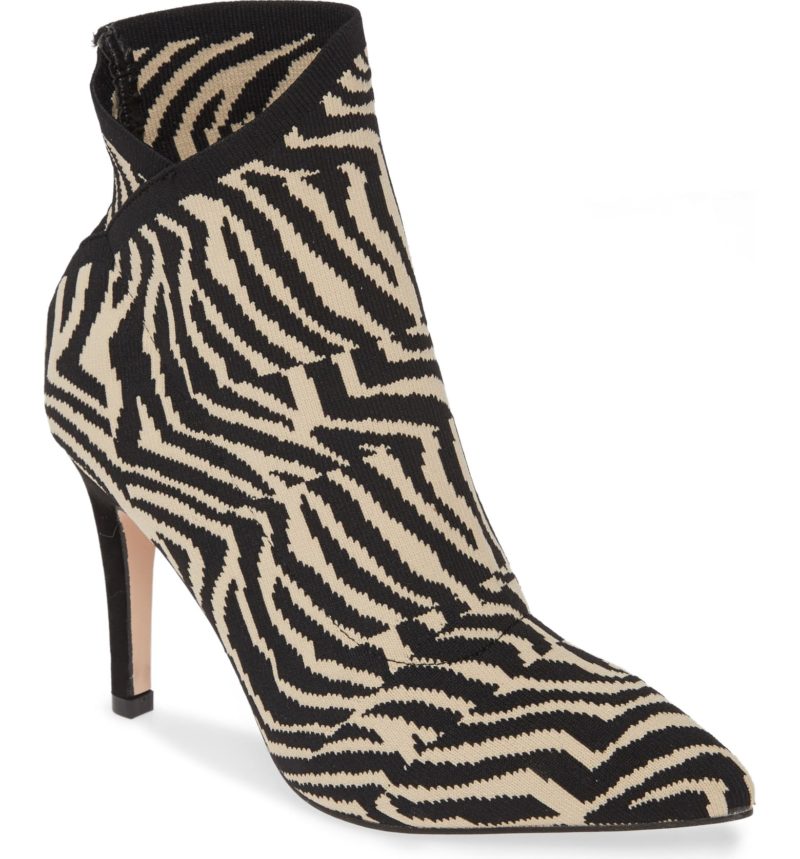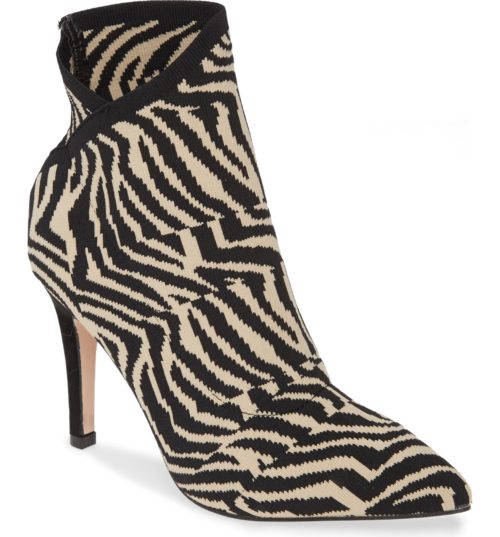 After writing so much about taller boots to slide under cropped wide-leg pants and jeans, I decided to buy a pair.  I have thick ankles and calves; most leather boots won't zip up completely on these legs.  I loved the idea of a knit bootie that would stretch over my legs, I also loved the pricetag of these boots ($69.95 full price).  These boots come in three prints and two solid colors, I chose the Zebra Print Fabric.
Oh em gee I love these booties.  Yes, the heel is high but I don't have trouble walking in them.  The zebra print is super cool.  One side of the boot looks folded and has a dip; it's possible some skin there may peek out when wearing cropped pants but I don't care, and I can also hide that little triangle with taller black socks.  They do comfortably slide up my legs and don't leave red marks from being too tight.  I have wide feet, my feet are perfectly comfortable in these without spilling out the sides. I like these boots so much… um I just went and ordered them in black and red.  No normal human needs three of the same boot, I did this because my job revolves around clothing and I love the shape, the fit, the comfort, and the price of these boots enough to get three pairs to get through winter with style and not blowing my budget. For normal people, one pair is plenty.  I personally think a print (they also have leopard and camo) makes the knit fabric look more purposeful and cool and expensive, but the solids are also pretty good too. HIT!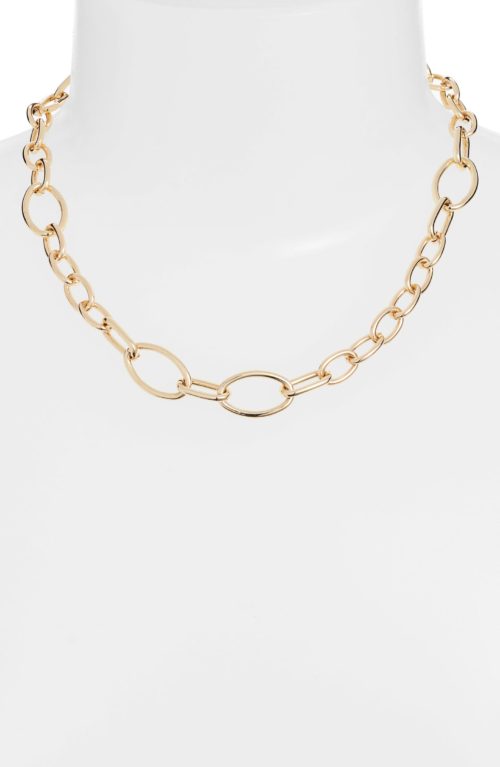 I'm loving the chain trend this fall.  Big thick Figaro and rope and box chains on bracelets and necklaces of all sizes.  I tried this necklace from Jenny Bird and it was so short I couldn't close it without closing my airway. At 17″ I figured this would fit me more like a choker, which I wanted.  It looked bold and even used the word "punk" in the description.  But this is not punk.  This is the necklace your mom wore with her power suits, the one from Monet that she bought at Hecht's or Dillard's on clearance.  It's not cool, it looks cheap, it would only work if you paired it with four other necklaces so its mediocrity would be hidden.  MISS.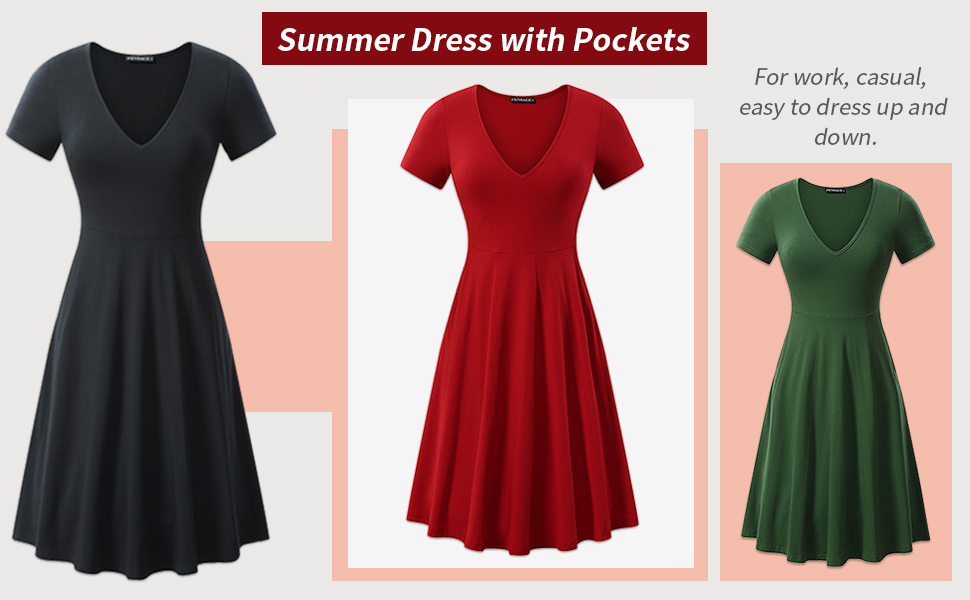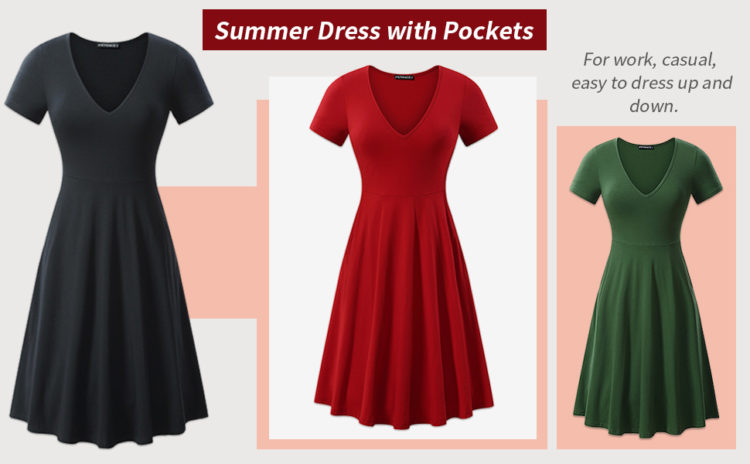 As I mentioned in this blog post, I will try once a month to have an affordable wardrobe basic review. Searching on Amazon, I came upon this dress. It had pretty good reviews, it came in a lot of colors, it's also available up to an XXL and per the size chart, I would be a Large. It's also only $19.99. I ordered one in green. I already was thinking of ways to style it with a brown leather belt, with a blazer, with leopard print pumps…
This dress is crap. This is the kind of dress I'd buy for my daughter from the Old Navy clearance department and she'd wear once to a piano recital because she only wears jeans and leggings or over the top sequined princess dresses and this was one time where neither would be appropriate. It would then get donated to a younger kid in the community where it likely would also get worn only once and by then after two washings it would fall apart and go into someone's rag bin. This is not the kind of dress any grown woman should have in her wardrobe.
The large fits, if you want to call it that. My bust isn't spilling out, the skirt ends at the top of my knees, the sleeves are a good length. It is fabric similar to a ballet leotard – matte, stretchy, thin. It fits like a leotard, a second-skin to the waist seam, where it limply flares out, somehow being too full and also clinging so much it shows the entire shape of my rear. It is exposing yet frumpy. A plus, the color is nice. I see a lot of the customer photos are of women under 30 who chose to wear this as part of a costume. I think that is a great use for this dress, it's a great way to be a sexy cartoon character. Sizing up would make it less leotard-like, but I also think it would make it fit weird and show your bra in the neckline. Thank goodness for free returns. MISS.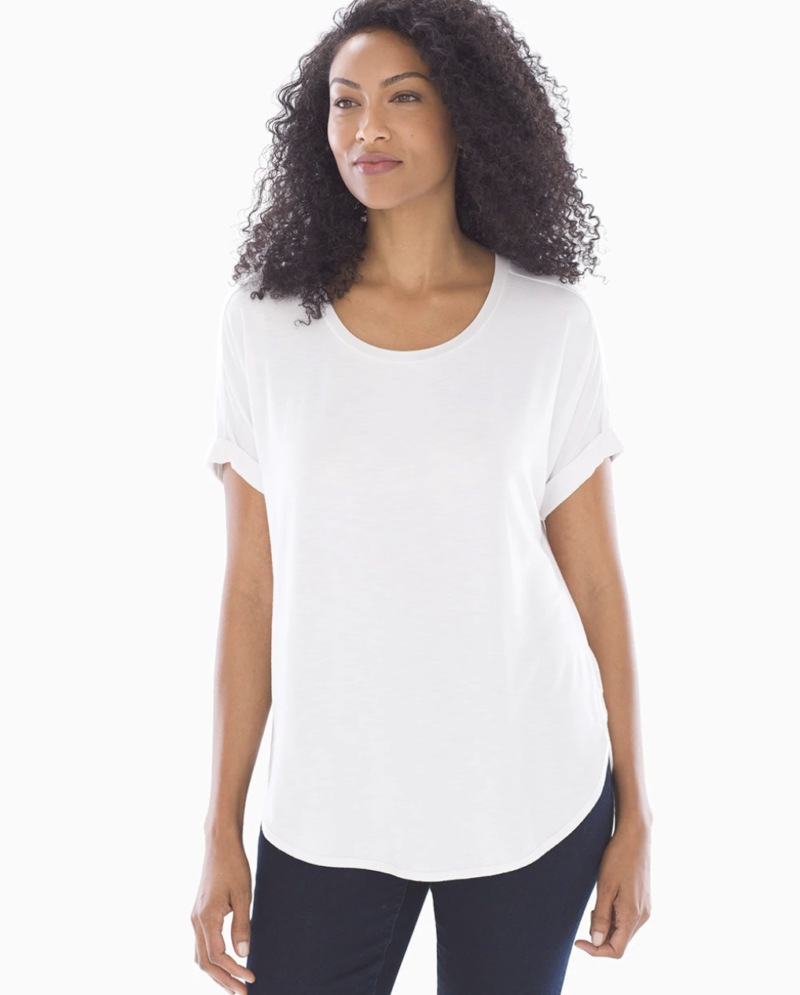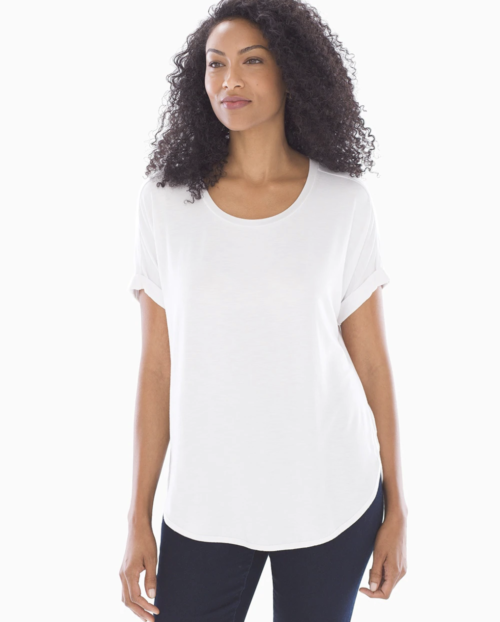 When I had the chance to go to Soma headquarters last month to celebrate the company's anniversary, they treated us to some wonderful things.  One thing was they let us embroider a white t-shirt with a short phrase or name of our choice.  I chose Wardrobe Oxygen, small over my heart, because Wardrobe Oxygen was the reason I was there and my heart was feeling so full.  They mailed the completed shirt to me a few weeks later.  A week after that I finally got around to wearing it.  And I kept wearing it until I spilled salsa on the front.  It's soaking with some Bac-Out ready to be laundered and worn to death again.  I like the shirt so much I got another one, sans fancy personalization.
I love a rock and roll look.  A beat up threadbare white t-shirt under a leather jacket with some favorite jeans molded to my frame is my dream look.  I wish to be Alison Mosshart in a future life.  But as a 40-something short, overweight mom in the suburbs, such shirts look terrible on me.  And an opaque well-made white tee looks like it's part of a uniform.  What's a grown-ass woman to do?  Now I know, she goes to Soma and gets this shirt.
The shirt appears to be slightly transparent, but you can wear your purple bra under it and no one is the wiser.  The sleeves are cuffed and just the right length to flatter the good part of your upper arm and to look a bit… vintage or well-worn and loved.  The dolphin hem means you can do a French tuck without looking like you got dressed in a hurry (tuck in the front part, leave the back untucked).   The rayon/spandex blend looks like a cotton t-shirt but drapes like something that costs a heck of a lot of money. But it's $45 with a BOGO 50% off deal. I got a Large, it's plenty roomy for my large bust without looking like a tent; this shirt goes up to XXL. HIT!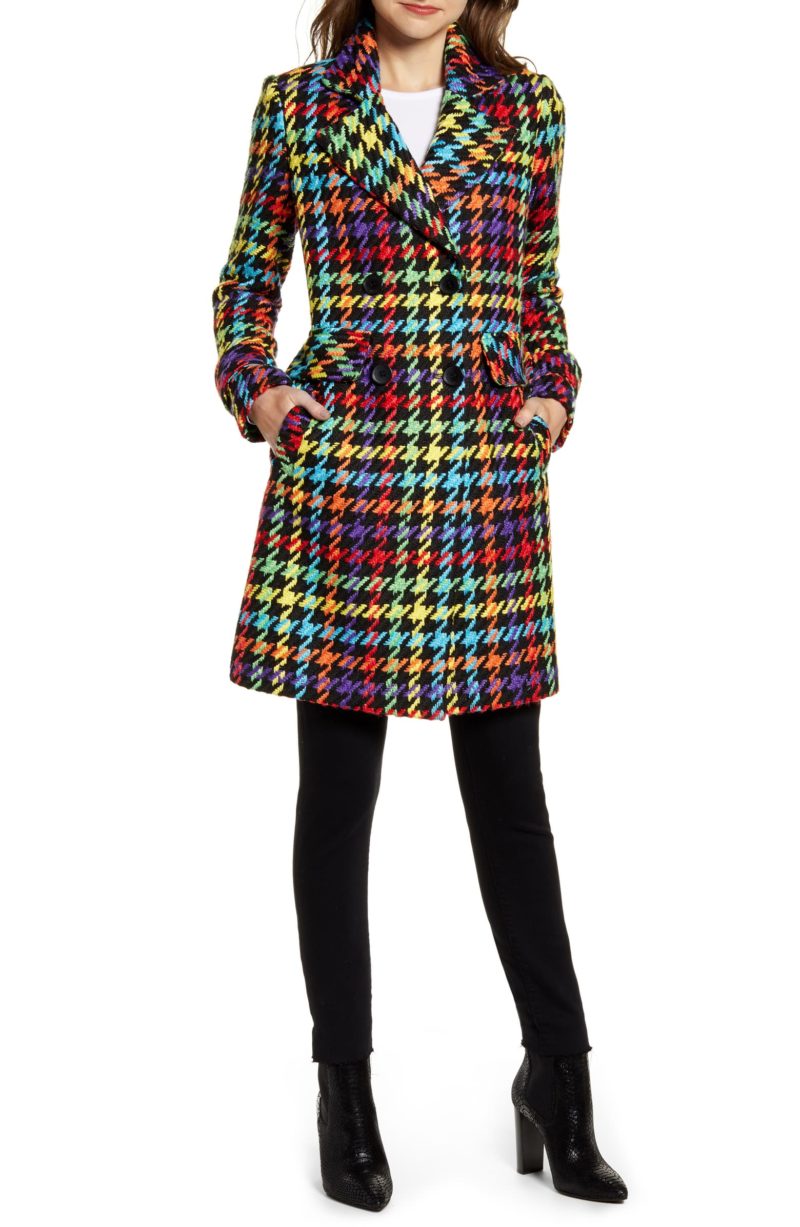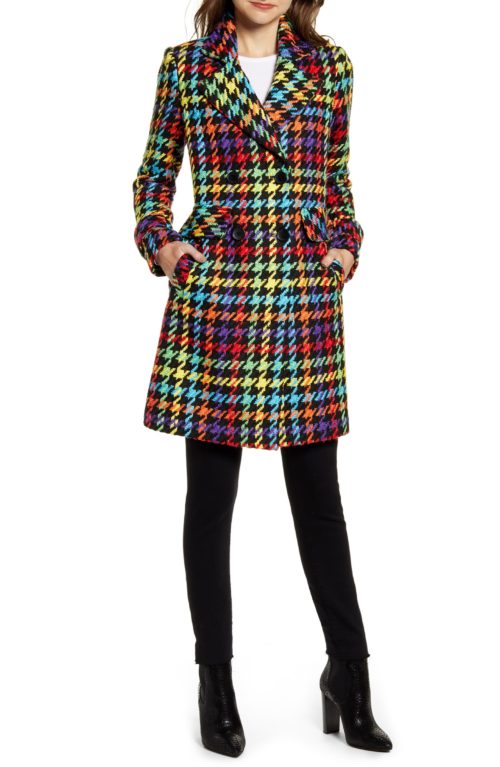 Do I need this coat?  Nope.  Do I want this coat?  Hells yes.  I justified this purchase thinking about the rainbow faux fur I got from ASOS a couple of years ago.  It seemed so frivolous yet I wear it all the time, even now that it's two sizes too big.  It's a statement coat that makes my simple merino turtleneck or Breton tee and jeans suddenly look chic. And well, it was on sale for less than $200 (I know, still pricey, but reasonable for Sam Edelman).
So I'm keeping the coat but I know I shouldn't.  It fits great everywhere… except the shoulders, armpits, and upper arms.  It's too tight there.  Like I may end up Hulk-smashing the seams of the acetate lining.  But gosh it's soooo pretty!  I'll admit, the tags are still on it, the packing slip is folded into the pocket.  I may come to my senses and pack up this coat and send it back to Nordstrom.  I may suddenly get slimmer shoulders and biceps and find it a perfect fit, I may Hulk-smash the lining and take it to the tailor to adjust to fit my two tickets to the gun show.  I don't know, but for now it makes me really happy seeing it lined up with all my solid colored coats in black and soft shades.  Ugh, do as I say not as I do.  I don't know if this is a hit or not, ask me again in October.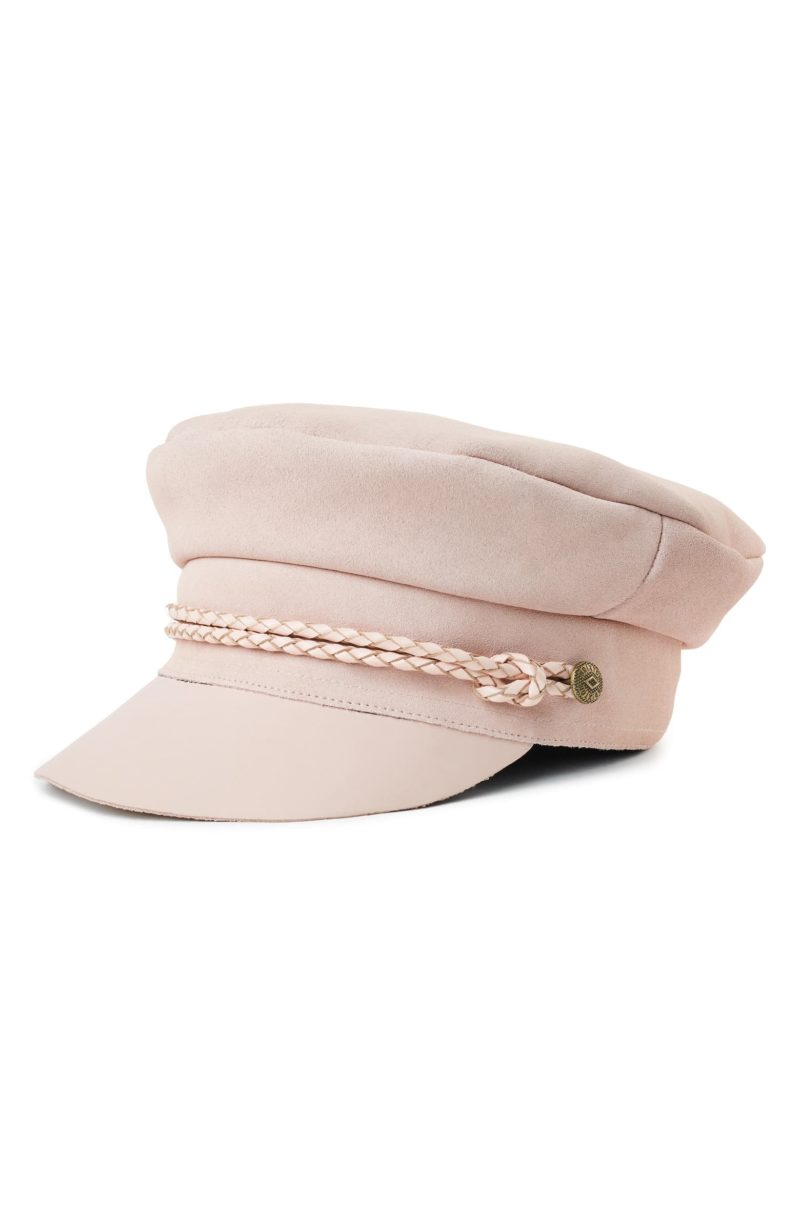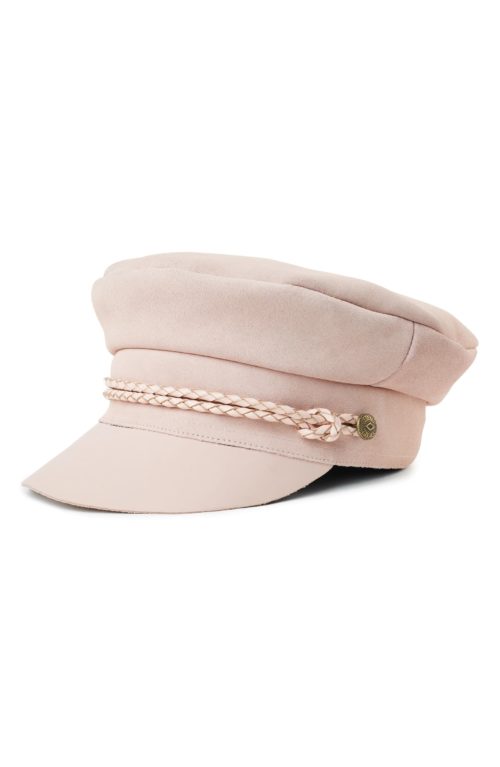 One of the best things about winter is being able to hide a bad hair day under a hat.  I spend a lot of the cold months in a beret, a baker boy cap, or some other hat that is small enough that I can wear it indoors. I liked the idea of switching up my collection of black, brown, and camel with a soft rose color and ordered this hat.  This hat is crap.  The brim is a thick yet floppy piece of leather that is unfinished and a bit raggedy in places.  It's a completely different color pink from the cap which is a completely different color from the braid trim.  This didn't look like an $88 hat but a $28 one from Target.  I also looked ridiculous in it, though my daughter made it look amazing (too bad for her I immediately packed it up and sent it back). MISS.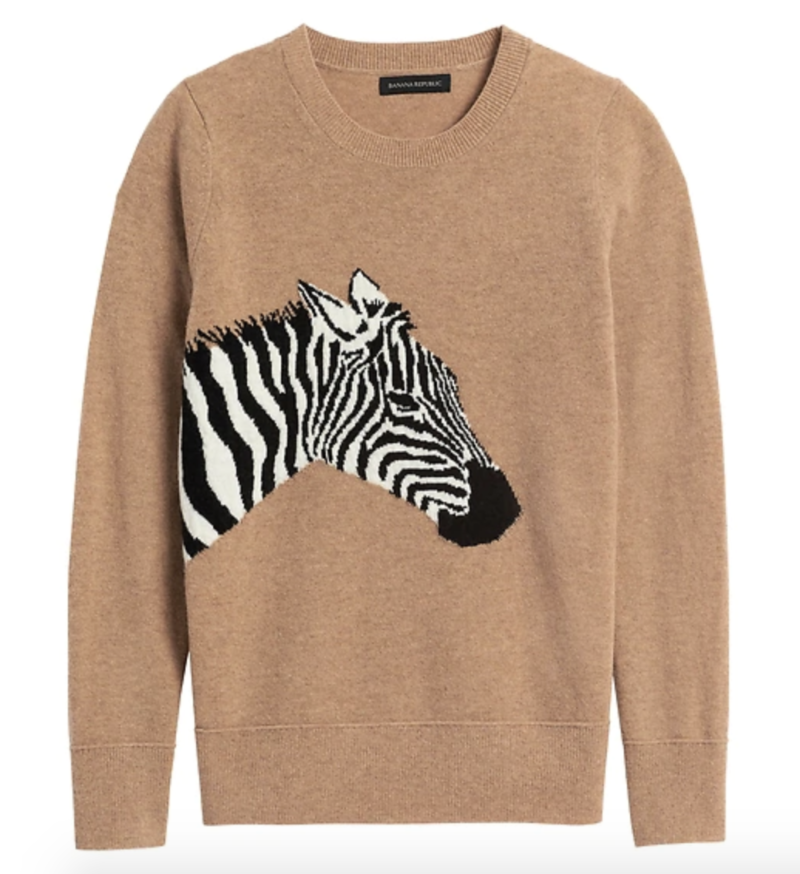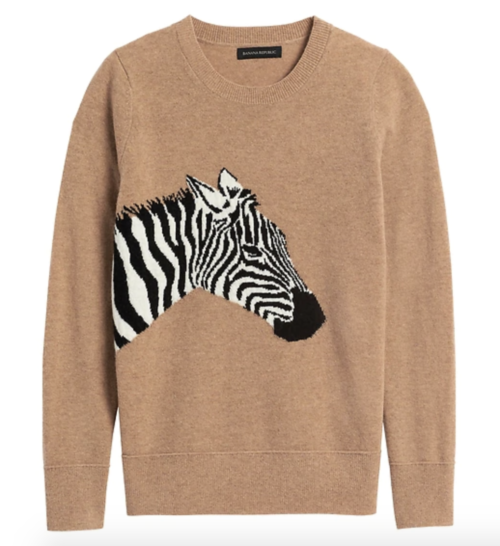 I shared this sweater in this blog post and several of you purchased it.  Cate is a reader who bought it in XXL and shared in the comments of this post that the zebra on the sweater seems to be the same size no matter the size of the sweater and on an XXL it looked pretty small and ridiculous.  I too had ordered the sweater and was curious how it would look, if that was a fluke and I'd love it or if Banana Republic was really that lazy/clueless.
Banana Republic is really that lazy/clueless because the zebra on me was also a bit off.  First, the sweater laid weird on the size of the zebra, it puckered at the armhole and that armhole seemed cut differently from the other side.  The zebra was too small, it started high in my armpit and its nose ended up covering one boob with the rest of its face sort of hidden by my arm. It was up too high, clearly made for maybe a size Small sweater and then they just knit more on the bottom and the other side of the sweater to make it work for bigger sizes.  The sweater currently has all five-star reviews on Banana Republic but all the reviews are by people who wear a size Medium or smaller.  Sorry I recommended this sweater, it is a MISS.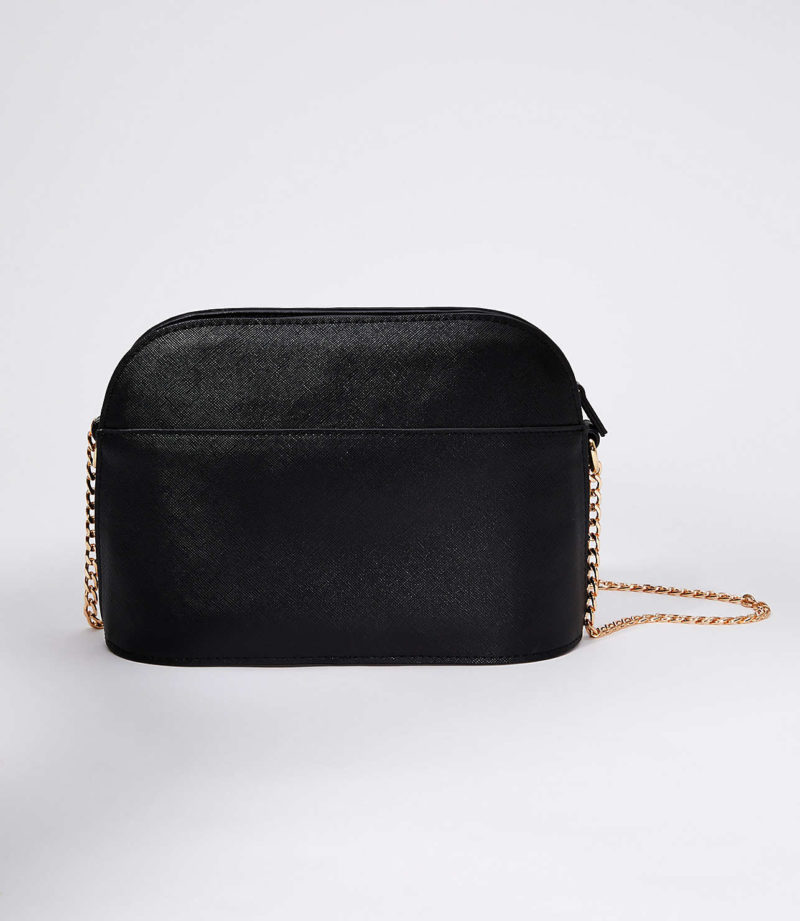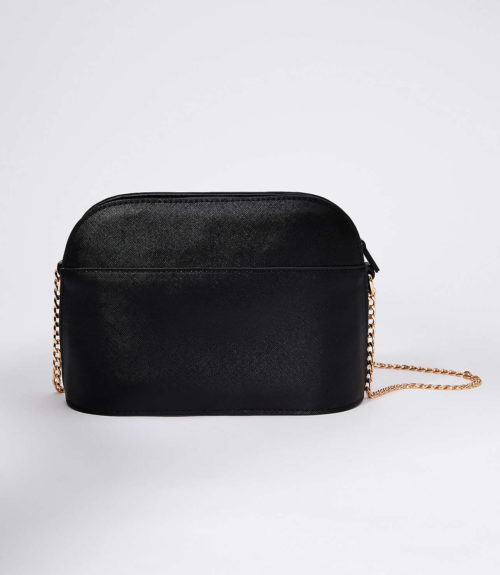 This is another item I suggested in a sale alert.  It looked like Saffiano leather, looked simple and a nice size.  The photos don't show that this isn't a slim bag, but one that progressively gets wider at the bottom.  Which is fine, but it doesn't make it a slim dressy purse which I envisioned and to be honest, makes it look cheaper.  I didn't even take it out of the plastic and wrapping, the shape felt so dated and clunky I immediately returned it. MISS.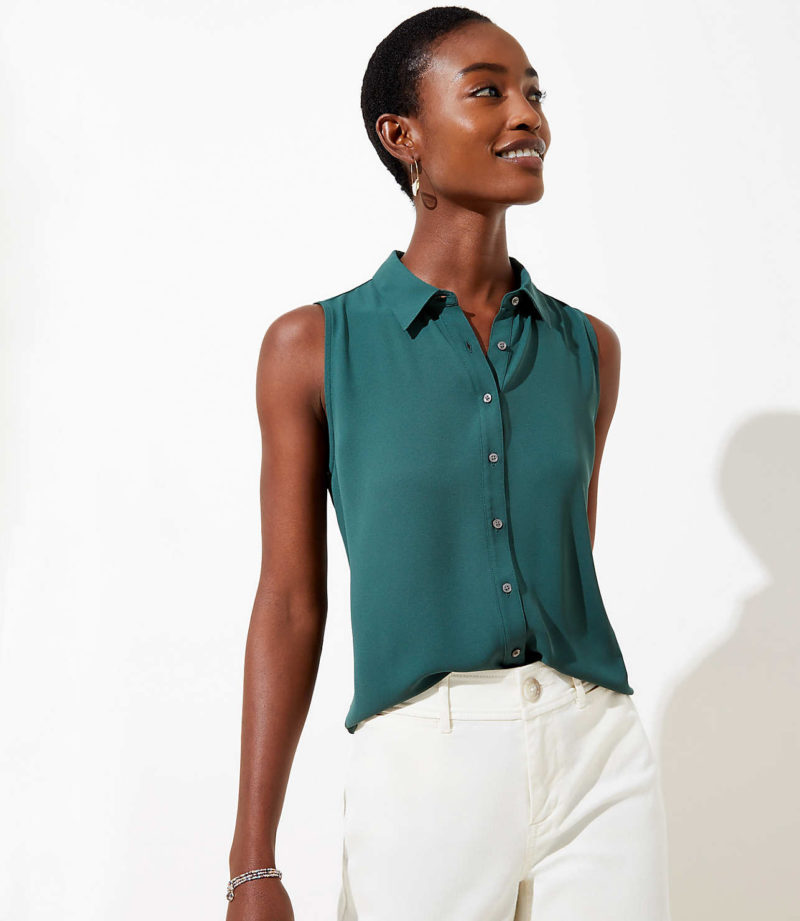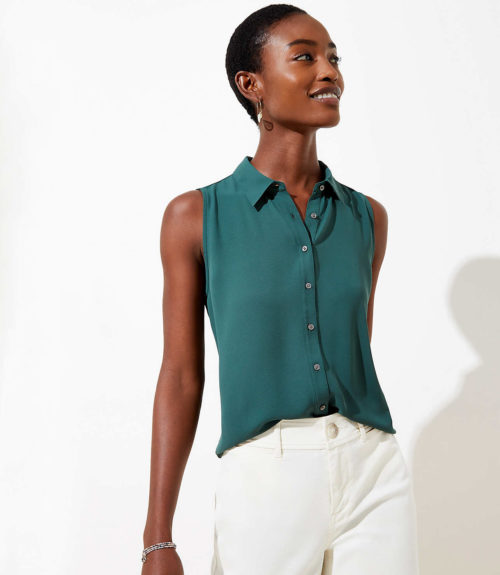 I thought it would look like a silk shirt under blazers without having the bulk of sleeves.  I didn't even try it on.  The color is more pea green in person and looks sandwashed so it's a bit faded but not in a good way, in a faded polyester trying to be silk way.  The back is jersey and a completely different shade of green.  This looked really cheap and made me feel sweaty without even wearing it.  MISS.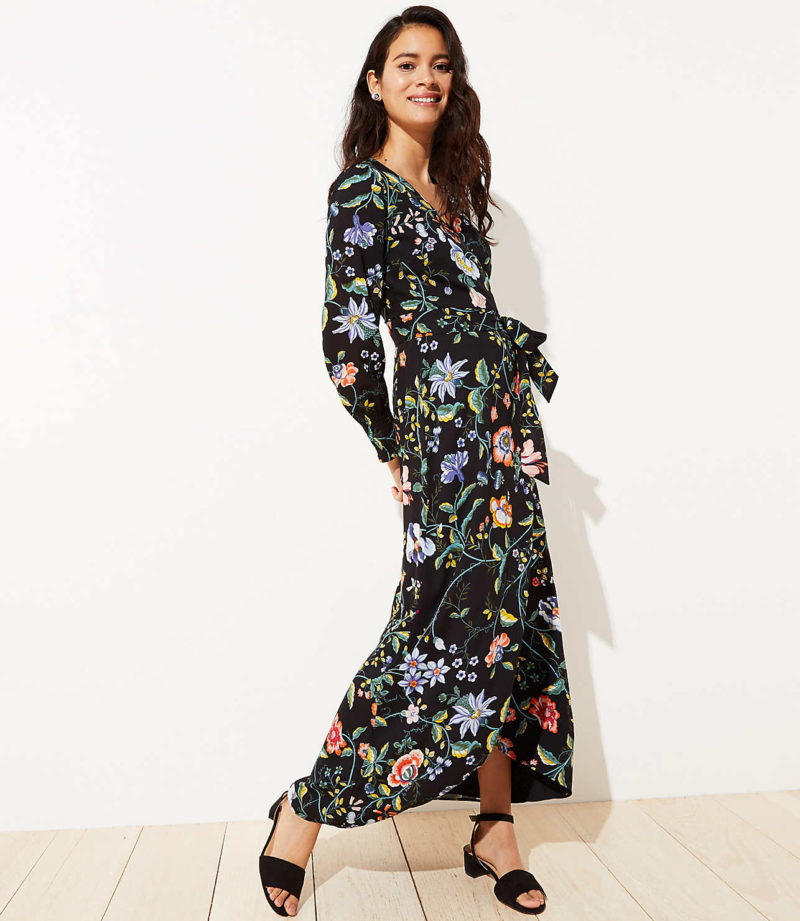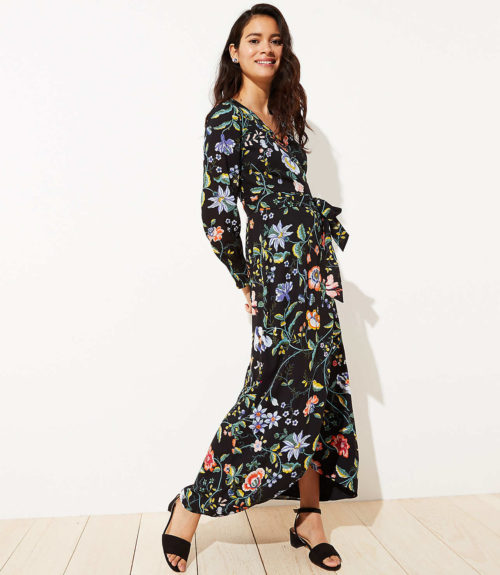 The pictures don't show how much of a high-low hem this dress has.  The front is right below the knees, the back to the ankles.  I didn't like it.  The fabric isn't really stretchy, the sleeves have built-in puff at the shoulders which is nice for those of us with larger shoulders and arms.  However, even in a petite the neckline was too low, there wasn't enough fabric to cover my bust, and the waist hit at a super weird point making it look like I was wearing the wrong size.  I am flabbergasted that this dress is $160, it's not worth it.  It's not lined, it has no unique detailing, the fabric is commonplace crepe-finish polyester.  This dress shouldn't cost more than $75 full price.  I know many of you love LOFT and find it a good price point but you can find a dress this price at Nordstrom that is lined, better constructed, better fabric, and more stylish.  For plus-size women, ELOQUII's maxi dresses are better constructed and more stylish of cuts and prints. MISS.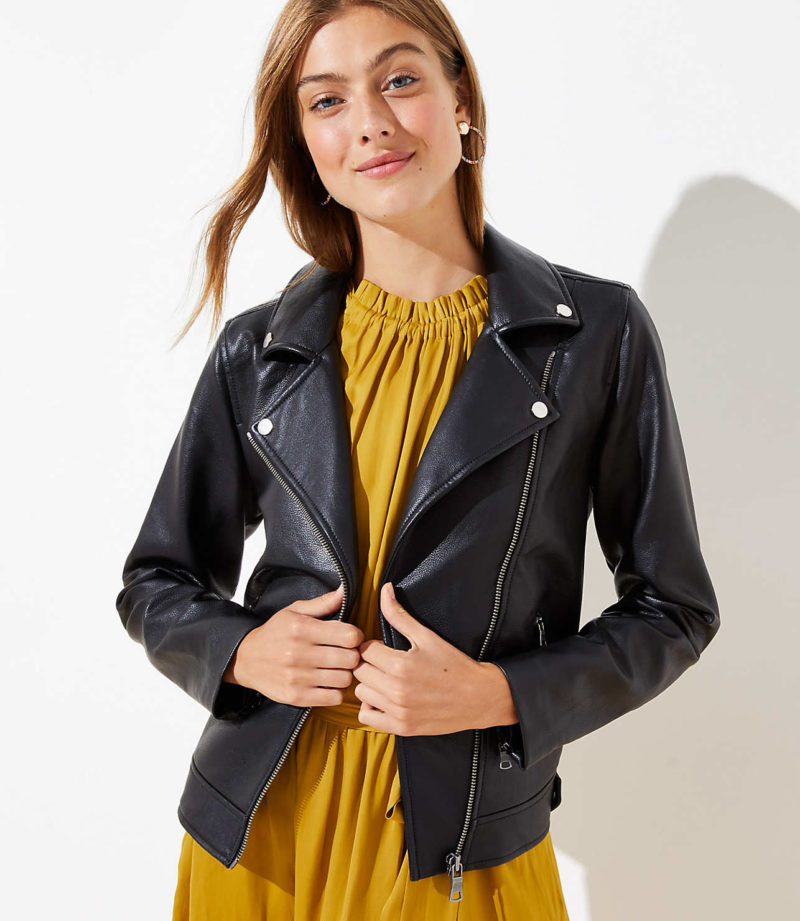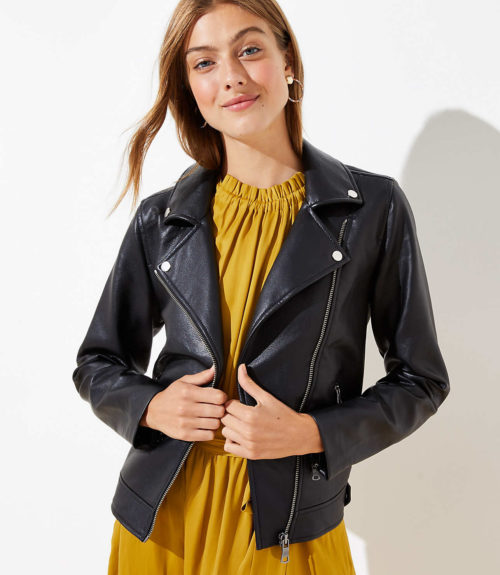 One of the hardest things, when you're short, is to find leather jackets.  It's not like you can take a moto jacket with zippers at the sleeves and have a tailor shorten it without paying almost the price of the jacket to have it happen. The waist nips in at the wrong place, it ends at a weird place on your torso… you get my drift.  So I had to try this faux leather moto from LOFT since it came in petite sizes.
This jacket is… fine.  The sleeves are the right length.  It hits at the right place just below my belly button.  There's enough room that I can fit my bust, I can even zip it.  The faux leather is soft, looks pretty real until you touch it, it's comfortable to wear, not noisy.  But it's so freaking BORING.  The pictures show shiny silver hardware, and it is shiny but seems a bit greyed so it doesn't really stand out, especially the zippers.  It's really boxy, there is no shape at all to the point where it looks as though it was cut off, like it wanted to taper in.  It looks a bit like an afterthought.  However, I don't want to diss too hard because it is hard to find petite moto jackets, it does fit, it's $130 so it's more affordable than a lot of real and faux leather moto jackets… I just don't think it's anything to write home about and I returned it.  So for me, it was a MISS.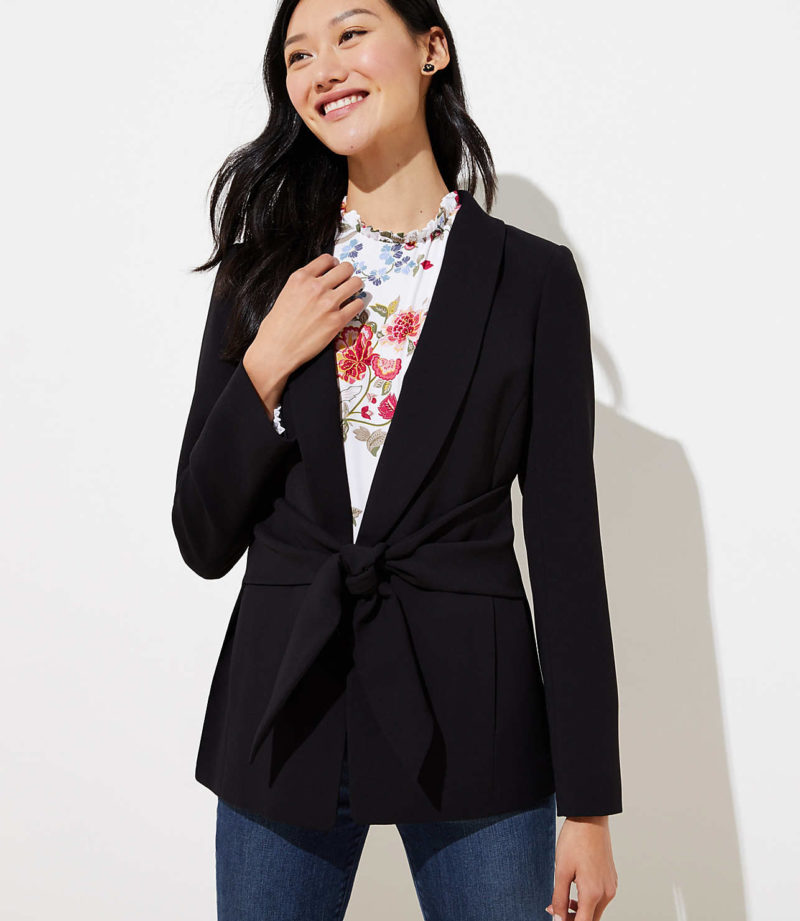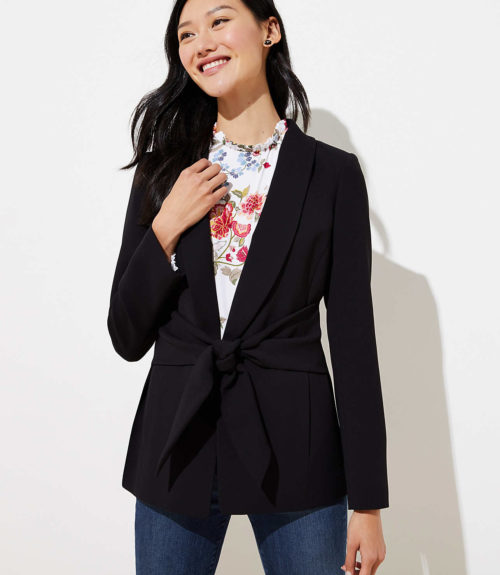 I thought this looked like a nice alternative to a traditional blazer.  Pair with black pants and a silky cami and wear to cocktail parties and weddings.  Wear with a white t-shirt and jeans for brunch.  Style with slouchy tweed trousers and a silk shell or a turtleneck when the temps drop.
I couldn't fit the blazer over my upper arms, the sleeves and shoulders were so narrow.  That being said, the fabric seemed nice but I don't know if this jacket is worth $140. If you want and you have larger arms and shoulders, you may want to size up though that may ruin the line of this tailored jacket in other places.  For me, this was a MISS.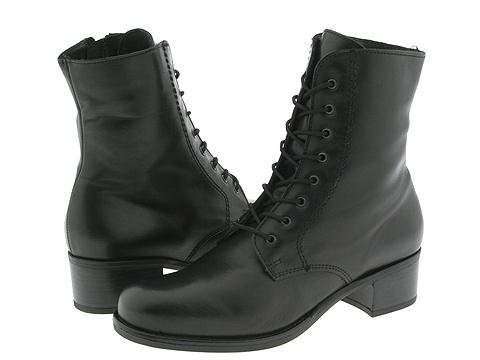 The '90s are back if you haven't already noticed and one hot trend this fall is the combat boot.  While I love a rock and roll fashion vibe, I just can't do the Docs again.  I did them from around 8th grade into post-college young adulthood.  I once swore I'd get married in Doc Martens.  And while I love them on other people, it's just not my vibe anymore.  I don't want to go back, I want to go forward, take the concept but find a boot that better fits 44-year old Allie not 22-year old Allie.  I ordered about four pairs of black lace-up boots and I couldn't fit my fat feet into them.  No point in reviewing as I know my feet are not typical and it's not fair to criticize what may be perfectly lovely boots for normal feet.
These boots, however, fit.  They didn't just fit my feet, but also my thick ankles and shins (FYI they come in three widths and up to a size 12).  I like that there's a bit of heel which feels dressy, but not so high it's hard to wear all day.  The leather is soft, but also waterproof.  The lining is antimicrobial.  While there are working laces, there is also a side zipper making these easy to slip on and off.  They're a blend between a granny boot (also back on trend) and a combat boot.  They can be worn over leggings, under jeans, with tights and dresses, and more.  I like that they're not especially trendy; if I find these boots comfortable I can see them being boots I own for many many years.
I have kept these boots, but they are carefully packed in their original box in a safe place in my closet because after getting them I am wondering if they actually go with my wardrobe.  What's the point of great shoes if they don't work with anything you own?  No shoe is so great you should buy clothes to work with them.  It's hard to gauge in September while wearing shorts so I'll hold on for a bit (got them from Zappos so I have a year as long as they are unworn) and if they don't feel right within a few weeks I'll send them back.  But these are pretty fabulous shoes and while not cheap, the quality and style are equivalent to the price point.  HIT!
This is the time of year when I am filling holes in my wardrobe, finding my style, and trying new trends.  Don't be surprised to see another one of these in the near future!  If you've had any HITS that others should check out or MISSES that you want to warn others of, do share them in the comments!
Shop the Post: