This article may contain affiliate links; if you click on a shopping link and make a purchase I may receive a commission. As an Amazon Associate, I earn from qualifying purchases.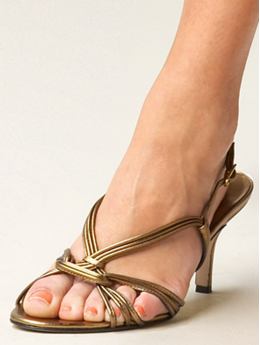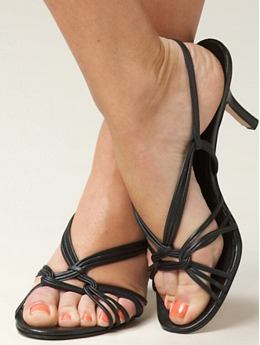 A couple weeks ago, Banana Republic had 30% off everything in honor of their 30th anniversary. On a whim, I ordered the shoes to the left, in black as well as bronze.
I usually cannot wear slingbacks. As a child (and even a bit as an adult) I walked on my toes. This really built up my legs in weird ways – humongous calves and very thick ankles. My ankles are so thick, there is no dent in the back where the heel meets the leg – a necessary detail for successful slingback wearing. Straps never stayed up, so I stopped even trying.
The only reason I ordered these is because they looked to be crafted in a way that the strap would stay up without the need of a proper ankle/heel combo. Also I was desperate – my feet are swollen from pregnancy, my black sandals broke, my gold gladiator sandals are dangerous on slippery floors or in rain, and being pregnant makes anything with a high heel utter torture.
I ordered an 8; I was a 7.5 pre-pregnancy. They arrived and my feet slid in no problem. Buckling them was a different matter – having a baby in your stomach and trying to bend over to work a buckle on the outside of the shoe was the most intense yoga I have ever experienced. It took ten minutes to close one shoe before I had the brilliant idea to put them on already buckled (d'oh!).
Anyway, these shoes are divine! I am able to wear them all day without any pain. I got some Foot Petals so I wouldn't slip and slide on the leather footbeds and wore them to work, to a wedding, to various social engagements. The heel is low enough that I am not dying, but high enough to feel feminine. They look great with pants as well as skirts; the bronze color was dressy enough to wear with an LBD and pearls for a wedding (didn't want to look like Swollen Foot PRegnant Woman in old lady shoes).
Anyway… the shoes are back on the site and are on sale for $59.99! Not only that, if you spend $125 at Banana Republic you can get 15% off your order with the code FALLSALE. AND… today is 6% cash back with Ebates!
For those who don't know, if you go to different online stores through Ebates, you receive cash back, like a rebate. Ebates is completely free and there are no strings. You can even make money off of referring your friends, and receive a $10 gift card just for signing up (I got one for Target). I have been using it for almost a year and have already gottn back almost $200 in checks mailed to my house. So I can vouch for it that it works, is worth it, is easy and fabulous.
If you would like to join Ebates, click this link. Then if youa re in need of some great slingbacks, head to Banana Republic! 🙂