This article may contain affiliate links; if you click on a shopping link and make a purchase I may receive a commission. As an Amazon Associate, I earn from qualifying purchases.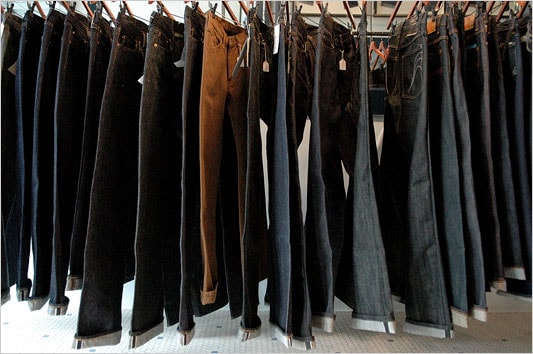 Hi Allie,
I wanted to ask your opinion on something. I have a really difficult time buying pants, especially jeans. I have the flattest butt you will ever see in your life, however, my stomach is far from flat. I also have pretty skinny thighs. Most pants hang off my butt awkwardly and have lots of room in the thighs, and if I go a size smaller, they're too tight across my stomach and I get major rolls. Since sit-ups and squats aren't exactly my favorite, I'm not seeing my body shape change too much in the near future…Do you have any suggestions for brands that aren't made for girls with big booties? By the way, I'm 21 and attend a university.
Thanks,
Anna
Hey Anna:
Jeans seem to be harder for women to buy than bras – they are a wardrobe staple, yet often times look horrible on a woman's figure. They were originally sported by cowboys, but even a century of modifications haven't quite made jeans a garment that always works with a feminine shape. However in the past couple of years, many breakthroughs have taken place in the denim industry and there is more selection for those who aren't necessarily built like a mannequin or a cowboy.
First things first I recommend a style of jeans that has some lycra in it. The stretch will help fit across the stomach and keep the style fitting around curves and your thighs. As for your rear, your denim should always have back pockets to add definition – flap pockets will make a rear look larger and rounder. Steer away from slash or on-seam pockets – a tummy will usually make these pockets gape and cause you to look larger than you actually are. Also steer clear of skinny or stovepipe jeans – these will make your rear look flatter, your tummy larger and in general you will look like a walking lollypop. A straight or slight boot-cut leg will be far more flattering and balance out your frame. Dark denim hides far more flaws and tricks the eye better than lighter hues, add a crease down the front and it will dress up your denim and make your legs look longer (and detract from the tummy). As for rise, you want something near the natural hip which will provide proper coverage for your tummy and also make your rear look curvy.
Another great option are trouser jeans. The lighter-weight denim hangs better so you have a cleaner silhouette, and patch pockets look appropriate. Again, steer clear of front slash pockets, and consider a wider waistband to reduce the chance of the dreaded Muffin Top. As for places to find jeans for your figure:

Custom-Fit Jeans
Many stores sell custom-fit jeans, and for reasonable prices. JC Penney will custom-create a pair of their St. Johns Bay denim for only $44.00. When filling out your information (have a friend with a tape measure ready), you are asked the shape of your tummy, rear and thigh. This is from the custom denim questionnaire:

Custom-fit jeans can also be found at Make Your Own Jeans.com and Lands End. There are many other custom jean companies out there, but few others deal with body specifics and measurements of waist, rear, and thigh.
Find Your Fit
A lot of sites now offer a program where you enter information about your figure and they suggest styles or brands that will possibly work. Zafu is one of the best sites for this, they ask questions such as, "do your jeans usually gape at the waist?" and "When a jean/pant fits well on your hip, how does it typically fit on your waist?" as well as asking a bit about your personal style and denim needs.
Once all the questions are answered, you are given many different styles to choose from, where to purchase and their current purchase price. You also have the ability to adjust your answers to change the results.
Other Jean-finder Sites:
I Love Jeans
Oprah's Best Jeans for Every Body
MyShape
Brands for Your Shape
There are many brands out there that are made to work with a woman's curves. The Tummy Tuck brand comes to mind – they create jeans that help you be a size smaller and often have styles that help lift and define the rear. Tummy Tuck and Not Your Daughter's Jeans (created by Tummy Tuck ®) can be found at Nordstrom and many other retailers.
And finally… if all else fails, hit the men's section. As a fellow woman with a tummy, I often find that men's jeans fit well because they are geared for a smaller bum, smaller thighs, and weight to be carried in the stomach. In a classic cut (think Levi's 501s) and a dark color, they will look chic on a female frame.