This article may contain affiliate links; if you click on a shopping link and make a purchase I may receive a commission. As an Amazon Associate, I earn from qualifying purchases. 
I will be going to London for two weeks. I was told it was cold and overcast the whole time. We will be in London for much of the time, but will be going to a lot of sites all over the south of England: Bath, Avebury, Glastonbury, Salisbury, etc. I need to pack (ideally in a weekender and 21″ carry-on) a 2 week capsule with lots of separates for lots of layering and comfortable but adorable shoes for spring. Do you have any ideas?
Sounds like a wonderful trip! England's weather can be unpredictable, so it's smart to pack layers. You also want to pack for whatever comes your way; while your tour may include lots of sight-seeing you may have time to go to a nice restaurant, the theater, or a nightclub with your friends. And while you want to be comfortable, that doesn't mean you have to pack a bag full of zip-off cargo pants and sneakers.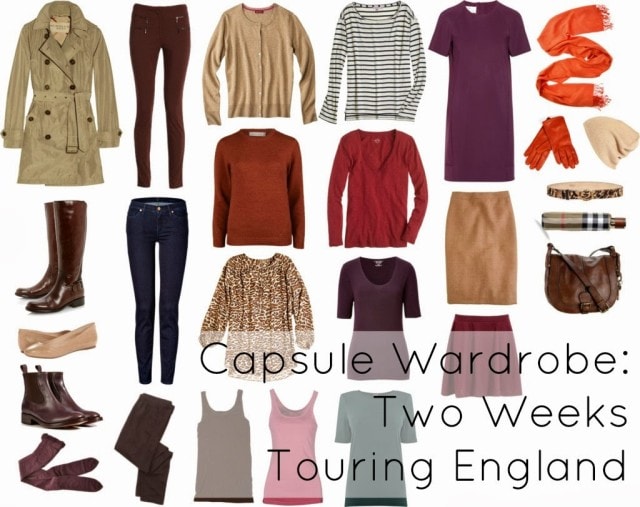 This capsule is geared towards a Soft Autumn who is tall, which you mentioned you were. Instead of black as a base color, I used brown, which works well for a traveling wardrobe. Depending on your itinerary, you may wish to switch the Chelsea boots for better shoes or boots for hiking and walking; I recommend adding comfort insoles to the tall boots as well as a coating of waterproofing spray. A pair of tall boots will keep you warm, keep you dry, and add polish to a simple jeans and tee shirt outfit. The flats add variety and can dress up a look in a jiffy.
When creating this capsule, I thought of a packable hooded raincoat I own; I had trouble finding a good image of one for this collage that was not black. The coat featured may look like a classic trench, but it too is a packable lightweight hooded raincoat. For a jacket you want something lightweight, focusing on repelling wind and water; warmth can come from wearing layers underneath. However, do bring accessories to add warmth without taking up too much space in your luggage. A cap and gloves can do much to stay warm and can even be tucked into your day bag; a pashmina can be a warm scarf as well as an evening wrap or chic way to dress up a tee shirt; a sturdy travel umbrella is a must.
Speaking of a day bag, a crossbody with adjustable strap can change to shoulder bag for evening affairs. Look for one that has enough room for a travel umbrella and bottle of water, pockets to carefully store your essentials, and a secure main closure.
As for clothing, two pairs of pants are plenty for two weeks: jeans for casual excursions, and a heavier weight pant with stretch to dress up or for warmth. I also added a pair of leggings which could be worn under the pants for warmth, but can also be worn with the dress or skirts for variety. Don't think skirts have to be reserved for fancier events; with leggings or tights and boots they can make for comfortable and stylish day wear. For tops, two sweaters, preferably from merino wool (keeps you warm, wicks sweat, slightly water repellant, and much more) is sufficient. With layers (a mix of tanks and tees in a variety of sleeve lengths and necklines) offer variety and the ability to peel layers if the day warms up. Pack one "fun" top for a night out on the town. If you have room, you may want to add a fleece which can be a sweater alternative or another jacket.