This article may contain affiliate links; if you click on a shopping link and make a purchase I may receive a commission. As an Amazon Associate, I earn from qualifying purchases.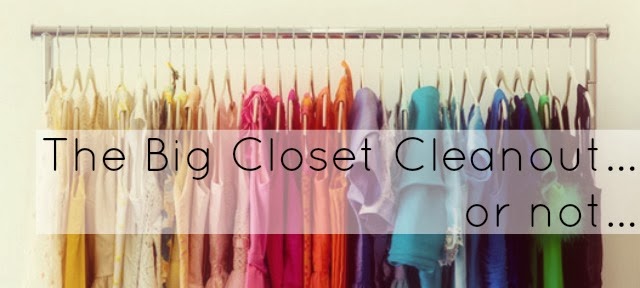 I have a Thanksgiving weekend tradition where I do a major closet cleanout. Literally my entire closet is emptied, wiped down, and I start from scratch. There's things I'm wearing all the time which go back in, but anything that hasn't been worn in a few months gets tried on, analyzed, and thrown into a pile – Keep, Store, Repair, or Done. I take the keeps and put them carefully back into the closet – I separate dresses, jackets, pants and skirts, blouses and other tops. Shoes are properly labeled and back in their boxes, purses are hung with out of season and currently not wearing styles stored in old pillowcases and dust bags. I also gut the drawers, wash my makeup brushes and re-analyze my makeup stash, and if time, organize my jewelry armoire. The "Done" clothes, I photograph the pieces in great condition and list on eBay or create a Shop My Closet blog or add to a community swap event; the rest I donate.
This year it didn't happen.
Emerson will be five next month (when the heck did THAT happen?) and the idea of holing myself up in my bedroom for five hours straight for two days is crazy. She'd either want to jump on the bed and change the music to Katy Perry and build a blanket fort, or else try on all my stuff and play queen and princess. But really… I don't see her as much as I would like and if I have two days away from work I want to spend it with her, not my clothes.
So I washed my makeup brushes and edited my makeup stash, I bought a new closet organizer and a few more huggable-style hangers, and that's it. I have clothes all over the floor of my closet, my storage box in there still has oxfords from the summer that need to be ironed along with all the shoes I leave around the house that go there until I put them in their boxes, the belts that fall off the belt rack, and a few pairs of Karl's shoes and likely a doll or stuffed animal.
Life happens, and life is more important than your wardrobe.
Clothing can be a suit of armor to help you feel strong in a difficult situation. Clothing can help express who you are inside. Clothing is a way to show respect at a religious, celebratory, or serious situation. Clothing can be fun, clothing can be art, but clothing should not cause you stress or take away from living your life. Though I write about fashion on a daily basis, please know that I believe, and I hope you believe that living your life trumps dressing for it. My goal with this blog is to make fashion less frustrating, overwhelming, and exclusionary. I hope Wardrobe Oxygen helps you find your personal style, simplifies fashion for you, and shows you that no matter your age, lifestyle, figure, or budget you can enjoy fashion and you deserve to look fabulous.
So I kick sweaters to the side to get to more sweaters that likely should be replaced with new sweaters without pulls and pills… but right now what is important is spending quality time with my family, taking a breath to actually enjoy the holiday season, get our tree this weekend and take Emerson to see The Nutcracker. As long as I'm not going to the office naked, it will all be fine. And if you are in a similar boat as I… you too will be fine. The closet can wait, the memories cannot.
Follow Me | Twitter | Facebook | Instagram