This article may contain affiliate links; if you click on a shopping link and make a purchase I may receive a commission. As an Amazon Associate, I earn from qualifying purchases.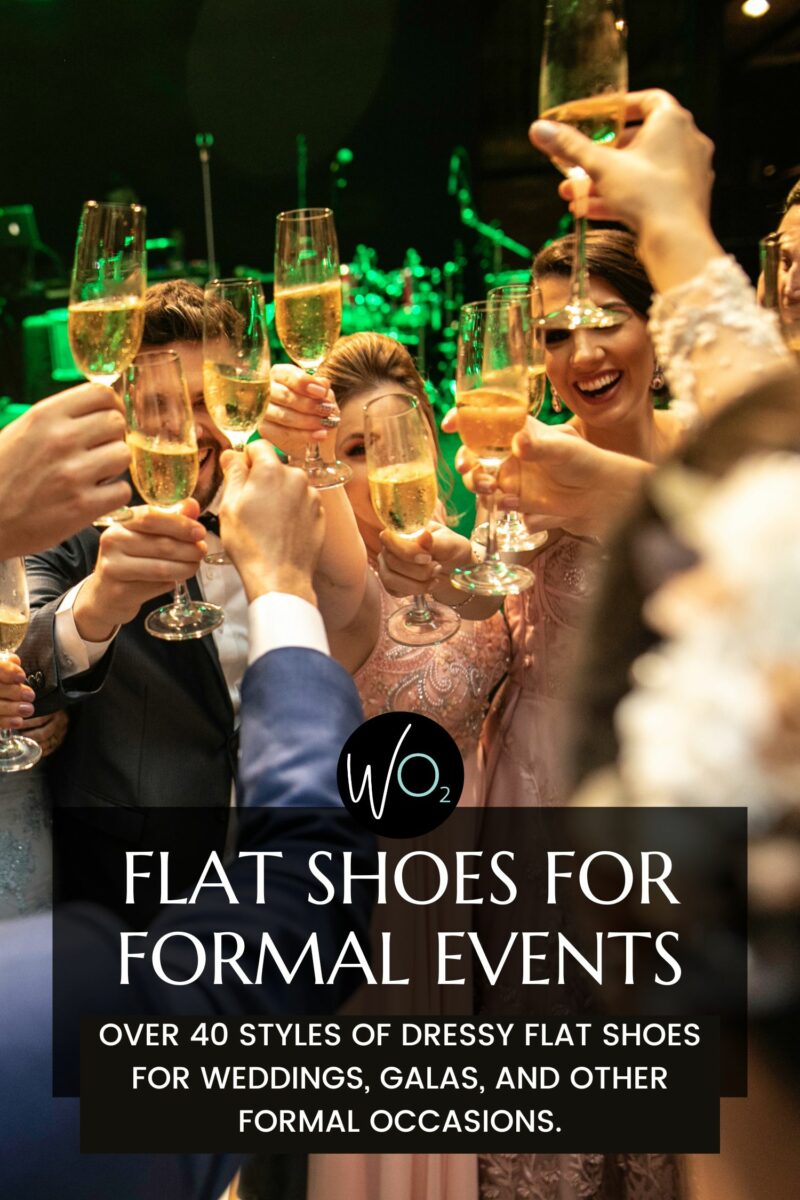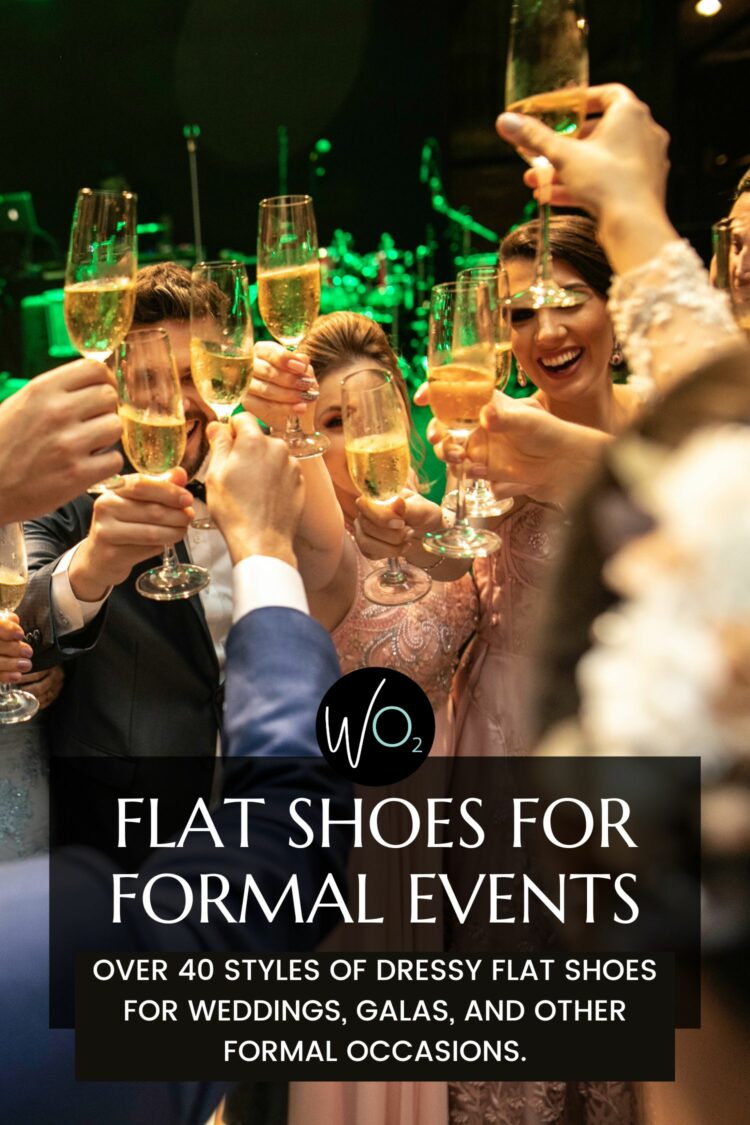 Are you looking for dressy shoes but aren't willing to sacrifice comfort or health to look stylish? You're not alone. Especially since 2020, many of us are looking for chic yet comfy options for footwear, but it's especially hard to find dressy shoes that fit the bill. Below I will share over 40 dressy flat shoes and shoes with slight heels that are still perfect for formal situations.
Dressy Flat Shoes for Different Occasions
I Need Dressy Flat Shoes for a Cocktail to Black Tie Event
Whatever the occasion, choosing a shoe in a metallic or a dressy fabric close to your skintone will feel formal and will also let your outfit steal the spotlight. An ankle strap not only will give you security, it will also make a flat shoe appear more substantial and look more appropriate for the dressy occasion.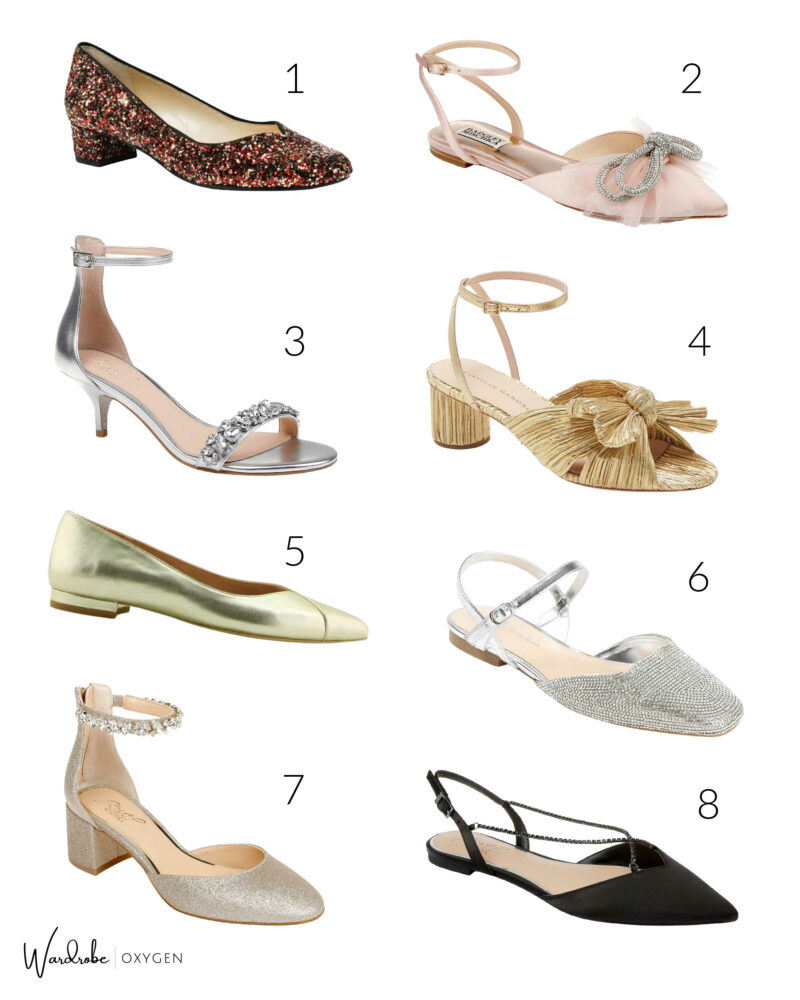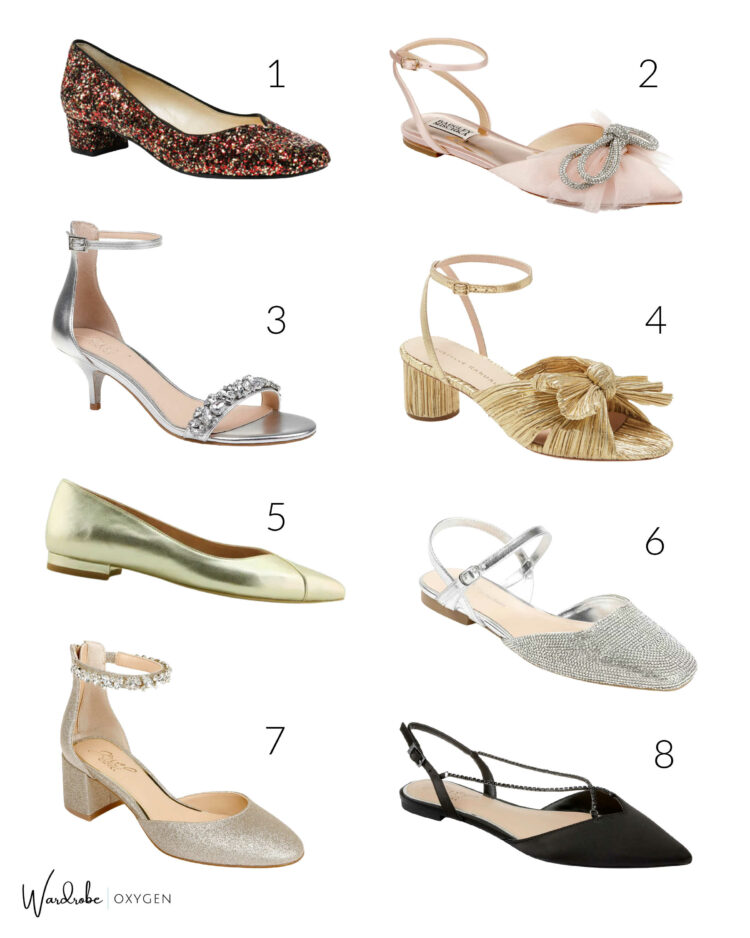 one (available in widths) | two (also available in blue and ivory) | three | four (also available in ivory and champagne) | five (available in widths) | six (also available in gold and black) | seven (also available in champagne, navy, and silver) | eight (also available in a dark beige)

I Need Dressy Flat Shoes for a Destination or Garden Event
For a destination wedding or gala in a garden, you want a flat shoe or a low block heel or wedge that won't be destroyed by a bit of dew or sand, but will still be formal. Eschew fabric shoes for a metallic leather or synthetic option and pass on embellishments like bows and feathers. You can go a bit more casual with these shoes as it's understood you need to dress not just for the occasion but the elements.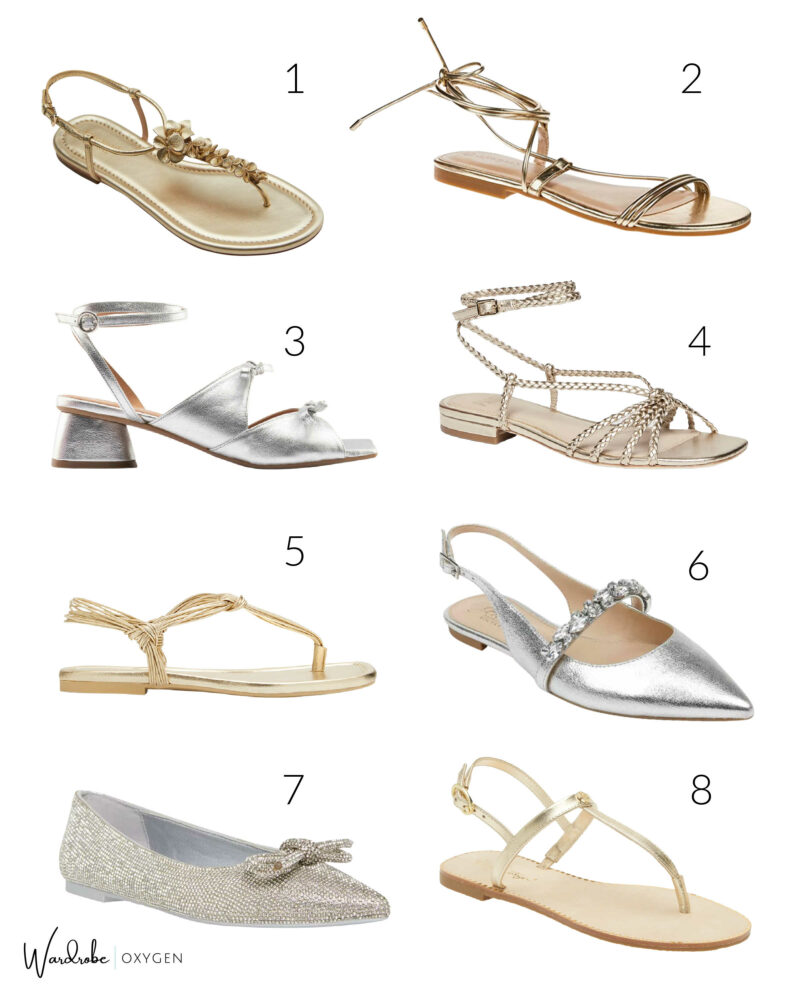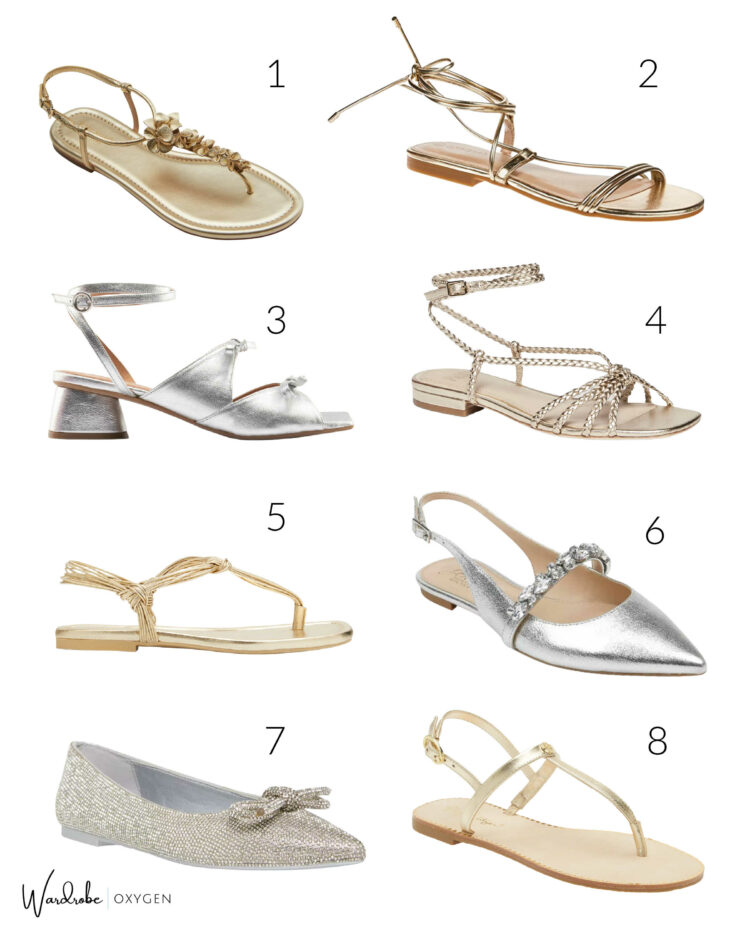 one | two (7 colors to choose from) | three (5 colors to choose from) | four | five | six (rose gold and champagne also available) | seven | eight

I Need Dressy Flat Shoes for a Pantsuit or Jumpsuit
When it comes to a cocktail pantsuit or formal jumpsuit, you can go in two different directions: menswear-inspired elegance, or a dressy version of shoes you may wear to work or everyday. I recommend a closed-toe version if you have long sleeves, and your choice of open or closed toes for a short-sleeved or sleeveless option. You will find plenty of mules, a closed-toe slip-on shoe. Some of them are quilted inside and many come in cool textiles with embellishments and can be a fun way to be comfortable and dressy.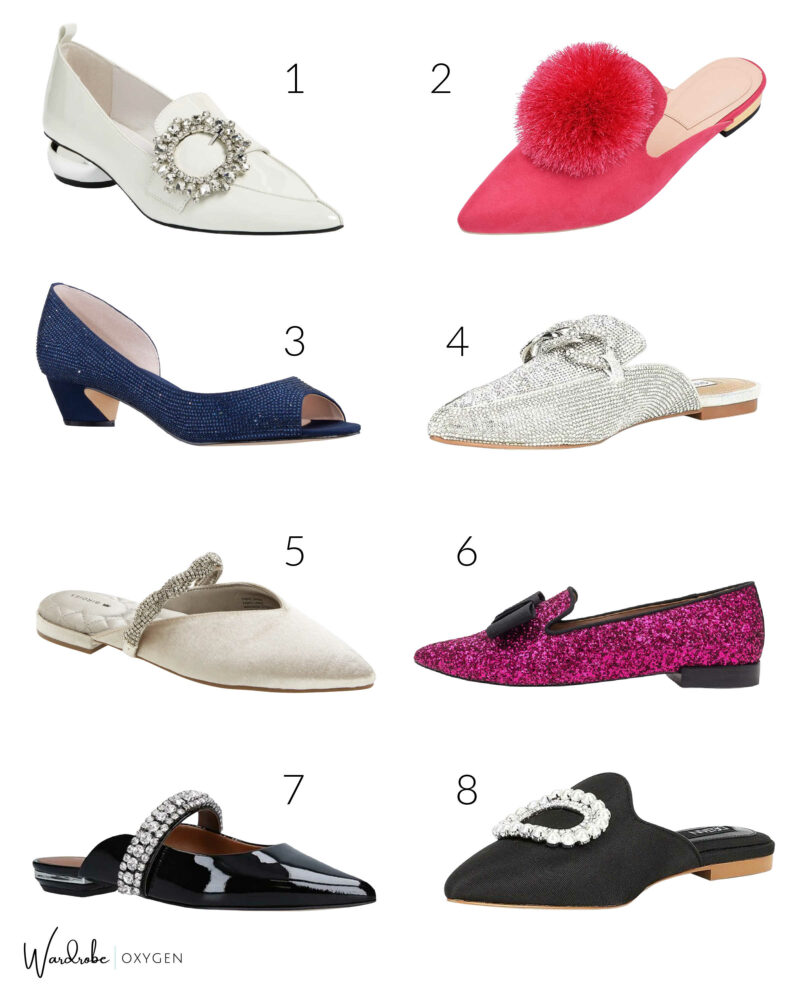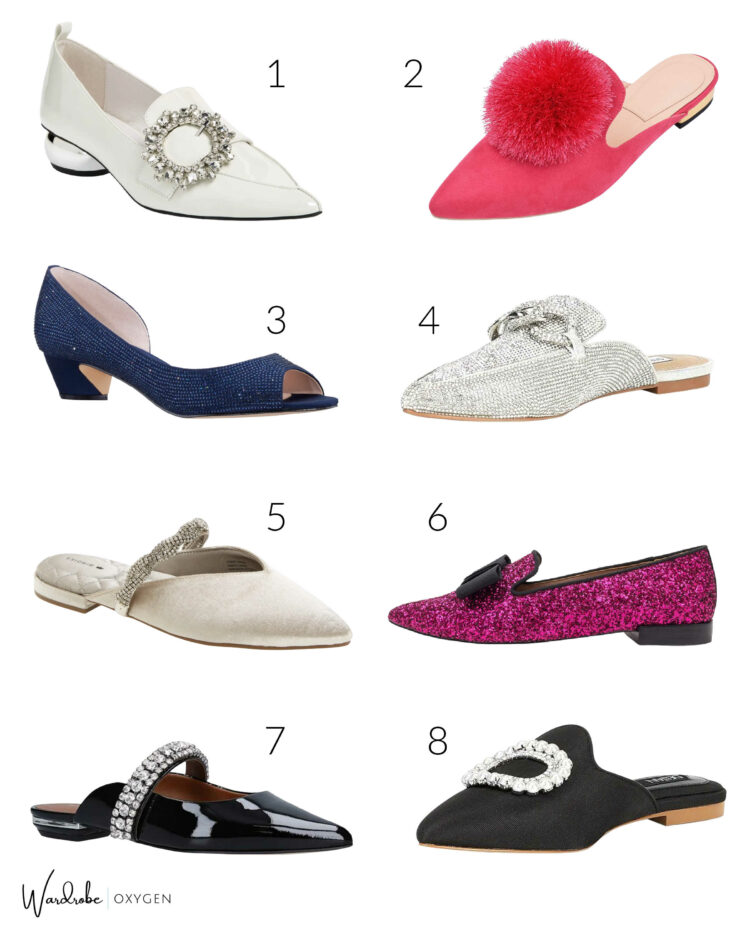 one (available in 4 different colors/textiles) | two (available in 8 colors) | three (4 colors available) | four | five (4 colors available) | six (also in black and silver) | seven | eight

I Need Dressy Flat Shoes for a Short Cocktail Dress
With a mini- to knee-length cocktail dress, you'll either want a bit of height or a style that will offer some substance or length. Look for low block heels, pointed toes, and embellishments which will ensure you won't look barefoot at the cocktail party. Keep the mules for pants and choose a style with more coverage.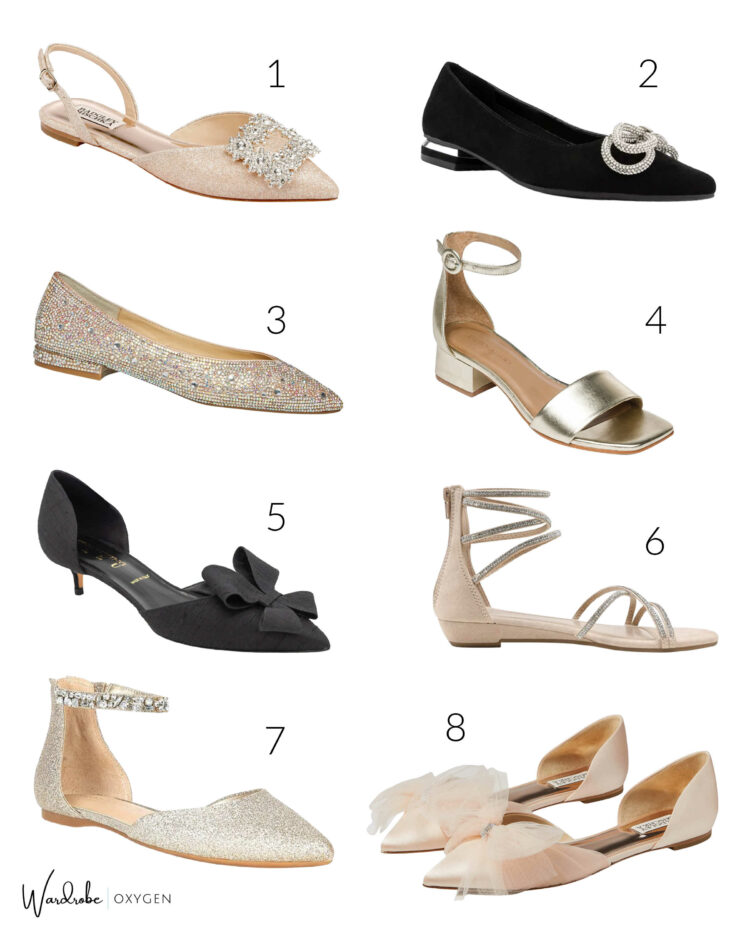 one (also available in black, white, and teal) | two | three | four (also available in black, blush, and silver) | five (11 different colors and prints to choose from) | six (9 colors to choose from) | seven (also available in silver) | eight (also available in white)

I Need Dressy Flat Shoes for a Midi- to Maxi-Length Formal Gown
This is a pretty generalized idea, but I am assuming if you mean midi- to maxi-length formal gown, the skirt has fullness to it thanks to a heavier-weight fabric (taffeta, brocade), layers (crinoline), or silhouette. This is the kind of formal dress where you can do most anything. A flat sandal will give a Grecian goddess vibe, a Mary Jane will be classic, a slingback will be comfortable and cute peeking out from the hem.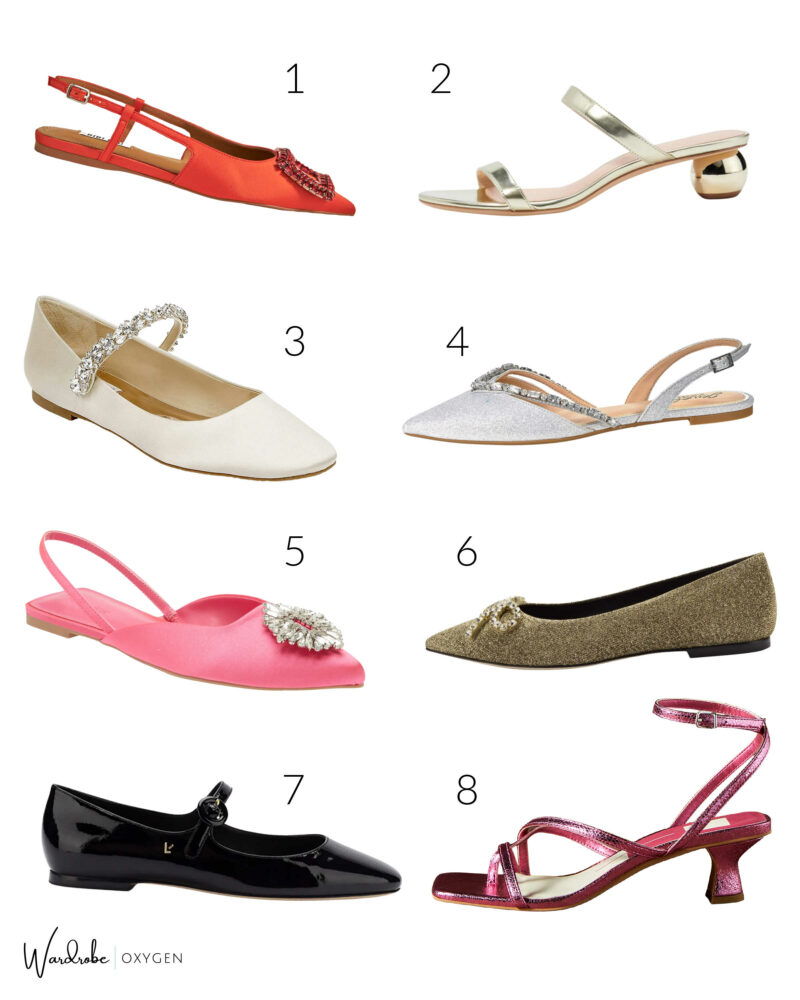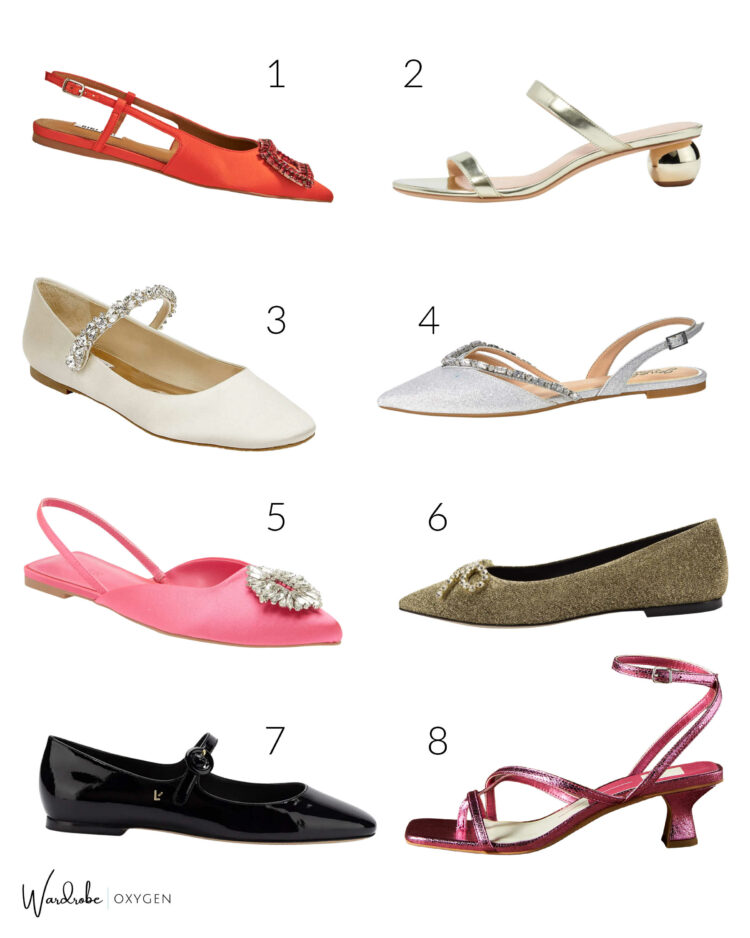 one (6 colors/prints available) | two | three (also available in tan) | four (also in champagne and gold) | five (also in bright blue) | six | seven (also in silver mirror) | eight (also in gold, taupe, and black)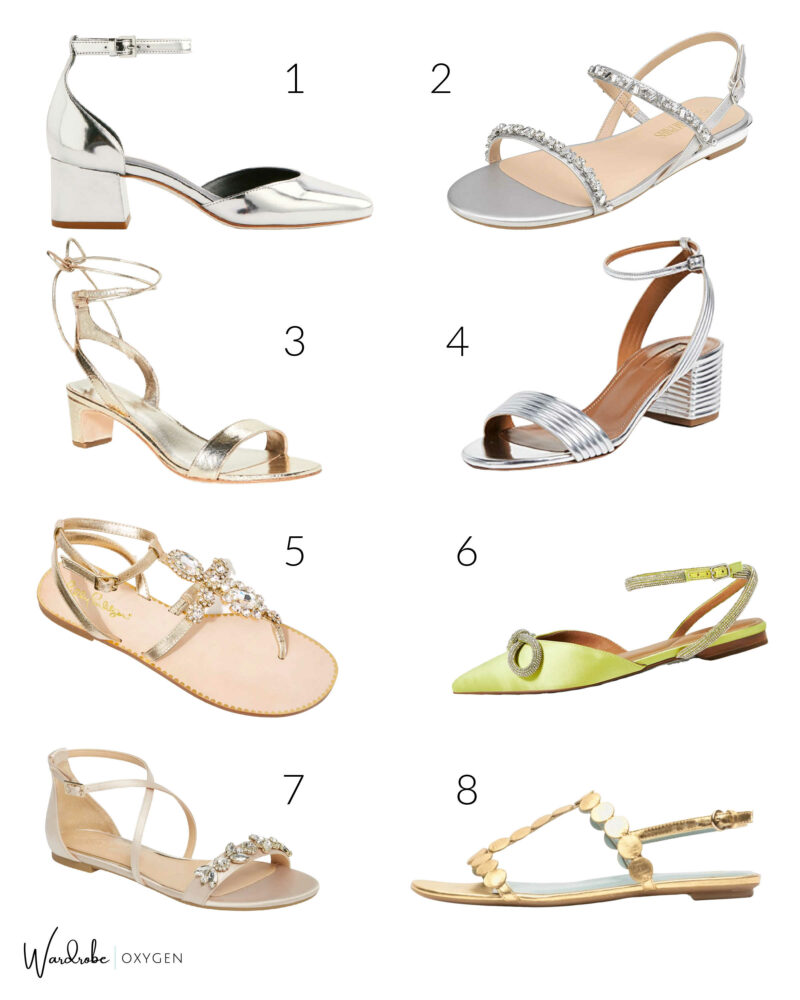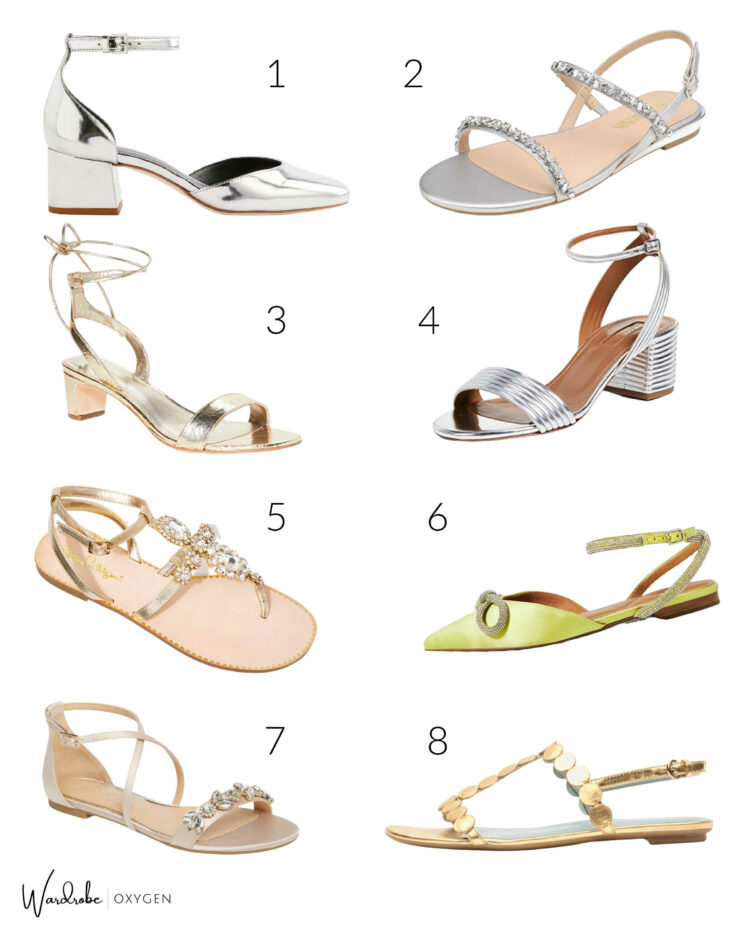 one (also in black) | two (5 colors available) | three | four | five | six (also in hot pink and black) | seven (5 colors available) | eight (4 colors available)

Tips for Shopping for Dressy Flat Shoes
This collection of dressy flat shoes is not exhaustive, and you may have footwear needs not addressed in this post. Some advice when shopping for dressy flat shoes to ensure they will complement your outfit and be appropriate for the occasion:
The sole matters.
The sole of your shoe is what will determine if that silver sandal or bedazzled flat is formalwear or just a fun day shoe. Soles that contrast with the shoe (a tan sole with a black shoe for instance), have an athletic vibe (rubber molded sole, gripper sole), or are of casual fabrics (straw, raffia, rubber, wood) will read casual even if the upper is sparkly.
Hosiery shouldn't be seen.
Unless you're wearing a loafer or oxford/brogue shoe with trousers, any socks or other hosiery you're wearing for comfort should be a no-see style that will not peek out from your dressy shoes. The exceptions are stockings or sheer knee-highs that work with the rest of your ensemble.
Allow for a break-in period.
Dressy shoes, even when flat, are often from stiff fabrics and can have sharp edges. Wear your new shoes around the house with thin socks to protect your skin. Take an emery board to any sharp edges, sanding in one direction, taking time to check work so you don't sand off finishes or damage stitching. If all else fails, take to a cobbler who can professionally sand down sharp edges and offer solutions like strategically placed moleskin.
Check bridal salons.
Shoes for brides have come. along way, baby, going beyond white and heels. At bridal boutiques (and online boutiques like David's) you'll find flat shoes in soft neutrals, sparkly sandals, and even glittry sneakers.
Upgrades are available.
Often, dressy flat shoes lack arch support, padding, and have slippery soles. No worries, there are amazing products on the market that can upgrade your dressy footwear.
If you have any advice or great dressy flat shoes not featured here, please share in the comments and help the other members of the Wardrobe Oxygen community!